AT&T Stadium
Arlington

,

TX
Race Center: Dallas
Monster Energy AMA Supercross Championship
A few days ago, Justin Starling emailed us explaining that the team he planned to ride for—Hansen Racing Team (HRT)—would no longer be running the 250SX East Region as originally planned. Starling, a three-year professional, had less than two weeks to put together a program—it took him two days. Starling didn't sit idly bye, sulking. He took command of his program and put enough together to go racing at the East Region opener in Dallas on February 15. We talked with the Florida native earlier this week about how it all came together.
Racer X: You've told us the team you planned to ride for, HRT, has shut down for the rest of the year. Can you take us through what happened and what your plans are moving forward?
Justin Starling: My mom got a text message from Todd Hansen [team owner] saying the team would not be racing anymore after San Diego and that the semi was going to get parked and basically I was left without a ride. I had two options: I could give up and wait for something to happen or I could go out and make it happen. So overnight I made a list of what I would need to go racing and I got some great support from a lot of sponsors that were affiliated with HRT. And, Atlus Motorsports will be helping me out with some bikes, so we'll be racing the East Coast still—starting in Dallas.
I'm sure you were pretty taken aback by this—as it's two weeks before the opener—but what does it mean to quickly put something together and have a lot of the sponsors stick with you?
With it being so close to Dallas, and really not knowing what I was going to do, it means a lot to have support from the sponsors, and all the people that stepped up and helped me out, which aren't even sponsors, just people that wanted to help out. It has been huge. It really shows that motocross is a family sport and to have the support to go do it is unbelievable.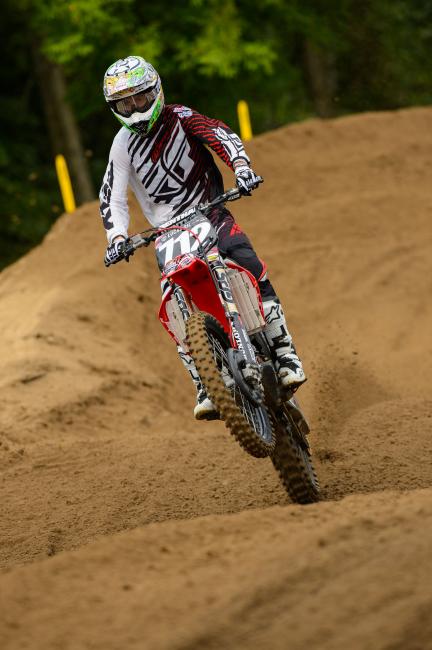 What will your setup be?
Last year I did it full privateer out of my truck and trailer and honestly it was probably one of the best times I've had racing. [It was great] to be able to do it the way I wanted to do it and having fun with my friends and go racing. That's probably what will end up happening again this year—going with my truck and trailer. I may put my bike on the Team Gus rig for the races pretty far away and try to fly, if possible, but that will depend on funding.
Where did you stand as far as bikes go? What did you have to get to go racing?
I had my 2013 250 from last year. I did everything last year on one motorcycle and this year I really wanted to get a practice and a race bike. I made the call to Atlus Motorsports and they were willing to get me two bikes for a year. I was also able to get quite a bit of parts as well.
How much does this really change what you have for this year?
Honestly it hasn't changed a whole lot. I'm physically the best prepared I've ever been. I've been training non-stop since around October. I haven't had any bikes from HRT—they never got me any. Not a whole lot has changed. Now that I have bikes on the way, the sponsors that have stepped up to help me … everything has gone really well in the past day and a half. I think everything is better now than it was before and I can't be thankful enough for that.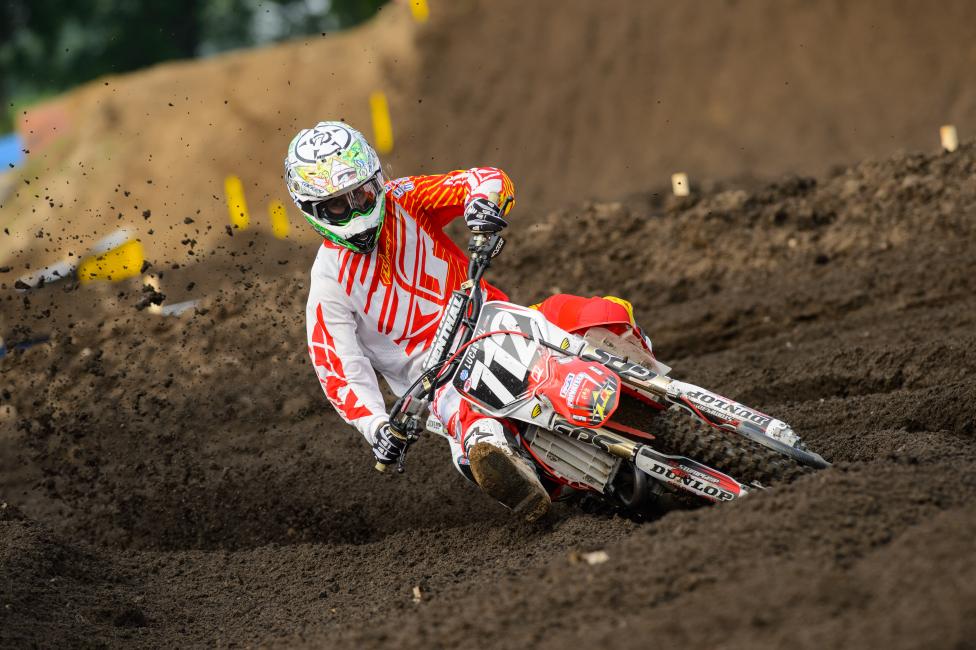 You live down in the other mecca of motocross—Florida. Who are some of the guys you train with? And where do you ride most of the time?
I train at Zach Freeburg's track a lot. I rode a lot with Zach before he went to California. Then I have my supercross track, which is more of a sandy track. I had Jimmy Decotis come out and train with me for a bit. I also ride at Stewart's. But since they have been out in California I haven't been out there. They come back after San Diego, so I will be back out there in a week.
A lot of people transition to Florida when they don't have to be in California. What are some of the differences you see between the two?
I think Florida is the best place to be for training. It's 85 degrees right now and sunny. You can get really nice clay in the dirt and there is no traffic like in California. There's grass and trees unlike California. I think it's a little more laid back. You can get your stuff done and at the end of the day if you want to you can go to the beach. It's just a really laid back scene. I lived out in California for four months and couldn't take it—I had to move back. I think everyone comes here for the fact that you can get your stuff done and go home and you're not rushed around or sitting in traffic for three hours.
Thanks, Justin. Who would you like to thank for helping you this season?
Unit Clothing, Bell Helmets, 100% Goggles, Alpinestars, Rockstar Energy, Asterisk, Mika Metals, Pro Circuit, EnjoyMFG, Twin Air, Dunlop, Renegade Fuels, GPS Suspension, Engine Ice, Rockwell Watches, The Factory Metal Works, Works Connection, Atlus Motorsports, EXEO Entertainment INC, Todd Freeberg, Jon Pauk, Alex Fredrich, Mom and Dad and my girlfriend Kerstin.