Angel Stadium
Anaheim

,

CA
Race Center: Anaheim 3
Monster Energy AMA Supercross Championship
Yeah, Anaheim 3 has come and gone. I can't wait for Anaheim 4 in a couple of weeks.… Just kidding! I do wonder how those Dodger Stadium renovations are coming along? But seriously, I think three races in Anaheim is a bit much and perhaps the Southern California population agrees. I thought the last two Anaheim races weren't packed like they usually are.
Maybe it's Anaheim-overload, maybe it's the ticket prices that were modified for this year or maybe it's just one (or two) races too many. With this many quality riders on the track, the house should be packed in my opinion. Maybe this year's even better TV package on FOX Sports 1 has something to do with it? I know that Feld Motorsports saves some money by renting out Angel Stadium for a month for supercrosses and Monster Jam shows so that's why we have three of these, but if I had to bet, next year there's got to be, at the most, only two races at Anaheim.
The dirt pad gets left in Angel Stadium each week so it's used for Monster Jam and the supercross. It gets pretty beat down from Gravedigger and Chad Reed hammering on it every week. As the Anaheim races go on, the dirt seems to get worse and worse. I thought A2 was bad and A3 was better, but the riders I talked to didn't think it was great (And we had more flat tires this week to go with the those A2 flats. A lot of teams ran heavy-duty tubes, which is definitely not usual at a supercross). But I thought the track layout at A3 was awesome. It had a little bit of everything—it had another quad, bro! Then there was the big whoop section, a five-jump section that only two riders I saw could turn into a 3-2, and a good sand section. It had everything one could want (short of an over/under bridge).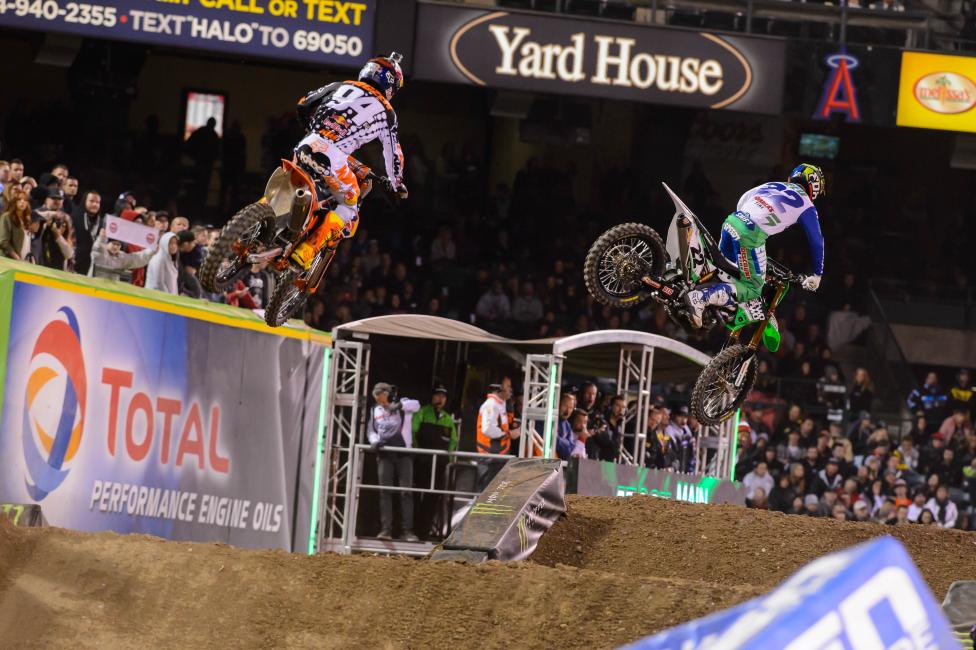 As any reader of my column knows, I love sections that reward the very best riders. I want to see some risk and reward in supercross and this year's tracks have had that. Yes some riders could get hurt, but it's supercross, it's supposed to be gnarly. Daredevil is in the sport's DNA.
One thing about big whoops is you can really tell who trusts their suspension and riding ability and who doesn't. At A3, a lot of times a rider would make up serious ground on the guy in front of him by just not braking for the whoops. It was an especially huge make or break deal for the three-digit guys out there. To blitz or not to blitz is the question?
Well, he did it again. Chad Reed captured his second win of the season and moved to within two points of the lead. His podium at the opening round was, "Aw shucks, the little Koala still has something left in his tank" and his win at A2 was, "This was so awesome that he got a win, see old people are just like us!" But this? This is different, people. We've entered legitimate, "Chad Reed could win this title" territory. Who would have ever thought that not named Chad Reed or Jason Thomas?
Reed held off "King" Kenny Roczen for the entire race and that's hard to do. It's way easier to be the chaser instead of the chasee (but it's really hard to be Chase Stallo, by the way) because you can see a guys lines, measuring braking and acceleration points against his, and you don't have to be the first guy through lappers. The leader takes on so much pressure but Reed handled it like the veteran he is.
Reed's bike is close to what the factory Monster Energy Kawasaki guys are running but it's not identical. There seems to be some confusion out there, but make no mistake, Chad's bike is a Discount Tire Racing TwoTwo production. After all, as his mechanic Lars once told me, whatever anyone else likes, Chad probably won't like! When Chad first got with Kawasaki, he rode Broc Tickle's old Pro Circuit 450 and liked it. He's got a nice mixture of factory Kawasaki parts (ignition/ECU, wheels), stock parts (transmission but it is reinforced) and Pro Circuit do-dads inside and out. He's also got motor work done in-house by his guys and it differs from what the factory Kawasaki guys use
He also runs the Showa air forks that he didn't like on the Honda, but he feels they work better with the Kawasaki chassis. Reed's been around and knows what he wants in a bike. Whatever he's doing, it's working.
Good question on the Pulpmx Show this past Monday night: Who's going to end up second in all-time supercross wins when it's all said and done? If you had asked me this before the season started, I would not have said Reed. But now, who knows?
- Ricky Carmichael 48 wins (I know this is a touchy subject, but I feel confident in saying Carmichael won't win anymore)
- James Stewart 45 wins (28 years old)
- Chad Reed 44 wins (turning 32 years old in March)
- Ryan Villopoto 36 wins (most think he'll retire at the end of next year)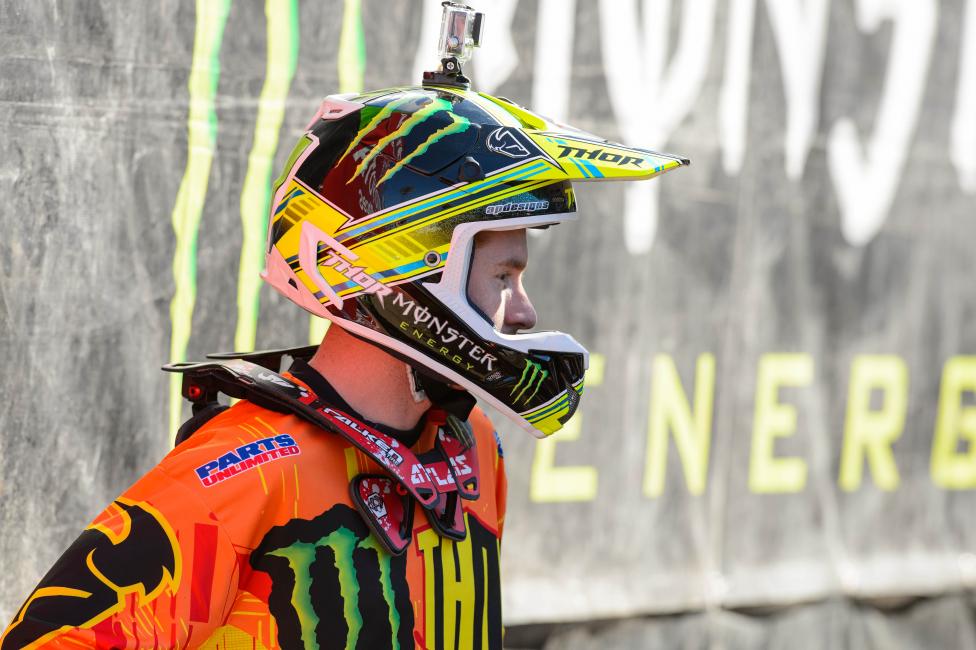 On the show, we all thought that all three guys will pass RC by the time they're done and Villopoto would pass everyone. Let's check back at the end of next season and see where we're at. Good bench racing fodder for sure. What say you, readers?
Kenny Roczen took a second, yet another awesome finish for the 94. As a 450SX rookie, he's riding smart and not making too many mistakes. I don't think I've seen him on the ground at any point this season. (I'm not counting the "mystery" crash in Florida before the season where he hurt his arm.) To be fair, I heard that was a bike malfunction and not a Roczen mistake so maybe this kid is perfect. Kenny's a very smooth and calculated rider and he's third in the points. Also, when I see him and teammate Ryan Dungey go through the whoops, I don't know what it is, but Kenny's bike seems to work better there. Big whoops are the one section where we've seen the orange guys struggle.
By the way, Kenny is already in talks with teams about next year. With the powerful WMG agency on his side, I'm sure Kenny's going to be a very rich—perhaps enough to build a Chipotle next door to his house. But I just can't see him going anywhere to be honest. If you're KTM and Red Bull don't you just give him a blank check? This kid's clean cut, speaks well, is friendly to everyone and fast as crap—he's the total package.
Yes I was suggesting that Dean Wilson hit the panic button after another disaster at A2 where he crashed his way back. The season started in the worst way possible, but oh my how things can change. Last week a bike malfunction prevented a sure win, but this week he finally had something go his way when leader Cole Seely washed out late in the race. Dean was catching Cole but it would've been tough, in my opinion, to pass Seely with so few laps remaining. So Wilson catches a break (finally) and wins his first race of the season.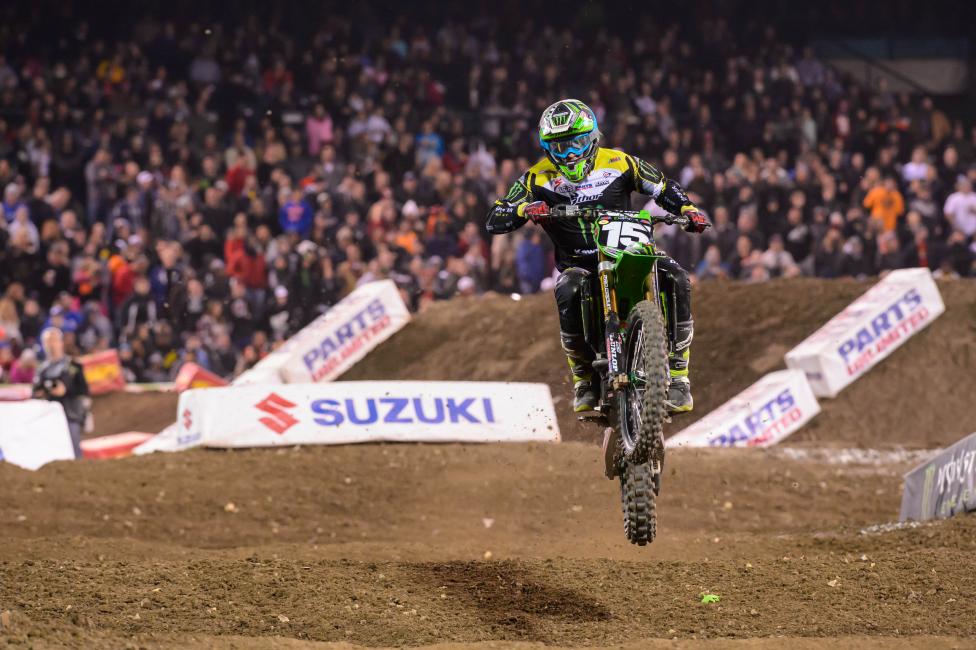 You want another example of why I think arm pump is mostly mental with these pro riders? (By the way, remember when arm pump surgery was all the rage? Yeah, that never worked for anyone.) Anyway, follow along. Wilson was battling arm pump badly at the first two races. But after crappy finishes at the first two, all eyes were now on Seely and Jason Anderson, and sure Dean crashed at A2 but at least he was fast and moving forward (unlike the other races).
Heading into Oakland, he's written off completely for the title (in his eyes) so Wilson no longer has pressure. Suddenly he starts riding like the National Motocross Champion (and all-time leader in 125/250SX wins for riders who don't have a title, by the way) that he is. Check out these overall combined qualifying times from the last two races:
Oakland:
Dean Wilson 54.6
Ryan Villopoto 54.8
Anaheim 3:
Dean Wilson 1:01.9
Ryan Villopoto 1:02.2
That's right, Wilson has been the fastest rider overall the last two weeks in qualifying. And he's been smoking his heats as well and is a weirdo bike problem from winning the last two races. And guess what? As soon as he seemed out of the title picture, his arm pump went away! Amazing, huh? This just in: motocrossers are mental cases.
How can a 250 set the fastest time two weeks in a row? Well I asked former factory rider David Vuillemin this exact question and he sent this back to me:
On slick track, the 250 actually lose less power than a 450 and you don't have to think about the grip as much. I rode both bikes 10 years ago and it was easier to ride a 250. There isn't much to think about on those bikes but pinning it and riding it at peak power, which is over 11k rpms. In the whoops too, there isn't much to think about. It's wide open, while on a 450 that could get ugly. Look at Hahn, Tomac and Barcia, 250 specialists that pin it, it doesn't work as well for them on a 450. On the other hand, Roczen is adapting better because of his smoother riding style. Also, there is the weight of the bike and the fact you can corner faster and get on the power earlier. Last year Tomac was often the fastest too but the jump on the bigger bike is a tough change. Ask RC or RV, they've been through it before.
If you want more Vuillemin thoughts on A3 (who doesn't?) click HERE.
It was nice to see the #3 of Eli Tomac back this weekend. Tomac, who one would think would have been in top five almost every week had he been healthy, had some more bad luck in the form of a flat tire in the main event. At A3, Tomac joined Justin Brayton as two more victims of flats in a supercross. A very, very rare club. Until the flat, Tomac looked great and was shoe-in for a top ten. I feel like not enough people are talking about how good Tomac can be—if you want proof just look at what Roczen is doing.
Sometimes I want to just step off a cliff and end it all. This job is a blast most times but then there are the times where you just wonder if the money, chicks, private jets, free stickers are worth it. Last week I reported that Rockstar KTM's Ivan Tedesco would be switching to the KTM 350. The team had Cole Thompson on the bike for a couple of races before sitting him down to focus on the 250SX East Region. A few weeks ago, I spoke to Rockstar team manager Dave Gowland about putting Cole on the bike and he told me that it was in the team's contract to have a 350 on the track. This made sense, because I had also known that Joey Savatgy was going to ride the 350 on the West Coast before he got injured.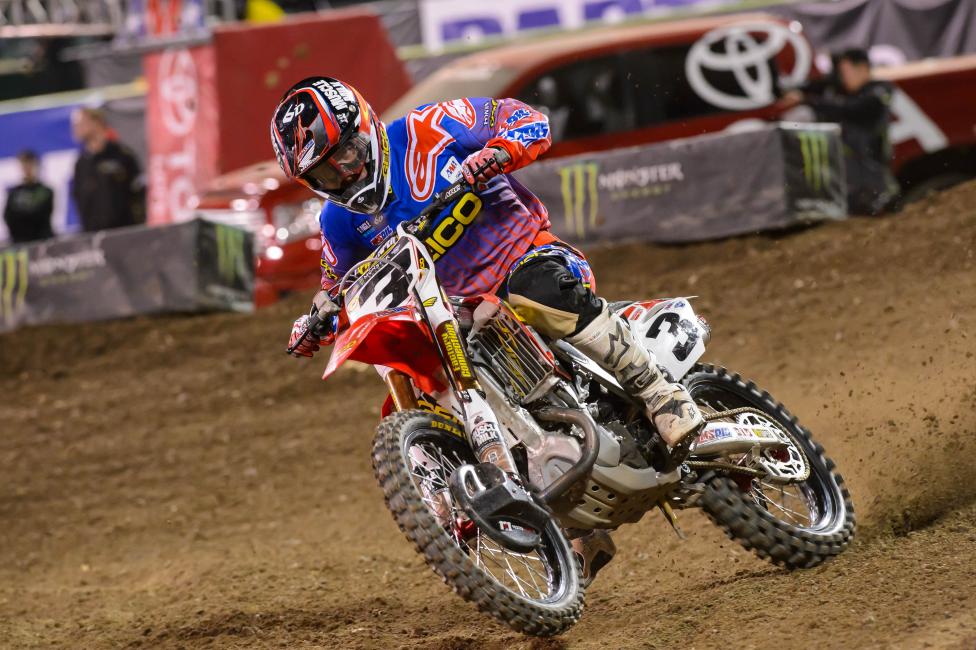 But now Thompson was out, Tedesco was in and I wrote in Racer X Rapid ReaXtion last week that I didn't like the move one bit. As we've seen with Andrew Short and Mike Alessi, bigger bike riders moving down to the 350 isn't a very good idea. My thinking was Tedesco wasn't going to enjoy it much, but he was being the good soldier for his team. (By the way, Tedesco's comeback to supercross has been going pretty well, he's not setting the world on fire but he's been solid, and after a year off, it's nice to see he's still got it.)
Well my thoughts from that Rapid ReaXtion last week didn't make me a very popular guy at Rockstar Racing. Gowland told me that it was Ivan's choice to move down to that bike and that it's not in the team's contract to have a 350 on the track (they have an incentive from KTM to have one out there but it's not mandated). The whole ordeal made my head hurt, to be honest. I stand by my thoughts on the 350's competiveness indoors at the highest level (I bet Andrew Short would just retire if you told him he had to race the 350 again indoors) and I told the team I would rent a blimp and fly a banner overhead saying "I'm sorry" if Tedesco was able to excel on the bike.
So can anyone out there get me a deal on a blimp and a banner?
Tedesco went out and got a season best tenth place on the 350 and looked good doing it. I'm sure Dungey's mechanic Carlos Rivera is pretty happy these days for me being wrong again and also, the Rockstar KTM guys let me know after the race what an idiot I am. But hey, it's a long season and let's see how the #9 can do from here on out. But for one race, one night, he did a great job.
Let's take a look at the results shall we?
250SX Results
1 15 Dean Wilson Wesley Chapel, FL Kawasaki KX 250F- Big whoops always work out well for Wilson and they did again this weekend.
2 21 Cole Seely Lake Elsinore, CA Honda CRF 250- I was telling people all day long that Wilson was going to win, the race was Wilson's to lose, just give him the trophy, yadda, yadda, yadda. Seely came this close to making me look wrong again when he led for 12 laps of the main and looked great in doing so. Seely needed a rebound race after Oakland and he got it. Too bad he washed out, this race was his.
3 37 Cooper Webb Newport, NC Yamaha YZ250F- Quiet ride for Webb, he was far off the top two riders pace but comfortable up in third. The rookie will take it for sure.
4 35 Justin Hill Yoncalla, OR Kawasaki KX 250F- Coming off his two best rides as a professional, Hill backed it up with another good ride in A3. This kid has really turned the corner in the last month or so and he went from, "Oh he's out at the end of this year" to "Hmmm, maybe we have something here" for the PC guys.
5 17 Jason Anderson Rio Rancho, NM KTM 250 SX-F- Anderson made, what I thought, was a normal supercross pass on Malcolm Stewart. Stewart thought otherwise and put the points leader on the ground in the next turn and told him as much after the race. Anderson rode great trying to come back and went from 11th to 5th. He's tied for the points lead with Seely.
6 34 Malcolm Stewart Haines City, FL Honda CRF 250- Mookie won a heat which is good but I wasn't a fan of his move on Anderson. But hey, nice that he owned it at the end of the night according to Anderson. Still, Mookie's been, to me, a surprise this season on the TLD Honda.
7 66 Jake Canada Sun City, CA Honda CRF 250- Oh Canada! Jake the Snake was up there for a little while before dropping back to this still-respectable finish. Canada is just getting back from an injury and I'm sure the pace was a little high up front for him. If he gets up front again, I bet he'll be better adjusted.
8 87 Shane Mcelrath Chesterfield, SC Honda CRF 250- Is it just me or does it seem like Shane is always around Jessy in the main events?
9 50 Jessy Nelson Paso Robles, CA Honda CRF 250- See?????
10 83 Dakota Tedder Surfside, CA Kawasaki KX 250F- Good ride for Tedder. He's inching towards the top ten in points.
11 111 Dean Ferris MURRIETA, CA KTM 250 SX-F- Ferris admitted to me that he does think about staying safe in order to be ready for the outdoors. That's where he should shine. As a matter of fact, he says that's the first thing Roger DeCoster told him!
12 84 Scott Champion Orange, CA Yamaha YZ250F- #privateerlife. I don't know about you guys but if I'm a 250SX privateer like Champion or maybe even Canada, I'm jumping up to the 450SX class ASAP. The purse in the 450SX class is so, so, so much better that a guy can make an okay living in 450's if he can get at least a top 5 in the LCQ as opposed to getting, say, a 12th in the 250 class. But hey, that's just me.
13 97 Topher Ingalls Carmel, CA Honda CRF 250- I said last week that Ingalls needs to go back to the orange and black Honda look of a few years ago and even though this 13th is good, I stand by my comments.
14 565 Preston Mull Livingston, CA Yamaha YZ250F
15 737 Valentin Teillet Lake Elsinore, CA Kawasaki KX 250F- "We" led the heat for a while this weekend. "We" looked fantastic doing this. This kid's got a great style and looks like he's really fast out there. Key word is "looks", but I don't care.
16 397 Brandon Scharer Gardena, CA Suzuki RM-Z250
17 222 Chris Howell Spokane Valley, WA Yamaha YZ250F- Howell came from eighth to third in the 250SX LCQ to make it into the main event. Talk about earning it. Imagine giving a bunch of gypsies some chainsaws and booze and that's what it must be like coming through the pack in a 250SX LCQ.
18 919 Shawn Rhinehart Littlerock, CA Suzuki RM-Z250
19 973 Jean Marrone LA MEDE, France Suzuki RM-Z250- The French are coming! What in the name of Matthew Lalloz is going on?
20 243 Joseph Dalzell Belvidere, IL Kawasaki KX 250F- Dalzell didn't want to be "Just Short" this week so he put it into the main with a nice ride in the 250SX LCQ.
21 383 Brandon Rangel Temecula, CA Honda CRF 250
22 273 Conner Elliott Tumwater, WA Honda CRF 250 I don't know what happened to Elliot but I did hear he had his trailer broken into at Oakland and had some stuff taken. As if it wasn't hard enough to be a privateer already.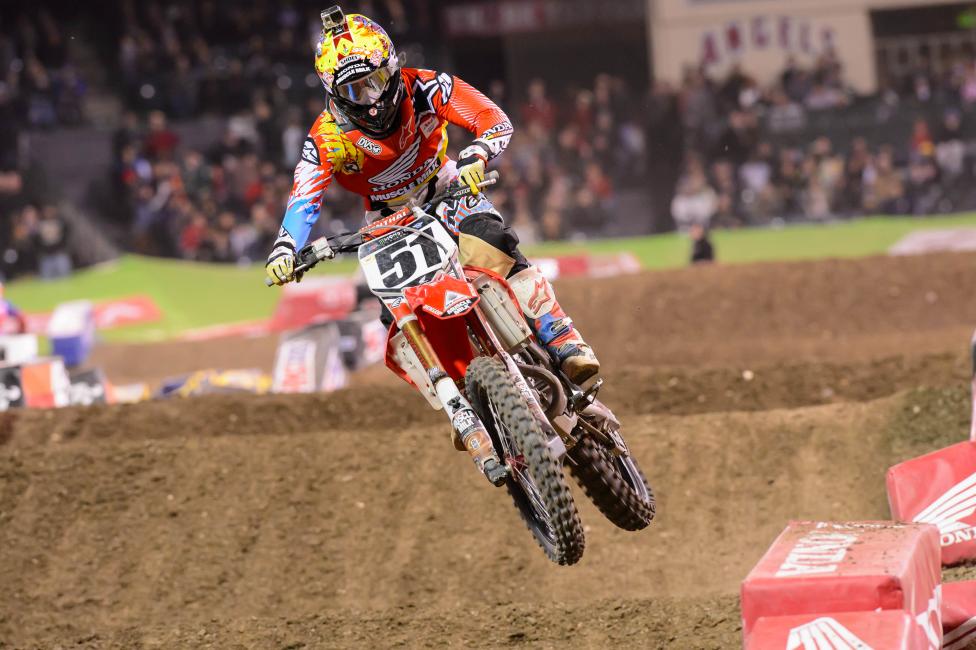 450SX Results
1 22 Chad Reed Dade City, FL Kawasaki KX 450F
2 94 Ken Roczen Murrieta, CA KTM 450 SX-F- If you want to get some laughs, check out Roczen's Instagram comments. It's a mix of moto fans and seemingly people who have ZERO clue about Kenny and his sport. It's a tie between Cianciarulo and Roczen on who has the most hilarious comments on their IG pages.
3 1 Ryan Villopoto Seattle, WA Kawasaki KX 450F- I was surprised that Villopoto lost the draft of the top two guys late in the race but a third isn't so bad. I did notice the Kawasaki guys went back to a stock dogbone on the linkage. But again, maybe their works ones used the same ratios and they ran out of them. Who knows?
4 51 Justin Barcia Pinetta, FL Honda CRF 450- The Barcia train is back on the tracks! Well, sort of, anyways. Justin worked with McGrath for help with starts this week but it didn't really pay off yet because his starts weren't much better. I think Justin's results should get a lot better as we move east.
5 40 Weston Peick Wildomar, CA Suzuki RM-Z450- This guy right here just continues to get it done. Chad Reed's 2014 is a lot like Braveheart but right behind Chad and his blue face is Peick's season.
6 10 Justin Brayton Cornelius, NC Yamaha YZ450F- Another race we now consider just okay for Brayton, but if this was last year we'd be saying that it's a great race for the #10. Like Roczen needed (and got) this week, Brayton needs a big San Diego to show us that he's still "a guy" for this title. Weege is still on this transfer of power thing by the way, which is ridiculous. By the way, "Airtime" Brayton was one of two riders doing both the quad and the 3-2 in the section before the sand.
7 7 James Stewart Haines City, FL Suzuki RM-Z450- Stewie was in fourth for the longest time as Reed, Roczen, Villopoto, Stewart, Dungey and Barcia were one through sixth (a lot of wins in that pack there, bro) and there was symmetry in supercross. But then #angrydungey struck back with a little dicey pass on Stew that left him on the ground.
8 12 Jacob Weimer Rupert, ID Kawasaki KX 450F
9 29 Andrew Short Smithville, TX KTM 450 SX-F- Only five riders have finished inside the top ten at every round this year: Villopoto, Reed, Roczen, Brayton and Andrew Short. At this point in Short's career it's easy to overlook him but look how hard it is to stay fast and consistent in this sport. And he got this result with a front tire missing some spokes! By the way, Shorty was again one of the only guys out there to jump the quad. I don't know what's gotten into him this year but he's balls out in 2014.
10 9 Ivan Tedesco Murrieta, CA KTM 350 SX-F- Ivan told me on track walk that he's always been a good 250 guy (look at his titles won, duh) and that he feels at home on the 350 because it doesn't tire him out as much.
11 20 Broc Tickle Holly, MI Suzuki RM-Z450- Tickle's pretty banged up with ribs and a wrist injury among other things so he's hanging in there. You've got to feel for the whole RCH operation. Five races in, one guy out, one guy beat up and the whole season is about survival right now.
12 23 William Hahn Menifee, CA Honda CRF 450- Wil had an incredibly bad face plant in the whoops in practice and he looked a little wobbly when he got up. He hurt his hand as well, so Anaheim 3 was an uphill battle for him, and he'll get to explain his feelings on one of the 42 MX Internet radio shows that he does every week.
13 27 Nicholas Wey Murrieta, CA Kawasaki KX 450F- Solid race for Wey, he did change his triple clamps before one of the practices though. It's funny how these guys are. I would consider Nick's supercross season a success (especially after his outdoor season last year) but he appears to still be searching each and every week for more. Thirteenth in this field is solid.
14 102 Matt Moss Nerriga, Australia Suzuki RM-Z450- Moss rebounded from what I believe was a shoulder injury he suffered in Oakland to log a pretty good finish.
15 77 Jimmy Albertson Shawnee, OK Honda CRF 450- Albertson's best race of the year. He, Moss and Friese seemed to be in the exact same spots all race long until Friese tried to fix that.
16 42 Vince Friese Cape Girardeau, MO Honda CRF 450- Friese, who's already on AMA probation for, well, a bunch of things, collided with Albertson late in the race in a move that had Jimmy wondering what Vince was thinking (take a number Jimmy). Hopefully it doesn't get Vince in any trouble. He's riding very well but sometimes a moth has to go to the flame—they just can't help it.
17 33 Joshua Grant Corona, CA Yamaha YZ450F- I don't know what "The Milestone Assassin" Nick Schmidt did to Grant but Josh really didn't seem to like him in the semi race. JG went down in the whoops in practice and struggled throughout the night. Don't be surprised if JGR fill-in "Filthy" Phil Nicoletti gets the call this weekend.
18 44 Matthew Goerke Temecula, CA KTM 450 SX-F- There's no other way to put it, Moss colliding with Goerke at the first race just jacked up Beef's entire supercross season thus far. Last year he was "a guy" and this year, due to injury, he's "just another guy" in the main events.
19 68 Chris Blose Phoenix, AZ Honda CRF 450- I found out that Blose has ditched his 2012 Honda CRF and picked up a new 2014 Honda so that's a step in the right direction. I'd say that out of every rider in the main, Blose is probably the least-supported guy.
20 5 Ryan Dungey Belle Plaine, MN KTM 450 SX-F- Dungey continued his newfound aggression with a move on Stewart that was out of character. Then, in another move that was out of character, he crashed in the whoops and broke his clutch master cylinder off. That was it for The Dunge—a DNF and a big blow to his title hopes.
21 3 Eli Tomac Cortez, CO Honda CRF 450- Tomac was busting out the quad and also he was one of only two guys (that I saw) going 3-2 in the jumps before the sand section. I texted with Tomac about that and he said that it was faster but it also wasn't easy to do. Yeah, I'd say so.
22 800 Mike Alessi Hilliard, FL Suzuki RM-Z450- Did you know that Mike developed rear brake problems in Anaheim? Maybe you did. Did you know that Mike prefers the 2012 Suzuki RM-Z 450 over the new bikes and still uses it? Now you do.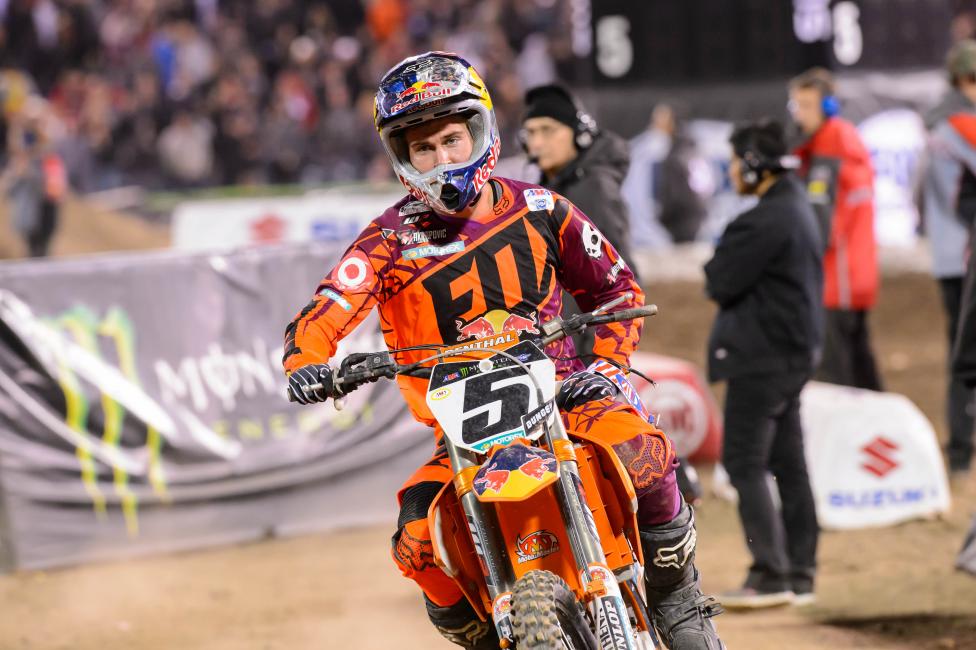 Some other news and notes:
- Thanks to Kenny Watson at RCH, I got to meet Alex Van Halen who was at the race because his son is into racing. Anyone who listens to me or reads my stuff over the years knows that Van Halen (more Sammy than Dave) is my favorite band ever and therefore this was what I imagine it would be like meeting Jesus. Or, at least Jesus's brother. Pretty cool guy also. I spoke to him about the new record, the sport and I told him I was a "Sammy guy" which he laughed about. Thanks to Watson for making dreams come true!
- I'm not super pumped that Feld cut the laps back on the heats this year but I'm pumped that the semi's are back. Seeing Jimmy Albertson win this past weekend just reaffirmed my belief that it's good to have these things. Riders like Top Jimmy have a great spot to get good TV time and exposure for his sponsors. It's a win/win all around.
- It was pretty cold at Anaheim so I'd like to take a moment to acknowledge the brave souls in the 450 class who took the parade lap sans jackets: Grant, Alessi, Hahn and Goerke are true warriors, my friends.
Thanks for reading this week. Email me at matthes@racerxonline.com and we can chat about the races or how awesome it was to meet Alex Van Halen.