Angel Stadium
Anaheim

,

CA
Anaheim 2 (A2)
Monster Energy AMA Supercross Championship
BTO Sports is your number one source for all of your motocross parts, gear, accessories and apparel. BTOSports.com is a motocross company who is truly dedicated to the sport and to the customer. Proud sponsor of your Racer X Podcasts and the BTO Sports race team.
We're going retro everyone, come and join us! While only a small fraction of teams and riders took part in the retro action of Anaheim 2, it was still pretty cool to see. Also, great job by Feld and the Legends and Heroes people to get all the past supercross champions to the race so they could be honored and recognized. Weigandt and I cheered for Jean-Michel Bayle because none of you did in 1991. We were trying to right a wrong … call us trailblazers or revolutionists or what have you. And it was pretty telling that Chad Reed got (unofficially) the second loudest cheers of the night, behind the King, Jeremy McGrath. Reed has come this far nowadays, he's the peoples champion. Part of his appeal is the fact that he's the oldest guy out there going for the win (Nick Wey is actually older if you go by, you know, age and stuff) and part of it is the fact he's been down, he's been up and he's authoring a terrific story.
By the way, Weege and I loved that Jeff Stanton's video montage had a Damon Bradshaw shot in it. You cannot tell the story of Jeff Stanton without putting Bradshaw into it. And it says something that Bradshaw, having never won a major title, still made a video about supercross greats.
The track itself was a clone of the Anaheim 1 2001 track (we did have over/under bridge-gate for a few hours when the wrong virtual track map was released. That got me very excited but it wasn't to be). But, a perfect replica of 2001 it was not. The track was tamed down a bit because of, well, I'm not really sure. Maybe lack of dirt, or safety reasons? All I know is the bikes are better than ever and the riders are better than ever and therefore making the track easier is weird.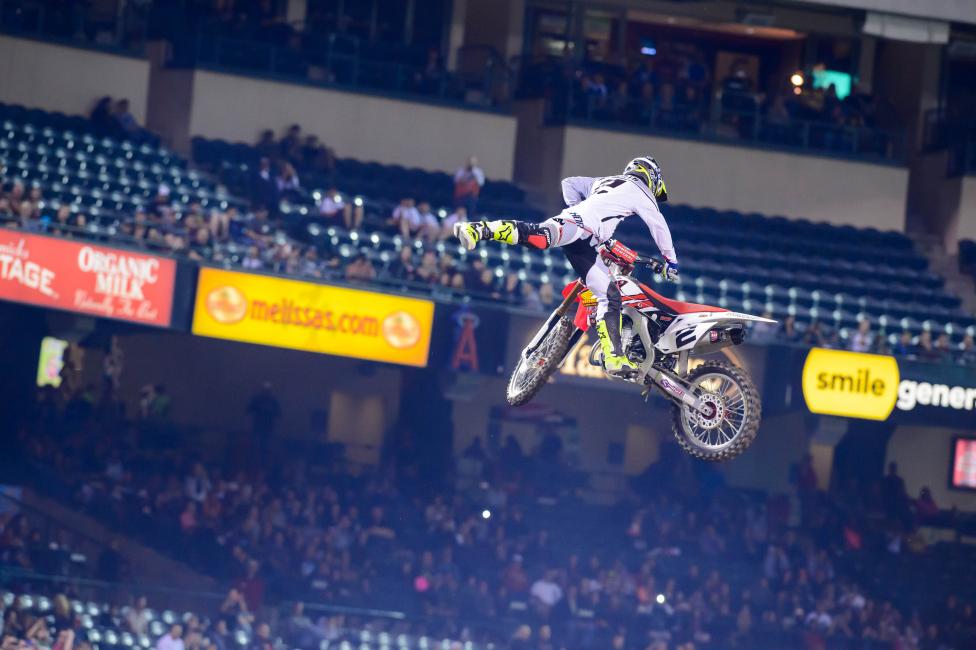 I watched some of A1 2001 and tried my best to get some lap times. I saw 1:02s range, while the guys this weekend were doing 52s. So thirteen years meant ten seconds. I'd put the difference on four-strokes and a track that, while mimicking the original, was A LOT tamer. The lips and edges of the track in 2001 were gnarly compared to what we have nowadays.
It was still a good track, a bit one-lined maybe but guys made mistakes on. I think part of that was the track material itself. It was rocky out there! The corners seemed to just crumble away and it blue-grooved badly in some spots. The riders looked like they had to tip-toe around some sections. The same dirt is used for all the Anaheim SXes and Monster Jam events throughout January and February, so if the dirt was this bad for A2, I shudder to think what A3 is going to be like. Can someone mount up some trials tires?
When was the last time you saw three flats by big-name guys at a supercross? Well this weekend James Stewart suffered one in practice and Jimmy Albertson and Nick Wey got flats in the main event. And that's just the guys that I know about. Bring the handguards and mousses to A3 folks, we're going to need them.
I was thinking about what I was doing at Anaheim 2001 and it appears that I was busy doing … nothing at all. I was working for Red Bull KTM as Kelly Smith's mechanic but it was for the 125 East class. Smith often raced the other coast on the big bike but not on this night. So I was there and just hanging out I suppose. [David] Pingree and [Grant] Langston were our two West Region riders and Ping got a 5th and Langston a 19th.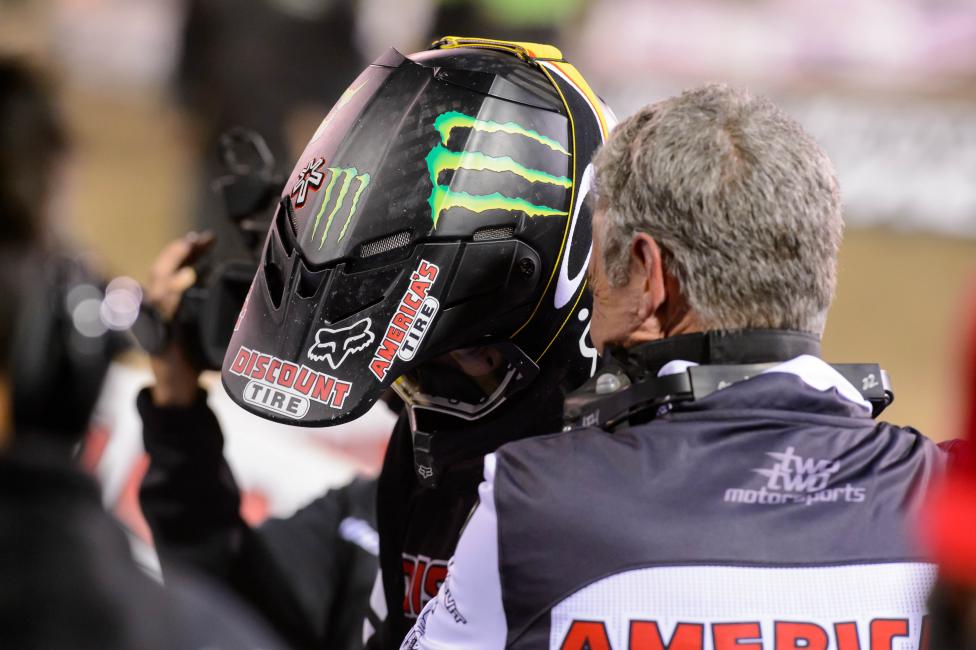 How appropriate for retro night to have Chad Reed and James Stewart battling for the win? That's amazing script writing by the Feld folks, for sure. Reed winning Anaheim 2 immediately makes his entire 2014 season a success. He's accomplished in three races what it took him sixteen to do last year (make two podiums). Reed patiently stalked the leaders all race, didn't make mistakes like some of them did and used a smart line to make up time. He recognized that none of the other leaders were doing the triple onto the tabletop after the first set of whoops, so he did it and it out was a key to the race. Afterwards Reed admitted that had Ryan Dungey not crashed, he might not have won, but in the end the wily veteran came through.
Reed's win does validate some of his claims last year that he wasn't happy with the Honda. He's on green now and seems to be in a happier place (it should be noted that Chad voiced his displeasure with air forks last year but he's now happily running them on his Kawasaki). He's also in better shape than he was last season. With the bad knee injury he suffered at Dallas in 2012, he didn't get properly prepared coming into 2013—the knee recovery was stubborn and when he tried to put in really hard training days, the knee would balk and he'd have to back it down. By Anaheim last year, he just wasn't ready and he didn't seem motivated or "into it." He's admitted that and worked hard to remedy that issue and make believers out of everyone this year.
By the way, credit to our own Jason Thomas for spurring Reed on. Some of these riders have coaches to help them improve their riding but all JT has to do is ride with Chad for so long that even Reed's kid can see that daddy doesn't want to slip to that level. Yup, Chad credited Tate saying: "Dad, you're slow like JT" for pushing him to win. Without DOING ANYTHING, Thomas improved Reed's speed. Take that, Donnie Hansen!
As Reed said, early on it looked like Ryan Dungey was going to win this race. After his passive ride last week it was obvious that either Roger DeCoster, his dad, his fiancé, or his mechanic (sadly, these days mechanics are far down the list for people that you ask advice from) had gotten to Ryan and mentioned that he could win this title with, you know, a little bit more hatred. He made aggressive heat race passes on Broc Tickle and Josh Hill and tried to make one on RV at the end of the main. He looked aggressive and was sprinting hard when he went down early in the race. I like this new Angry Dungey, I endorse this guy wholeheartedly! Go get'em Dunge!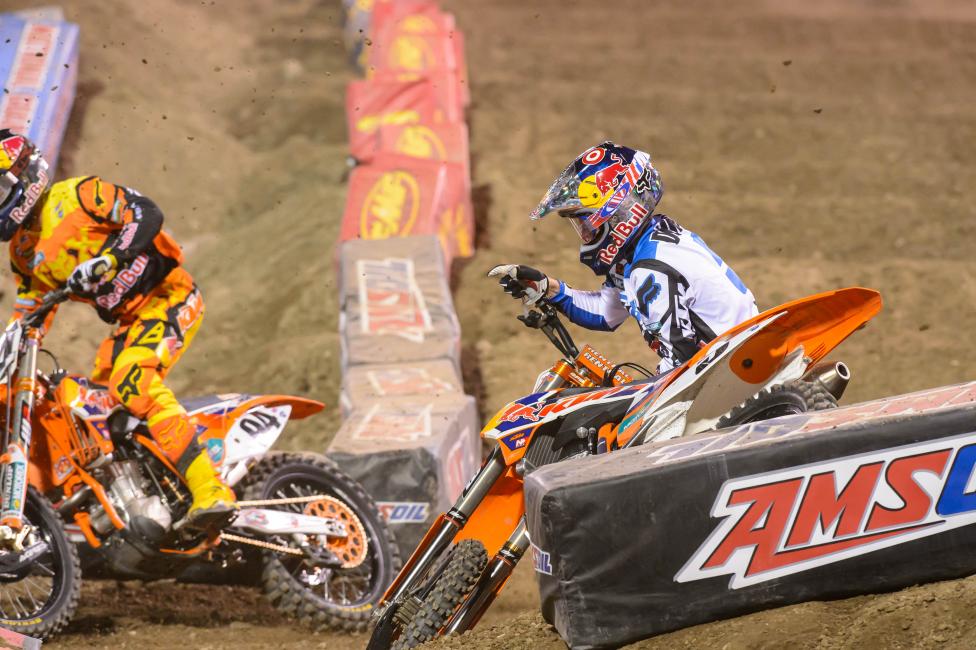 James Stewart finished second. It's his best finish of the year and he's got to take it and be happy I think. I'm sure getting caught and passed by Chad Reed is never a good thing for Stewie but he rode well. I also heard that he was still a bit sick and didn't have a lot of energy—so all things considered this isn't too bad. And hey, who caught Stewart and Reed talking things out, shaking hands and all that on the podium afterwards? Next up you're going to tell me that Richard Sherman and Michael Crabtree are going to dinner together.
If you're Ryan Villopoto, there's no need to worry right now. I'm sure no one was happy at Kawasaki over RV's race, but at least a green bike won, right? To recap, RV led A1 before going down eventually getting fourth. At Phoenix he came from tenth to first to win. This weekend he was passing for the lead when he tangled with Stewart and went down, eventually finishing fifth. And he's still ahead of where he was last year. And he'll get better when we get to the east, with ruts, traction and domes.
This 250SX West series is shaping up to be a great one. Like the last few years, it's looking like a two-man battle with Cole Seely and Jason Anderson. Those two have been 1-2 all three races with Anderson getting docked two spots for jumping on a red cross this weekend and getting scored in fourth. Anderson and Seely seem to be on another level than everyone else, and they're also so, so close it's ridiculous. Of course, crazy things can happen (see Eli Tomac crashing out of Oakland last year and Ken Roczen not making the Salt Lake main event) but right now these guys have an edge on everyone else.
By the way, the two-spot penalty for jumping on the red cross is new this year. In year's past the penalty was either a certain amount of time, or maybe one position or whatever it seemed like the officials thought at the time. Now, there is no discussion. It's two spots no matter how much time you gained or lost. I like the decision; it's much better than what we were doing.
Let's take a look-see at the results, shall we?
250SX Results
1 21 Cole Seely Lake Elsinore, CA Honda CRF 250- Can TLD capture its first title in its first year away from using Pro Circuit motor work and pipes?
2 37 Cooper Webb Newport, NC Yamaha YZ250F- I called Webb making the podium while watching his first practice. He looked good to me. By the way, I don't think it's a coincidence that Webb goes to his first ever hockey game and then podiums a few days later
3 34 Malcolm Stewart Haines City, FL Honda CRF 250- Man, that sucks for Mookie. Anderson's penalty gave him his first ever 250SX podium, but that wasn't known until after the race, so he didn't get to celebrate on the box. Solid ride for Mookster.
4 17 Jason Anderson Rio Rancho, NM KTM 250 SX-F- The only thing positive for Anderson about losing the red plate is the fact that the red plates just don't look good on a KTM.
5 35 Justin Hill Yoncalla, OR Kawasaki KX 250F- This was a great ride for Hill—perhaps his best ever as a pro. Crashing in the first turn after almost getting the holeshot and then coming from last to fifth is awesome. In a season that is slowly slipping away from Pro Circuit, Hill's ride is awesome. I talked to Mitch Payton, and he mentioned that Hill's ride is the type that makes him believe Justin can win a race.
6 87 Shane Mcelrath Chesterfield, SC Honda CRF 250- You notice how much better McElrath has gotten since Anaheim 1? Seems to be figuring this supercross stuff out.
7 15 Dean Wilson Wesley Chapel, FL Kawasaki KX 250F- I like Dean, he's one of the good guys in the pits but I gots to calls it like I sees it and this is not good. A crash in the main event (very similar to his Indianapolis crash last year) got him this result. He can go fast in qualifying, he can win heats but he can't seem to do much in the mains. A rider with this talent and on this team should be challenging for the win and he's yet to get a podium. Mitch Payton seemed to think that some bike changes made during the week were very helpful and without the crash, might have won.
8 16 Zach Osborne Chesterfield, SC Honda CRF 250- Osborne was an innocent victim when he was collected in a Tuff Block that Wilson kicked out in his crash. So that sucked for Zacho but he was back there because he couldn't get a start (see A1 and Phoenix as well) and well, this stuff happens back there.
9 89 Michael Leib Menifee, CA Honda CRF 250- Leib bounced back from a DNQ last week to get a top ten, which is good finish for him on a privateer effort. And it's even better considering that Michael was sick all week (seriously, how many guys have we heard this year that have been sick? Are they all making out with each other?).
10 50 Jessy Nelson Paso Robles, CA Honda CRF 250
11 111 Dean Ferris MURRIETA, CA KTM 250 SX-F- Ferris was sixth when he was "helped" to the ground by another rider. So he had to fight back from that to get this finish. Do you think that team manager Roger DeCoster sits Dean down before each main event, pops in a tape of Greg Albertyn racing supercross and says, "Don't do this, stay healthy for the outdoors" and then walks out?
12 83 Dakota Tedder Surfside, CA Kawasaki KX 250F- Props to Tedder who got landed on by Wilson in practice and still came back to get this finish. I would have been curled up in a corner sucking on my thumb.
13 142 Cole Martinez Rimrock, AZ Kawasaki KX 250F- Time to really start watching this kid on the all white Kawasaki.
14 594 Chris Plouffe Castaic, CA Honda CRF 250- Plouffe ditched the graphics-less CRF250 and got a fill-in ride for Jake Canada on the 51Fifty team (Coming at'cha!) but with Canada coming back, I'm not sure if Plouffe is out or not. I'm sure his logo-less company that sponsors him will take him back.
15 737 Valentin Teillet Lake Elsinore, CA Kawasaki KX 250F- THE BANDWAGON IS FILLING BACK UP BABY!!!
16 222 Chris Howell Spokane Valley, WA Yamaha YZ250F- All I know about Chris Howell is that my buddy James Lissimore told me raced Canadian arenacrosses on a Suzuki about a month ago and that now he's on a Yamaha. And oh yeah, that he sleeps in his van now.
17 273 Conner Elliott Tumwater, WA Honda CRF 250
18 84 Scott Champion Orange, CA Yamaha YZ250F
19 193 Chris Proscelle Vista, CA Honda CRF 250
20 416 Austin Burns Scottsdale, AZ Honda CRF 250
21 360 Aaron Siminoe Reno, NV Kawasaki KX 250F- From coming up one short last week to making it this week, the 250SX class is crazy.
22 243 Joseph Dalzell Belvidere, IL Kawasaki KX 250F- I got nothing. Sorry to Joe and the entire Dalzell family. Cool last name, though.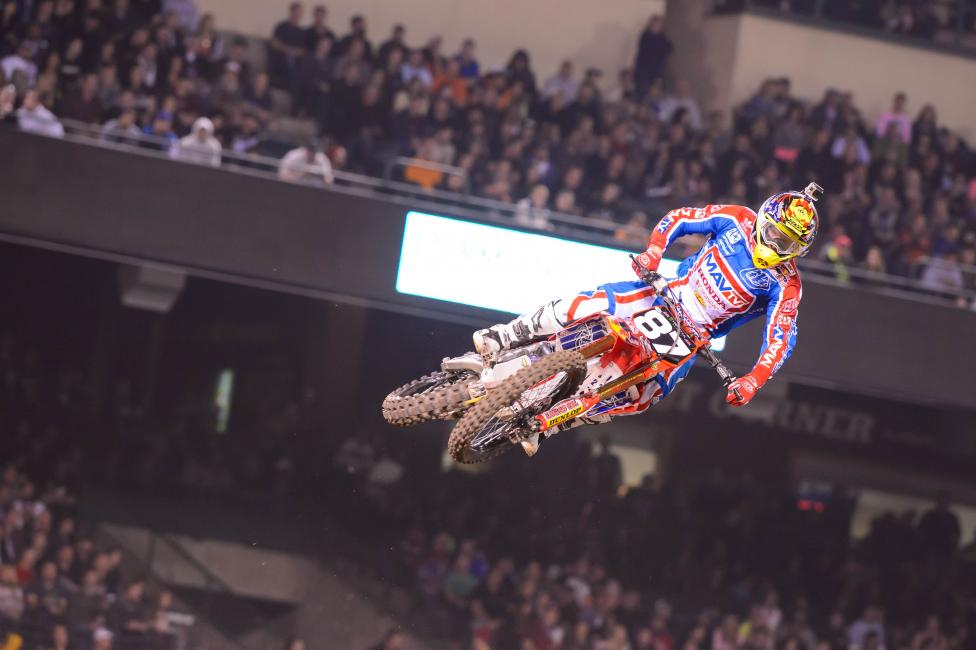 450SX Results
1 22 Chad Reed Dade City, FL Kawasaki KX 450F- I know Reed wore the retro Shift stuff because of the night but he came out for the first practice in some gear that was awesome. Then it never came out again but he kept the boots on. That was about all I got for negative thoughts on Chad Reed right now.
2 7 James Stewart Haines City, FL Suzuki RM-Z450- I give up. I tried for three weeks to try to like Stewie's smurf-blue/green Gaerne boots but I can't do it. His Seven gear get-up this week was sweet but then he went and put those boots on again. What's going on with those things? James is normally pretty well dressed. Someone needs to have an intervention.
3 94 Ken Roczen Murrieta, CA KTM 450 SX-F- King Kenny rode a solid race but was it just me that thought he would do better (third isn't bad people, I'm not saying that) since he was the fastest guy all day long in practice? I guess this is where we're at with Roczen, he won the opener and NOW WE DEMAND WINS!!! Just kidding. But hey, a third is great and guess who's got the red plate again? That's right, Kenny "effing" Roczen.
4 10 Justin Brayton Cornelius, NC Yamaha YZ450F- Another great race by Brayton. He straight up passed Villopoto to win the heat and then didn't get the start he needed to challenge for the win. But he still easily held off Dungey and Villopoto after they went down. Back in the olden days, those two would've zoomed right by the #10, but not now! Brayton's old school O'Neal gear was awesome looking but unfortunately it had a skull on the front of it. No one did skulls back in the day.
5 1 Ryan Villopoto Seattle, WA Kawasaki KX 450F- RV scared me when he told me he was going to start inside gate. Luckily he either took my advice or was just jacking with me (I'm going to bet on the latter) and he started near the box. He was running gear with Seattle Seahawks logos on it (and a Marshawn Lynch Beast Mode butt patch) but I challenged him to name three Seahawk players and he failed to do so. Kids, don't ever underestimate the gear guy's love of a football team!
6 5 Ryan Dungey Belle Plaine, MN KTM 450 SX-F- Fox should put an angry beaver on the back of Dungey's pants for this weekend. I really struggled to think of an animal that is synonymous with Minnesota other than a beaver. Sorry guys.
***Update*** I worked the Google and came out with Minnesota's official reptile being a Blanding Turtle so maybe an angry Blanding Turtle on the back? Hmm, bland? Maybe not?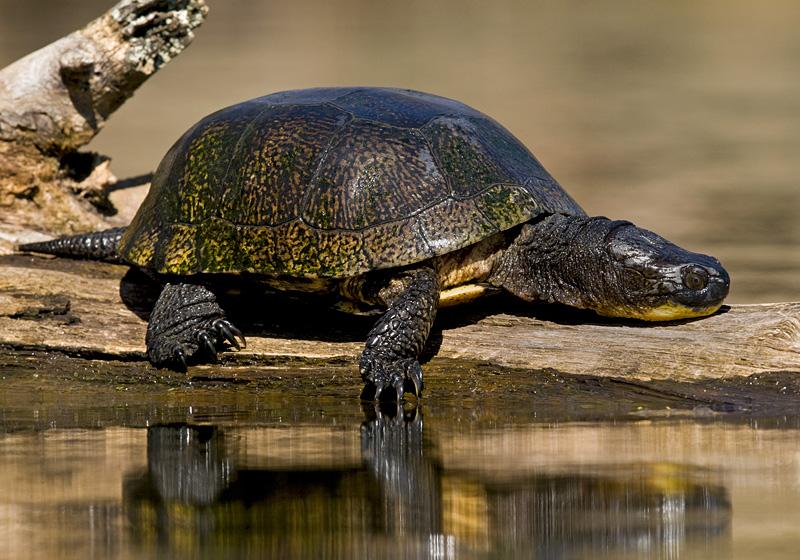 7 40 Weston Peick Wildomar, CA Suzuki RM-Z450- Peick had a great ride and battled with Hill for the whole main event. Weston had a brutal crash at Phoenix and didn't even ride all week and then does this. When does the "Man, I can't believe ______ got beat by Peick" start to go away? Peick is getting good help from Suzuki and Yoshimura and has a nice little program over there but he's still a privateer in my world.
8 75 Joshua Hill Yoncalla, OR Suzuki RM-Z450- The best race of the year for Hill after his DNQ in Phoenix. You might look at this and think "Whatever, he got beat by Peick who's a privateer" but you would be wrong. Peick was hauling ass, Hill was all over him and the privateer Peick beat everyone but six guys. Getting eighth in 2014 is like a fourth a few years ago—go ahead and look it up. It's fact.
9 29 Andrew Short Smithville, TX KTM 450 SX-F- The veteran has gone 9-7-9 to start the year and one of only six guys to be top ten in every race. Week in and week out, Short gets the job done for his fans and this year, he has a chance to win semis and get his team and sponsors some TV time as well. Short raced this track in 2001 on a Pro Circuit Kawasaki and finished 10th, so there's that.
10 12 Jacob Weimer Rupert, ID Kawasaki KX 450F- 17th to 10th for Weimer but you cannot catch these dudes if you're Jake Weimer if you can't start with them. Heck, you can't let these dudes go if you're just about anyone not named "Ryan Villopoto".
11 51 Justin Barcia Pinetta, FL Honda CRF 450- Barcia was in seventh until a fall late in the race dropped him back here. 5-5-11 through three races and I'd like to apologize to Justin for picking him as the rider who would challenge Villopoto the most this year. This start is all my fault but I'm sticking on the bandwagon. I see all you people jumping off and just a note, you WILL NOT be allowed to be back on when the 51 starts winning.
12 23 William Hahn Menifee, CA Honda CRF 450- Hahn's incredible starting ability on the 250 has left him on the 450. In many heats, semis and main events this year you've seen Hahn putting on a charge late in the race but like Weimer, you can't just let these dudes get out front and expect to catch them. I think that Hahn has been better than I thought he would be. His outright speed (looking at lap times) have him in the upper echelon of the class.
13 9 Ivan Tedesco Murrieta, CA KTM 450 SX-F- Hot Sauce raced 125's at A1 2001 so he no doubt used his experience out there to get this finish.
14 33 Joshua Grant Corona, CA Yamaha YZ450F- On Wednesday Grant wasn't sure he could race. On Thursday the JGR guys flew Phil Nicoletti out to California (he's the JGR backup rider) and later on Thursday, Grant said his shoulder was good enough to race Anaheim. Then he logged all 20 main event laps in pain. I'm telling you, Coy Gibbs is some sort of mumbling genius. He's like rain man of motocross owners.
15 27 Nicholas Wey Murrieta, CA Kawasaki KX 450F- Wey pulled some great starts all night long and has rebounded solidly from a crappy A1. One thing that Nick's got over some other riders is he puts in 20 laps (or 19) hard and doesn't let getting lapped affect him. And in the end, he's two/three spots higher than he might have been. Wey was one of three riders that actually raced the A1 2001 track and the only guy who raced the big bikes back then. Nick's mechanic had another fun day at Anaheim as Wey changed a motor, shock and link throughout the day. Been there, done that.
16 44 Matthew Goerke Temecula, CA KTM 450 SX-F- Goerke's whole season has been a wash so far as he deals with a finger that should probably need surgery at some point. He's fighting through it but he's not the same guy he was last year and that's too bad.
17 42 Vince Friese Cape Girardeau, MO Honda CRF 450- Friese has been good this year, he's picked up where he left off last year where he's in every 450SX main event. He's also doing the same thing and heading down to the 250s when the series goes east.
18 800 Mike Alessi Hilliard, FL Suzuki RM-Z450- The 800 wasn't his usual self at A2 and it was mostly due to him being under the weather all day. He'll be better this weekend.
19 102 Matt Moss Nerriga, Australia Suzuki RM-Z450-
20 68 Chris Blose Phoenix, AZ Honda CRF 450- Blose needed a bike for the race and borrowed one from Vince Friese (golf claps for Vince here) and then he proceeded to battle Friese in a couple of races to get into the main. Pretty good job by Blose to make it happen and get into the main.
21 82 Kyle Partridge Canyon Lake, CA Honda CRF 450- Partridge is certainly very talented and a great rider but I feel like in the mains something always happens to him to prevent him from getting better positions. He always looks good in the qualifiers. Maybe he doesn't have 20 laps in him, maybe his bike isn't solid, I'm not sure.
22 77 Jimmy Albertson Shawnee, OK Honda CRF 450- Top Jimmy made it to the main by winning the LCQ (which he celebrated by doing an air wheelie) but then suffered a flat early in the race. In the two mains Jimmy's made he's had mechanicals in both of them. Tough start to the season for the seven-seven.
Some other news and notes:
Team Honda Muscle Milk absolutely wiped the floor with everyone in terms of retro bike prep when they came out with a mixture of an '86 and '89 look for Barcia's CRF. It was pretty sweet and they even slid some fork boots on the upper tubes! Unfortunately the boots came off for racing because they got in the way of everything but still, Honda did a great job. JGR Yamaha looked good with the yellow and Cycle Trader Rock River Yamaha did good with the white/red but this was a one-horse race.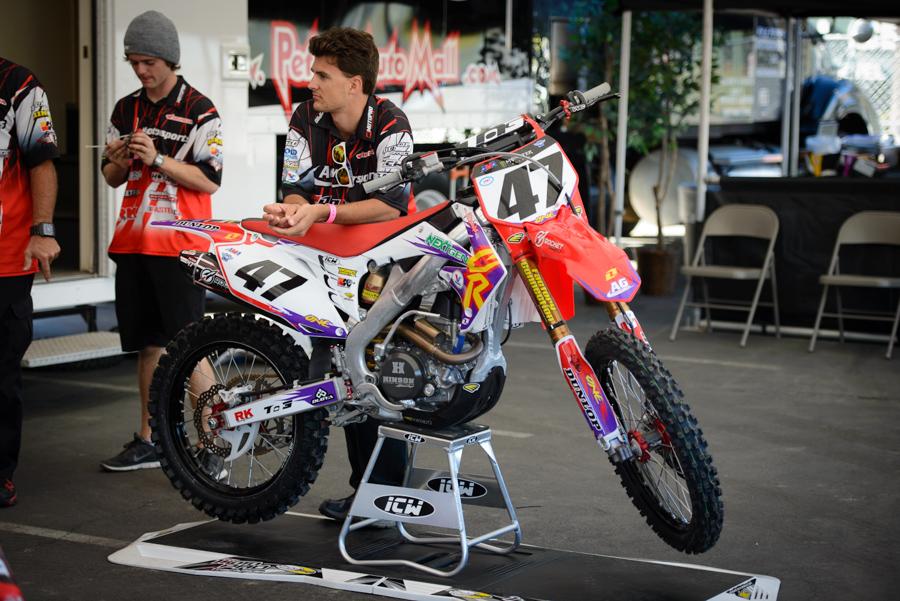 It's awesome that Kyle Peters embraced the retro theme, so I'm hesitant to bash him here, but dressing up his CRF250 to look like the 1995 Hondas (that were so hideous the factory team didn't even mimic the look) wasn't exactly a hit. No one has ever said, "Man, those 1995 CR's with the purple—they just don't make 'em like that anymore!"
Anyone who listens to my shows or podcasts knows that I'm not a fan of the constant reminders of old greats when they've long past retired. I just feel like those old champs got all the love back when they raced and now it's time to give the current racers the spotlight. But I will say that once in a while, it's nice to acknowledge the greats and it was cool seeing Jeremy McGrath and Ricky Carmichael out there on the parade lap (and Feld finally got mics you can hear and work great) talking about the track. MC threw a NacNac and RC whipped it and collectively the crowd all leaned back and lit up a smoke after that.
Thanks for reading, I appreciate it and you can email me matthes@racerxonline.com and we can chat about Oakland and its wonderful stadium.