Did you underestimate Chad Reed? I will admit it: I did. After watching him struggle to find his form and speed in 2013, I really thought his long time at the top was finally behind him. He already had the wins and titles to label him one of the sport's all-time greats, and like Kevin Windham last January, I felt like we might soon be getting a midseason announcement that he was going to call time on his career. Even after his solid ride at the Anaheim season opener, seeing him on the podium was much more surprising than it was expected, in my humble opinion.
Boy, was I wrong! Chad Reed put on one of the best performances of his career Saturday night, putting on his own little "retro" race while his younger competition took turns watching him go by. Reed turned back time by riding like his younger self, much to the delight of pretty much everyone in the stadium. His whole race was a masterpiece, put on by a true master.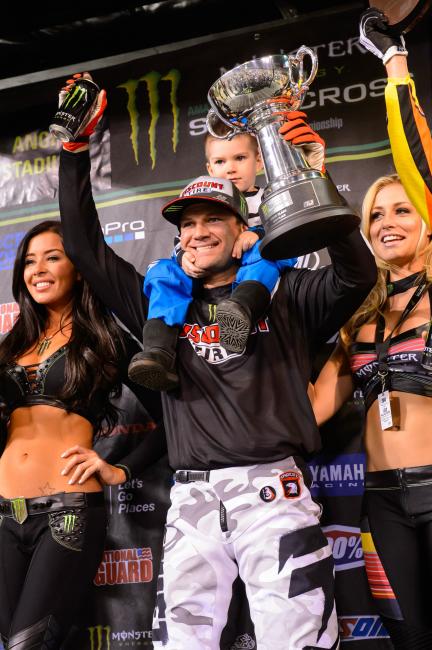 If all that sounds a little over the top, it should. Chad Reed has been racing at the highest levels of this sport for so long that he's a legend, and he's maintained that reputation through every change and evolution, be it in equipment or track design or anything else that changes as time goes by. He's now won premier-class main events on four different brands in this class, which is something very few people in the forty-year history of Monster Energy AMA Supercross can say. (Actually, I can't really think of anyone else who has done that. If you know, please let us know in the comments below!) He's continued to alter and improve his riding as new ideas and new parts make this all a moving target. And he owns his own team—a huge responsibility, with extraordinary new pressures and concerns that anyone who owns a business knows and can appreciate.
The retro race and SX birthday bash is now behind everyone, but #22 Chad Reed isn't—he's still right in the thick of this, and no one is underestimating him or his Discount Tire Kawasaki now.
Chad's mechanic, Lars Lindstrom, said it best on his pit board on the last lap: "Still Bad Ass."