Chase Field
Phoenix

,

AZ
Phoenix Supercross
Monster Energy AMA Supercross Championship
As you slumber out of bed Sunday morning, eyes still groggy from a late night out, you pull out the iPad to check results from Anaheim 1. You glance down the sheet and suddenly begin to wonder, "Who is Nick Schmidt?" If you live in Southern California you probably know him as the Milestone Assassin. For others, you may have never heard the name before. With that in mind, we called up the Washington native to get a better scope on exactly who Nick Schmidt is.
Racer X: I would say many were looking at the results page and wondering, "Who is Nick Schmidt?" With that said, can you tell us a little bit about your background?
Nick Schmidt: This will be my third year in supercross. Last year was my first full year doing it [supercross] with The Privateer Journey team. This is my first year coming in healthy. I've been training my butt off this year. My goal was to make into the main event, and I did that. To get fourteenth was a bonus. I just want to build from here and show everyone what I got.
What is your set-up this year? Are you pitting with The Privateer Journey again?
Yeah, Ted Parks and the Fly Racing crew are taking my bikes to all the rounds. I'm going to fly to the East Coast rounds and hopefully make enough money on the West Coast so the East Coast will be easier to pay for. That's the biggest thing right now—my budget. I just got a new bike and that was only my second time riding the bike.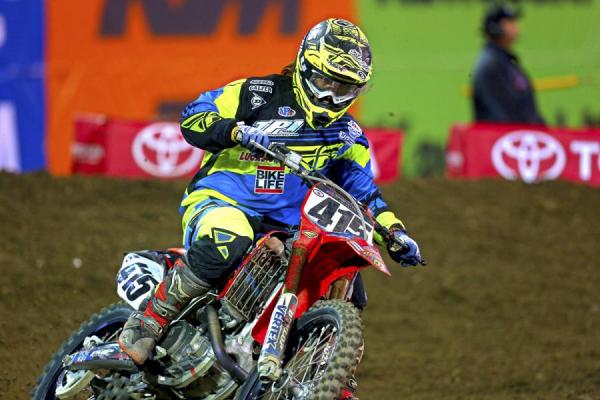 Nick Schmidt made his second career main event in Anaheim.
BrownDogWilson photo
If I would have told you before Anaheim that you would have gotten fourteenth in the main, you would have said…
Dude, I would have been stoked. It's always my goal to make it into the main event and battle with those guys. The pace is so much different than what I thought. Now I know I need to work on my intensity and stuff like that. It hasn't really kicked in yet. But it's awesome.
This was actually only your second main event ever made. What were you able to learn last year and carry over to 2014?
The biggest thing is, you need to get a good start. Especially with the new format this year. It's definitely cool to get more track time. I made the last race in Vegas [2013] so that's two in a row now. Hopefully we can keep this going.
Many say the new format helps privateers, such as yourself. Do you feel that's the case?
I think that's definitely the case. I made it in through the Last Chance Qualifier. I like it and I didn't like it. In the heat race I actually got seventh so I would of made it in off the bat. I actually forgot that I had to race the semi. It has its strong points and weak points, but overall I think it's good. I think it's better for the fans, it provides more racing for them.
You have to explain your nickname, the Milestone Assassin. Where did that come from?
[Laughs] Yeah, I don't know where that came from. I guess because Milestone helps me out a quite a bit. They are actually the ones that make it so I can go racing on the West Coast. I guess the assassin part came because I ride that track quite a bit. People think that I just ride Milestone, but supercross is so expensive going everywhere and paying $65 a day, which I can't do. So Milestone helps me out a lot with riding and stuff. I guess the name just stuck—I don't know.
You've been in Southern California for a while, if I'm not mistaken. How did you get hooked up with Milestone?
Me and my fiancée have been down here for about five years now, but I'm originally from Washington State. I just came down here and met up with one of the owners one day and from there on out he kind of put me under his wing and has been taking care of me.
Not sure where I read it, but they said you reminded them of Damon Bradshaw with the long hair flowing out of the back of your helmet.
I was actually listening to Steve Matthes on the Pulpmx Show the other night and they said that, which cracked me up. It was pretty funny.
A comparison to Bradshaw has to mean something—even if it is just for the hair.
Yeah, it's sick. I was stoked about that. It was a big compliment.
The field this year is talented from top to bottom. How tough will it be to keep this momentum swing you have going right now?
Hopefully I can keep it going. I've been training with Buddy Antunez for the past week now and he's helped me out with my program a lot. [He's helped me] with sprints and stuff like that. Hopefully I can keep the ball rolling. I have the speed, so hopefully I can keep it on two wheels and keep it going.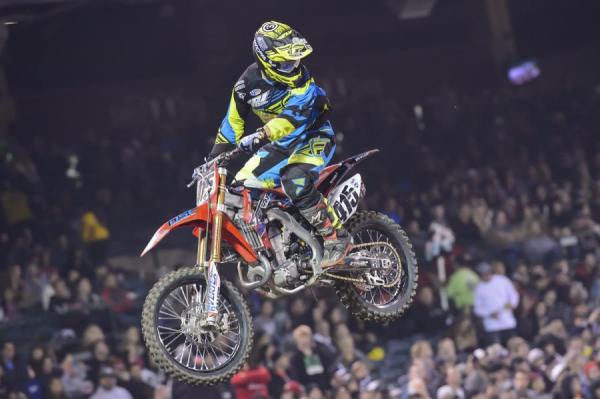 Schmidt has been working with Weston Peick and Buddy Antunez recently.
Simon Cudby photo
What's the biggest thing you're trying to work through right now?
The biggest thing I'm working on is my intensity. My intensity in the first couple laps … before I wouldn't kick in until a couple laps in. But that's too late. You need to pin it right off the bat. In the past I wouldn't get into my groove until the fourth or fifth lap and that doesn't cut it—especially with the new format. So I'm working on getting my first two or three laps to where my pace is on the seventh or eighth lap. I've been riding with Weston Peick quite a bit during the week so I've been pacing myself off him.
Talk about training with Weston. He's been down the privateer path. What has he been able to teach you, not only on the track, but also about being a privateer?
The biggest thing I've noticed is how those top guys are gnarly right off the bat. I've been working with Weston and Buddy on my intensity. The guys up front, their intensity is insane. It's all out for 20 laps, everything you got, every single lap. I know it's probably going to take more than a week to fix it, but I'm willing to put in the work and do everything I can.
Thanks for your time, Nick. Who would you like to thank for helping you this season?
I would like to thank my fiancée, my grandpa, Fly Racing, TPJ, DSC, Powered by Naveen, Magik SC Bikelife, Milestone MX, Rekluse, Moto Hose, California Coast Plumbing, Sikk Shades, Yoshimura, Lauren at 3BR, Engine Ice and Galfer.