Angel Stadium
Anaheim

,

CA
Race Center: Anaheim I
Monster Energy AMA Supercross Championship
Ken Roczen just enjoys life. His off-season, and even his Anaheim 1, had the potential to be filled with drama and pressure, yet he shrugs it all off, smiles, and even sends out well-wishes to his competitors and training partners. Heck, he even shrugged off what at first seemed to be a broken arm! Here's Kenny after his historic win on Saturday night in Anaheim.
Racer X: Talk a little bit about the race. First off, holding off Reedy for a while early in the race and what you were going about there. How was that?
Ken Roczen: I grabbed a decent start and I sneaked around the inside. I was right behind Ryan [Villopoto]. I think there were parts on the track where he gained on me a little bit but I think on the other half of the track I gained on him so we kind of just kept it steady the whole way until he slipped. It was a bummer but gave me the lead. My mind was just empty, honestly. I just kept doing my thing because I know it's a long race. Time went by and then it was lap 10 and I'm like, okay, halfway, let's do this! Kept going and I heard James [Stewart] coming. I just tried to relax my body because I was holding on really tight, but I could control it. If James wouldn't have crashed, if he would have passed or something I would have for sure tried to give it back to him because I really wanted to win. He was flying out there. Bummer those guys went down. I hope they didn't injure themselves. Then it was two laps to go and I was like, 'Man, it's getting close, but it's for sure not done because two laps can be long!' The lap times were pretty long, too, so it was definitely a long race. Went through the finish and did it. I still can't believe it. It's such a great feeling. Going to go back home and just enjoy the night, enjoy the moment.
You've actually got on the podium in the 450 class before.
It's true. That was different though. A lot of guys were out. It's just now being really in this class and coming out with a win at the first race is such an amazing feeling. It's insane. I'm blown away.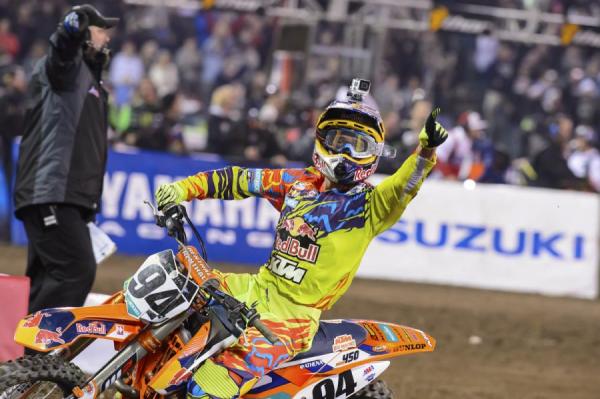 Ken Roczen outlasted the field to take the opening round win in Anaheim.
Simon Cudby photo
You feel a little bit like a different rider now? Switched up your program this year a little bit? Completely different bike and everything else?
No, I don't really feel like a different rider to be honest. I just need to try to learn to use my legs a lot so I don't pump up. It's working great. I think I'm just getting better from here on.
You're talking about gripping the bike with your legs?
Yeah, I need to grip my legs more. Also it's the first race and you just kind of forget about things so you're using your upper body and your arms a lot, so I started to grip the bike with my legs and relax my upper body.
Hey, so, please explain this thing we had going on -- I thought you had a broken arm?
My arm is 100 percent. There is no pain anymore. I mean, you guys were darned close with the info, the first doctor told me it was broken, fractured. But I knew he was kind of talking smack because he was like, "You can see it one side, not on the other. We're just going to put you in a cast." Already right there I was like, "Hold on, buddy." He was like, "Maybe you can't race" and I was like, "I'm definitely racing no matter what!" I went back to California. Went to my Fox guy, went to his mom because she knows all about that stuff and she says it doesn't look like there's anything broken. Then I went to Dr. Alexander and I have a lot of trust and faith in him because he knows what he's doing. He took new X-rays, everything. He says, "Dude, you're totally good." Then a week later I went back on the bike.
That was it? So you had a week off the bike, basically.
Yeah. But just that week actually hurts. I went back on the bike feeling like a beginner. Supercross is such a technical thing, when you're off the bike you just lose it.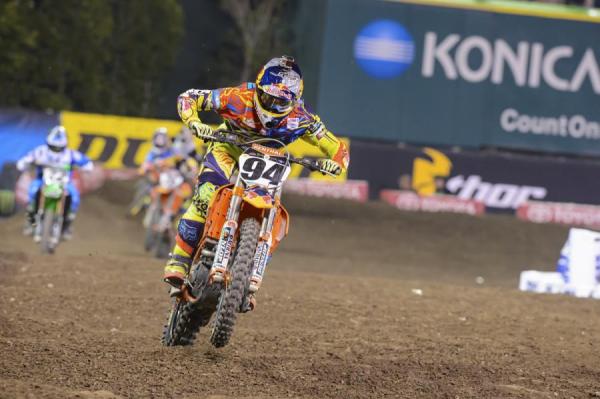 "My arm is 100 percent. There is no pain anymore." - Roczen
Simon Cudby photo
Was it just that sharpness?
I think so. Also I went on the test track and the track was just beat up. It was like an outdoor track. It's kind of nice if you go back your first day to have it freshly made just to get back in the rhythm and have a good day. So that didn't really work out but I made it happen.
Well, you won. Ryan Villopoto who you train with didn't. Your teammate didn't. Do you expect them to change a little bit, like not quite share as much with you?
I don't know. I hope not because I'm just giving my best, they're giving their best. I'm bummed that Ryan [Villopoto] went down. I know we're all just giving our best out there. Of course on the track we're competitors but I think we have a life off the track so I hope they're all cool.
Did you know when Stewart…
I heard the crowd go "Ohh"… It was a bummer for him. I hope he's all right, though.