Back in November, after a controversial finish during the final round of the Australian Supercross Championship, Josh Hill told us he was moving forward with sights set on a big year back home in the U.S. He said then: "I feel the best I have in years. I think that the old me is going to be showing up. I really think I'm going to be in the mix at the front of the pack to remind people why I'm still doing it." And while Hill did just miss out on the Down Under title, he still had plenty to feel good about as he proved to motocross enthusiasts all over the world that he was back in step and back on form.
For the past three years, it's been a slow, whooped-out journey back to the forefront for the native of Clackamas, Oregon. After winning the 2010 Minneapolis Supercross in his first 450 season and finishing sixth overall in the series, Hill was tapped by many to be a future champion. But then Hill seemed to lose his way, compounded by the fact that he attempted a 75-foot backflip, missed, and almost ended his career.
Now Hill is hoping to get back near the top riding for the RCH Suzuki team. It's less than a week before the opening round of the 2014 Monster Energy Supercross Series at Angel Stadium in Anaheim. On Sunday evening, Racer X spoke to the Hill about 2014 and all points beyond.
Racer X: Josh, what are you up to this evening?
Josh Hill: Well, I'm just barbequing some El Nopalito Mexican food. The stuff is so good.
What did you do for Christmas?
I flew up to Oregon on Christmas day to hang out with my family and then flew right back.
Was your brother Justin up there, as well?
No, he was at his girlfriend's place.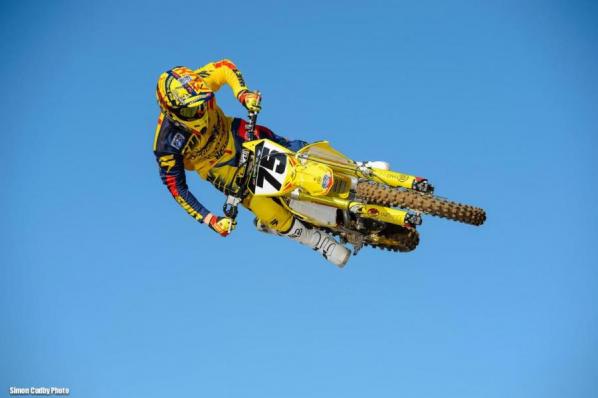 For years, many wondered why the Hart and Huntington/RCH team kept investing in Hill, but it might all pay off this season.
Cudby photo
So you guys didn't get to hang out around the Christmas dinner table together?
No, we didn't get to have our annual arm wrestling competition.
Seriously? Do you have one of those every year?
No, I'm just joking around.
I just drove by Angel Stadium and they had the place all lit up. We're just a week away from the opener.
I know, man. It's crazy. I took a three-week break off riding after supercross. I had a surgery the week after the Vegas Supercross. It wasn't anything too crazy, I just had a couple of bones shaved down. After that I worked on getting healthy and I've been riding supercross ever since. After the Australian SX Championship I just flew back and went straight to work. I wasn't even really over jet lag before I started testing and training again. We have some new people over at RCH Suzuki. We've got Sergio [Avanto] and Kaipo [Chung] from factory Kawasaki. Of course we've still got Mark Johnson and things are really coming around over there.
How do you feel?
Great. I feel the best I have in years. I'm definitely in the best shape I've been in since I got injured. It's tough to compare where I'm at now to where I was in 2010 because I'm a different person. Back then we would just ride and ride and ride. I was really strong and never got tired. I feel good and I feel strong. Lately I've been practicing and just trying to see how long I can sprint for. We've been doing tons of laps. We're definitely doing what we can; I've been doing 20-lap motos going back to Australia. I built up a solid base for my U.S. testing. Just recently I've stepped back from doing motos; now I'm just really focused on the bike. Having those two new guys around me shows me what can be accomplished and how much easier they can make my job.
Just what have Sergio and Kaipo been doing to get the bike dialed in?
They adjusted the clickers and swapped the pull rod and changed the ignition to add a little extra torque.
How similar is your bike to that of Yoshimura Suzuki's James Stewart?
My bike is way better!
Oh really?
I would say so.
Have you seen him ride and seen his bike?
(Laughs) I'm kind of messing with you. I think my bike would definitely work better for me than his bike would work for me. We're both totally different riders. Obviously, we're different sizes and everything. He has his people that he tests with and we have our own people. We're not really focused on what anyone else is doing, we're just focused on ourselves and how we can better ourselves. There is too much competition out there to worry about what everyone else is doing. But I did get a chance to watch James ride. It's James Stewart, and he does the most amazing things ever seen on a dirt bike. He does things that no other people in the world can do. James Stewart is an amazing, amazing rider.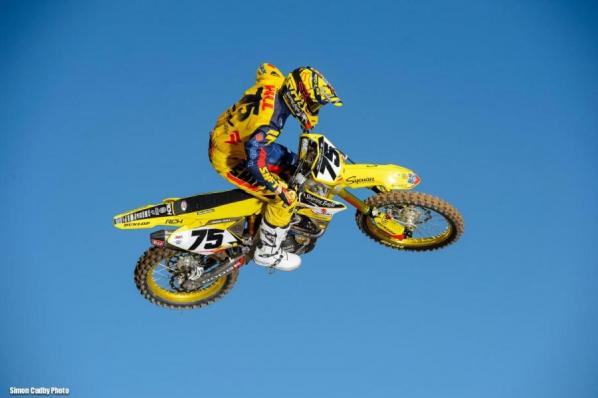 Hill comes into the new season with a full head of steam.
Cudby photo
Sounds like you guys get along well.
He and his whole family are great people. Him, his mom and dad, his brother Malcolm. I have nothing but the great things to say about the Stewarts. I spent quite a bit of time with them when I rode for Yamaha. We would ride together all the time. It was cool. James has always been a class act, in my opinion.
Does the RCH team share information with the Team Yoshimura Suzuki Racing team or do you guys go your own ways?
I'm sure they share some information, but like I said the RCH team went out and hired the best of the best. They invested a lot of money and time into our new staff. We're pretty proud of the people we have on our team. Ricky [Carmichael] and Carey [Hart] are so heavily involved and so is Kenny Watson. I'm sure if the Yoshimura team were to come and ask us for some help, I'm sure we would give them some. We just kind of keep to ourselves and focus on our team.
Do you and Broc Tickle work closely together?
Broc is another class act. He works hard. He's always at the test track. Broc's awesome and I hope we both have another great year.
I think it's cool that the RCH team is floated by a significant amount of outside money.
Yeah, for sure. We have the Soaring Eagle Casino and Resort who just came on-board. We still have Dodge and also the Sycuan Casino down in San Diego. We also have the backing of American Suzuki and Hart & Huntington. The list goes on with the people who are helping us out. It's amazing how far this team has come in the last three and four years.
What is the team expecting of you in the early stages of the supercross season and what do you expect of yourself?
I think the team expects me to go out there and do the best I can. My goal for myself is to go out there and show everyone—myself included—that I'm back and that I'm not just some half-rate rider. I deserve to be considered one of the top riders in the world. I'm tired of being a grade B rider and I'm tired of those other guys taking money out of my pocket.
What's your plan for Anaheim I come Saturday?
Anaheim I has always been a rough race for me. I broke my hand casing a triple there once. The next year I went down in the first turn. In 2010, I went off the track in the first turn and came back to sixth. But in the last two years I've gotten hurt at Anaheim 1. For whatever reason Anaheim I has always been a rough race for me. I don't know what it is. I need to put all that behind me. I'm not going to go out there and ride cautiously or do anything out of the ordinary because it's A1. I feel that this year that I'm prepared as ever. I'm going to go out there and give it my best. As far as my expectations, I'm not trying to put a place for myself. You know, I'm not going to say, "I have to be top five" or "I have to be top three." I just want to go out there and ride the best 20 laps that I can at this point and, week by week, just keep getting better and stronger. I've had a lot of time to ride and I've had a lot of time to prepare. I just want to keep progressing as the season goes on.
You've have been at this for a while now. Is it good to come into the new season and just sort of hold steady until things sort of settle?
(Laughs) I still want to come in swinging and stir the pot a little bit! I want to come in hot. For lack of a better word, I don't want to come in and pussyfoot around and lose points. I want to come in and ride to the best of my ability and not ride over my head. I want to put down the most solid, best laps that I can and then try to build form there. I definitely want to be a part of opening ceremonies the following week at Phoenix.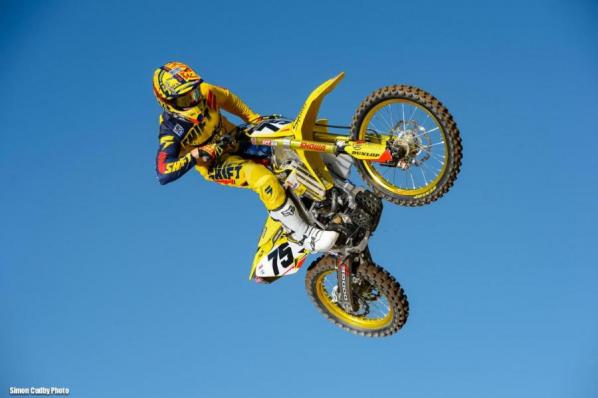 In a field full of established players, Hill could be the ultimate wild card in Monster Energy Supercross this season.
Cudby photo
The series starts out on the west coast for six weeks before heading east. What would make you happy, as far as points position goes, before the four heads east?
Number one.
Can you win?
We'll see. I feel really strong. I don't want to come off cocky or anything like that, but I'll be extremely happy if I'm in the top three in points. I still have a lot of work to do. I'm at the point now where going out there and setting my goals to be in the top five is not what I want. Being in the top five is not where I want to be. I've put in way too much pain and way too much suffering and way too much work to not try and be the best.
Right on. Onto Anaheim then.
Onto Anaheim, man. I've had a couple of really good testing days and riding days in and I'm excited. I'm ready.