Hello everyone, and welcome to the Rev Up. First off, I hope everyone had a wonderful Christmas holiday with their family and friends! It was a special one for our family as a new motocross dream began with Santa delivering a Yamaha Y-Zinger to my four-year-old nephew, Lincoln. Part of what made the holiday so special was watching him ride it for the first time and then wear his motocross gear for the rest of the day. I remembered having that day myself, around 32 years ago, when I received a 1982 Y-Zinger. That set the platform to a lifetime passion for motocross.
With the sun beginning to set on another year, I spent the last few hours of Christmas day remembering my favorite parts of 2013. So much changed for me; I became a father on January 13 when our Stella Jean was born—that was obviously the high water mark, and one that's been so amazing that I can't find the words. On the motocross side of things 2013 was a very, very special year because of a bike project that Cal Northrop of Full Travel Innovations (www.ftiracing.com) and myself completed. My racing days are gone, but I still ride every time I can, especially when the weather is warm and the conditions are favorable. And for the past four years I have been riding a 2009 YZ450, which was originally a Joe Gibbs racing display bike. I've had dozens and dozens of bikes in my 30-plus years in the sport, but this machine was special to me. For starters, it never spit me off and somehow I was able to keep the same set of handlebars on it through four seasons of riding.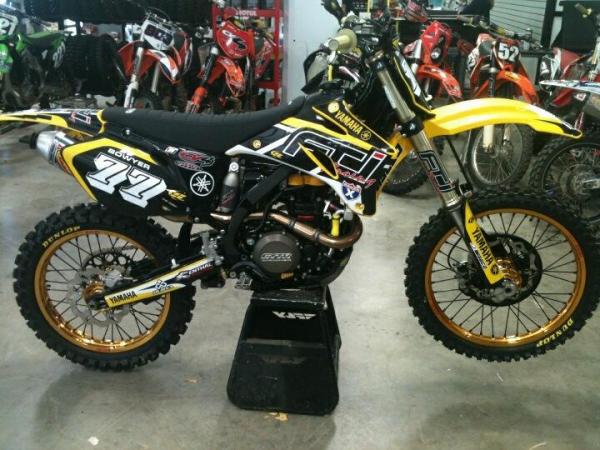 Bowyer's first look at his new bike.
Early last Spring I was enjoying a beautiful day on the track when the crank decided to give up the ghost after what I guessed to be over 200 hard hours. I'm sure almost all of you reading this have felt the same sinking feeling when your bike lays down on you. It sucks. So, I took the bike to Cal, who had done my suspension and changed a couple of top ends. My original plan was to just fix the crank and get it running and then sell it. Cal had a better idea when he said, "Why don't we do a project bike?" It seems to be a growing trend in the industry that I think is really cool, so I gave it some thought and the first thing that popped into my head was the first bike I ever rode—a black and yellow Yamaha Y-Zinger. I thought about those early moto memories and my childhood hero, Bob "Hurricane" Hannah and remembered my first jersey that had lightning bolts down the arms. I knew exactly how I wanted the bike to look, that being a 1982 YZ250 with the black engine, gold wheels, and yellow plastic.
I'm not ashamed to admit that my lifetime in the industry has rewarded me with a leg up on gathering product, so I got busy with e-mails, texts and phone calls. Some of the folks that stepped up to help were sponsors from my amateur days, others were newer friends and acquaintances I've met at the track. Everyone seemed to endorse my concept of the retro looking machine and before I knew it I had all of the parts and pieces to make it come to fruition laying in a neat pile at Cal's shop here in North Carolina. Now, I'm not a mechanic or bike builder by any means so thankfully the guys at FTI took the project by the horns and on November 14 I received a text of the picture you see above. It took every spare cent I had to finish the bike, but in the end it was money I would have otherwise spent at the local watering hole or on far less worthwhile things.
While I had to wait two weeks until I could organize the video shoot you saw today, I actually realized that maybe the coolest part is simply staring at it in my garage. I love all motocross bikes, but I'm sure you readers share the same special affection for the one you call your own. The day of the ride was nothing short of one of those old "Dream On" ads from Fox Racing. It was a crisp 58 degrees and steam was rising out of the brownie cake dirt. It was perfect. My bike represents all of the good memories this wonderful sport has rewarded me with and while she doesn't have kit suspension, or even fuel injection, it is more bike than I can master at 36 years of age. I can't scrub and can barely do butt whips, but she offers all I want out of a day of riding, and I love my bike very much! I'll remember 2013 for countless reasons—good, bad and amazing—but thanks to Cal Northrop and the list of vendors below I'll also always remember '13 as the year of "Hurricane." Click on the links and buy some products for your ride!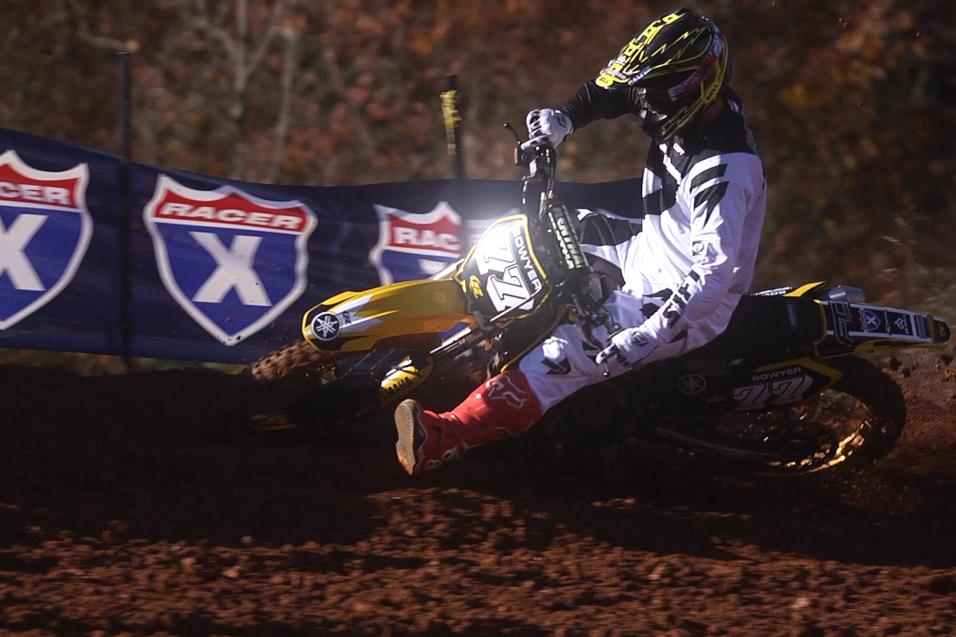 Bowyer putting in some laps on The Hurricane.
I hope everyone is enjoying their holiday season, and I wish everyone a very happy New Year. This is the last Thursday of 2013 and the next time we talk it will be about Anaheim 1!
www.FTIracing.com - Build and suspension
www.yamahamotorsports.com - GYTR Cylinder, Clutch, bearings, gaskets
www.dubyausa.com - Wheels, hubs, spokes
www.galferusa.com - Over sized brakes
www.renthal.com - Handlebars, grips, levers, chain, sprocket
www.hdmoto.com - Hammerhead shifter, brake pedal, chain adjusters, throttle tube, engine plugs, Raptor foot pegs
www.fmfracing.com - Exhaust
www.appliedrace.com - Triple clamps, custom front brake cap
www.foxracing.com - Boots
www.shiftmx.com - Pants, jersey, gloves
www.bellhelmets.com - Hurricane helmet
www.cvproducts.com - Powder coating, vent hoses, radiator cap
www.cycraracing.com - Hand guards, bike stand
www.stellarmx.com - Graphics
www.dunloptires.com - Tires
www.decalmx.com - Plastic
www.oakley.com - Goggles
www.mx421.com - Track and facility