By Rock River Yamaha's Christina Denney
With the action from the 2013 Mini Os being brought to you live via Racer TV [www.racertv.com], you already know what's going on at the long-running amateur event down in Florida. So with that in mind, we've brought in guest writer and team manager of Cycle Trader.com Rock River Yamaha to give us a different look at this special holiday event.
What exactly are the Mini Olympics? Most of us refer event as the Mini Os, and no, it's not a cereal. While the race week consists of both supercross and motocross races for all levels and attracts the top amateurs in the country, it's so much more than just another amateur motocross event.
"I've been coming here for a long time," says the AMA's Kip Bigelow. "I was here early in the '70s and it was a big event then, and coming here now and just seeing how much it's grown from that is just amazing. We would drive down from Michigan and have our Thanksgiving here. Now to see all the factory trucks and OEMs and riders and families that are here and are taking time out of their Thanksgiving week to enjoy the week of racing here at Gatorback is just amazing."
To me, the Mini Os are a tradition, one in which families join other families, and friends are reunited for Thanksgiving dinner at the track. One of my fondest memories comes from seeing families sitting inside their RVs enjoying being together, and of course, chowing down on turkey! What better way to spend the holiday than combining a family sport and a family holiday?
While the race has always been about close family and friends above all else, there's always plenty of action and changes to keep track of as well, and this year proved to be no different. One of the biggest, and unfortunate, pieces of news came from Mother Nature. She rolled through and dumped enough rain to cancel Tuesday's racing. In the 450 A qualifier, a rider was rolling through the triples and snapped a chain. As GEICO Honda's star amateur rider Jordon Smith came through he had nowhere to go and went down, breaking his femur in the process. Unfortunately, that wasn't the only piece of news on the injury front. Kawasaki-mounted Chase Bell broke his wrist in a crash on Wednesday, although he can take comfort in the fact that when the injury took place he'd already nailed down the 250 B Limited supercross title.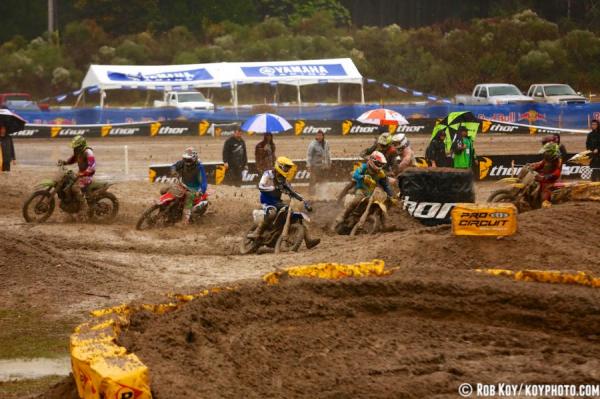 Weather played a big part earlier in the week.
Rob Koy photo
In other news, a new team was present to support Yamaha rider Luke Renzland in the A Class. Renzland, who scored a title at Loretta's back in August, is now part of Horton Racing. After watching him take home a championship in the 250 Pro Sport supercross class and a pair of thirds in the 450 Pro Sport and 450 A supercross classes, the team is no doubt happy with their choice of rider.
Yet another rider who's making waves here at the Mini Os is Benny Bloss. Coached by Robbie Reynard, Bloss took first in the College (16-24) B/C supercross class.
"We've made some huge steps with Benny to help him be the best he can be," Reynard says. "Countless hours of training on and off the bike and making small adjustments have made a significant difference. The best part is seeing it all come together, and I'm looking forward to seeing Benny be a top contender in the B Class in 2014. There's no doubt in my mind that it's going to be a huge year for Benny."
The focus of the Mini Os has switched to the motocross events, and there's going to be plenty of more action coming out of Gatorback over the holiday week. Be sure to check in over at RacerTV.com to catch all of it!