Track Map for Las Vegas Endurocross
Irvine, CA (November 14, 2013) – Mike Brown and Taddy Blazusiak are all tied up heading into the final round of the 2013 GEICO, AMA EnduroCross series, fueled by Monster Energy. After six events they each have two wins, two seconds and two fourth place finishes. It now comes down to a single main event on a tough and unpredictable EnduroCross track inside the Orleans Arena and whoever finishes in front of the other will be the 2013 Champion.
The track inside the Orleans arena will have the usual mix of rocks, logs, tractor tires, loose wood, a pond and always difficult matrix obstacle. Brown won the opening round inside this same arena but Blazusiak has the momentum from his Boise win on his side so it is anyone's guess on who has the upper hand coming into Las Vegas.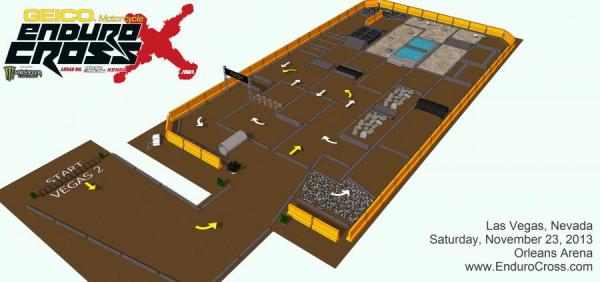 You can get tickets to witness this epic battle for the championship at www.EnduroCross.com/buytickets/ or
Orleans Arena.
If you are not one of the fortunate fans that can attend in person, you will be able to catch all of the action via a live online broadcast. EnduroCross fans will be able to access the shows via the www.EnduroCross.com or the Motor Trend YouTube channel http://www.youtube.com/user/MotorTrend?feature=watch. The racing action will start at 8:00 PM PST.
You can follow the live timing and scoring at this link: http://endurocross.tracksideresults.com/liveresults.asp
For more information, please visit www.EnduroCross.com
2013 GEICO AMA EnduroCross, Fueled by Monster Energy Schedule
Location Date Arena / Additional Information
Las Vegas, Nevada May 3, 2013 Orleans Arena (Friday during Supercross weekend)
Sacramento, California June 8, 2013 Sleep Train Arena
Ontario, California September 21, 2013 Citizens Business Bank Arena
Denver, Colorado October 12, 2013 National Western Complex
Everett, Washington October 26, 2013 Comcast Arena
Boise, Idaho November 9, 2013 Idaho Center
Las Vegas, Nevada November 23, 2013 Orleans Arena
EnduroCross tracks incorporate various elements of extreme off road racing into a Supercross-style setting, including rocks, boulders, logs, sand, mud, a water-hole…and even a few special obstacles like giant tires thrown in!  Known as the "toughest racing on two wheels," this indoor off road racing will certainly keep you on your feet. For the seven EnduroCross events, be sure to log-on to http://www.mavtv.com/shows/endurocross for local air dates/times.
ENDUROCROSS is a registered trademark of Source Interlink Magazines, LLC.
For rules and race information visit www.EnduroCross.com or email endurocross@sorc.com.
Source Interlink Media Motorsports:
Encompassing the highly successful GEICO AMA MiniMotoSX fueled by Monster Energy and presented by Freegun Underwear, the GEICO AMA EnduroCross Championship Series, fueled by Monster Energy and presented by Lucas Oil and the AMA EnduroCross Grand Championships, the Source Interlink Media Motorsports brands reach millions of motorcycle enthusiasts with live events, web sites, television and magazine coverage. Visit www.minimotosx.com or www.endurocross.com.

 

 

 
GrindMedia:
Source Interlink Media's GrindMedia is home to renowned action and adventure sports magazine brands Surfer, Surfing, Snowboarder, Skateboarder, Powder, Bike, Canoe & Kayak, SUP-Standup Paddler, Transworld Motocross, and Paved. Along with our standalone websites, including GrindTV.com, Newschoolers and Motocross.com, GrindMedia is the leading provider of print and online action sports and entertainment content in the United States. Delivering significant reach across both action sports enthusiast and various in-market consumer audiences, GrindMedia produces more than 20 leading events and webcasts such as Surfer Poll Awards, Powder Video Awards, Lowers Pro, EnduroCross and International Surfing Day. Grind Media is also the exclusive action and adventure sports content provider for Yahoo! Sports. To learn more, visit grindmedia.com.
©2012 Source Interlink Media. All Rights Reserved
If you would prefer not to receive future news from endurocross@sorc.com, please click here to send an email to endurocross@sorc.com.
We may also be reached by writing to us at the following address:
Source Interlink Media, Inc. 261 Madison Avenue New York, NY 10016 Att: Privacy Coordinator
Privacy Policy