More and more privateers have come to the realization that they have the power to promote themselves. With technology more user friendly than ever, all you need is a GoPro to become your own videographer. Long-time privateer Sean Hackley is using this to his advantage, as he will debut an all-new video series in 2014. We caught up with Hackley to get details on his new project.
Racer X: We've heard that you may be trying something new with GoPro, maybe even starting at Mini Os. Can you talk about what you have planned?
Sean Hackley: I plan on starting my own little video series, or something like that. I drive a lot going to the races, and I stop and see cool tracks in places. I also have a Scala Rider, which is a Bluetooth communication system, so I can be on the phone and record audio and stuff like that while I do all the things riding.
What was the inspiration behind it?
Really the inspiration of it, I just wish people could see more than they see at the races—see what goes on during the week. Everyone has their own video series with training and stuff like that, but [I want to show] the regular everyday life of someone who rides dirt bikes. I travel to a new track everyday when I'm on the road for the Nationals and go sightseeing and stuff like that—just trying to have fun with it.
A lot of riders have done this. How have you gone about trying to differentiate from those other series?
Everything [in those] is more or less training, which is great because obviously that's in our sport. But for the general public I want them to see another view of it. I'm in Washington [State] now and I went up to the Black Diamond trails and they probably have thirty trails or so, and you can go to the top and they have a look out over the city of Port Angeles and then you can go on the ridge and look over Forks and to the right is Canada. A lot of people are probably familiar with Forks because of Twilight, but they also have a lot of things going on with motocross there.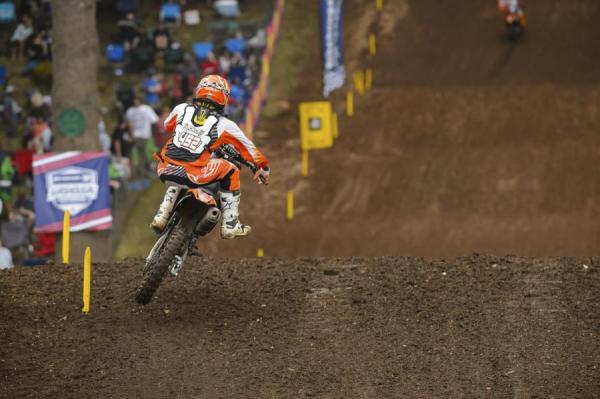 Hackley has been a pro since 2007. Injuries have slowed his progress, but he says he still loves racing.
Simon Cudby photo
It would almost be a lifestyle series centered on your travel adventures, to a certain extent?
Yes, that is definitely what it is. I ride and race all over, so if I'm in a place so place cool where I feel people should see it, great. I can tell you about it right now, but it would be a lot better if I had a short video clip.
Would it start during supercross season, or are you leaning more toward when you hit the road for outdoors?
I'm kind of leaning more toward when I hit the road for outdoors. Before supercross I plan on doing a couple arenacross', some off-road races, and local races, so I will probably start it there, so when outdoors comes it will be dialed.
That does bring something into question. How familiar are you with editing? And would you be doing your own editing?
I'm not too familiar with editing at all to be honest with you. I'm sure I can make some clips here and there, but I have some friends that are pretty good in the industry that hopefully I can reach out to and they can give me a hand.
You've been at this a long time, yet you're still pretty young. Is this something that you've ever thought about before?
This is just kind of something … it's kind of sad to see a lot of us, that grew up racing, retiring so young. I still enjoy it. I've had a lot of fun these past few years—injuries have sucked, but I've looked at it on the other side: this is what I've grown up doing and this is what I love.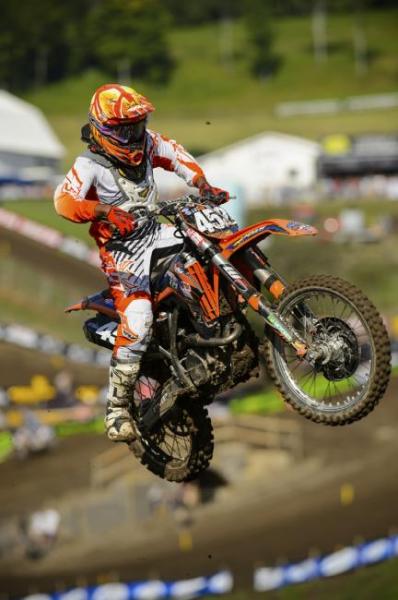 Hackley's new videos could plug us into the lifestyle we all wish we had--riding dirt bikes all the time.
Simon Cudby photo
As you get later in your career, are you looking more toward the business side of things more so than when you were 17 or 18?
Yes, I'm definitely looking more toward the business side. You only get to race so long, unless you're John Dowd and he's just a beast. When the time comes when I have to stop racing I would love to still be in the industry, doing something good, maybe innovate new ideas to make racing bigger so that it can continue on for years. To where the sport gets bigger and one-day maybe we can compete with NASCAR and other motorsports like that.
What are you plans for next year?
I want to touch a little bit of everything. It will be fun with the video series, if it works out. I want to do some arenacross, some off-road, some supercross, and the outdoor nationals.
Sean would like to thank the following sponsors:
First, I would like to thank the Lord for looking over me and keeping me safe. I would also like to thank KTM of North Texas, everyone at WPS/Fly Racing, Alpinestars, DEP Pipes, X Brand, Leatt, Kyle at WP Suspension, AllSport Dynamics, Mika Metals, LGR, DT1 Filters, Quick Roofing, Langford Construction, Hayes Racing, Specialty Packaging, Eric Liu, LarryBeardsleycpa.com and Scala Rider.