Welcome to Racerhead on one of the busier weeks of the off-season. There are two races going on as we post this: the Bercy Supercross in Paris and the Stuttgart SX in Germany. You can watch the live lap times from Bercy with Barcia, Canard, Shorty, Hahn, Webb, and more—click here.
And you can watch the live streaming races from Stuttgart, featuring Kyle Chisholm, Jake Canada and more, here.
Here in the U.S., everyone else is busy working on 2014. As you know by now, defending SX/MX champion Ryan Villopoto of Monster Energy Kawasaki has a new workout partner in Ken Roczen, the Red Bull KTM rider. Roczen has joined RV and young Adam Cianciarulo in Florida on Aldon Baker's training program, and they are also doing some riding together. Our own Eric Johnson spoke with AC46 (I know, it's weird, but get used to it) about what it's like to ride with RV and K-Roc every day for this Open Mic feature.
Beyond that, there was the release of the video from a new project out at Jeremy McGrath's ranch east of San Diego called the Red Bull Straight Rhythm experiment. James Stewart and his little brother Malcolm, Ryan Dungey and his KTM teammate Marvin Musquin, and fast guys like GECIO Honda's Justin Bogle and the TLD Honda boys all got together—er, actually, two at a time got together—on a half-mile-long track to race in a straight line, albeit over dozens of identical obstacles. It was a neat deal, and it made for an excellent video that you can watch right here.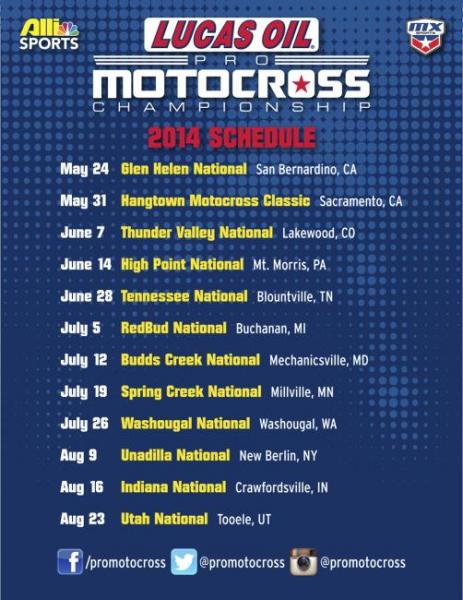 Yesterday saw the announcement of next summer's Lucas Oil Pro Motocross Championship schedule, which opens on May 24 at Glen Helen Raceway in San Bernardino, California, three weeks after the 2014 Monster Energy Supercross finale in Las Vegas and one week later than normal. Then it's up to Hangtown, and then east. The other new addition is the Indiana National, at a brand new motocross track in Crawfordsville, about 45 minutes northwest of Indianapolis. As I mentioned here before, I was at the new track as Marc Peters was putting some of the finishing touches on it for its first race, which will be a part of the qualifying program for the 2014 AMA Amateur National Motocross Championships at Loretta Lynn Ranch. Here's a full list of the Regionals across the country.
Okay, let me throw this over to Matthes, since they are underway in …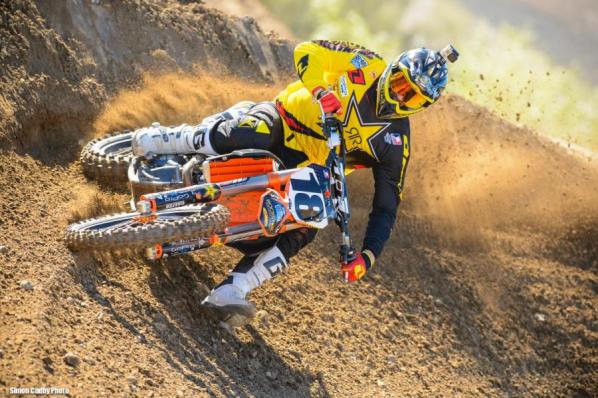 Our own Simon Cudby captured Davi Millsaps at the recent Rockstar Energy KTM photo shoot.
Simon Cudby photo
PARIS (Matthes)
Bonjour! Matthes here from the annual Bercy Supercross in Paris. There's just a little bit of downtime before I head back to the arena for the night show. Check out some race reports right here after each main event this weekend. As well, Instagram and Twitter updates (@racerxonline and @PulpMX) are happening even as you read this!
Trey Canard, Justin Barcia, Wil Hahn, Cooper Webb, and Andrew Short are the Americans brought over to battle with Gautier Paulin, Jordi Tixier, Gregory Aranda, Cedric Soubeyras, and much more. There is one main event each night, with heat races where the top four advance, a Superpole contest, as well as Elimination match races that determine gate pick for the main. There's quite a lot of racing for the 450 riders, and there is also a 125 support class, freestyle motocross, pom-pom girls, face paint, air horns, chainless chainsaws, Galouises cigarettes, and lord only knows what else.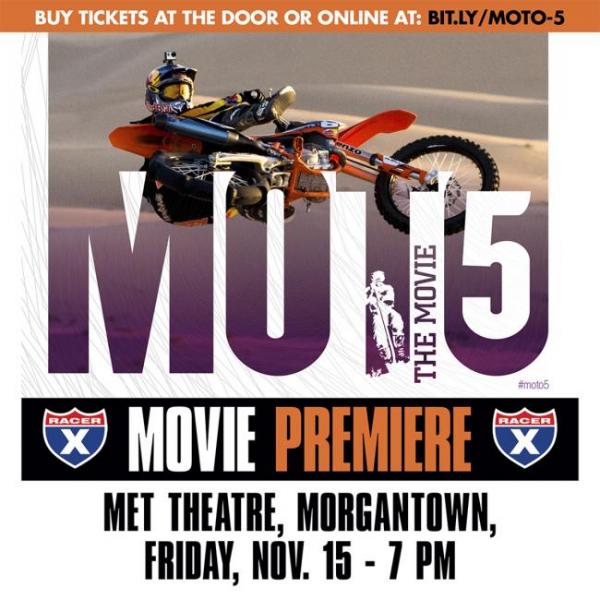 Come hang out with the Racer X crew at the MOTO 5 premiere next Friday. Click here to purchase tickets. MOTO 5 will also premiere in Walnut, CA, on Nov. 11, and Tallahasseee, FL on Nov. 13. The last date on the tour is Nov. 17th in Portland, OR.
The riders are all in a good mood—Wil Hahn texted me, "Let's go get some crepes and get weird"—and Trey Canard kissed me on the cheek French-style. This event is always fun, and Paris is truly an amazing place to visit.
Hahn admitted to me that last year, his first Bercy, was a real learning process. "I definitely feel way more comfortable here now that I know what to expect," said the new #23 after practice, as he was telling rookie Webb (now #37) about the race. "It's just knowing the format, the track, and what to expect."
Webb and Canard are the Bercy rookies, Hahn was here last year, Short's a two-time King of Bercy, and Barcia's won one. The field is deep! And after two practices on a track that everyone agrees is way trickier than in the last few years, it was Canard up on top by .2 over Barcia. What rookie nerves? The whoops are gnarly, as is the wall jump before the finish that the riders were launching over. And there is the typical soft, rutty dirt of Paris.
After the top two factory Honda guys it was the French hero Paulin, BTOSports.com KTM's Short, GEICO Honda's Hahn, and MyPlash/Star Racing's Webb was eighth. But none of this really matters once the gate drops and the fun starts.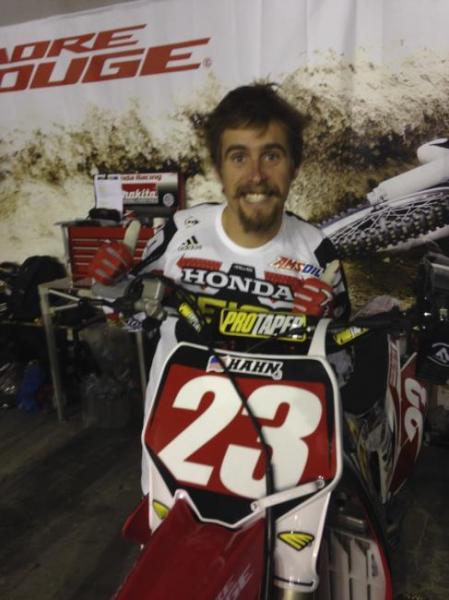 Wil Hahn is all smiles at Bercy.
Steve Matthes photo
JEAN-MICHEL MENTION (Matthes)
Oh yeah, I was talking to the great Jean-Michel Bayle (totally unnecessary name-drop, but hey, it's JMB!) this afternoon about his rare appearance at the World Vets MXDN race in Britain (look for a feature in the new Racer X) and he was saying that his CR500 was ridiculously fast and the last time he did a start was at his last race at Bercy in 1992! The practice at the Vets MXDN was only five laps and he just rolled around out there. So he had not done one practice start in 21 years. He told me he clicked his 500 into third, tried to remember to keep the revs up, and—boom!—he holeshot. When you're "Just JMB," I guess this stuff happens to you forever.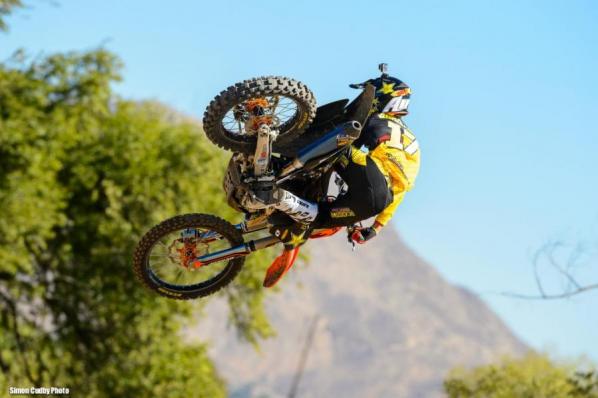 Jason Anderson at the Rockstar Energy KTM photo shoot earlier this week.
Simon Cudby photo
Bayle also agreed on what everyone is saying about the track and it being much tougher than past years, and we also spoke about the Joker Lane and the problem it's going to cause for the riders. Xavier Audouard, one of the masterminds behind Bercy since its inception in 1984, told me he had the Joker Lane planned for the last eight months and that the drama over the lane from the Monster Energy Cup was perfect for the buildup of this race. When you join back onto the track after taking it, you're not going to be able to do the fast rhythm in that next lane, so it's really going to be a penalty to take the lane. This should be interesting tonight. The riders have to take it once per main event, and no one even got to practice on it.
Did I mention that I spoke with JMB? Okay, good, just checking.
Again, follow Racer X for updates, and after you've read everything on this site, check out Pulpmx.com. I hear it's great.
DISCOUNT TIRE RACING (DC)
One of the ongoing mysteries of the current off-season is when exactly multi-time champion Chad Reed will announce which brand of motorcycle he's riding in 2014. Smart money is on green, but until we see some photos, there's always a chance he could end up on something else. One thing we know for certain is that Chad has a multi-year commitment from Discount Tire to back himself and his TwoTwo Motorsports program, which will now be called Discount Tire Racing.
Personally, I believe Chad has a lot of speed and determination, not to mention the raw talent to get back up front where he belongs. The whole 2013 season seemed like a bad moto for the veteran, who never seemed to find the right fit or feel for his Honda. It was a big change from previous years, and I think it was down to momentum and a lost season and not just the beginning of the end of a superb career.
So look for photos soon of Chad doing the work and getting himself and his Discount Tire Racing _____ 450 ready for revenge in 2014.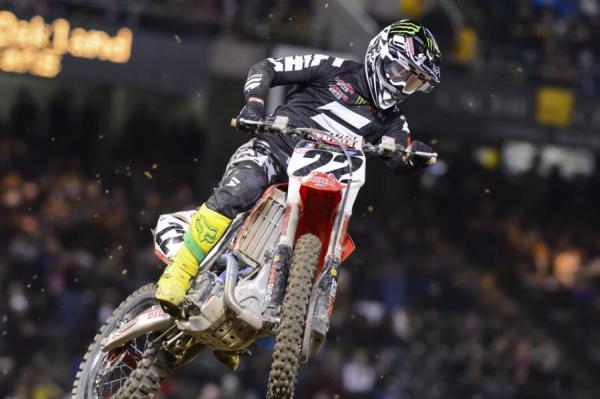 Chad Reed has announced a title sponsor, but not what brand he'll be on in 2014.
Simon Cudby photo
RED BULL PUSHES THE LIMITS (Chase Stallo)
Red Bull has forever been known as an innovative, groundbreaking company when it comes to action sports. From Red Bull Rampage to the gravity-defying Stratos, pushing the limits has become a company mantra. This week Red Bull brought Mad Skills, or Excitebike for the older generation, to real life with the Red Bull Straight Rhythm event held at Jeremy McGrath's Ranch. The concept was simple: head-to-head races on a half-mile long track that featured no turns—just whoops, triples, doubles, tabletops, and step-on/offs.
"It felt like a video game," GECIO Honda's Justin Bogle told us on Thursday. "It was along the lines of Mad Skills or something, but more fun because I'm not sitting in a recliner and being lazy."
The event is not here to replace supercross, but it could provide another exciting outlet in the sport. "I could see something like that being one of those one-off events," Bogle added. "Kind of like X-Fighters or Rampage or something like that—[something] that is just a big event. I feel the fans would be really into it. It's not very long. It's easy to digest and interesting to watch—something new that adds a little variety to kind of break up the monotony."
The future of Red Bull Straight Rhythm has yet to be determined, but the enthusiasm of the event resonated with Bogle: "It was honestly one of the most fun days I've had on a dirt bike."
Check back here next week for the full Q&A with Bogle.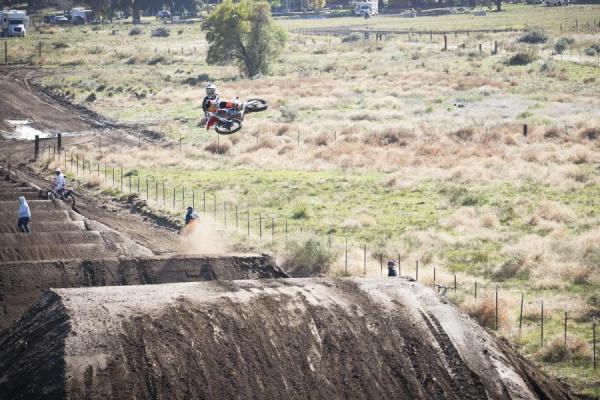 Justin Bogle going big at Red Bull Straight Rhythm.
Garth Milan photo
EVEL NEWS (DC)
Got a note from longtime contributor Trent Howie, a resident of Idaho, which was once the site of Evel Knievel's most infamous stunt: a failed attempt to jump the Snake River Canyon.
"Saw an article a few weeks ago over the bidding of the use of the land around the canyon jump site," wrote Howie of the local landmark. "I think it's over the anniversary of the jump and someone possibly out-bidding Robby Knievel over the use of the jump site... Correct me if I'm wrong, I think Knievel still holds the title of paying the highest purse for an outdoor motocross race? My dad shot some home movies at that race!"
Evel paid a huge purse for his invitational motocross race—over $100,000—which was a companion piece to his Snake River Jump, and both were something of a debacle. The racetrack included mud pits and dust bowls at the same time, according to report from the 1975 event, which attracted pretty much every top motocrosser of the day. As for his jump across the Snake River itself, in the before-its-time X2 Sky Cycle, it failed when the parachute deployed on the way up across the river rather than on the way down. It was a huge blow to Knievel's popularity and ultimate legacy... But what a showman!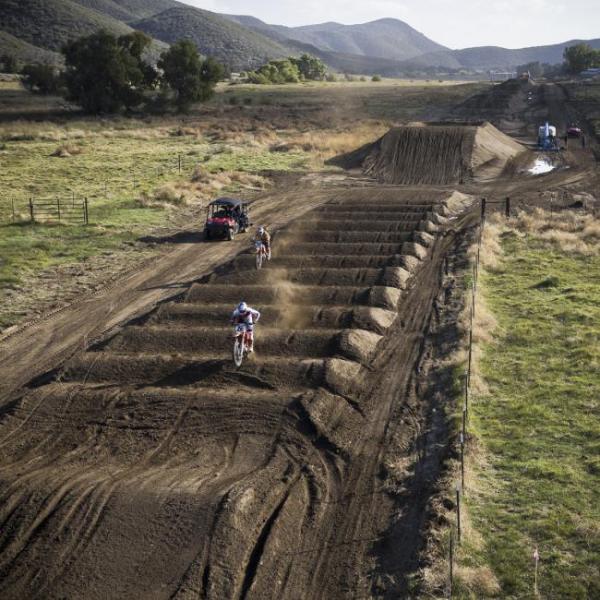 The Red Bull Straight Rhythm was innovative, to say the least.
Garth Milan photo
HEY, WATCH IT!
Half-Mile Supercross Rhythm Section - Red Bull Straight Rhythm
Supercross LIVE! 2014 - SX Ed with Miss Supercross - Trailer
RANDOM NOTES

America's Aiden Tijero, the 65cc Motocross World Champion, has been nominated as FIM for Rookie of the Year in all World Championship Motorized sports, and you can help him take home the honors by heading over to FIM Live and casting your vote.
Check back next week for details on the release of Seven, James Stewart's gear. And make sure to check out our interview with Roger Larsen regarding the brand.
Remember that fantastic 100% video from a few weeks back of Scott Burnworth tearing up the Baja Desert on a beautiful old Ossa? It was shot by Dimitri Coste, one of the most talented and interesting people you will ever meet at the races. Here's a little more about him and his work.
Buddy Antunez, the all-time best arenacross rider in history, lost his father recently. Big Bud Antunez was a well-liked motocross man who helped raise a true champion. We didn't know Mr. Antunez that well, but by all accounts he was a good man and a great guy. Steve Cox did know him, and he wrote this remembrance this week on VitalMX.
Godspeed, Big Bud.