From sand tracks to hard pack, two-strokes to four and Monster to Red Bull, everyone likes a little variety. But when it comes to professional motocross teams, the goal is usually to stay with the same squad year after year. That way a rider doesn't have to start over with new staff, test data isn't lost and he isn't forced to get used to a completely new bike. However, sometimes change can be good, and in order to get to the top, some riders need to start fresh. This is the dynamic that Smartop MotoConcepts' newest recruit, Kyle Cunningham, is hoping rings true for him in 2014.
Cunningham, who was suffering from a bulged disc incurred at RedBud, broke his foot in the final moto of 2013 at the Red Bull Lake Elsinore National and underwent surgery that same night. That didn't just mark the end of his season, it marked the end of three years with the Metal Mulisha/MyPlash/Star Racing Yamaha crew. During that period there were many great moments for Cunningham, including several podiums in supercross and a fifth overall in the 250 Class of the 2011 Lucas Oil Pro Motocross Championship. Unfortunately, some of those highs were balanced out by lows created by ill-timed crashes, subpar starts and a rash of injuries that prevented Cunningham from racing to his potential on a regular basis.
He raced the entire 2012 Eastern Regional 250SX series with a cracked wrist suffered at the season opener in Dallas, then damaged his ankle at Hangtown (an injury he would later exacerbate at Budds Creek), where he somehow finished the moto by landing jumps with his injured ankle dangling off the peg. Once again, he was forced to begin another series by soldiering through severe pain, and the bad starts he was suffering from weren't making things any easier; trying to charge through a pack of rabid dogs is hard enough when you're healthy.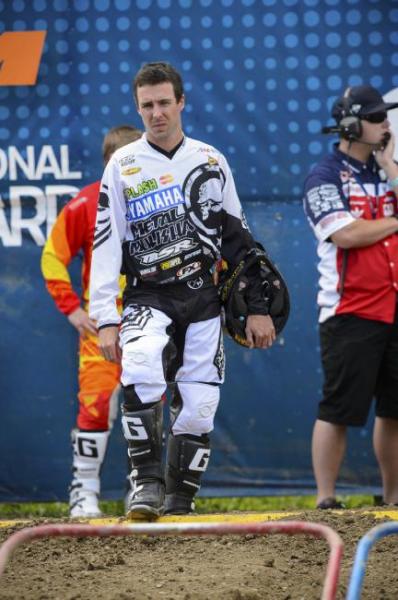 Inconsistent starts are something that have plagued Cunningham.
Cudby photo
To put things in perspective, the last race that Cunningham holeshot was a supercross heat race earlier this year in San Diego. The result? A convincing wire-to-wire win ahead of Eli Tomac. While a heat race win does not define a champion, it is a glimpse at what KC is capable of when he starts at, or near, the front.
"Mike Alessi might be able to show me a thing or two about starts," chuckles Cunningham when talking about his new Smartop MotoConcepts teammate. "That's something that's kind of killed me over the last three years or so. Normally I'm coming from the back and passing people to get to the front. With how fast the class is right now, if you start near the back and get into the top five, you rode an awesome race."
It's a piece of the puzzle he believes that he can find with his new team.
"When you get out of the gate good you make things a lot easier on yourself," he says. "You're in a position to better control the results of the race. The guys that are finishing up front every weekend are the guys that are starting up front. The next couple months are going to be big with testing and I'm looking forward to changing a few things and putting the pieces of the puzzle together. It's not that I don't get good starts, I just need to be more consistent with them, and I think working with the Smartop MotoConcepts guys is going to be a big help with that."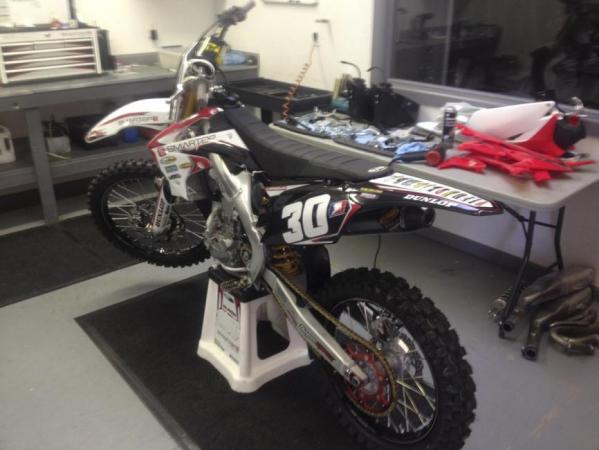 Kyle sent us this cell phone pic of his new ride.
Cunningham, whose new team situation allows him to relocate from California back to his home state of Texas, is also excited about getting back on a Honda, a bike that he rode out of the back of a pickup truck during the 2008 Nationals.
"Everyone knows how good the Honda handles, and I've ridden that bike in the past and have gotten good results on it," he says. "Smartop MotoConcepts put together a good package, and with that bike, it's a really good fit for me. Our goals are the same. I want to go out and be on the podium consistently and be in the hunt for a championship. They're really stepping up, and with me being their sole 250 rider, I'm going to have a lot of time to do testing specifically for me in order to get things dialed in. They want me over there, and they want me to be a part of their program. That was really important to me."
When asked if there are any hard feelings between himself and his old team, Cunningham is quick to clarify that his move to Smartop MotoConcepts was motivated strictly out of a desire to better himself.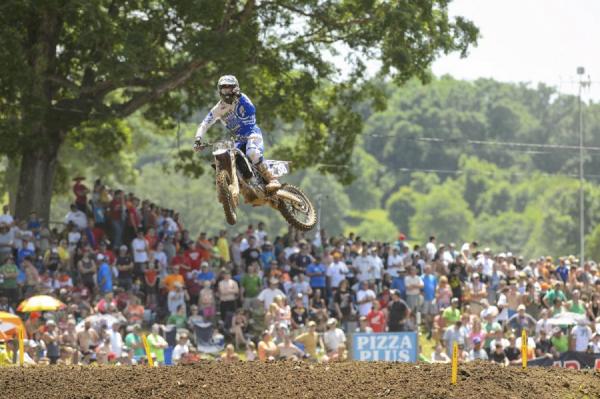 Cunningham showed great speed in his three years with Star. Now he's looking for the last few pieces.
Cudby photo
"They've got a good team going over there, but I felt that I could get the most out of signing with MotoConcepts," said Cunningham. "There's no bad blood or anything like that. Those guys supported me for three years and did a great job at it, and I can't thank them, and Yamaha, enough for all the opportunity I had over there. But, change is good, and I'm excited about getting to go back and ride a bike that I've done well on in the past, with a new team. Mike Genova and Tony Alessi, they all stepped up for me and I'm looking forward to 2014 with Smartop MotoConcepts. I couldn't be happier that they stepped up to make me a part of their program."
It's obvious that Cunningham is happy about his move, and after recently receiving clearance to get back on the bike, he's looking forward to coming into 2014 healthy. Will his fresh start be what he needs to put himself, and his team, in the hunt for a championship?