Hello, everyone, and welcome to the Rev Up. Watching the Monster Energy Cup in Las Vegas last weekend sparked my memory about a couple of things. First off, seeing Ricky Carmichael out there busting out hot laps and whips reminded me of him racing, then the fact that the race was in "Sin City" reminded me of hangovers. To that end, in the flick
The Hangover
Mike Tyson lays out one of the main characters, to which another proclaims, "He's still got it!" That noise got me to thinking about how guys like Ricky Carmichael and Jeremy McGrath can still get around a supercross track in a hurry. I think it is a statement to the unimaginable level the two raised themselves to in their hay day. I mean, it has been nearly 15 years since Jeremy McGrath won a supercross main event. Does anyone doubt that he could show up at Anaheim 1 and make the main? It might be a slight stretch for him, but I think he could get it done with some prep. Same goes for Carmichael who is a few years younger. To me it is crazy to imagine that if the two put forth a concentrated effort they could put their bikes on the starting line for the show, and possibly make some noise.
Another entity in this theme is the ever-growing Vet classes at Loretta Lynn's. Each year racers get the fire in their belly and each year we see the top ten in the +25 and +35 classes get saltier. In fact, Robbie Reynard and Timmy Ferry, who won both of said divisions, put in some of the fastest laps of the event! I love the old racers going back to their roots and I think the kids along the fence line do, too, but that is another debate. I want to talk about how there are guys out there that still go fast that maybe we have forgotten about.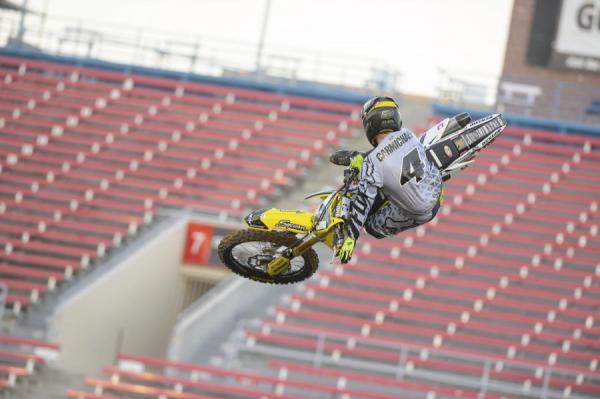 Is a day ever going to come when he can't do this?
Cudby photo
How different is it for motocross than say professional basketball or football? We saw Michael Jordan come out of retirement and still play some incredible ball. Brett Favre came out of retirement a couple times and almost won another Superbowl! In motocross we have seen some comebacks like Keith Bowen and Ron Lechien on their Tuff Racing Kawasakis that didn't exactly light it up. Then currently, it is hard to say if John Dowd or Mike Brown ever really quit racing so did they ever have a comeback? They both certainly still have it!
I had a dose of, "They still got it" a couple of weeks ago when I did the 450 shootout. Racer X's David Pingree wasn't a part of the test, but he brought his gear bag out and threw a leg over a couple of the machines. Twenty years ago I was in my prime and I got to ride with Ping on a supercross track. I was 3-4 seconds a lap slower. Well, this time I knew I had been riding a lot before the test and at my local track I thought I was going pretty damn fast. When I saw Pingree roll out to the track I pulled in behind him and started pouring the coals to it. In five laps he was 15 seconds ahead. Again. I thought to myself, "Damn, he is still fast."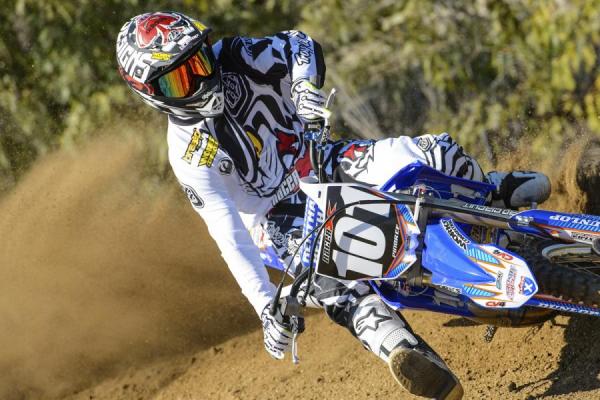 Ping still rips.
Cudby photo
It really got me to realize that once you have the right stuff, you never really lose it. Think about how fast Mike "The Rock" Larocco probably still is. He's an exceptionally hands-on team manager, doing a lot of riding and testing for the GEICO Honda team. I guarantee you he can pull a helmet on and show some guys in the top 20 how to get around an outdoor motocross track. Jeff Emig is two decades past his glory years and he still goes out and sends it with Jeremy "Twitch" Stenberg and Josh Hansen in the hills and in the dunes. Think about how many guys are walking around the pits that are still fast. If Bob Hannah and Roger DeCoster climbed aboard a pair of 250F machines, could they still get around a motocross track and battle? I bet you those guys can still ride well—and I'd like to see it.
Let's just throw out some names we may have forgotten about that can still go fast as hell: Stefan Everts, Jean Michel Bayle, Guy Cooper, Rick Ryan, Tallon Vohland, Eric Kehoe, Junior Jackson, Scott Sheak...heck name some of your own that you know about in the comment section.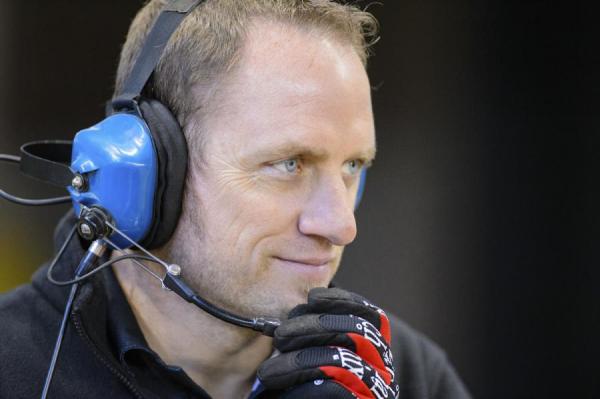 The Rock still rolls.
Cudby photo
We all like to talk about the growth of the sport, and it is somewhat relative. I tell you what is certain is there are more humans on the planet that can haul the mail on a dirt bike than there were 20-30 years ago. We are staying younger longer, if that makes any sense, and we are seeing guys winning races in their mid and late 20's. Some riders seem to get faster at that age. Chad Reed has to think about this a little as he is over 30 now and if he can win in 2014 it will solidify my theory. Have any of you readers experienced this? Do you know some guys around your area that are showing some grey in their beards but can still rip?
In closing, let's turn this on you. I hope some of you guys that still have a bike in your garage decide to dust off the filter, lube the chain and go out to see if it is still there. I think you will be surprised what you didn't lose, and will never lose on your dirt bike.
Thanks for reading, see you next week.