Welcome to the last big race of 2013, or the first warm-up race of the 2014 season! The Monster Energy Cup is a hybrid sort of supercross race, hosted by Feld Entertainment Motor Sports, the same folks who present the Monster Energy Supercross Championship every year. It's also in Las Vegas, at Sam Boyd Stadium, which is where the annual SX tour finishes up each year. Monster Energy is the main sponsor, and they go all out for this event, which is as much a party as a race. If you've never been there, put it on your calendar for 2014—it's a lot of fun and the perfect preview for not only the following season, but up-and-coming amateurs and minicycle riders.
In the whole big scheme of things, it doesn't count for much, yet it pays a huge purse. That puts the riders in a great mood—especially a man like reigning SX/MX champion Ryan Villopoto, who won the million-dollar bonus here in 2012. He lost last year to Justin Barcia, who will wear the #1 plate tomorrow night as the defending MEC champ. We will also see James Stewart in the Monster Cup for the first time, and both Eli Tomac and Ken Roczen on 450s. It's an incredibly fast field!
I made it out here last night with my family and have a few meetings today, and then the big AMA Motorcycle Hall of Fame ceremony, where Ricky Carmichael will be ushered into the hall as the greatest motocross racer of all time. The GOAT is here in force with his family and friends, and it should be a lot of fun. But it will also be bittersweet, as the late Danny Hamel, the off-road racing legend who perished in an accident while racing in Baja in 1995, will also be honored with a well-deserved place in the Motocross Hall of Fame.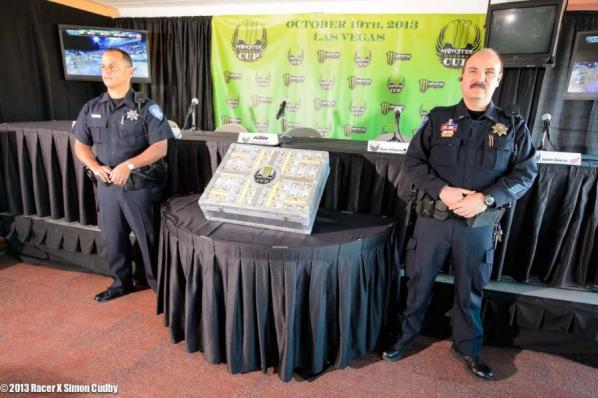 There's a lot on the line tomorrow night. Including a chance at one million dollars!
Simon Cudby photo
Coincidentally, not everyone is in Las Vegas, as half of the Racer X staff is down in Orlando for the new AIM Expo, which is debuting in Florida and trying to bring some much-needed razzle-dazzle to the motorcycle industry dealer shows. Here's a report from Day One, featuring Jason Weigandt.
I have to make my part of Racerhead short and head out to the stadium to get started. Make sure you tune in tomorrow night to the Monster Energy Cup on the new Fox Sports 2, beginning at 9 pm ET, and then again on Sunday afternoon on Fox Sports 1. And follow Racer X Online all weekend long for news, photos, interviews and more: @racerxonline on Instagram…
PRESSER (Chase Stallo)
Ryan Villopoto is back for the first time since off-season surgery, and he's using the Monster Energy Cup to get a head start on the 2014 Monster Energy Supercross season. "I'm 100 percent … I feel we're here to get our feet wet for the new season, kind of see where we're at," Villopoto said at yesterday's pre-race press conference at Sam Boyd Stadium. "We've done testing and things for the new season, but we kind of need to see what we need to work on from there."
In 2011, Villopoto swept all three ten-lap races en route to the Monster Million. A year later, coming off ACL surgery, he won the first moto before a crash in the second race knocked him out for the evening.
Villopoto has MEC experience on his resume; multi-time SX and MX champion James Stewart does not. Saturday will mark Stewart's first appearance at the one-off event.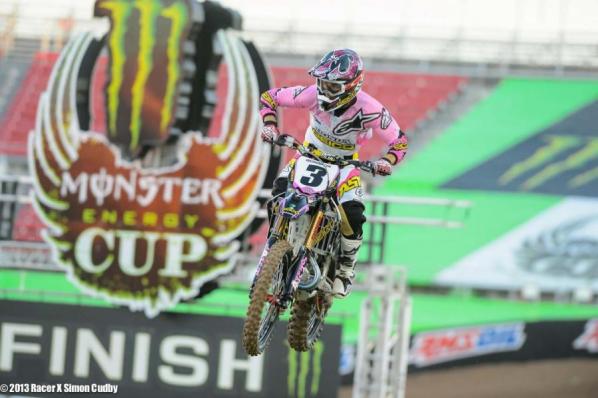 Eli Tomac's 450 career starts at the Monster Energy Cup.
Simon Cudby photo
"For me, the first year it was here, I was going back and forth between the team I'm on, Suzuki, and JGR," Stewart said. "Last year I was coming off my injury with my finger from Unadilla. This year everything fit in perfect. I had some time off and just started riding a few weeks ago, so [I] just wanted to come out and race."
Defending champion Justin Barcia comes in much more prepared this year. "Last year I came in here on a new bike—pretty really new actually.... I didn't get to ride it too much," Barcia said. "This year the track looks really cool, and I'm excited to go out there and ride it."
GEICO Honda's Eli Tomac will assume Barcia's prior role, with 2014 marking his first full-time 450 season. Tomac won a race here a year ago, but things are different now. "When you do make the jump back and forth, it get's tough at times," Tomac said. "It is nice to be on the big bike full-time and be racing against the best guys in the world, and I'm excited to stay on it [the 450]."
Ryan Dungey is looking to turn over a new leaf following Team USA's second consecutive loss at the Motocross of Nations in Germany. "It's worth celebrating," Dungey said when asked if we (or he) could celebrate silver medals in this country. "When you've been there that many times and won that many times it's.... Nobody else cares where you're at unless you're winning. It was a tough one for us this year.... Nobody knows what it's like to be in our shoes and face that stuff. I don't know what else to say."
Following consecutive runner-up finishes at the event, Dungey is looking for more. "Being here for two years and runner-up, there is only one spot to go, and that's to win," he said. "For sure, I would like to get a win. I had a good couple weeks coming in, so I feel good."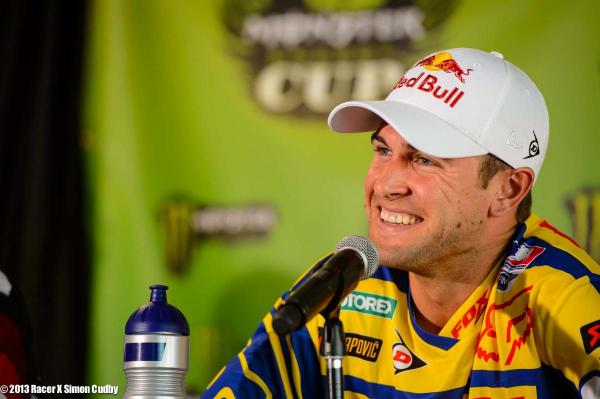 Ryan Dungey looks to rebound at the MEC.
Simon Cudby photo
THE AIMexpo (Weege)
Before I started working in this industry this whole trade show thing made no sense to me. These are big events with production roll outs and industry celebrities on hand, and yet consumers usually even aren't allowed in! Since moving to the inside, it makes more sense. Brands don't actually sell to consumers, they sell to dealers, and consumers ultimately buy from dealers. If a brand wants to make it, it will only make it if dealers make it happen for them. For a brand, it's all about getting to the dealers.

This new AIMexpo is a new concept in the American tradeshow scene, as it actually does offer a consumer part over the weekend, with the dealer aspect running Wednesday through today. It also has a massive demo ride section outside where dealers (and consumers) can test ride new dirt bikes, ATVs and side-by-sides, and another section where you can actually demo new street bikes out on the road.

It's all very new. The crowd didn't seem massive to me during the dealer days, but it was certainly solid for a first year effort. The consumer part is starting now so we'll see how crowded it gets. There are some big distributors and brands here, but also some sitting on the sidelines waiting to see how it turns out. The best gauge is that no one here had anything bad to say, and that's probably the best thing that can come out of it. I have a feeling more companies are coming next year, and with the consumer portion on offer as well, it wouldn't be a bad thing for a fan to check out, too. Consider this show the best dealership experience you'll find, complete with demo rides, and you get to hang out in Florida during the fall. Pretty cool. See you down here next year, perhaps.


PRO PERSPECTIVE (David Pingree and Jason Thomas)
Ping: For fans, the MEC is a bright spot in an otherwise dreadfully boring off-season. The race doesn't mean as much to the riders as points-paying events, but every rider there is hoping to take home some cash. The purse at this event is awesome, and for many of the guys that is a motivating factor. Sure, some of the riders need to shake down new equipment and want to see how their supercross prep has been when applied practically. But mostly it's the cash. Is there pride on the line this weekend? Sure. But still mostly cash.
The event itself is fun to watch, and whether you like the Joker Lane/three motos/mixed bikes, the racing will have some good battles to watch. I think the race is too early in the off-season to be a solid indicator of what to expect at A1. It is an awesome time and … let's be honest: Any racing is good racing, especially for the next couple months. Right?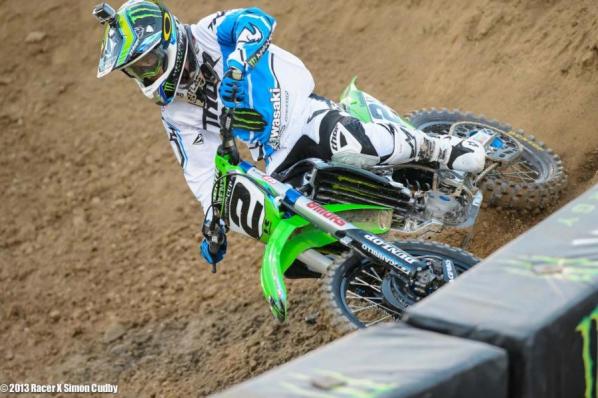 Ryan Villopoto makes his return following off-season surgery.
Simon Cudby photo
Jason Thomas: It has been a full two months since everyone on the American racing scene has convened to see who was fastest. For me, I was always pretty excited to get back out there, as I had usually just raced the now-defunct Montreal Supercross and had logged serious laps at the practice track in preparation. Some years it would be the debut of a new bike and some years it would just be the excitement of Vegas, but this weekend was always one of my favorites of the year. A bit more relaxed than the normal supercross series, the atmosphere was always lighter, and riders would be more inclined to have fun and enjoy racing. Some riders will jump up to the bigger bikes for the weekend, which always adds a different flair and change in the lineup. This year, there are a few interesting things such as how RV will respond to not only his time off but any backlash from missing the Motocross of Nations. Dean Wilson will be back, and I know he is motivated to show the prowess he did in 2011.
Personally, I enjoy the little nuances that these one-off races bring. Variables like the Joker Lane, the three-moto format, and the mix of classes adds contrast to the race and usually plays a role as the night wears on. For all of the riders, it usually provides a measuring stick for the new model bikes and also where they are in their training form. A good showing can sometimes provide confidence that they're on the right path and boost them to work even harder in the coming months. Conversely, a poor performance can leave some scratching their heads as to where to direct their efforts before January arrives. Most times, it really doesn't give as much evidence as to what will happen in 2014 as people want it to. It's still fun to run wild with our predictions after one night ten weeks before the season, though, right?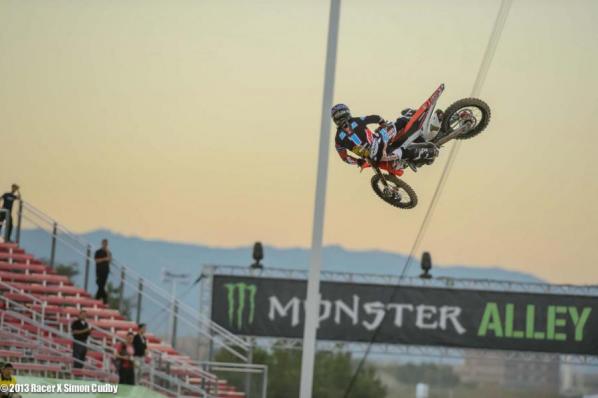 Defending champion Justin Barcia throwing some big whips as the sun set on press day.
Simon Cudby photo
CROWD-SOURCED TRIVIA (DC)
We get a lot of interesting questions here at the Racer X HQ about the old days of motocross—questions about vintage motorcycles, past results, old photos, or whatever else comes up in someone else's bench race. Yesterday I received a photo from Dangerous Joe Bonello, the legendary photographer and former racer, who had received a picture of a race from someone named Rick Cotton. He wanted to know where and when the photo might have been taken. Given the riders' numbers—#1 Rick Burgett leading #9 Gary Semics, #3 Marty Smith and #4 Tommy Croft—we figured out that it's from 1979. That's the year there were actually four different numbering systems: 125, 250, 500, and SX. But where was this photo taken?
From the trees, it looks like someplace in the Southeast, and at that time there were two 500 Nationals in that region: Atlanta International Raceway and North Carolina's Metrolina Speedway. But that's about as far as we got!
Danny LaPorte, a friend of Joe's as well as the 1979 500cc National Champion, thinks it looks like Atlanta, but we're still stumped. So which track is this? Between regular readers like Mark Welker, Larry Witmer, and Reese Dengler, here's hoping someone knows.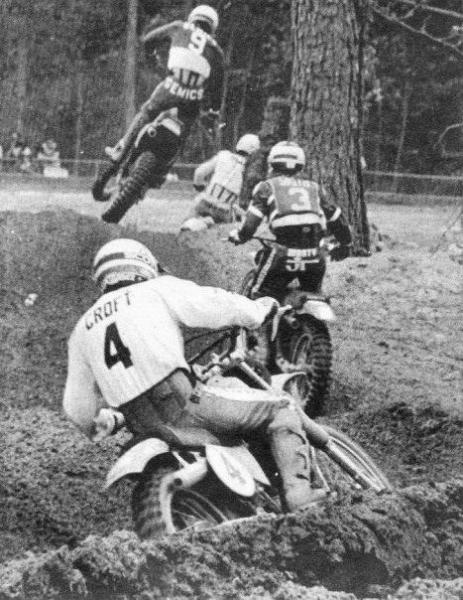 The race looks like a '79 500cc National, but where?
FOR STARTERS (Aaron Hansel)
If you asked a group of people to write down what they remembered about the problems with the race starts at the Monster Energy Cup last year, you'd likely get two sets of answers. Some would talk about the second main event, which had to be restarted after half of the gate didn't fall, and some might mention the huge, nasty pileup that almost happened when Shane McElrath crashed on the split start, sending himself and his bike flying through the air and through the other pack of riders (somehow missing them all) as they entered the stadium.
With the MEC tomorrow, both incidents were on my mind, which prompted me to give Monster Energy Cup manager Nate Swartzendruber a call to see if Feld Motor Sports had addressed these issues. They, of course, have. The solution to the malfunctioning starting gate, which in Feld's defense was a freak thing, comes in the form of a special, electronically controlled system that Feld had made specifically for the Monster Energy Cup. If that somehow fails, they've also got a manual system set up as a failsafe.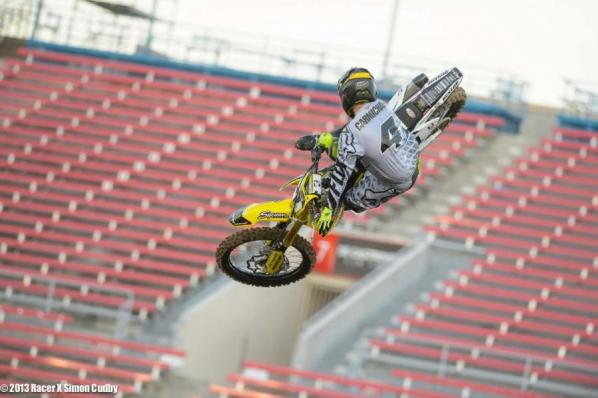 The GOAT still has it!
Simon Cudby photo
As far as the safety of the split start goes, they changed the angle at which the two groups of riders come together. As they converge, they'll now be pointed in almost the same direction, instead of at each other, before they make the final turn and coming together. By the sounds of it, it should be much safer while maintaining the excitement of a split start.
MORE CROWDSOURCED TRIVIA (DC)
Here's a letter from Larry M.:
"Years and years ago, when Joe Parkhurst published Cycle World, the magazine named 'Motorcycles of the Year' in different categories. I'm going back to the early 70's here. One year, Penton was named 'Dirt Bike of The Year.' And what was the year???? That's the problem. I have no idea. Any idea how to find out? Better yet, where might I find the issue of the magazine? Your help will be most appreciated."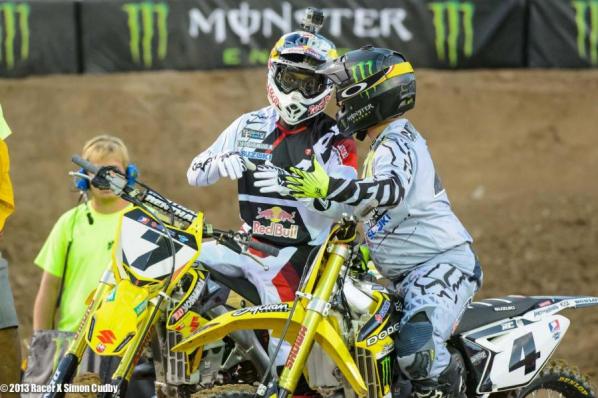 Old rivals James and Ricky talk at the MEC press day ride.
Simon Cudby photo
HEAD-SCRATCHING HEADLINE OF THE WEEK
Browns replace guy with torn ACL with guy with torn ACL
HEY, WATCH IT!
Tale of the 2 Stroke 2.0
The Albertson Project: Episode 1
Racer X Tested: 450 Shootout Part 1
AIMExpo: On Location Day 1
Racer X Films: MEC Press Conference
Big congrats to longtime Racer Xer Jason Hooper and his wife, Krista, on the birth of their first child, Macy Renee. It's a girl! Mom and dad haven't slept in days, but they've had good practice chasing the GNCCs for TV and photo coverage the last few years. In fact, Hoops basically went straight from the ISDE in Italy to a GNCC in Ohio straight to the delivery room. Mom and baby are doing great. Well done, kids.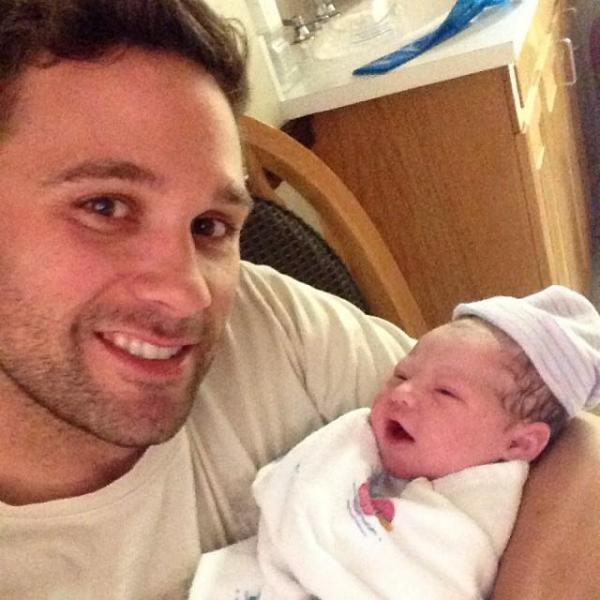 Congrats, Jason and Krista!
Racer X reader Scott Halstead wanted us to spread the word about a new MX track near Tama, Iowa. Here's the Facebook link if you're interested.
100% went above and beyond when sending us their sample of the Barstow goggle.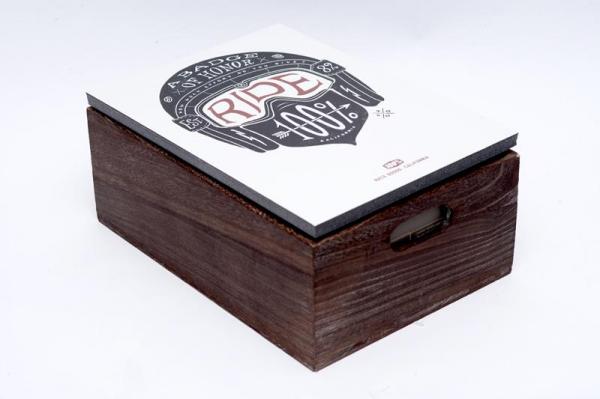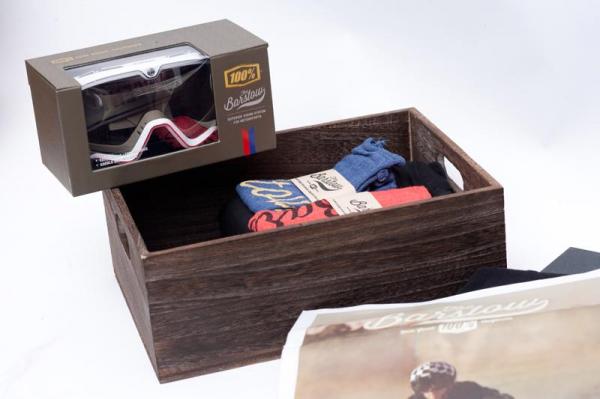 Andrew Fredrickson photos
And congrats to Monster girl Gemma Farrell, who is Playboy's Miss November....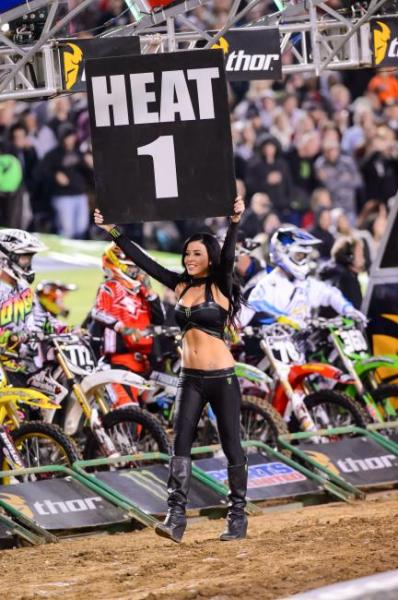 Simon Cudby photo
That's it for Racerhead. See you at the races!