Sam Boyd Stadium
Las Vegas

,

NV
Monster Energy Cup
Monster Energy Cup
Since you're visiting this site, you're probably a fan of motocross and supercross racing, which means you're already familiar with how each sport works. What you might not be familiar with is the format of the Monster Energy Cup. After all, the event has only been held twice! With that in mind, here's a rundown of what to expect from the third annual Monster Energy Cup.
Making the Show
Unlike a supercross event, the Monster Energy Cup has no heat races. Instead, riders qualify for the main event directly out of timed practices. The eighteen riders (riders are free to compete aboard any size bike they want, although most riders go with a 450) who lay down the fastest lap times advance directly to the three main events. The remaining riders must go to the Last Chance Qualifier (LCQ), in which the top four riders will advance. If you want to catch qualifying, head over to MonsterEnergyCup.com/SupercrossLive or www.Facebook.com/VegasMECup, where the action will be streaming live and free, starting at 4:00 ET.
The Main Events
Instead of a pair of motos like in motocross, or a single-race supercross-style format, the MEC features three, ten-lap main events, with the winner being determined by combining finishes from each race. In the event of a tie, the win will be awarded to whoever does better in the final race.
If a rider is able to win all three main events, like Ryan Villopoto did in 2011, he hits the jackpot to take home what they call The Monster Million. But even if nobody sweeps the event, there's still a cool quarter mill that's going to be handed out, with over $200,000 set aside for the top ten finishers (first place gets one hundred grand). Last year it looked as though history would repeat itself again when Villopoto took the win in the first main, but he crashed out in moto two. Ryan Dungey also had problems of his own, experiencing weird and uncommon shifter problems in the first two mains. Honda hotshots Justin Barcia (who won the overall) and Eli Tomac each won a main event last year, creating a three-winner night, a stark contrast to the RV sweep in 2011. Just about anything really can happen at the MEC!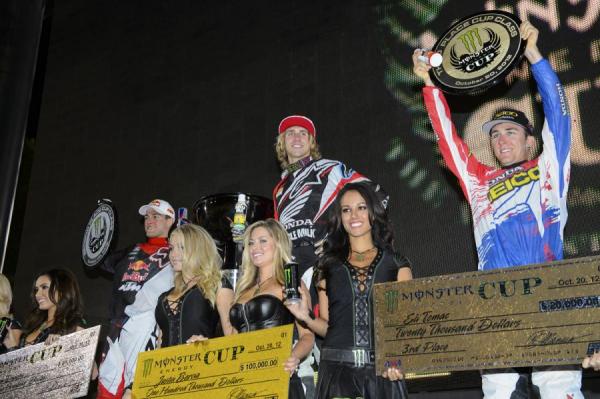 Last year's podium, featuring two 450 newbies and a dude who bent his shifter twice.
Simon Cudby photo
In between races come the amateurs in the form of the Super-Mini and Amateur All-Stars classes. If you want to see some talented kids absolutely going for it, the Super-Mini races will satisfy your sadistic cravings. What else do you think is going to happen when you take smaller bikes and young riders and put them on a huge track in front of thousands of screaming fans?
The go-for-broke dynamic is present in the Amateur All-Stars Class, too. In 2011 the talent was so tight that there was a four-way tie for the win between Cole Thompson, Zach Bell, Austin Politelli and Justin Hill, who won the second race to take the overall. Last year Lucas Oil/TLD Honda's Shane McElrath emerged from obscurity (seriously, he'd never even been on an airplane until several weeks before the MEC) to destroy everyone in the first race, and nearly destroyed everyone again in race two, albeit in a different manner. He crashed spectacularly on the split start and his bike went flying through the air through the other pack of riders, somehow missing everyone. Don't worry about history repeating itself, this year's split start comes together at a different angle, which should cut back on the risk. Consistent enough was Cooper Webb, who scored the overall win. Still, you've got riders attacking supercross-type terrain often for the first time. Anything can happen at the MEC!
Joining the fray this year will be the top two racers from each 2013 KTM Junior Supercross Challenge race, which took place at select rounds of Monster Energy Supercross and Amsoil Arenacross. The winner gets to take home the KTM race bike that he wins on. For the under 21 set, there's no bigger prize in Vegas. And as funny as it sounds when talking about a race consisting of 7 and 8-year-olds, there's going to be some big names in this one, as Liam Everts (son of Mega-Euro-Hero Stefan) and Evan Ferry (son of Mega-Matthes-Hero and all around American Badass Timmy) will be competing against each other, as well as a pack of other fast rug-rats, for the W. You think Matthes will cause a scene at the KJSC truck and insist on spinning wrenches for little Evan? Hey, just about anything really can happen at the MEC!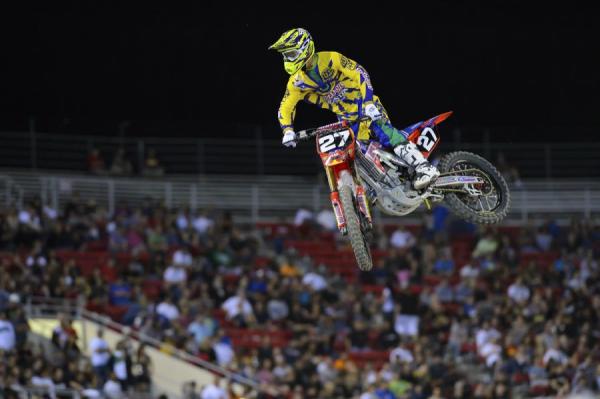 Now a pro, McElrath looked solid in the Amateur All-Star race a year ago.
Simon Cudby photo
The Track
Just about everything about the MEC was a raging success last year, which is why Feld Motor Sports decided to bring back the Joker Lane, the Amsoil Arch and the split start. The only considerable change is the direction that the track is running; it's opposite of normal, with a different layout of course. In case you didn't watch last year, the Joker Lane is basically a detour that adds roughly six to seven seconds to a rider's lap time. Each racer must take the Joker lane once per race. Not every racer was fond of it (event winner Justin Barcia called the Joker Lane a joke), but it definitely added an element of strategy and uncertainty, which added up to more entertainment for the fans.
The Amsoil Arch is a big, flowing banked turn that goes up into the stands. It's a much better design than the tight horseshoe-like turn they used in 2011, which got one-lined quicker than our elected officials can say, "shutdown." The Amsoil Arch takes up a lot of room in the stands, which means thousands of sellable seats have to be marked off, so credit to Feld for sacrificing some butts in seats in order to integrate a very cool and unique feature.
The split start is exactly what it sounds like. Eleven riders start on one side and eleven riders start on the other. As they thunder into the stadium, they get funneled together and the packs converge. Last year they had some technical issues in one of the races that resulted in one of the gates not dropping and they had to take time to figure it out while the racing (or lack of) was being broadcast live. Ouch! There's not a lot of safe bets in Vegas, but you can be sure that that won't happen again! Feld had a completely new, electronically controlled system fabricated specifically for this race to be sure of it, and if that fails, they've got a whole new backup system also in place. And for those of you concerned with the safety of the split start (after all, McElrath did nearly behead several of his fellow competitors last year), don't worry, Feld has dealt with this issue as well. The track angles have been changed so that by the time the two packs get close to converging, they'll be all be pointed in the same direction instead of at each other.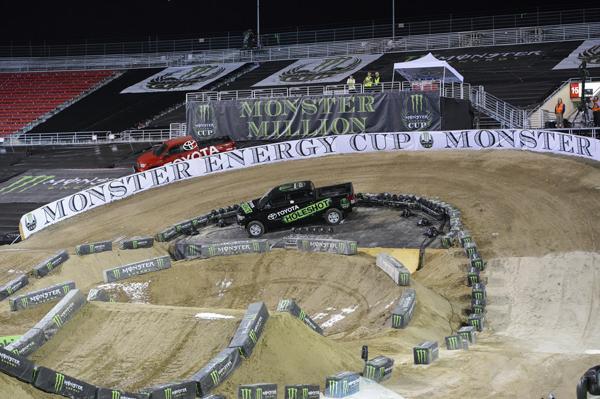 You seen the Goldern Arches, but this arch is for the green.
Simon Cudby photo
Off-Track Entertainment
Las Vegas is known for hosting amazing entertainers, so why should the world's richest motorcycle race be any different? And we're not talking about just the Monster Girls either, although there will be plenty of them on hand (sadly, not literally on hand, however). In addition to the Pit Party that's featured at every round of Monster Energy Supercross, fans who arrive early will also get to see all sorts of cool exhibitions outside the stadium, like freestyle motocross, rally cars, professional drifting demonstrations, trophy trucks, street bike stunting, and more. It's tough to make it to every type of these competitions live, so the MEC is one of the few spots where you can see them all in one spot. Did we mention the hordes of Monster Girls? Pro photographer BrownDogWilson might not even set foot inside the stadium all day!
Watch it Live
If you can't travel to Vegas this weekend because your wife is out of town running a half-marathon and you have to stay home and babysit, or your boss stubbornly refuses to let you go and laughs about it, or both, be sure to catch the live television broadcast on FOX Sports 2 this Saturday, starting at 9:00 p.m. ET. If you miss that airing, it'll be on again on Sunday on FOX Sports 1, starting at 1:00 p.m. ET.
For more information, please visit www.monsterenergycup.com.