DeCal Works Restyled Honda Sideplate
CHICAGO, IL. - DeCal Works, the leader and innovator of pre-printed backgrounds and custom graphics, has solved the 2014/13 Honda sideplate problem; applying backgrounds without destroying the cosmetic appearance of your new ride.
While the stock '14 Honda CRF250/450 and also the 2013 CRF450 are receiving rave performance reviews, magazine test riders and owners can't figure out how to apply pre-printed backgrounds on the OEM sideplates without having to hack, slit, or cut the decal for mounting. And what proud new owner wants to cut apart his/her new bike or worse yet, ride around with bubbles and slits?!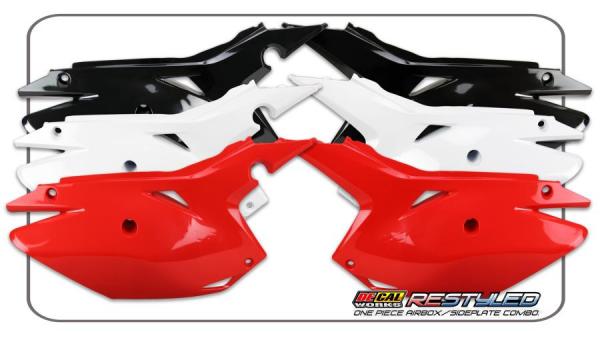 DeCal Works feels your pain and proudly offers a unique restyled set of plastics that are one-piece construction; the Airbox and Sideplate are molded together for a sleek appearance and ease of graphic application. Your new CRF will look factory, the numbers will be more legible and it won't look like your little sister built your race bike.
Racer X's David Pingree, who loved the CRF, took the time to 'moan' about this application issue. Listen to him at the 4:45 minute mark of this video. If you've never listened to Ping before, listen to him this time.
Better yet, order restyled plastic with Pre-Printed backgrounds and DeCal Works will do all the mounting for free. The one-piece sideplates are only $79.95 and you can add a front plate for $24.95; all with free mounting. Order your set now in White, Red or Black, look more professional and save yourself headaches.
Don't monkey around. No hassle, No fuss!