Teutschenthal
Saxony-Anhalt

,

Germany
Motocross of Nations
Motocross of Nations
Hello, everyone, and welcome to the Rev Up. It has already been a year, folks. As a patriotic, "flag waving American" it has been a long orbit of the sun since we lost the Peter Chamberlain trophy to Germany. We didn't just lose this event last year, we got hammered. Fitting as the motocross Gods have it, Team USA travels to the home country of the defending champions to try to win it back. What kind of a scene will it be for the 2013 Monster Energy FIM Motocross of Nations in Teutschenthal, Germany? It will be epic, as the MXoN always manifests a buzz wherever she lands. The air will be particularly thick with energy as the Germans will be amped to the moon cheering their boys to try to hold us off another year. That's one thing we Americans need to always remember and be proud about. In the wake of all of the crow we have eaten in 2013, we have to consider that every country in the event wants to beat Team USA. Of the dozens of countries in the event, we are their focus. We have won the event more times than any country, including 13 in a row
at one point. Odd how that number coincides with some monumental streaks—Ricky Carmichael and Jeremy McGrath's SX main event streaks both ended at 13. Carmichael raced the Brazilian MXoN with #13 and that didn't end well either, but I digress. Different numbers are a cool aspect of the event.
Kind of weird that we'll see Ryan "Captain USA" Dungey racing with the #7, while Tomac and Barcia will be #8 and #9. And remember Ricky Carmichael's last foreign MXoN appearance saw him dominate with #101 on his plates. Or when he ran #85 in 2003. Just looks strange, right? It isn't merely the numbers that create odd occurrences, this unique event forces some battles and matchups that we never see elsewhere. Way back in 1987 Bob Hannah was on a 125—he hadn't raced one of those in years—and went up against an unknown Jean-Michel Bayle at Unadilla. Bayle and Hannah come from totally different eras, but they raced head-to-head at the MXdN. Then two decades later Ivan Tedesco had a battle in France with Sebastian Tortelli (who was somehow on a 250F for the event after years as a big bike rider) that saw the two take each other out. In 2006 we saw an unlikely mano y mano between Stefan Everts and James Stewart. Just two different eras and careers, meeting for the first time, and only one time. In 2009 Antonio Cairoli and Chad Reed had a huge first moto battle, a showdown between two greats that can only happen at this event. What will 2013 produce? Will we see something as crazy as Eli Tomac and Cairoli going to town? Dungey and the Italian have already traded wins at this event and the stage is set for an epic showdown.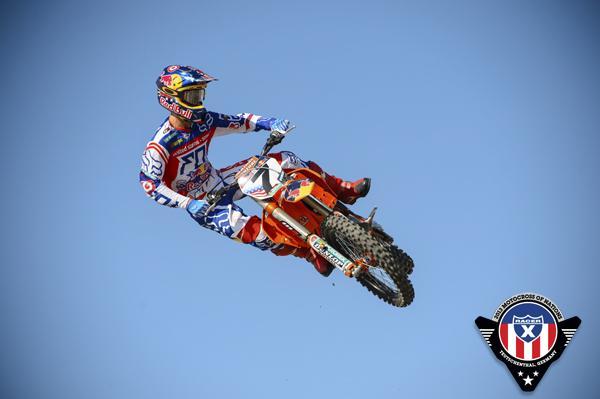 Ryan Dungey looks to lead Team USA to another MXoN victory this weekend.
Simon Cudby photo
Sadly, two of the world's fastest riders in Ryan Villopoto and Jeffrey Herlings will be absent from this year's dust up. For Villopoto it would have been a chance to put the hush to anyone doubting he is the best in the world, and the question of supremacy between Tomac and Herlings will have to wait. It really is a bummer about Herlings because he is so fast and it would have been a chance for him to win on hard pack, not just sand. Good news is, he is still a teenager and we'll be enjoying him at the MXoN for many, many years to come.
For our guys it is going to be extremely tough. The flow our trio was feeling after Elsinore will have subsided a little by now and they find themselves in some very unfamiliar territory. They carry the patriotic pressure of reclaiming the trophy while in the middle of a weird juxtaposition of downtime, and SX testing. Had this event taken place the week after the conclusion of the Nationals I would feel better about their speed. They will have traveled across the world for a week to acclimate, and as it always is at the MXoN, it is us against the world. It is also unique for us because nothing short of winning will suffice. No beers will be drank for a podium effort. Last year the Yanks finished third but no one was pumped about that. I think Team USA has the best three rider team and with the rules and flow of the event, they have to be the favorite. That said, anything can happen (good or bad) and they'll all be gunning for us in a major way.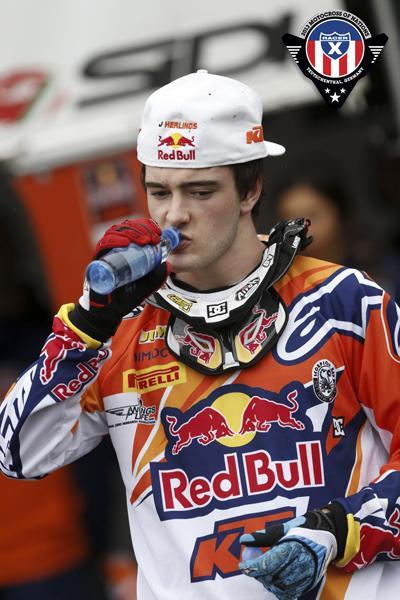 Jeffrey Herlings will miss the MXoN with a shoulder injury.
Ray Archer photo
I set off some negative stimulation with last year's MXoN Rev Up, so I'm cutting this edition short and just hoping that the rain stays away and the motocross fans of the world get to see an insane battle for the win. It should be a lot of fun with weird numbers, odd match ups, fresh team graphics and gear, and the best in the world all going for it! It's the kind of stuff that can only happen at this race.
Good luck to Team USA, bring back the trophy and let's go into 2014 with little doubt which riders are the world's best motocrossers.