Hello, everyone, and welcome to Rev Up. As the "off-season" painfully continues I've been keeping myself busy on the dirt bike and trying to ride as much possible. The summer heat is beginning to subside, but we still get to enjoy the longer days so afternoon/evening sessions have been on point for me. In fact, I enjoyed a particularly sweet session yesterday at a track called MX421 (find them on Facebook).
Over the past week a realization hit me as to how many off-road riders I've been seeing on the moto tracks. I've been riding off and on with Josh Strang for a few years and have written about my admiration for his speed. Well, he hasn't gotten any slower I can tell you that and yesterday he was twisting his Rocky Mountain ATV/MC KX450 flat and sideways over all of the bigger jumps. There is nothing "woods style" about his banter on a motocross track, and of course he went WFO for three 30-minute sessions.
While watching him fly past me yesterday the image of him coming in third behind Kailub Russell and Charlie Mullins at the Unadilla GNCC came to mind. "How in the hell did they beat this guy?" In fact, I jokingly asked Strang how after three hours of riding did he come up mere feet short? The Aussie replied, "Hey, I was leading on the last lap. I was just happy to be up with them for the first time this season." It made me realize how the upper echelon of off road riders may be the hardest and most talented humans on two wheels.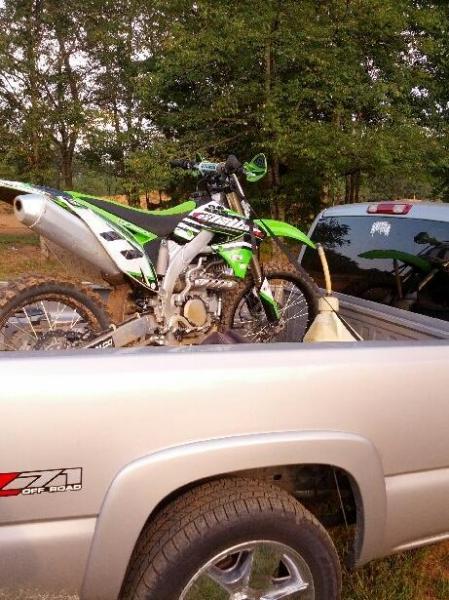 There's no off-season for Bowyer.
Andy Bowyer photo
I've been to a couple GNCC races and was blown away how the pro guys do not race conservatively, rather go full tilt for the whole duration. We have half of the 450 field in the Lucas Oil Pro Motocross Championships dragging tail after the 15 minute mark, and these animals are still swapping positions for the lead after three impossibly grueling hours. That is comparing apples to bark busters, but at the end of the day it is still racing a motorcycle. Fast. I don't know how they do it. Arm Pump has been the achilles heel for motocrossers, and can literally cause a guy to go from race winning speed, to dropping out of the points. World Class 250 competitor Zach Osborne was winning one of his first professional motos at Budd's Creek and did exactly that. Since then, Zach has raced the longer motos of the GPs and actually raced and won a GNCC event. I wish I could talk to a sports psychologist that could explain how Osborne could do for three hours in off-road, but as he proved in this summer's outdoor nationals, he would get pump sometimes after only 10 minutes.
The intensity is far greater in motocross, and that's a whole other ball of wax. Be that as it may, Strang told me a key to fighting arm pump is to try to use your "core" coming out of the corners to combat the intense pull of the machine. I tried it and it really works, except my "core" got smoked along with my arms after four laps. I just don't know how they're so strong AND fast for SO long.
I suppose when you think about it, motocross got it origins from off-road. Bob Hannah lists Malcolm Smith as one of his early heroes, and Bob used to train by riding in the sandy tumbleweeds of the high desert. Desert is a different discipline than GNCC and Hare Scrambles but the same gnarliness and strength applies. Remember the beginning to Terrafirma 3 where Johnny Campbell was going 100 mph over cacti and desert wash out sections? How many guys in the world could do that on an XR600?
It has been proven that a moto guy can win against the off-road aces at their trade, as Doug Henry won the sandy Florida GNCC, but it was more like Lommel on steroids and he did collapse and need IV treatment afterwards. But it makes you wonder how Ryan Villopoto would have done against Strang and company at Unadilla last week. Could he hang on for three hours? Man, I just don't think so. Is it a discipline he could train for and pick up? Perhaps a little more likely.
Personally, I've never found the appeal of racing through the trees. I've ridden various hare scrambles and actually raced the Laughlin Grand Prix ten years ago, and each experience rewarded me with a thousand words. None of which being "fun." I don't like hitting rocks and trees and I get arm pump in the first mile. But, apparently a lot of folks do find the appeal because at most of the local practice tracks I frequent in North Carolina there is a growing amount of guys riding with big tanks and hand guards. I meet a new fast off-road guy almost every visit and they all just say, "Man, I love racing in the woods I'm just here trying to get faster by riding a little moto."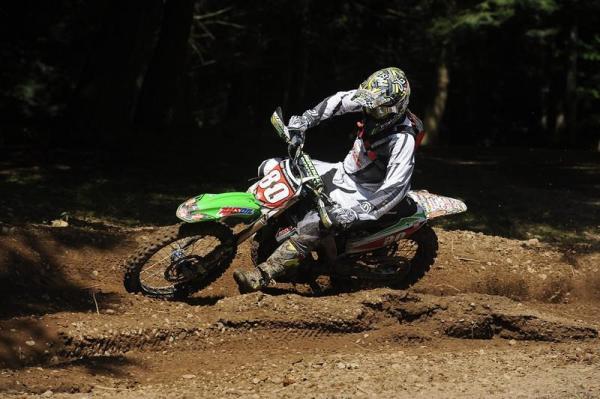 Josh Strang is back racing the GNCC series this year and is currently third in XC1 points.
Ken Hill photo
Jessica Patterson has retired from pro motocross but is segwaying into a new off-road career, just like Sarah Whitmore did. It seems to be a growing market. The hop up shop that helps me out, www.FTI.com, has brand new off road machines arrive on their floor almost every day. From my immediate perspective it seems like people are buying dirt bikes and riding gear again, but they're taking it to the trees. Hey, it's great. Buying dirt bikes is buying dirt bikes and its all pretty much the same bottom line in the market.
I wanted to use this week's column to ask you readers if you have noticed this pattern in your neck of the woods, so to speak? Are you noticing the same trend I am with more guys riding, but many of them being off-road guys? What is the scene like in California, Texas and the Midwest? How about some of you readers who own aftermarket companies and hop up shops? Where is your business coming from?
I can tell you it has been a great month for me here in NC, and it's been great to ride a couple times a week. Riding is still riding though. In the past month I've taken a friend to the ER with a broken leg, been rained out after a long drive and put myself on the ground a few times. It's all part of the good and the bad associated with what I call the greatest experience with an engine. Making new berms out of the blown out ones, and simply finding a flow for two or three laps makes these 36-year-old bones feel 20 years younger. It's been the same for me since I was four years old. I just don't feel the trees; you know what I'm saying. Have a great weekend, folks. Keep your wheels on the ground and your feet on the pegs.