Russell Captures Win, Points Lead
Kailub Russell Makes it Four-in-a-Row at Can-Am Unadilla GNCC
Andrew DeLong Secures the XC2 Pro Lites Win

NEW BERLIN, Ny.- The AMSOIL Grand National Cross Country Series kicked off the second portion of its 2013 season on Sunday with Round 10 of the 13-race series from the legendary Unadilla Raceway in New Berlin, Ny. The Can-Am Unadilla GNCC hosted a record number of nearly 2,000 ATV and motorcycle racers over the weekend, culminating with three-hours of excitement in the XC1 Pro Class. In an all-out battle to the finish, Kailub Russell secured his fourth consecutive win of the season to take over the points lead in the National Championship standings, while Andrew DeLong put forth a dominant performance in the XC2 Pro Lites Class.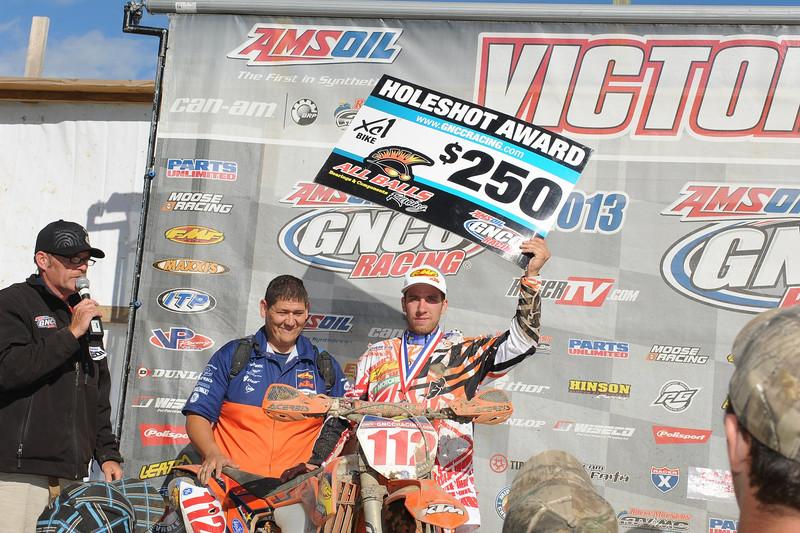 Ken Hill photos
Factory FMF/KTM's Charlie Mullins (pictured above) kicked off the three-hour battle with the $250 All Balls Racing Holeshot as an onslaught of XC1 competition followed close behind. In his first GNCC appearance of the season, Massachusetts's Jonathan Girroir immediately joined the lead battle with Mullins and Russell on the opening lap. Mullins eventually made his way past Girroir on Lap 2 and from there; it became a head-to-head battle for the number one position.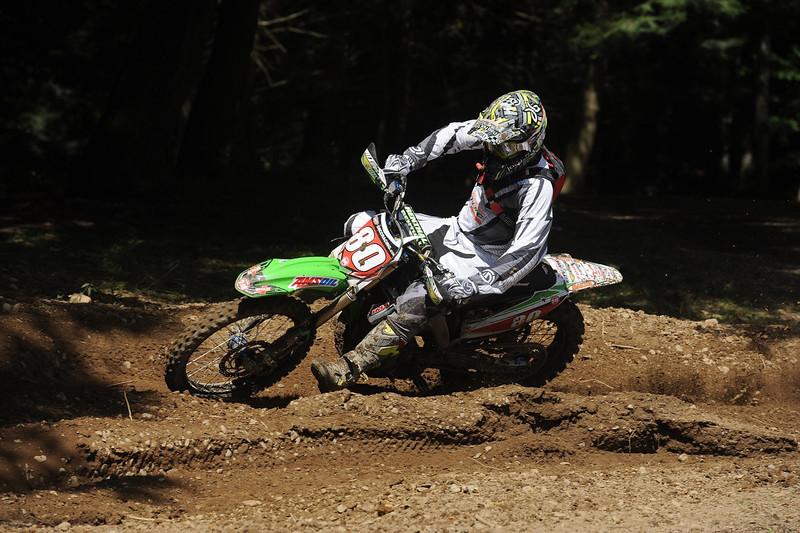 Rocky Mountain ATV/MC's Josh Strang (pictured above) got a top five start, hooking up with Shenandoah Honda/USWE-Sports.com's Thad DuVall, along with AmPro Yamaha's Jordan Ashburn (pictured below) and Nytro Handgaurds/B.R.E KTM's Chris Bach early on. After the first three laps, DuVall began experiencing problems and eventually pulled into his pit area. The pit crew swapped out the rear wheel and DuVall returned to racing, despite losing a substantial amount of time and several positions along the way.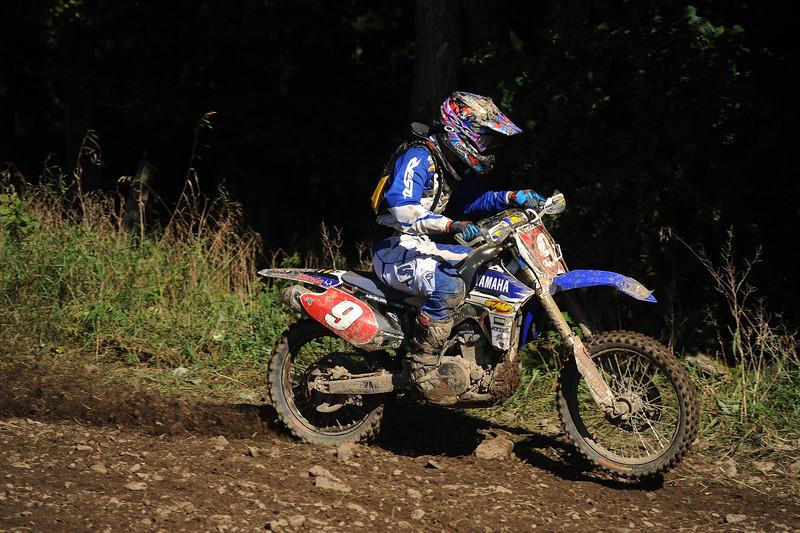 Just as DuVall dropped back, FMF/RPM/KTM Team Maxxis' Rory Mead gained four positions right away, making his final passes on Girroir and Strang to take over third place. Mead turned the pace up another notch around the halfway point as the New Zealand native pushed his way into the lead battle of Mullins and Russell just a few seconds ahead.
With two laps to go, Strang entered himself into the mix as well, eventually passing Mead to reclaim the third place position. From there, it was a three-way battle to the finish as Russell, Mullins and Strang battled wheel-to-wheel throughout the final lap of racing.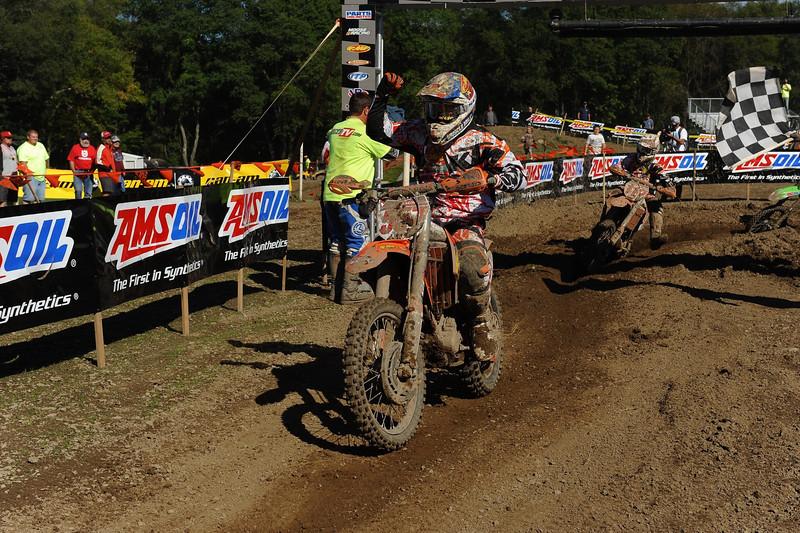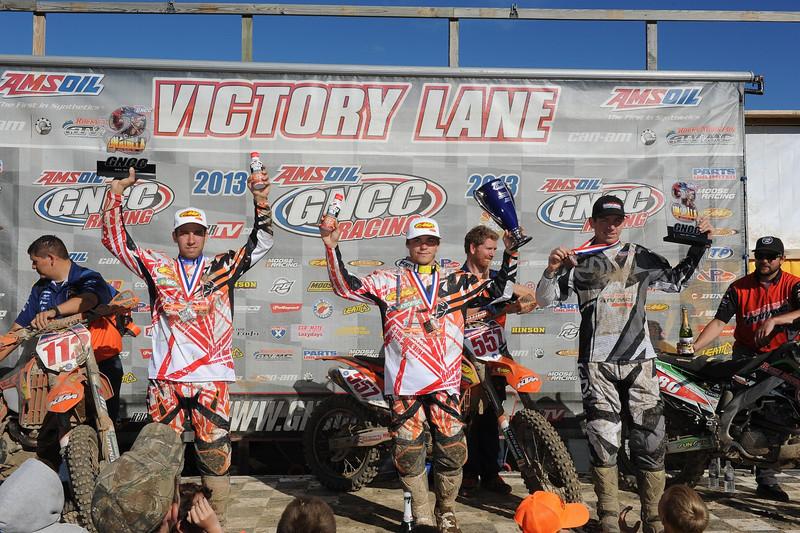 XC1 podium: (left) Charlie Mullins, Kailub Russell, Josh Strang.
Russell led the way into the final stretch of the Unadilla motocross track with favorable positioning as Mullins and Strang rode side-by-side into the final turns before the finish line. After nearly three hours of battle, Russell was able to hold off the two former GNCC champions and claim his fourth consecutive victory in 2013.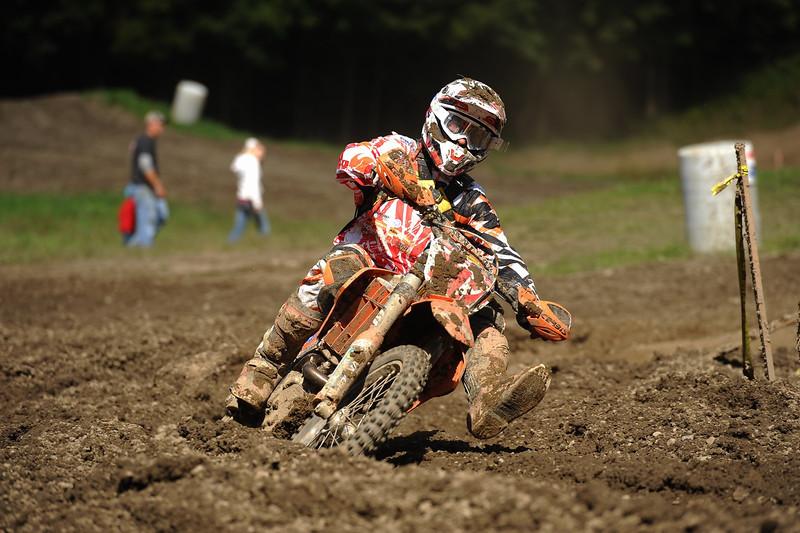 In an exciting conclusion, Mullins (pictured above) held his line and bested Strang for the second place position, while Strang came in a close third. Mead maintained a comfortable position behind the lead battle where he finished a season-best fourth overall for the day.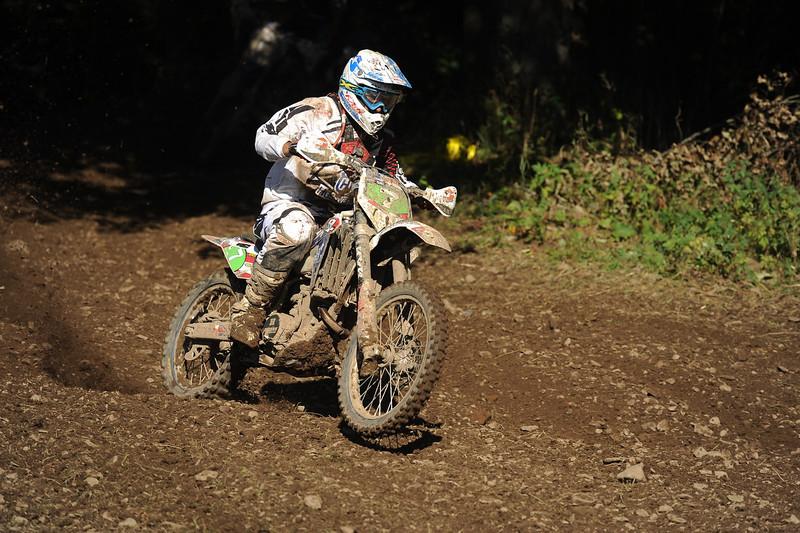 In only his second race back from injury, F.A.R Husqvarna's Andrew DeLong (pictured above) topped the XC2 Pro Lites Class en route to a fifth place overall for the day. DeLong jumped out front early on, taking advantage of a first turn pileup that involved XC2 points leader Grant Baylor and DirtWise Schools/KTM-Parts.com/Maxxis rider Jason Thomas.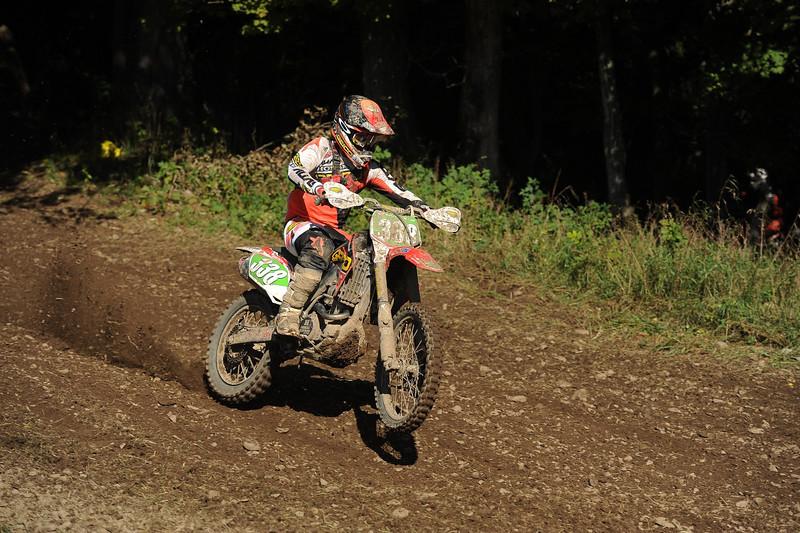 DeLong was joined out front by GEICO Honda's Zach Osborne (pictured above) as the motocross/supercross star jumped in behind DeLong on the opening lap. Osborne continued to apply the pressure in the early parts of the three-hour race.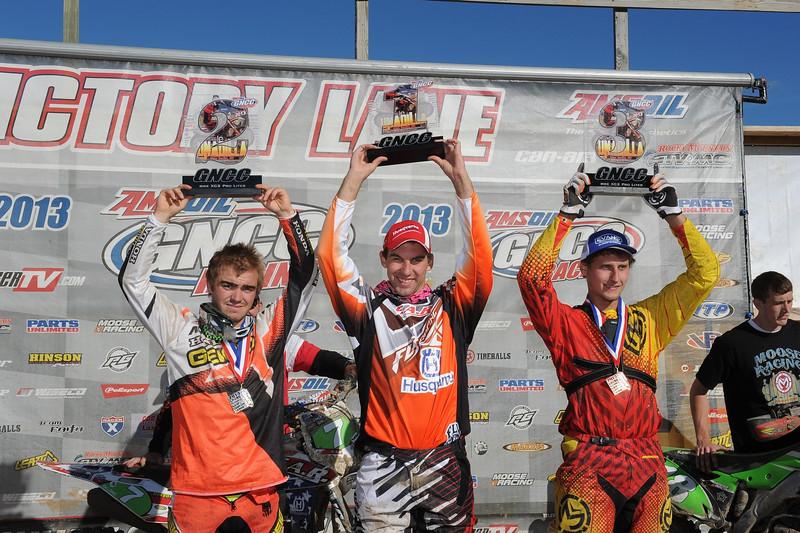 XC2 podium: (left) Zach Osborne, Andrew DeLong, Scott Grills.
Meanwhile, Thomas continued to work his way through the pack, where he ran as high as fourth place in the class. However, the defending XC2 Champion was forced to return to the pits on Lap 3 where his crew replaced a pipe and radiator during the race. Thomas returned to action but wasn't able to salvage championship points with a 22nd place finish in the class.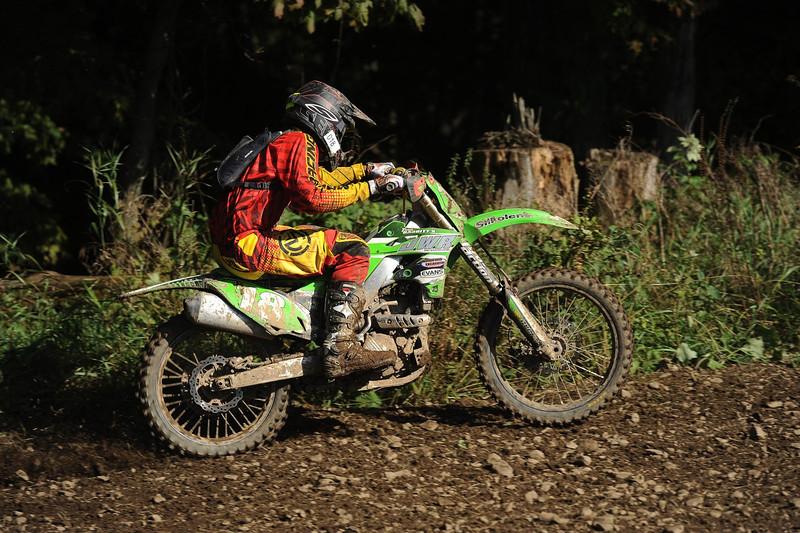 DeLong went on to capture his fourth XC2 victory of the season, while Osborne finished a GNCC career-best of second place at Unadilla. Ohio's Scott Grills (pictured above) maintained a consistent ride amidst all the chaos, capturing a season-best third place in the XC2 class. Baylor finished fourth for the day where he maintains the points lead over Thomas with three rounds remaining.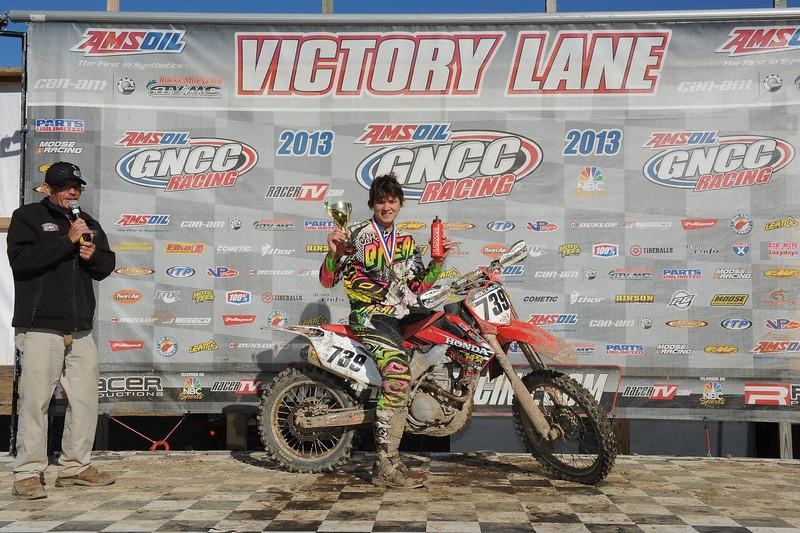 North Carolina's Trevor Bollinger (pictured above) grabbed another victory in the 4 Stroke A Lites Class, also securing the Top Amateur Award with 20th overall for the day. The next finishing amateur rider was 250 A winner Dylan Macritchie with 23rd overall.
The 2013 AMSOIL Grand National Cross Country Series continues September 21 and 22 with the Car-Mate Gusher GNCC. For more information on the series, visit www.gnccracing.com.
Stay up-to-date with exclusive content from the 2013 AMSOIL GNCC Series by following the series Facebook, Twitter and Instagram.
XC1 Event Results:
Kailub Russell (KTM)
Charlie Mullins (KTM)
Josh Strang (KAW)
Rory Mead (KTM)
Jordan Ashburn (YAM)
Jonathan Girroir (KTM)
Chris Bach (KTM)
Ricky Russell (YAM)
Thad DuVall (HON)
Takeshi Koikeda (HON)
XC2 Event Results:
Andrew DeLong (HSQ)
Zach Osborne (HON)
Scott Grills (KAW)
Grant Baylor (KTM)
Shane Hufford Jr (KTM)
Jesse Groemm (KTM)
Ian Blythe (KTM)
Jason Klammer (KTM)
Layne Michael (KTM)
Sam Evans (KTM)
XC1 Series Standings:
Kailub Russell (260)
Charlie Mullins (255)
Josh Strang (174)
Chris Bach (172)
Thad DuVall (169)
Paul Whibley (143)
Jordan Ashburn (139)
Takeshi Koikeda (125)
Adam Bonneur (120)
Rory Mead (119)
XC2 Series Standings:
Grant Baylor (227)
Jason Thomas (190)
Andrew DeLong (151)
Shane Hufford Jr (131)
Layne Michael (104)
AJ Stewart (102)
Travis Coy (98)
Scott Grills (97)
Zach Nolan (96)
Michael McGinnis (92)
*Overall National Championship Standings:
Kailub Russell (250)
Charlie Mullins (248)
Chris Bach (163)
Josh Strang (143)
Thad DuVall (140)
Paul Whibley (127)
Grant Baylor (119)
Jordan Ashburn (106)
Jason Thomas (106)
Andrew DeLong (77)
*Indicates that the Overall National Championship Standings will determine the 2013 National Champion.