Why do they call it the silly season? The term originated back in the mid-1800s, when British newspapers were left with little to report on during the summer, when Parliament went on summer hiatus. As such, newspapers were left trying to create their own ridiculous stories because there wasn't as much hard news to report. Some of the stories were downright silly, hence the term.
Well, we're in for the silliest silly season ever, based on that definition.
Normally we have plenty of silly season new bike and team debuts, as well as some riders returning from injury to peak interesting during the fall. This year? The key ingredient is stability, as we've seen more two-year deals and fewer new team moves than ever. Really, ever. A ton of riders have multi-year deals and hence are staying put, including Ryan Villopoto, Davi Millsaps, James Stewart, Trey Canard, Justin Barcia, Broc Tickle, Jake Weimer, Justin Brayton, Matt Goerke, Ken Roczen, nearly the entire Monster Energy/Pro Circuit Kawasaki and GEICO Honda teams, and the likes of Ryan Dungey, Mike Alessi and Andrew Short have re-signed with the teams they were already on (and Josh Grant is set to do the same). Yamaha's young kids like Jeremy Martin and Cooper Webb aren't going anywhere, we expect Phil Nicoletti will be back with N-Fab TiLUBE Yamaha … sense a pattern here?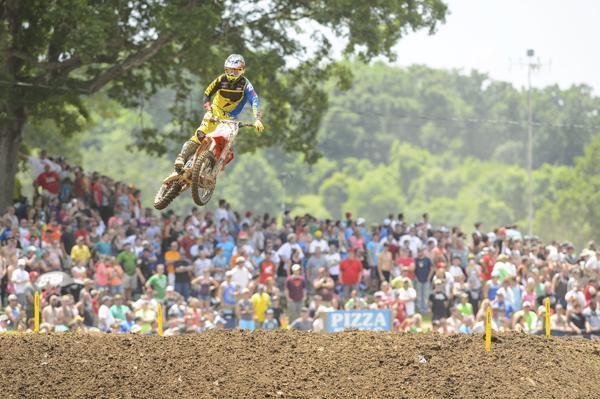 Chad Reed's announcement will be the biggest of the off-season.
Simon Cudby photo
The biggest news to watch this off-season will be Chad Reed's pending new bike brand for TwoTwo Motorsports (can you believe we're hearing KTM-in-Husqvarna plastic rumors there?), and the transition from yellow to orange for Davi Millsaps and Jason Anderson and Rockstar Energy Racing. Malcolm Stewart is expected to return to Lucas Oil/Troy Lee Designs Honda, but that means he'll be on a 250 again in supercross, because TLD doesn't venture east indoors. Similarly, Dean Wilson will return to the 250 Class indoors and out, as Mitch Payton's 450 team appears to be on hiatus. We'd all love to see Weston Peick end up with an upgrade from full privateer status, but nothing seems imminent, because, as mentioned, most teams are already full with the riders they had last year.
As for injuries, we just enjoyed one of the strongest seasons ever in terms of health, as very few riders didn't make it to the end of the Nationals. Millsaps was a high-profile loss, but he's been back on the bike a bit now, and Zach Bell is back on his Honda, too.
The news for this off-season is that there isn't much news, but at least it spares us from the typical PR bunk like, "I was ___ seconds a lap faster as soon as I got on my new ___." Sure you were. What it does mean is that plenty of riders will come into Anaheim with momentum, fresh off of a solid season and comfortable with their bike and surroundings.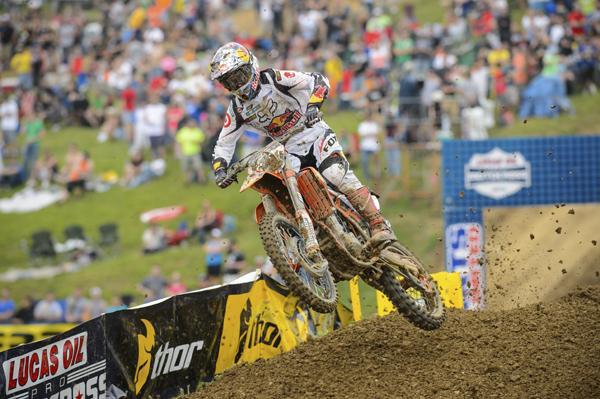 Ryan Dungey re-signed with KTM.
Simon Cudby photo
It also means 2014 will have a backdrop of free agent fury. There are a lot of teams on the outside looking in, and they'll be courting riders for a 2015 push in just a few months. Seriously. It's like NBA or NFL teams blowing off one season to get ready for the draft the next. For '15, nearly everyone sans Dungey (just re-signed) and Villopoto (two more years with Kawi) comes off the books. Figure on teams like RCH Ram Suzuki and JGR Toyota Yamaha, who really, really want to go big, to be recruiting all year long. Yamaha, especially, wants to get back to winning races, which hasn't happened much lately, and they have new bikes in which to prove they are capable of it again. But teams like that can't get a star unless they take one from another team, so current employers will be scrambling to keep their relationships strong. It's sure to create a strange dynamic throughout the '14 season. Push any of the wrong buttons with your rider, and you'll start hearing things like, "I felt it was time to make a change" for 2015.
Employment stability and rider health is never a bad thing. But as for us in the news, we're going to have to get silly if we want to keep you interested. Sounds like a plan.