Carey Hart owned his H&H SX team for a number of years with some success on the track and a terrific job of marketing off. There was nothing wrong with the way he had been going about it but for 2013 he stepped it up by partnering with Ricky Carmichael, getting factory Suzuki help, signing Broc Tickle and for the first time and competing in all 12 rounds of the Lucas Oil Pro Motocross Championship. Clearly he's not one to stand still, as we found out recently the team just missed out on getting Chad Reed's signature for next year.
Hart's down in Australia with his wife touring, but took the time to call us up and detail his 2013 season and what's next for the RCH squad.
Racer X: First of all, the big news is that you guys were talking to Chad Reed but he decided to stick with his own team for 2014. Can you talk about that deal and your thoughts on that?
Carey Hart: I don't want to get too into it but basically we were talking. We talked about bringing Chad on the RCH program. He was at a pretty major crossroads with what he's built with his team, and going back to being a racer without his own team. So at the end of the day he made a choice and it was strictly on the fact that he wanted to keep the team going. We went down the path pretty far with him. Honestly at the end of the day we wish him all the luck in the world. We almost had him, but obviously he wanted to keep TwoTwo going and I can totally respect that.
Chad being Chad, you probably loved the social media part of him Tweeting about it and then Ricky was chiming in.
I'm actually completely surprised that we kept it as much of a secret as it was. It wasn't a complete secret; it was in circulation a bit. But we did a pretty good job.
So next year are you going to go with the same two guys?
All I can say is we have a two-year deal with Tickle so he's definitely coming back next year. I feel extremely confident that we're going to be bringing Josh Hill back, extremely confident. And we're also looking at some other options. I know that's extremely vague, but this time of the year you can't really show your hand. And we're also talking with a couple other key people.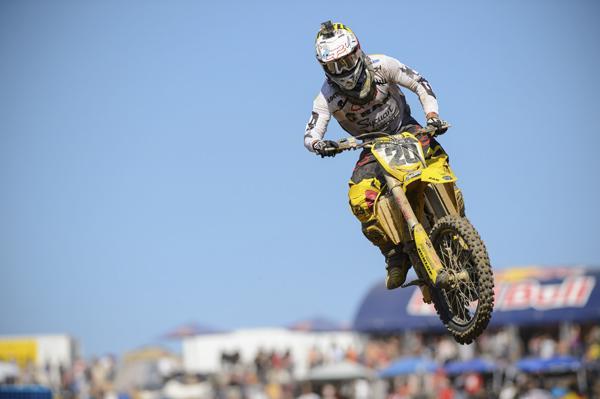 Broc Tickle will return to RCH next season.
Simon Cudby photo
As far as this year, you teamed up with Ricky, you got works Suzuki's. I would say the program once again took another step up. What are your thoughts on it? How'd you enjoy being a little bit of a co-owner, taking a little bit of a step back?
I thought we had a great year. We set out what we wanted to do. Going back to Monster Cup when me and Ricky unveiled our program we said our goals were going to be at the end of each series between fifth and tenth and we achieved that. These days with how stacked the field is there's nothing wrong with an eighth place in supercross and eighth place in outdoor. And honestly we fine-tuned our program. We had a brand new relationship with Suzuki that we had to kind of start working on there and putting some time into.
Honestly it was a brand new year, considering we went through the change with bringing on Suzuki and with my partnership with Ricky. I can say at the end of the day there wasn't a single negative. From a race team owner you always want to do better results but the field is stacked and Broc was extremely consistent out there and didn't miss any races and plugged away each race.
If you could wave a magic wand and improve something about Tickle's year, I'm guessing you would pick starts?
Yeah, 100 percent. That's really what it comes down to is the starts. It's just too gnarly of a field right now to think that you're going to go out and get a mid-pack start or a 20th place start and work your way through to the pack and get fifth. I think those days, aside from Villopoto, I think those days are kind of over for everybody. Hopefully in the off-season we'll get him pounding starts and get a little more aggressive. Not only out the gate, but maybe those first couple laps. But his fitness was amazing. He was putting down his fastest laps the last couple laps of each moto. So there's something to be said. He's in shape
The faith you showed in Hill when he was injured looks to be paying off. The second half of the supercross season he looked like his old self, or very close to it. You have to be stoked on his little comeback.
Yeah, I really am. I took quite a bit of a tongue-lashing over the last couple of years for him.
And, being honest, a bit from me too as I wondered about the choice as well.
From the keyboard warriors to the industry people. At the end of the day it's not even necessarily about me or the race team; I'm just glad to see Hill starting to get back to showing glimpses of what he was in the past. He's still a young kid. As long as he stays healthy I think he's got nowhere to go but up. He actually just got to Australia. He's racing for our Hart and Huntington Supercross team in Australia. We're going to try to get a title over here, try to go win the championship in the Aussie series. That way he's got a little bit more race time under his belt and try to come out swinging next year.
Your team did the nationals for the first time and you yourself were at the motocross races for the first time in over a decade. How was it coming back to the outdoors? What was the good and the bad from doing the nationals?
Honestly the return, I was pleasantly surprised. I'm kind of a fan of the outdoors. From my perspective it runs very swiftly. The day starts early but we're there by 7:00 and we're out of there by 4:30. I like that. It's very thorough. At the end of the day it could always have better attendance or better… the TV package is great. I think all in all they're doing a great job.
I think since they are separate from Feld and from that program I think they just really need to focus on not falling into the same routine and rules and politics that we have with supercross. We had some issues this year just with sponsor activation based stuff, more from a strictly team side of things. I feel like they have to get better activation policies. If they do that, get all the teams on their side, I think they have nowhere to go but up on this thing. Like I said, we had a great time and it's a very dedicated fan base. It's not like supercross where everyone's just showing up for the nightlife aspect of it. I had a great time.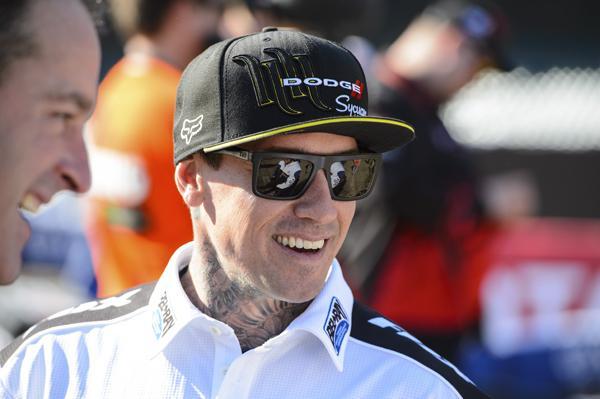 Carey Hart (pictured) partnered with Ricky Carmichael last off-season to form RCH.
Simon Cudby photo
Supercross can almost get away with that stuff because of the exposure. And you're saying outdoors, you got to help us want to be here.
Exactly. I wish there were 50,000 people there, but at the end of the day it's a very committed fan base. They made their way through the pit. They're a loyal fan base. I think they've done a good job with taking care of the fans.
Can you talk a little bit about how and you and Ricky got along and managed the team?
Honestly, with me and Ricky, there wasn't a single issue this whole entire year. We're both extremely hands-on but we also both know it's a group effort, and that's not just between me and Ricky; that's between Kenny Watson, and Mark Johnson, and Kyle Bentley. No one just makes a decision and runs with it. At the end of the day we all kind of have a say on it. We also kind of understand our roles. Ricky's extremely active on the development side and working with the riders and the relationship with Suzuki. I'm more so on the sponsor side, the marketing side. But we're actually kind of teaching each other both sides. I'm getting a little bit more involved on the technical piece and he's getting more involved on the marketing piece, so we're more well-rounded owners. But we hit it off this year. Not a single issue. We're both extremely hands-on. We talk at least six or seven times a week. It's almost daily. Main thing is for the race team. And lucky enough for me I'm not going to be on tour next year. My wife ends her tour in December so I'm going to be at a lot more events.
And you brought Mark Johnson on who's got a ton of experience in the industry and knows his stuff. Can you talk about what adding Mark did to the team?
Mark has been such a crucial piece. The knowledge and history and experience that he has, not only in two-wheel but four-wheel, he's just the biggest asset we have at this point. Just the moves forward we were able to make this year. We were on extremely limited testing and developing because by the time we got into racing and we were doing our thing, we were just a click behind the 8-ball, not too bad. But just the movements that we made throughout the course of the year, and now we're getting ready to start testing already for supercross. We're full steam ahead. With his resources from not only his moto days but from four-wheel we've got some pretty exciting things we're going to try this year and kind of look outside the box a bit. It's kind of nice to be able to have a program like that where we're able to kind of just run with our own dynamic.
Since you've started the team that's probably been the weakest part, the technical aspect, the testing and all that. And this has been the last key thing for you to get for your team?
Exactly. 100 percent. In the past Mitch Payton was a great partner of ours but it wasn't really testing; it was just grab it and bolt it together and go racing. So now it's just a whole different ballpark. Now that we are a factory team and now that we're able to even do some of the testing and development on our own.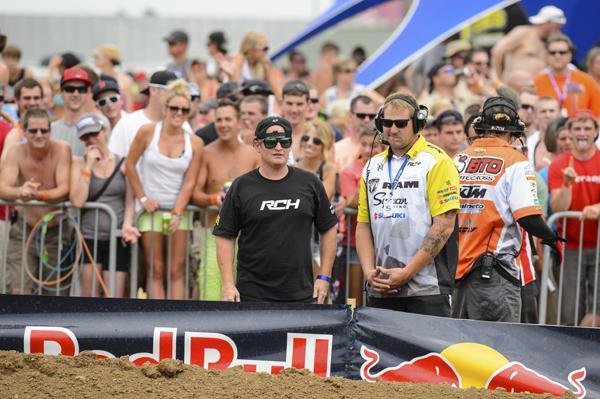 Carmichael (pictured) is co-owner of RCH.
Simon Cudby photo
Your setup's tremendous and you've got a lot of outside the industry sponsors. What makes you guys be able to do this so well while some other teams struggle?
I can't tell you my secret!
But you seem to be ahead of the curve from a lot of teams in the pits. I think that's a good thing, obviously.
I do want to kind of keep some stuff for ourselves because it's kind of program. We just look at it from a different perspective of just slapping a sticker on the bike and trying to chase the podium. If everything goes as planned for next year we're going to see some pretty major, exciting changes at the RCH camp. Let's just say that if everything goes as planned there's going to be a big change-up, which is going to be pretty exciting.
As long as all this involves Watson staying on the team.
Oh yeah, Watson's not going anywhere.