Arenocross Returns to LEC
Local promoter Robert Hansen is all smiles as he's bringing back indoor motocross to the Livestock Events Center. This time it will be at its original date in November and with its original name, Arenocross.
This year, indoor motocross returns to the Livestock Events Center in November, as the Arenocross event is reborn. Once again, fans will be thrilled as riders face the challenges of jumps and traditional long section of whoops.
This year, indoor motocross returns to the Livestock Events Center in November, as the Arenocross event is reborn. Once again, fans will be thrilled as riders face the challenges of jumps and traditional long section of whoops.
Halftime during the Friday and Saturday shows in November's motocross event at the LEC will be a freestyle show with riders getting big air and doing tricks like this one as they soar above the floor.
February won't find the Arenacross series visiting Reno as it doesn't go further west than Denver. This change has given promoter Robert Hansen the opportunity to bring back what he started in 1991, Arenocross.

He started the event 23 years ago and has a long history of putting on races in this area.

"A local hero, Rich Thorwaldson had a race track in Carson and was getting too busy with his Honda shop so he asked me, 'would you be interested in buying the racetrack,'" Hansen said. "And I ran that one from 1989 to 1999."

The late Thorwaldson also played a part in helping the original Arenocross, as he was Hansen's first sponsor of the event. That money allowed the radio and TV spots to promote the event.

The incentive for promoting the event came from Hansen's cousin, former World Motocross champion Jim Holley.

"He invited me to go overseas and I hung out with a promoter in Australia for a week and watched how he did it," Hansen said. "I always knew about the Reno Livestock Events center so I told my cousin that we could do the same thing here. So we came in 1991, put on our first Arenocross and I promptly lost about $20,000."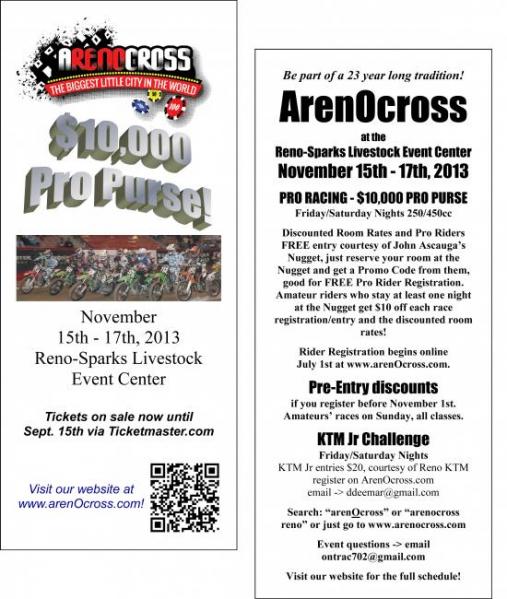 After laughing Hansen admitted that he probably wasn't paying enough attention to the promoter in Australia. Not wanting to do just a one-time event he staged it the very next year.

"We looked at it, re-grouped, figured out where we went wrong and the very next year I got half the money I lost back," he said. "And it went on and on and was very successful for about 10 years."

The name of the event, Arenocross, came from a suggestion by a marketing person that wanted to get some involvement by the city.

In those days, Hansen got most of the area shops and motorcycle dealers involved. There were a few inside on the concourse, while others set up display areas nearby in the parking lot.

"That was the key, it's a small community and you have to have every shop involved, selling tickets or having a booth space here," he said.

Hansen explained he wants to get back to that and is now talking to several dealerships about bringing them back to the concourse. The goal is to get the community involved in a big motorcycle event.

"Obviously it's the biggest motorcycle event in the Reno area," he said.

In 1999 PACE Motorsports bought the event and Hansen went to work for them. That's when Reno became part of the Arenacross series and offered riders their biggest venue as most of the events are in basketball or hockey stadiums.

The Reno event was eventually switched to a February date and the series bought by FELD, which is owned by a circus. However, due to a change in objectives Hansen left the company.

"Obviously they're very successful because they own Super Cross and Monster Trucks," he said. "But I was very excited to find out this venue was available and I'm back at it again."

He feels one reason for FELD moving the series east is due to winter weather and the fact there are so many Supercross events in the West.

"We're surrounded by the big shows but Arenocross is grass roots racing," he said.

He feels his event is a good training ground for the young and up-and-coming riders before they go to the big stage.

"I've changed the date back to the week before Thanksgiving as we had that for 10 years back in the day," he said. "The reason being, it's before Supercross season, I could get a lot of Lites riders because they need a little training and exercise so they'll want to come up and race. So it's a good time of year, it's traditional and the kids are out of school the following week so I can draw people from back east."

In the past, that date brought riders planning to compete in Supercross here to tune up for the big shows.

At one time, Hansen promoted similar events in Sacramento and Portland, Ore. Comparing the Arco Arena to the LEC he said, "It's half this size so we have a unique situation here where it's large enough so we get some lap times that are similar to Supercross. We have a big floor, it's an exciting event and they get a lot more air at this venue."

Speaking of big air, the original Arenocross events always had a huge jump. While there will be jumps he's also going to build the course so freestyle ramps are included.

"There'll be a big free style program at halftime with a lot of the local stars and a couple of X-Games guys," he said.

He's also is looking at the possibly having an Arenacross school on Monday with possibility a celebrity guest racer as an instructor.

"I know we need a little bit of help getting outdoor motorcycle racing kickstarted again so maybe a good school with a high-end racer teaching it will help get kids back into racing around the area," he said.

Of course plans are one thing and making it happen is another and that takes a lot of work as well as support.

Asked about the response from local dealers Hansen said, "They're glad to see me back. They had a little bit more of a voice with me than in the past, they want to get back on the concourse and they're excited about it."

As usual the pros race both Friday and Saturday evenings with the freestyle shows at halftime. In addition he intends to renew the popular coats drive, which was a huge success in the early days of the event.

The Pee Wee racers will also be part of the show, as he believes they need to be in front of the crowd as these youngsters are the future of the sport.

Another popular event that should be returning is the Policeman, Fireman Challenge race. Many times those riders let enthusiasm overwhelm common sense.

"They see the pros go through the whoops and those big jumps and they say, "I can do that.' But you know what, they can't," he said with a laugh.

The Challenge entry fees go to the charity the winning team chooses and it's a way to give back to our community.

Another incentive offered to fans is bringing back the free ticket for a child under the age of 12 if accompanied by a paid adult admission.

"It'll be through some coupon and sponsor outlet," he said. "You know it's expensive to go to these events, expensive to put the event on and so we have to work it out where we get people in here. And that's our way, a free child's ticket for Friday night."

And Sunday will be the traditional day for amateurs to try their hand on a course that will be slightly altered for safety.

Support is a big part of getting this event up and rolling. Hansen expressed great appreciation for the encouragement he's gotten from Kim Arneson, LEC's assistant general manager.

"She wants to make sure this event stays," he said.

Right now Hansen is completing the details with Ticket Master, sponsorships, dealers and motorcycle shops in the area.

Asked if he was optimistic Hansen said, "I've got to be as I have a lot of money on the line. But the community likes it and if I get all the dealers involved and everyone feels they are a part of it it's a win-win. I looked at the numbers, it's still a job, still a business and you have to make some money.

Over the past two decades Hansen has helped put on over 400 events including the PBR Rodeo, Monster Trucks, Free Style and of course Arenacross. But he still had fond feelings for the event here.

"This is the first one I ever did so it's the one I always wanted back. This is something I want to come home to every year and do. I may not do any more, I may pick up more but right now this is my focus, we have a long lead on it, longer than normal so I think it will be very successful," he said.

Although the LEC will be silent the February, in November it will once again echo with the sights and sounds of indoor motocross when Arenocross is reborn.