Teutschenthal
Saxony-Anhalt

,

Germany
Motocross of Nations
Motocross of Nations
Team USA for this year's Motocross of Nations has been announced, and it's up to Eli Tomac, Ryan Dungey and Justin Barcia to get the Chamberlain Trophy back. The race takes place Sept. 29 in Germany. After the Utah National on Saturday, where Team USA was announced, the riders and team manager Roger DeCoster were invited to a press conference to talk about their 2013 prospects.
Ryan Dungey:
Last year you raced in the deep sand, at what is a practice facility for a lot of the riders in the GPs. This year the race takes place in Germany, more hard packed. What do you think of the team's chances?
I think the team's chances are good. For all of us, last year was tough. It is their backyard; they literally live two miles from there. I think they knew what they were doing holding that event there. It was the biggest struggle I'd ever had in my whole life, and it was disappointing, tough to deal with. And losing the des Nations for the first time, it was the first time we had lost in the four years I went over there. So it's a different track this year. With [Justin] Barcia going again in his second year, myself, and [Eli] Tomac, who just wrapped up the championship, obviously he's riding well. I like our chances. The track will be a lot different from last year, but I don't think it's something we can't handle.
What will you do during the break between now and des Nations?
Once Elsinore ends we'll probably take a couple of days off, then maybe get ahead on some supercross stuff. Then we've got to prepare for des Nations so we'll be busy.
Last year we talked about the riders having the advantage of the local track. This year your teammate Ken Roczen has the home advantage. Has he given you any helmet cam videos that you can go home and study? Did he share anything with you? I'm sure he has a couple laps around there.
[Laughs] He's going to be 450 next year so we're going to be competition. We don't talk to each other anymore [Laughs]. No, he's a team player. I think [his team] showed their speed in Lommel. I'm sure they're going to be really going good in Teutschenthal.
You mentioned the bike and obviously the rule structure for Europe is slightly different where they encourage works bikes. Are they going to give you something? Will you have any of the so-called works bike that we hear about?
No, we're just going to probably fine-tune from this point forward. The bikes over there are basically works. It's all handmade stuff. It's really kind of neat to look at it, but we're not going to race anything different than what we have now.
What is the atmosphere over there? In Germany, for example, they want to see the German team win. But it also seems like they like to see you guys because they don't get to see you race very often. So what is it like over there?
Europe has always welcomed us. It's been awesome. Ever since I went over there in '09 I was a little bit taken aback how cool they were. We have a lot of fans over here in America, but over there they don't get to see us, so when we come over there I think for them it's so neat and so cool. They've always welcomed us warmly and it's been awesome. It's kind of cool running around. Everybody speaks different languages. You don't understand a lot. But it's cool. Obviously with the situation of wanting to win it's kind of high pressure, but you get back from it all and you're just like, 'Man, that was some of the funnest times in my life.' You feel like you're in another world over there in Europe—it's so different being somewhere else outside the USA besides Canada. You feel so far away but we have so many people that go with us so we got a lot of support and we feel right at home.
This is something I hope is a long time coming, but we talked to Ryan Villopoto and he says he has two more years at this level and he's walking away. Now, you're a young guy. Have you ever decided what the line is when you may decide to call it career?
It's all we know. I think we say stuff we don't mean sometimes, a lot of us. But at the same time I don't know. I might get to the end of two years and after the next two years I re-sign. It's all we've done our whole lives. Yeah, you've got to be fortunate and 100 percent healthy. It's a tough sport but you get to that point, I've seen it in the guys' eyes before. It will be hard to ever get to that point. Why did [Kevin] Windham race as long as he did? So, I don't know.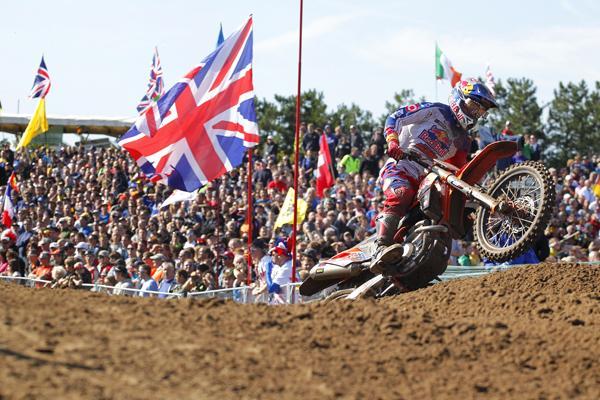 "For all of us, last year was tough. It is their backyard; they literally live two miles from there. I think they knew what they were doing holding that event there." - Ryan Dungey
Sarah Gutierrez photo
Roger DeCoster:
Seems like you put together a pretty powerful team.
Des Nations is a very special race. It's probably my favorite race of the year. I really feel like we would be going over there with very good riders that really want to go to a des Nations. It's amazing that these guys can be all year racing against each other so hard and they hate each other and they want to beat each other so bad, and then you go to Europe and then they're best buddies. I really feel fortunate that our riders are that good at putting the season behind them. I think that will be an advantage for them.
As a rider that represented Belgium in your career and obviously your team is very multi-cultural; you have German, French, and American riders … Is it hard to separate Roger DeCoster the KTM team manager from Roger DeCoster the Team USA manager of Motocross of Nations?
I feel a little bit weird going to Germany. The Germans beat us last year and Ken was the main guy on that team. So now we go to his home country, actually very close to where he's from, close to his hometown. I haven't asked him yet but I'm going to ask him to go ride it with the American team at his home track, his own place. I hope he's okay with it!
I've always wondered this: How are you received in Belgium being from Belgium and having raced for their team, but managing Team USA?
The first year was tough. The first year in Lommel, the first time that we won. I had guys pushing me and wanting to fight and all that, and I actually had to punch a guy to leave me alone. It was kind of weird. Over the years I have been in the U.S. for so long now that I like to see Belgium do good but I want my team, the American team, to win.
Was it a good punch?
[Laughs] Yeah it was a good one, it took him down.
With your KTM hat on, how hard would it be to put Kenny on a 450 if he's the fast guy who should race MX1?
Ken has the choice to ride whatever he wants. He can ride the 250, 350, 450 whenever he chooses.
We talked about the silly season, about people signing riders. Obviously you have Ken, you have Ryan Dungey, and I believe Marvin Musquin one more year on the 250. Will there be a fourth?
No, unless Villopoto and Tomac want to come and join us!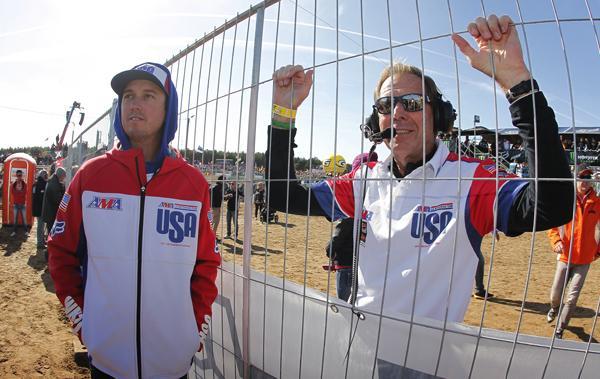 "The first year was tough. The first year in Lommel, the first time that we won. I had guys pushing me and wanting to fight and all that, and I actually had to punch a guy to leave me alone." - Roger DeCoster
Sarah Gutierrez photo
Justin Barcia:
You're obviously here because you've been selected for your second appearance at the Motocross of Nations. Last year it seemed like there was not a lot of success for the team. We're going to a whole new track and now you're a little bit more seasoned over there. What's your take going into this season?
It's going to be awesome. Last year was definitely tough. The track was brutal. We weren't used to it. We got our butts kicked. So that wasn't fun but this year I think we'll have a lot better chances. We have a really good team. Eli, Ryan, and me. I think we're going to be strong. I think we have a really good chance of winning.
We hear about you guys maybe heading over a bit early. Do you know how much prior to the event you guys will get there?
A week, I think. Not too much. We'll ride a couple days and shake down our bikes and stuff. Not going super early but it will be good.
Will it help this year going back to Motocross des Nations, you sort of know some of the procedures now?
Yeah, definitely. I think going back to the Motocross des Nations it will be a lot easier on me. I've had one year of experience so that's good. I think it'll be a lot better. I was around Ryan a little bit last year for that and I've been teammates with Eli so it will be no problem on that. I think we just need to go over there and be fast and get good starts and try to win.
Talking to you and your mom it sounds like you became friends with the people that you raced with over there that you probably wouldn't be on an ordinary race day, because you're teammates.
Definitely it's better. You get to spend a little more time with the racers you race with over here. Over here you don't spend any time with your competition. You're not really friends. It's more see them everywhere, 'Hey, how are you?' That's about it. It's a little better now. Definitely get to communicate a little more, talk lines. I think it's a good thing just for even coming back to the U.S. and kind of learn your opponents a little bit. It's kind of cool. At the same time you get a good team vibe going.
How do you work your schedule with having such a big break in-between? Do you take a little time off?
No. We'll do Monster Cup and I'm pretty sure I'm going to Bercy and Genoa this year. No downtime and with testing and stuff, it will be really busy. But that's our lifestyle; busy, busy, busy.
Your trainer is Jeff Stanton. I don't think there's anybody that likes the Motocross of Nations more than that man.
He loves it.
When he found out that you were selected for the team, is he already there?
[Laughs] Yeah he's already there like scoping out the track and stuff. I called and was like, 'Hey, we have the option to do this; what do you think?' I kind of wasn't sure. I really dropped the ball last year. And he's like, "Are you kidding me? You got to do it!" So he's just sick when it comes to this event. Stanton's weird. He's a pretty crazy guy but so am I, and I think that's why we get along so good, because I'm a weirdo, too.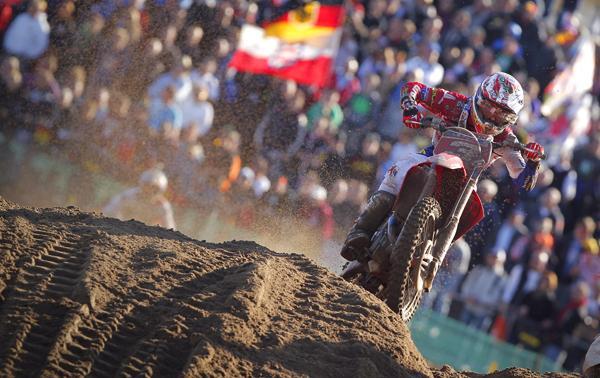 "I think going back to the Motocross des Nations it will be a lot easier on me. I've had one year of experience so that's good. I think it'll be a lot better." - Justin Barcia
Sarah Gutierrez photo
Eli Tomac:
Before the day even started they brought you onto the Motocross of Nations team. You kind of knew that was really going to be something special. Have any of the guys kind of grabbed you yet and said, "We're all going to hang out now?"
We haven't really talked a whole lot yet. I am pretty good buddies with Justin. I know him pretty well. So that'll be fun to go there with him. I think we are going to be a really good team this year.
Talk about your experience you've had in Europe. Didn't you race the Junior Cup at one point? What kind of experience do you have over there?
I went to Finland on 80s. Not sure exactly what year it was; maybe somewhere around '05. And then did the New Zealand race in '09. So I have been overseas. I've even done some Supercross events over there like Bercy and Genoa last year. The whole Euro thing shouldn't be too much of a new thing for me.
What do you think is a bigger advantage: going and racing in your home country, like Ken will, or coming off a recent championship, like you are?
I think the guys that are going over there, our team, we all have pretty good momentum. I think it's better off when you're winning races over here, to carry that over there. I'm not sure. If you're a Euro over here or from somewhere else, those guys have been over here for a couple years so when they go back, it is home but they've been over here so much, they live in the USA also.
It's a team event over there for sure but how much importance do you put on the, "Hey, where do I stack up in the world of 250 guys?"
I am going to give it my all. I really do want to beat most of the guys over there. It is something that I'm going to really get ready for and not just kind of slack off on. I do want to be one of those guys up front.
Jeffrey Herlings has an undefeated season going over there, and he's kind of out of the box with some of the things he says. We don't know what class he's going to race over there, but do you look forward to the chance to maybe squaring off with him and toning him down a bit?
I would love to! I'm not going to say much, because a lot of people probably will say something, and it will get out of control. [Note: Not going to happen—Herlings crashed over the weekend and broke his shoulder blade, he's now out of the 'Nations].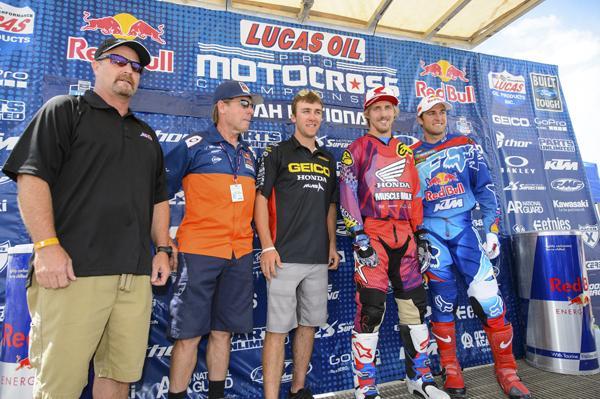 "I think the guys that are going over there, our team, we all have pretty good momentum. I think it's better off when you're winning races over here, to carry that over there." - Eli Tomac
Simon Cudby photo
Bonus! Ken Roczen – Team Germany
When we head to Germany your teammate, your team manager aren't with you in that capacity anymore. All of a sudden you're back to your friends in Germany. I'm guessing some of them you probably haven't seen in a while. Are you a pure German or are you starting to disconnect a little bit and you're riding for your country but you're over here quite a bit?
No, I'm pure German; trust me! I'm excited to go over there. Teutschenthal is roughly an hour away from my place. So I already talked to Roger. It would be cool to get the American's over there. My track is different. Luckily we have something to water the track and we can actually make it pretty good. I think the Americans are used to pretty decent tracks. Over there though most of the time you come to a track it's dusty and rock hard and the worst ever, like concrete. But it would be awesome. I like to be around people. It would be awesome to get everyone there and ride together. I think we can do a lot of cool things and maybe get to show them a couple of cool restaurants because it's totally different over there. It would be cool to spend some time together.
How about a primer on the track? Just some of the basics. What's the surface like with jumps?
Honestly I don't know if they're going to change something, but I hope they do. It's in a little valley. Really tight and small track, kind of rocky but hard. I think they're going to change a lot of things just to make the track more open. Obviously I think there's going to be a lot more people than at the GPs. So I think they have to change that too. Just make it better for the fans to look and watch.