Unadilla Motocross
New Berlin

,

NY
Unadilla
Lucas Oil AMA Pro Motocross Championship
There will be a lot of eyes on Matt Bisceglia and Shane McElrath when they make their pro debuts this weekend at Unadilla under the big tents of GEICO and Lucas Oil/TLD Honda, respectively. But another graduate will be trying his luck, too. Luke Renzland is bringing his 450 A Championship into the pro ranks, and he'll be doing his own thing on a Yamaha 450 this weekend.
Renzland is originally from New Jersey, and did most of his racing and riding just over the state line in New York. He's recently relocated to Florida, though, with a private track that's so cool, most just call it "Dreamland." So who is he? What's his deal? We asked him for this final edition of Loretta's Custom Moments.
Racer X: You went 450 A this year after a couple of rough years with injuries and all that. So this has got to feel good.
Luke Renzland: Absolutely. My last time here was 2010 in the Schoolboy Class and I took a title home there. Ever since then I've had nagging injuries for the past few years, I haven't been able to race Loretta's since then. Now I'm back, and came away with the 450 A title and third in 250 A.
Yeah and in 250 A, with Bisceglia and McElrath, you were even in contention for that one if they'd had some bad luck in the final moto. And when it was muddy did you think, "Hey, wait a minute; maybe I can do this?"
Absolutely. I came into the moto thinking anything could happen. But actually anything that could happen happened to me! Actually came away with a seventh I think in the last moto, so it kind of took me out of contention for the title.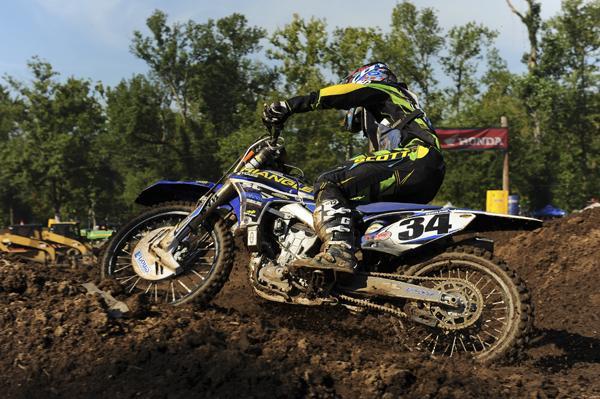 Renzland will make his pro debut this weekend at Unadilla.
Ken Hill photo
When you won that Schoolboy title in 2010, and then got hurt, how much momentum did that rob from you? How rough has it been to bounce back like this?
It's been super tough. In my mind I'm thinking, why are all these injuries happening? What's going on here? But coming back here and snagging the title in the 450 A, all the injuries are worth it after that. It feels so good.
Talk about your deal. You have a place in Florida where you get to ride?
Yeah, it's actually been called "Dreamland" I guess. The Vurb Moto guys called it that. It's huge. Jason Baker and Dream Tracks built it. We've been down there just doing our thing. My brother has been training me. We've got a good program going on. It's been working.
So you had missed a lot of time. But when you came into this, did you feel like, "Hey, I know I can go toe to toe with these guys, because of all that work?" Did it give you confidence coming in?
Yeah, coming in I was pretty confident. I didn't really know where I stood from being out for so long. The Spring Nationals kind of were a little rough on me. But Loretta's has always treated me good so I came in as confident as ever.
From here, do I hear you're going to Unadilla? Is that the plan?
Yeah, plan on going to Unadilla in the 450 Class. My goals are to be top 15 contender.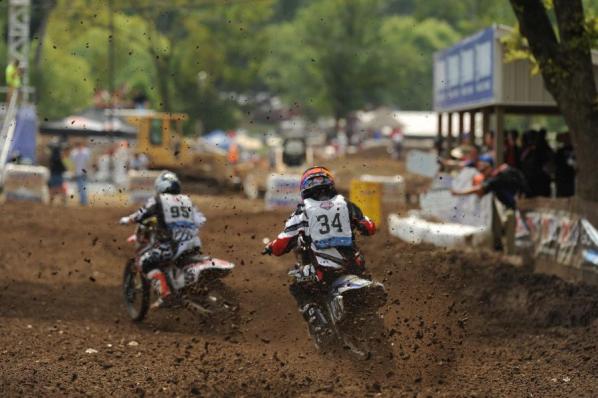 Renzland (34) chasing down Matt Bisceglia (95) at the Ranch.
Ken Hill photo
How do you prepare for that? Do you have anyone around you that's kind of been there at that level or are you just kind of guessing coming in? How do you get ready?
I know a couple guys that have been doing the pro thing. Ryan Zimmer's been down training with me a little bit. He's a top 20 runner in the 250 Class, so I kind of have a little bit of a gauge there. Other than that it's just guess and check.
Unadilla, from where you're originally from is actually pretty close?
It's about three hours. I'm from all the way north in New Jersey. That's always been the race that we go and watch. Ever since I've been six years old been going up there as a fan.
I'm from New Jersey originally. Finding places to ride there is not always easy. So were you able to ride a ton growing up or was it tough actually being from there?
It was pretty tough. We actually had a friend with some land up in New York and we built a sweet track there. That was my main facility from maybe 2006 to 2009. After that we started going to GPF [Georgia Practice Facility] more and more. Then this past year we made the facility in Florida. It's really helped a lot, and I hope I can just keep getting better from here.