Washougal Motocross
Washougal

,

WA
Washougal
Lucas Oil AMA Pro Motocross Championship
Round eight of the Lucas Oil Motocross Championship has come and gone at Washougal, Washington, and what a day it was, both on and off the track. The Peterson CAT Washougal National is sneaky-good, you really should check it out one day if you've never been there. Yeah it's tough to see the whole track, but there's just so much to appreciate and take in while you're there.
The Pacific Northwest is fantastic. I used to live in Astoria, Washington, and Victoria, British Columbia, back in the day and I love it up there. I love those little drive-by coffee huts that make the best coffee ever. I don't see many of them around the airport where we stay but when I got John Knowles from Scott USA lost looking for this Mexican place that I "for sure" knew where it was, I saw a ton of them, so they're still around. I just wasn't ready for coffee at that point.
As a former mechanic, Washougal was a strange place for bike setup. The shadows challenge the goggle guys, the slickness challenges the tire guys and the small chop and slickness challenges the chassis guys. Lots of riders come in complaining about their bikes at Washougal. I myself think a small drive-in coffee shack would help everyone out, but that's just me.
DING DONG, the streak is dead. Ryan Villopoto finally won his hometown National with a couple of great rides. Villopoto caught and passed Ryan Dungey in the second moto and took off for a convincing win. Of course, RV won the overall but he didn't put any points on Dungey as they tied in points for the day. That's okay though, RV's got a big lead in the series, although I'm sure he really, really wanted this win no matter what. One thing that's struck me is how many changes the Kawasaki crew are still making to Villo's bike. It seems like they are very aggressive with testing each week. Despite the points lead and Ryan's obvious speed, the guys are always trying to improve the motorcycle and Villopoto is always crediting the changes the team made to his bike.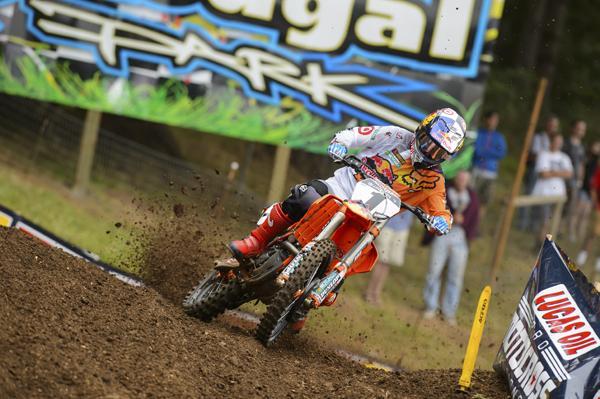 Villopoto snapped his overall winless streak at Washougal, but Dungey gave him a run for his money.
Simon Cudby photo
I've been on title-winning teams before and constant improvement is the right stance to take. Always look for improvements on the bike and many times the testing will involve circling back and trying something that the rider rejected at some point. This is a big part of testing and you had better make sure you made good notes on what the rider said about the part you're trying, because further down the road there could be a keyword that the rider uses that triggers you to dust off the old part that was rejected earlier.
There's not much to choose from between Ken Roczen and Eli Tomac. After Eli's 1-1 win at Washougal the gap is one point between them. Some of us were thinking that with Tomac's starts not always being on point and Washougal being a tough track to pass on, it might not be Eli's day. We couldn't have been more wrong. Tomac's starts were great and he destroyed the field. As I've been writing, this whole class comes down to what Tomac can do off the start. Not saying he will always dominate like he did over the weekend at Washougal, but at least he gives himself a fighting chance against Roczen, who seems to be the better starter.
Okay, laser-gate time. This has been hashed over a bunch and we're now at the point where the penalties have been assessed and apologies by Jeff Alessi and Mike Genova have been issued. Unfortunately for me, I became part of the story with some of the confrontations after the race. When MotoConcepts owner Mike Genova texted me right before Monday's Pulpmx Show and asked if he could come on, I assumed that it might be with a bit of remorse and maybe to take the bullet. Instead Mike, and then Tony Alessi (who also wasn't scheduled to be on but asked if he could be), doubled down and went on the offensive even more.
What Jeff Alessi did was incredibly stupid, but in no way do I think Mike Alessi, Tony Alessi or Mike Genova were in on this. It wasn't a plan to blind Ryan Villopoto or anything like that, it was Jeff not thinking. Once Jeff was caught he should've instantly apologized to Monster Energy Kawasaki, Ryan Villopoto, MX Sports and accepted whatever punishment was dished out. Instead it was the opposite of that, and they came out with all guns blazing. Years from now, MCR's handling of this will be example number-one of what NOT to do in a crisis situation in terms of PR. It will be taught in college courses everywhere!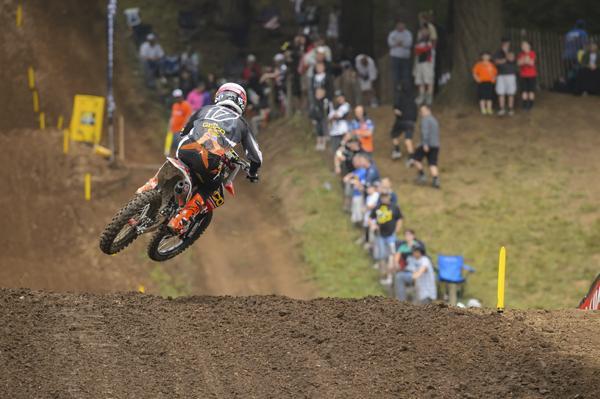 Roczen's lead is now at one following Tomac's 1-1 performance at Washougal.
Simon Cudby photo
Had MCR taken the right road in dealing with this, and this is just my opinion, Tony Alessi would still be at the races and Mike Alessi would have his Washougal points back. The team would have been fined (for credential fraud, as well as Jeff looking and acting like a crew member at Washougal) and of course Jeff would be in trouble, but the aftereffects of the confrontation with Davey Coombs and myself really did them in.
It was a bizarre day from start to finish at Washougal, one that many of us won't forget. Some good did come out of all of this though, and it's THIS VIDEO.
Let's take a look at the results shall we?
250MX Results
1 17 Eli Tomac Cortez, CO Honda CRF250R 1 1- Somehow my DVR didn't record the second motos on NBC Sports so I didn't get to see Tomac's near-endo while going up Horsepower Hill on the last lap of the second moto. Dammit. The way Eli described it, it sounds like he thought he was going to eat it.
2 94 Ken Roczen Germany KTM 250 SX-F 2 2- Roczen was strong in the second moto but in the first one he was in fifth and pretty powerless to do anything to better that result. He was going to lose some big-time points to Tomac but then Baggett's bike blew up, Bogle faded a bit, he got one more guy and BINGO BANGO, he was in second!
3 25 Marvin Musquin France KTM 250 SX-F 3 4- Marvin is solid and is coming off two National wins, and he somehow doesn't get selected to the French MXoN team. Really? He's not one of France's three best riders? Really? What's going on over there? Did the guys who run the Canadian team get involved somehow and I missed the PR?
4 34 Justin Bogle Cushing, OK Honda CRF250R 4 6- Bogle's best day in a long time. He ran second in the first moto for a long time and then third in the second moto. He faded back a bit from those spots, but all in all it was still a great day for Bogle.
5 317 Justin Hill Yoncalla, OR Kawasaki KX 250F 5 7- Hill's reportedly on the block at Pro Circuit, despite having a contract for next year. PC might put him in Arenacross, who knows. Mitch Payton has been telling me all year that he just wants to see some speed from Hill. Well, Washougal is his home track, but he did finally show some speed. Don't give up on him just yet.
6 338 Zach Osborne Chesterfield, SC Honda CRF250R 14 3- Does anyone know what's happening with Osborne and his first motos? Anyone? I think the GEICO Honda team should treat the second practice like the first moto. Like go out there, sit at the gate, go through the whole deal and maybe even have Mike LaRocco in some short-shorts holding the 30-second card. Drop the gate, go balls-out for the whole practice and try to get him to stop wondering why so many riders appear to be just cruising. Get the arms pumped up and give him a trophy for "winning" the "first moto". Then tell him the first moto is the second moto and he'll go out and kill it. As far as the extra "third" moto on the day, well you're on your own as to what to tell him.
7 21 Jason Anderson Edgewood, NM Suzuki RMZ 250 11 5- Solid day for Anderson. And that's about all I got.
8 40 Martin Davalos Ecuador Kawasaki KX 250F 7 9- Davalos was back and did pretty well. He usually does well at Washougal because it's a technical track where good throttle control is needed; it's not rough and hot. All of that adds up to a Martin Davalos track!
9 43 Cole Seely Newbury Park, CA Honda CRF250R 9 10- Despite riding a nuclear-colored Honda and riding gear that you can see from the moon, Seely had a quiet Washougal. It was quiet, but it was good.
10 292 Adam Cianciarulo Port Orange, FL Kawasaki KX 250F 6 16- AC's best race as a pro was right here in Washougal. He said after the race that he left it all out there in the first moto, and on the parade lap for the second moto he knew he didn't have enough stamina to make it a good one. Still, his sixth gives Team Adam and his fans hope (that may have been fading) he's still got the goods. Myself, this is a write-off season for AC and he'll figure this stuff out. He's too good with too good of a program not to.
11 175 Cooper Webb Newport, NC Yamaha YZ 250F 12 11- It's GOT to chap Cooper's ass that Cianciarulo beat him again by one spot. There's no doubt that Webb's had a better season than AC, but for various reasons, Webb gets beat by Adam.
12 19 Wil Hahn Decatur, TX Honda CRF250R 10 13- So Hahn and I have this deal where I bring him Starbucks every race day morning and he runs a Pulpmx.com sticker on his helmet. This started at Bercy last fall, and we agreed on terms when he got back from injury. I even put a sticker on a couple of helmets myself. Here's the problem though. Hahn's been grabbing holeshots like mad and I never see my sticker on the helmet! He claims it's there but I have yet to experience the rush of knowing my sticker is on the lead rider and that makes me sad. If anyone has photo proof that Wil isn't just saying it's on there when it's really not, I'd greatly appreciate it and I will stop thinking about how to fly a banner over the last National of the year saying "Wil Hahn is a welcher."
13 38 Kyle Cunningham Aledo, TX Yamaha YZ 250F 8 15- Cunningham's having the best season that you've never heard about. One poopy moto at Washougal doesn't take away that this vet is eighth in the points and ahead of his much more acclaimed rookie teammates.
14 44 Darryn Durham Butler, PA Kawasaki KX 250F 13 14- Durham stretched out the ligaments in his thumb in practice and struggled through the day trying the best he can. As I've said before, I like Durham's attitude. Good finish or not he always seems to be bro-ing down with fans and friends afterward and for the most part he's got a smile on his face.
15 1 Blake Baggett Grand Terrace, CA Kawasaki KX 250F 35 8- Well that's it. Although we already pretty much knew it, Washougal was the final death blow for Baggett holding onto his number 1 plate for 2014. It's only because I think he's gnarly that I haven't declared his defense dead just yet, but now, cue the taps music. It's over Johnny. Baggett's motor blew in moto one and moto two was just so-so for the BB Gun. I would just blame this whole thing on his wrist (and I'm still leaning that way; I would place 80 percent blame for BB's poor season on his wrist) but I can't put it all on the injury. He did great at the first race (where one would think the wrist would still hold him back) then dominated Budds Creek for the most part, then went into some sort of slump. He's not training with Aldon Baker anymore, he's got some success, he's not working as hard and there's the other 20 percent as to why Blake's season had been off.
16 77 Jeremy Martin Millville, MN Yamaha YZ 250F 24 12- Kid was coming off a podium at RedBud and it's a bummer he didn't have a good day at Washougal. Don't worry Jeremy, it's a weirdo track that bites every rider now and then.
17 50 Kyle Peters Greensboro, NC Honda CRF250R 16 17- Nice ride for Peters to get points in both motos.
18 70 Tommy Weeck Bellevue, WA Honda CRF250R 15 18- Weeck's a hometown guy and good to see him do well. There was so much fantasy moto talk involving Weeck before the race ("He's red 9, can he do it?") it was ridiculous.
19 157 Jacob Baumert Buckner, KY Kawasaki KX 250F 17 19
20 99 Preston Mull Modesto, CA Honda CRF250R 18 32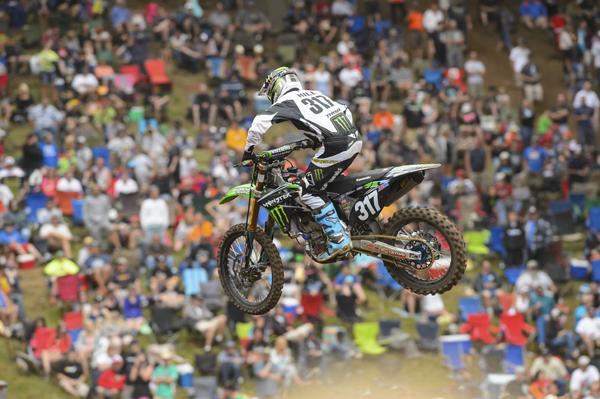 Justin Hill had a career high finish at his home race.
Simon Cudby photo
450MX Results
1 2 Ryan Villopoto Poulsbo, WA Kawasaki KX 450F 2 1- Knowing RV like I do, watching the Matthes/Team MotoConcepts argument/almost physical confrontation in the pits is probably on his list of top-five things to happen to him this year. I'd bet on it.
2 1 Ryan Dungey Waconia, MN KTM 450 SX-F FE 1 2- Lost in the Villopoto win, and of course this laser thing, was the fact that Dungey rode very well in the first moto. Yeah Villopoto caught and passed him in the second moto and yeah RV lost some time trying to get by Stewart in the first moto, but are we SURE that Villopoto would've won the first moto if he had gotten by James earlier like I heard people saying after the race? I don't know if those people noticed, but Dungey just took off like he was shot out of a cannon in those early first-moto laps.
3 7 James Stewart Jr. Haines City, FL Suzuki RMZ 450 3 3- Stewart had a solid day to once again get on the podium. To me this is pretty much what James Stewart can do on cruise control, and that's go 3-3. He hasn't shown the ability to really challenge the Ryans much this summer, but he's too good to be having those finishes of a few weeks ago.
4 12 Jake Weimer Twin Falls, ID Kawasaki KX 450F 10 4- We can build on this! Weimer's dad was at the race this weekend and the Kawasaki guys were joking that it was probably the yelling that made it happen for Jake. I can tell you firsthand that having your dad yell at you every now and then in order to help your racing isn't a bad thing. The keywords are "now" and "then."
5 800 Mike Alessi Hilliard, FL Suzuki RMZ 450 7 6- It's a shame that Laser Gate had to overshadow Mike's day at Washougal. I know he only bettered himself by one spot in the second moto but it was a much better ride the second time out, as he really picked it up and at one point he was the fastest guy on the track not named Villopoto or Dungey.
6 29 Andrew Short Colorado Springs, CO KTM 450 SX-F FE 6 9- Solid day for Short, although he got passed on the last lap in the first moto for fifth, which had to bum him out. Short's starts have been hot and cold as of late. One thing that I haven't heard much of is what Andrew's going to do next season. I'm sure the BTO team has the right of first refusal for Andrew next year. It's a great team with a good bike.
7 33 Josh Grant Riverside, CA Yamaha YZ 450F 5 10- Grant had a great race going in the second moto when he said he lost his rear brakes. Washougal is not a track you want to lose your rear brakes on, by the way. Grant was great at RedBud also and I'm wondering what the reason behind his recent improvements is. Here are three plausible options:
1- He's healing up and getting his old mojo back.
2- It's contract time and he's trying to find a ride, hence the new desire.
3- He's just good at Washougal and RedBud. Can I go with 1 and 2, Alex?
8 22 Chad Reed Australia Honda CRF450R 9 7- Good day for Reed, although being caught and passed by Weston Peick is probably going to give him some nightmares of the Las Vegas Supercross. I had a great talk with Chad after practice for about twenty minutes up in his lounge in the truck and after I left, it reminded me of why I like Chad Reed so much. He's just a straight up dude who gets the sport and why he's there. Hard to believe we wanted to strangle each other sometimes when we were both at Yamaha.
9 20 Broc Tickle Holly, MI Suzuki RMZ 450 13 5- Great second moto for Tickle. The major difference was that he got the start. Guys like Weimer and Tickle aren't slacking off from where they were last year, it's just that the injured riders are back and these guys are now fighting for spots that they would have laughed at last year. It's just the depth of the class and not anything like Broc and Jake doing mounds of drugs during the week.
10 51 Justin Barcia Monroe, NY Honda CRF450R 4 17- Bam Bam had a great first moto, but he got a terrible start in the second moto. Then he crashed. And then he crashed again. It's been way too long since Barcia went out, holeshot and tried to win the race. Come to think about it, since that guy on that internet motocross site typed that he thought Justin Barcia, not Ryan Dungey, can run with Villopoto, Barcia's season has never been as good as it was at Muddy Creek. You've heard of the Sports Illustrated cover curse? Call this the Matthes Grease curse. As in, once you get the grease on you, it's all over.
11 46 Weston Peick Wildomar, CA Suzuki RMZ 450 8 14- Peick showed up for one of his four Nationals of the year and as usual, put in a couple of good rides. Weston was way back in the second moto and sort of followed Canard through the pack a few spots back of him. I heard from some good sources that Weston rode a Rockstar Energy bike and a 2014 Yamaha for some sort of test but his dad wouldn't really fill me in on what the deal was.
12 41 Trey Canard Shawnee, OK Honda CRF450R 12 11- Trey's ride in the second moto was great. He was way back and at one point was teamed up with Barcia in nineteenth and twentieth. It can't be confirmed that Honda manager Dan Betley was trying to jump out of the managers' tower at that time. Canard caught and passed Barcia and made it to eleventh. In the first moto he tipped over while up there and was thirty-sixth or something. Canard probably earned an RC Hard Charger award for his efforts. Yay!
13 32 Malcolm Stewart Haines City, FL Honda CRF450R 11 12- Solid day for Mookie on the radioactive TLD Lucas Oil Honda bike. I ask you all once again, how can Mookie get on a 250 next year in supercross? Who would do such a horrible thing to him?
14 49 Phil Nicoletti Cohocton, NY Yamaha YZ 450F 18 8- Filthy had a day that mirrored Peick, in that he came from the back (and I mean back) to eighteenth after being forced off the track on lap one. In the second moto he was strong with an eighth. This is Phil's first season doing the whole series (he rode the regional 250 Class in supercross before). I'm watching for fatigue but I don't see it yet.
15 10 Justin Brayton Fort Dodge, IA Yamaha YZ 450F 15 13- Brayton Tweeted that he was sick in the second moto and threw up on himself out on the track. That's gross.
16 57 Ben LaMay Wasilla, AK Yamaha YZ 450F 17 15- LaMay had his "home" race at Washougal. He's from Alaska so I'm sure he had a ton of fans there that arrived via dog sled and on the backs of walruses.
17 35 Ryan Sipes Vine Grove, KY Suzuki RMZ 450 14 33- Sipes was my sleeper pick of the year before the Nationals started and I'm not abandoning this bandwagon, despite results that seem to indicate that he's fallen asleep lately. Sipes crashed early in the second moto and was so far back it was ridiculous. He could've pulled it in-a lot of riders would have-but I admire Sipes for racing on and finishing the moto. I STILL BELIEVE IN YOU RYAN SIPES.
18 26 Michael Byrne Australia KTM 450 SX-F FE 23 16- Tough day, nay, tough season for Byrner, who's having trouble capturing the form we saw last summer before he broke his leg. Sometimes he's going well and has some bike issues, sometimes it's his own doing. No matter what, he can't get momentum going.
19 28 Tyla Rattray South Africa Kawasaki KX 450F 16 21- At High Point Rattray went 4-4 for third in a couple of great rides. Since then he's missed a couple races with injury, had a great Southwick and now a poopy Washougal. The Rattray bandwagon is missing some wheels, the canopy is ripped and it's struggling to the finish.
20 3 Mike Brown Johnson City, TN KTM 450 SX-F 25 18- Mike Brown scored some points. Ten points down, fifteen to go with eight motos left (not sure which races he's making) to get the necessary points to hang onto the #3 for another year. Really though, let's say he can't do it and the number becomes available. If you're a rider that earns a single digit for winning a title are you really going to take #3 and risk Mike beating you up? I know I wouldn't.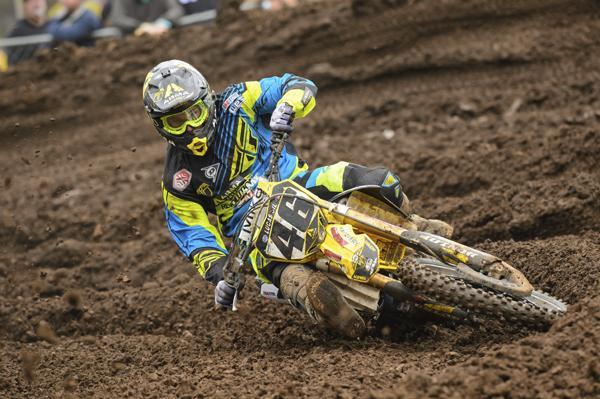 Weston Peick was back at Washougal, and back inside the top ten.
Simon Cudby photo
Some other news and notes:
- Washougal is a tough track for all the reasons I laid out above, but another thing that isn't talked about that much is how tough it is for goggles. It's very fine silt in Washougal that has a way of getting everywhere. Matt Goerke and Cooper Webb were just a couple of guys that had goggle issues. Happens every year.
- Big day for the Alessi's for obvious reasons, but lost in all this is that Chad Reed's old factory Yamaha mechanic, Dave Dye, dusted off the wrenches and is now Mike Alessi's mechanic, starting at Washougal. Welcome to the team Dave!
- I really tried hard Theo. Hope you liked it.
Thanks for reading, I appreciate it. Email me at matthes@racerxonline.com if you want to talk to me about Washougal, Tim Ferry or really anything.