Washougal Motocross
Washougal

,

WA
Washougal
Lucas Oil AMA Pro Motocross Championship
Following his first 1-1 performance of the season at Washougal GECIO Honda's Eli Tomac is now within a point of Red Bull KTM's Ken Roczen for the 250 Class points lead. Tomac talked about his day at the post-race press conference.
Racer X: Another overall win. Take us through your motos.
Eli Tomac: The first moto of the day we had that overcast so it was a little bit easier to see the track here. But it was good. I got off to a good start. Tried to make some passes early. At that point you just try to minimize mistakes, hit your marks. Held onto it. Second moto came around, was pretty much in the same spot on the start. Actually I think all four of the GEICO guys were right there, I guess going around that first corner, so that was pretty cool. And then the sun came out also so there were some shadows out there. Later on, like two to go, I actually almost threw it away. It was about as close as you get without crashing. I rode a nose-wheelie up the hill, if that's possible. Did some head shakes, got wild. Somehow shook it off. Before that me and Ken were just laying down a really quick pace.
Can you talk about that almost crash? I was standing right there and you actually looked back at your dad and you made it.
I really think I'll blame it on the shadows because it was up those rollers. It's the first year I've ridden it, this track with those. So I was trying to ride by the manual, keeping the rear wheel on the ground. I must have set my wheel down a little bit early—it kind of let off. It was just like holding onto a bull through there.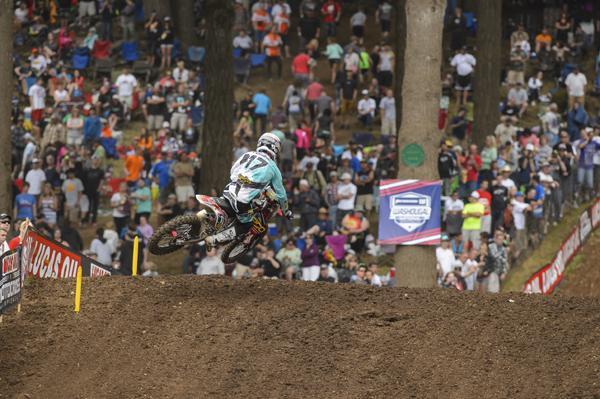 Eli Tomac pulled to within a point of Ken Roczen following a 1-1 performance at Washougal.
Simon Cudby photo
What happened to your dad? Did you take him out on the mountain bike?
He had a little mishap on the mountain bike. Had a yard sale and dented his elbow.
I heard from your dad you were on that mountain bike ride. We know he's probably the best in the world ever on a mountain bike. Were you ahead of him at that point?
Yeah, I was a little bit ahead of him. We were just coming over the top of the hill. That's where I get him. But it was the one section that I walked that he went for it.
In that first moto it was kind of overcast and then it was a lot harsher light when that burned off in the second moto. How different were the battles in that second moto?
It does turn into quite a different track. The second moto I intended to just try to transition, I guess you could call it. There's little spots...you can't really see. You kind of lose your depth perception in some of those bumps when it does get that dark from sun to shadows. It's a tricky one.
It had been a while since you and Kenny have even been near each other in a moto. He was pretty close in moto 2. Is that something you were thinking about? What happened when you meet up? Did you even know he was close?
Yeah, I did know he was close in the second moto. Most of the time when you're out front you do kind of keep your marks on the guy behind you, just so you kind of know what pace to lay down. You try to concentrate on your own race but there's no reason to take unnecessary risk also.
Does that way seem a little bigger that you were able to do it? It seems like he wins a moto; you get a bad start. You win a moto; he gets a bad start. Is that a little more important to beat him when you were both up front?
It was good to win with him right behind me. Just had to dig really deep. We're the fastest guys out there.
Do you guys get along? He said that you guys knew each other as kids. He came over and you guys seemed to get along even though you're obviously battling in supercross and here.
We do. I don't have any problems with him at all. We just hang out back at RC's before Mini O's. So we had fun back in the day for sure. Now it's just kind of the way the sport works. When you race against the guy, it's hard to be total buddies but maybe if you have a teammate. It's just the competitive nature.
You've worked your way up to within one point of Ken. Does that put more pressure on you now? Or does that take some pressure off?
I'm not in the lead yet so I still have to go get the job done. So I got to go out there and get the wins, get the good starts. Both of us aren't so fast if we can't break away early. So you've got to do that both motos, both starts. It's always nice to be closer. So now I can actually make that happen.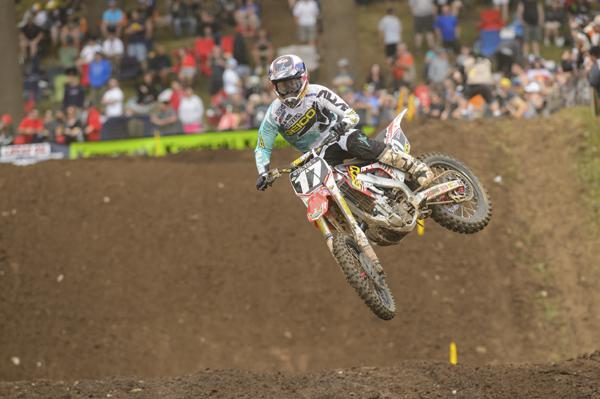 Tomac can take control of the red plate for the first time all season next week at Millville.
Simon Cudby photo
Do you feel like you have some momentum now or do you feel like you're on a roll?
I have momentum but I feel like I've had it all year, but it was just little mistakes here and there like not getting the start or messing up a few corners here and getting stuck behind some guys too early. So I think this race I finally put it all together.
That's the first 1-1 of the season. Does that add to the confidence also? Knowing that you picked up two motos?
Yes and no. I feel like I've been one of the fastest guys all year, so it's just about just making it happen both motos and staying focused. I think in that second moto I kind of did lose focus when I almost crashed. I was like, four to go, I think I got this thing in the bag, and usually that's when those mistakes come around. It was good though.
You mentioned in the TV interview that you really focused on the first couple of corners after the start to make moves. Is that just this track or is that something you've decided you got to work on for every track to make moves early?
You try to make moves early at every track, but this track, the first corner really isn't a first corner. It just kind of bends to the left, so you really have to hold on. It seems like some guys let on too early. So this year I was just like, man, I got to get it around that first one and stick it in on the second corner.