RedBud Track 'n Trail
Buchanan

,

MI
RedBud
Lucas Oil AMA Pro Motocross Championship
Ryan Villopoto found another edge on his Monster Energy Kawasaki, with some testing paying off with even more speed, and a 1-1 performance at the Red Bull RedBud National. Even better for him, his main championship threat, Ryan Dungey, had some bad luck and lost a ton of points on the day. RV talked about his weekend after the race.
Racer X: Outstanding day today, a 1-1 performance. It doesn't get much better than that. Please, take us through your afternoon racing.
Ryan Villopoto: It was really good. Had a great practice. I didn't have the greatest of starts in both motos but I was able to… in the first moto definitely made some quick moves and passes. Felt pretty good. Was able to get in the lead and get a gap. So I was really happy with the second moto. Ended up finding some stuff out. I think we're moving in the right direction. We did some testing before Hangtown to kind of get back where we were at the start of the season. It seemed like we started the season in a very, very good position and then kind of faded away a little bit. Just things with all these guys, we're going faster, the tracks are getting a little bit rougher. You're always trying to make everything a little bit better. I think we were able to do that before Southwick.
We were talking to Josh Grant who led off the press conference. He said he came down to your house to do some riding. Do many of your competitors give you a call and want to see if they can come down and hang out and ride?
No, but actually Josh has a house in Claremont [Florida]. It's ten minutes away from our house. So he was right in the neighborhood. Definitely a good guy to ride with. He called me and said, "Hey, I'm living back here now, so can I ride with you?" And I said yeah. It's good to have another guy, especially on the outdoor track, to make lines, get it a little rougher. And everybody knows he definitely can put in some hot laps.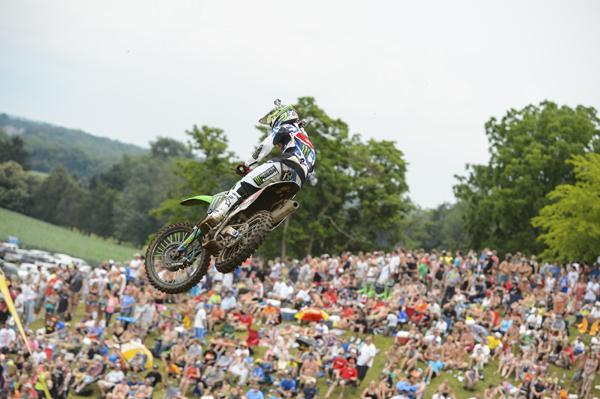 Ryan Villopoto came from behind in both motos to go 1-1 for the overall and extend his points lead over Ryan Dungey.
Simon Cudby photo
Just take us through that second moto. Dungey and Stewart were pretty close for most of it. Were you riding your own lines? Did you know they were back there? Were you worried?
It was definitely a lot closer that second moto. I was able to get up there. James was riding really well the first part of the moto. I felt like I had some better lines but like he said, you kind of come into the turn choosing a different line and then on the exit they would come together, or there was just one good line and that was the inside. So it made it a little bit tough to make passes. But once I was able to get around him, Dungey got around him also right away, and we were pushing the pace pretty hard there. It was good. I knew that he was there. I knew the pace that we were running was good and that it was going to be pretty hard for Ryan to get around if he found a little more speed or some new lines or whatever, but the track was pretty gnarly. I think we were using and looking for all the smooth lines.
In the second moto, how much of it was being behind James and waiting for an opportunity and how much of it was trying to figure out what lines he was using?
He was riding really good, to [the point] where it was just enough to where it was really hard to pass him. If I could have passed him sooner I would have. He was just riding good enough to where it made it really hard to pass him. And then it seemed like once I passed him, every time we'd come up on a group of lappers past the halfway point Dungey was close enough to where the lapper was kind of getting in my way a little bit. Once they got out of the way they were out of the way for him, too. So it was a little cat and mouse there. I'd get a little bit and then once you ran up on lappers it made it tough to get away and he would close it back up.
I think you had one off-track excursion.
Yeah, me and James came together. Like I said, once again lines coming together at the exit of the turn and he had the inside line. I kind of figured that I might be able to squeak around him just because the line that he had taken was kind of very slow at the very beginning and then it kind of took off. I was trying to just get a wheel on him and wasn't able to do it.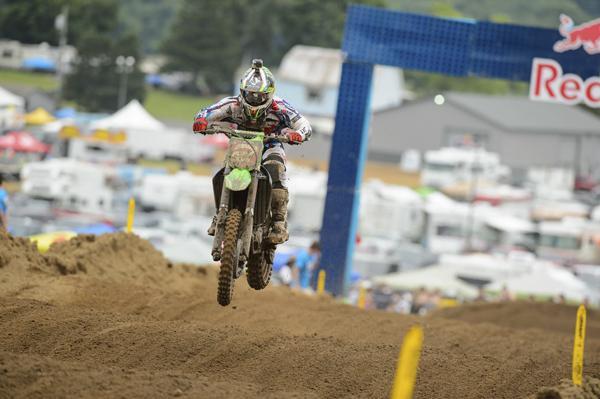 Villopoto now holds a 42 point lead over Dungey.
Simon Cudby photo
You guys were really pushing it. How does the speed or the competition level of the outdoor series this summer compare to the past or previous couple seasons?
Definitely it's elevated. Whenever you have a stacked class like it is right now levels get pushed and bars get raised. I think that's kind of where we're at now. But the field is all there. When people start to kind of drop out is when the pace… I don't want to say slows down but it gets stagnant, really. Where it's at now, with all the speed in the class, we're all trying to get a little more and pushing that limit a little bit farther every weekend.
You talked at Southwick about some chassis changes I think you had made and the bike working better. How did that translate here?
It was good. We didn't do any Southwick testing; we just tried to get our bike kind of back to where it was when we came into the first two rounds. I felt like it was really good at Hangtown and also Colorado. So the guys came out and did some testing, did some suspension testing and just worked on it and definitely got it better. I feel like we're kind of back into that sweet spot again. There's always work to be done. You can always make it better. Having it work today on the track like it was, super rough and really rutty, is definitely promising for once we go to a track that's maybe not so rough.
We're going to Washougal, Washington which is your home state and it's never been that kind to you. Do you have kind of a little special plan for your homecoming?
Yeah. I don't really look at the whole stats or what races I've won or not, but I think I've pretty much won an overall at least one time at every track except for there. So it'd be nice to get an overall win there finally. I've won motos, I don't even think I have an overall there in the Lites class. Definitely we'll try to get up there. We have press day so we'll be up there a little early and just see what we can do. Hopefully it will be good to us.