Open Mic: Southwick
Monday, July 1, 2013 | 2:45 PM

KICKER

provides the sound from the Open Mic – since 1973 our concert-like acoustics and gritty design in mobile stereo put us on the map. KICKER Subwoofers and Amplifiers for vehicles and boats are sought worldwide, and now critically acclaimed MP3 Docks, Earbuds and Headphones are shaking up what remains.

Tweet

By Jason Weigandt and Steve Matthes

Ryan Villopoto. Monster Energy Kawasaki, 4-1 for 2nd overall in 450 Class

Take us through your motos today.
They were good. Obviously second moto was better than the first. Not the start I wanted in the first moto. Ended up going down in the first turn. After I got going again, I think it was [Ryan] Sipes and someone else came across the track in one of the sweepers, and their bikes come flipping across the track and actually hit me. I ended up crashing again. I was a little worried that my radiator got hit but it ended up being fine. I got up, got going and just put in a big charge to salvage what I could.

Let's talk about moto one. I know that you, Ryan Dungey and a few other guys are really used to running up front. What was it like coming through the pack?
It's always tough coming through the pack. I think I had started off with 14 tear-offs and really I do manage my tear-offs and not pull a lot of them. Try to wait until I have to pull one to see again. So had to manage that and mix up different lines and try to get around those guys. It obviously got a little harder as I got through the slower guys and up to the better guys, but also the moto was going on so people were getting tired. So it got a little easier towards the end.

Coming into it, how do you prepare differently for sand like this?
You really can't. We do our normal training, our normal riding, and just come here and ride it, race the track. Southwick is obviously a very tough track for racing. It has a very hard base but also it's very sandy on top. It makes it a tough track to really get traction and do consistent laps.

If you had to pick a track that you're going to come from the back of the pack to the front, is it this place? Is this better or worse than some others.
I don't know. I thought that I put in a good charge in that first moto. The front guys really weren't too far in front of me at the very end. I knew that I was riding well and still ended up fourth. It would have been nice to maybe get up there and get second or third to try to salvage some more points.

Second moto, at one point Ryan was pretty close and then you were able to get away. Did you find some lines? Do you think he made mistakes? What do you think happened there that allowed you to extend that a little bit?
I was just making a couple little mistakes, kind of just missing my lines a little bit and I just started to really get into a groove and ride better as the moto went on. Some of the lines got a little better but also the track got rougher. I was able to just keep plugging away and doing good and consistent laps the whole moto. He was riding really well. Got pretty close down there for a while, I think he had it down to eight tenths. Once I settled down just a little bit and started hitting my marks I opened it back up.

In that first moto, having to come through the pack you were running one outside line, some guys weren't. And the inside lines were still pretty good. But then the second moto it seemed like everybody sort of joined you out there. Will you talk about why you take those lines and you stuck with them at the same time when you weren't having to pass anyone?
It's tough. The track, like I said, it's rougher. Some of those lines that you would take the first moto you couldn't take anymore or you could but they were really rough. So just trying to move around. Trying to look for smooth lines and get good drives out of the corner. For me, the first moto I had to take a lot of different lines. It was good. I was able to work and move around on the track and kind of use those in the second moto. But by then I think I wouldn't say there was any good line. Everything was pretty rough. – Jason Weigandt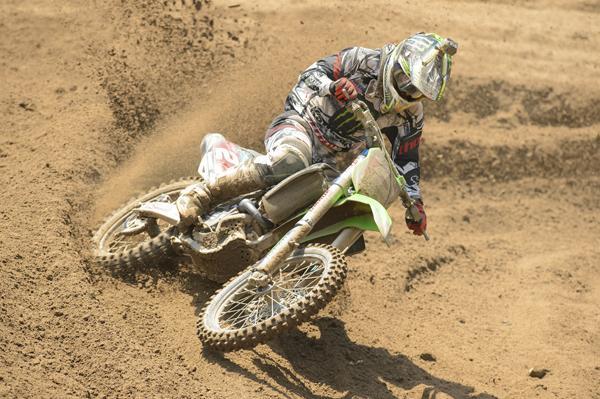 "I thought that I put in a good charge in that first moto. The front guys really weren't too far in front of me at the very end." - Ryan Villopoto
Simon Cudby photo
Justin Barcia. Team Honda Muscle Milk, 3-3 for 3rd overall in 450 Class
First moto I got a bad start and got bumped around a little bit. Had to work my way back and came up to third. So that was good. It was definitely a tough fight. Definitely a lot of energy that first moto. It took a toll on my body for sure. Second moto, better start. Started behind both Ryans and just wasn't able to hang with them early and just ended up third. So it was a 3-3 kind of day. – Jason Weigandt
Ken Roczen, Red Bull KTM, 3-1 for 2nd Overall in 250 Class
Some guys got close together in that first turn and Marvin [Musquin] ended up going down right in front of me so I had nowhere to go and I was pretty deep in the pack. On this track it's hard to pass. It's pretty tight and basically everyone's riding the same line. It was tough, but I got up to third, closing in on Baggett and just tipped over in the next corner. And then it took me a little bit of time and after that I was just cruising around and then finishing third in that first one. And then in the second one, grabbed my first holeshot this year and that felt really, really good. I had a clear track and I just put on a charge. I had a pretty good lead out front and then just rode safe. We had been struggling this year a little bit to get the bike more comfortable, so we finally did that. I think that really moved in the right direction. So just felt better on the bike; actually really liked it both motos today. It's all about putting in the work now. I'm excited to go race next weekend.
How close is the setup between you and Marvin? Do you guys have similar setups on the bike or do you guys got it kind of going different paths?
No, we actually don't. He's riding with 52 (millimeter) forks and I'm riding a 48, so it's quite a big difference. I feel more comfortable on that. Had a little bit of a problem though but I think we figured it out and from now on I think we can still get it better. It can only be better. We've been working really hard lately. It got frustrating. But now we're good and I enjoyed the racing today. I'm excited to go racing next weekend. Actually really bummed that this track is going to be the last time. I enjoy it. Honestly, it's not that deep of sand. It has a really hard base and it makes it tricky. Like Ryan [Dungey] said, you think you can gas it but there's a little bit of a hard spot and then the bike just slides out. Super bummed that this track is going to be gone and I hope in the future there's going to be another sand track, maybe a little deeper or something.
The last couple weeks the second motos haven't gone so well, so what does it mean to bounce back in moto 2 and show that you had the strength and the turnaround?
It has gotten better, since I [obviously] won [today]. But I got sick and last week I was just not there. I barely rode before [that race]. I was just not there. I was just happy that last weekend was done. And actually it was really difficult for me to recover from that. I had a stomach virus. But I think we're on a good way and I'm starting to feel better. – Jason Weigandt
Zach Osborne, GEICO Honda, 5-3 for 3rd overall in 250 Class
Yeah today was pretty good, first moto I'm still struggling with arm pump, but I was able to get a fifth. Second moto, got a good start and was able to hold onto second for a while until Eli [Tomac] got by.
A lot of the guys on the podium are in your truck. What's it like over there between motos after you battle?
It's hot, sweaty, stinky, all that. It's pretty gross. No, it's funny, we have good camaraderie over there.
You told me during the week you were pretty tired after the effort you put in at Budds Creek. How are you this time?
I felt better this time. Last week, it was kind of sneaky hot and humid, a few laps into the moto you just didn't cool down. You're just losing a lot of water and a lot of energy. I just wanted to dig deep and make that last minute charge. Hopefully this week I'll have a good week. Going into a third straight week with a race is tough, especially with the travel. And RedBud is probably going to be hot and humid. You just have to be careful not to over do it coming in. – Jason Weigandt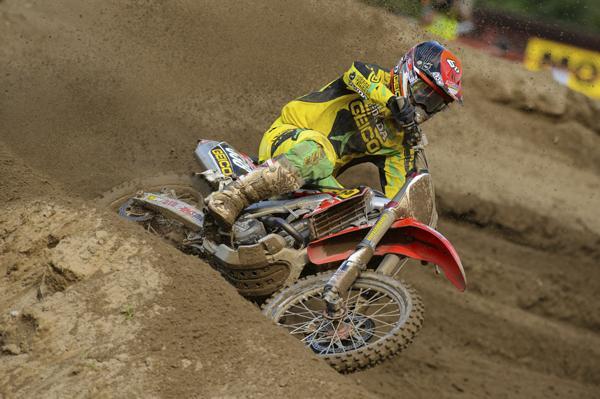 "I felt better this time. Last week, it was kind of sneaky hot and humid, a few laps into the moto you just didn't cool down." - Zach Osborne
Simon Cudby photo
Marvin Musquin, Red Bull KTM, 10-9 for 8th in 250 Class
Obviously it was not good. In practice I just wanted to be smooth on the track, and it did not work. I was 13th. So I was like, okay, that's not the way I need to ride. Second practice I tried to ride different, be more aggressive, and I was second at one moment and ended up fourth. So I was happy. First moto start, I crashed in the first turn. I was last, and I came back to tenth. That was good, I mean, we have 40 riders, right, so that's good, but it could have been better.
Second moto I got a good start and I really wanted to do good. But, I just was out of the pace. I was second and ended up ninth. I'm really disappointed. I just think that we have to be really aggressive on this track and that's not the way I was riding.
Did coming back in that first moto sap a lot of your energy for the second one?
Yeah, for sure it took a lot of energy, so yeah, it could be an excuse, but you know, I'm not going to use it. Everyone is using a lot of energy and everyone is trying their hardest. So, I'm just disappointed. – Jason Weigandt
John Dowd, Chaplin Kawasaki, 30-19 for 24th overall in 450 Class
Southwick. The end of an era. Farewell to a legend. You got some points today. Talk about it.
It was a crazy day. It actually wasn't a great day. I had bike issues in the first one, and I actually had goggle issues in the second one. My roll-offs kind of broke so I couldn't really see too good. But whatever; it is what it is. At my age I know I'm not out here racing for the win anymore. But I was actually really excited to qualify. That was my biggest worry coming in.
Yeah, I heard that you were stressed about the hot lap because that's not your specialty.
Yeah, man. Last year I was 36th in the timed practice, and I was younger last year! So I was stressing about it. Really I just wanted to qualify and ride two motos. I kind of didn't really have any real expectations. I was kind of hoping to get into the top 20 and maybe have something kind of cool happen. It didn't go that way but it went all right. No crashes or nothing. I had fun. The fans were amazing today. I could hear them everywhere. So it was really cool.
Yeah, the fans struck me too. They were really behind you; obviously these are your people. It's your last National ever, but if there was still a Southwick National next year would you keep on going? What made you realize and announce it that "I'm finally done"?
I retired from full-time Nationals stuff in '05 when I was 40. And I've been doing this now, coming out and just trying to keep my number for eight years or something. They keep changing the rules. You need 25 points now to get your number. I've been starting to kind of lose the drive for that, too. I was already kind of thinking about my exit. I just didn't really know…
Well, I mean, you're 47, John.
Yeah!  We joked about trying to do it until I was 50 but I was really thinking that's going to be tough, it's getting hard to do it. These guys are really fast and it's really hard t jump in here for one race a year and try to run that pace. So I was really just planning my exit strategy and this seemed like the perfect time. – Steve Matthes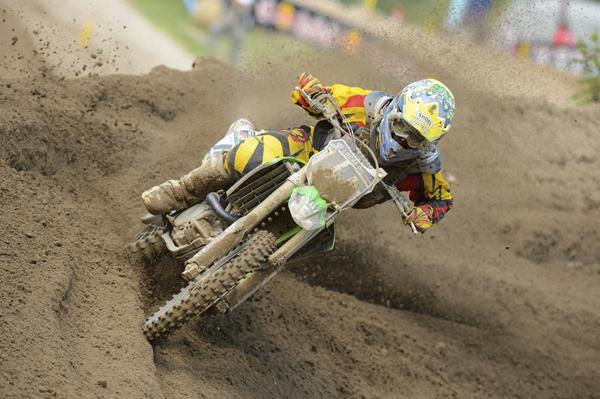 "Really I just wanted to qualify and ride two motos. I kind of didn't really have any real expectations." - John Dowd
Simon Cudby photo
Mackenzie Tricker, Rock River Yamaha, 2-2 for 2nd in WMX Class
Last time we saw you at High Point, you blew out your knee. So how are you feeling?
Yeah I tore my ACL and meniscus in two spots, so I just tried to rehab it and get back as soon as possible. I wanted to come back this weekend and give it a go.
You had the lead in the second moto!
Yeah I got around Patterson and Pettersson, had the lead for a lap or so, I don't remember how long. It was a crazy race, with the rain coming down, I ran out of tear offs. I was just happy to come out of here with two seconds considering the injuries and all.
You rode well all season, maybe could have been a title contender.
Definitely, I was up around the top five at every round, I haven't looked at the points yet but I think I missed third overall by one point. That's kind of a bummer but considering I missed the second moto at High Point, I can't complain.
What's your plans going forward?
In four weeks I'm racing Loretta Lynn's and also X Games, then I'll go home and get my knee fixed. – Jason Weigandt
Brett Metcalfe, ADR Kawasaki, 5-6 for 4th overall in 450 Class
Fourth overall. Man, what a day. I had you picked for 5-7. I was mocked. You did better than that. Terrific job showing up here. You got to be pumped.
Thanks. Definitely happy. I think I went 5-6 moto scores. First moto ran up high as third so that was great. I had two good starts. Got lucky in the first one. Just got by a first-turn pileup; came out nice. And then second moto I didn't even make the gate in time so I had 38th gate pick.
Oh, really? I didn't know that.
Yeah, I was way out there. We should have fifth gate pick and we had 38th. So that was just a rookie mistake I shouldn't have made but…
[Laughs] I know you haven't done many AMA Nationals so you're not aware of the horn and stuff…
Well, I thought there were going to be two horns so I'm like, all right, we still got time, guys. We were still working on stuff. And then we got down there. We didn't make it.
Then you gated really good.
I gated really well. We came out nice and still put in a good moto. Battled with Trey the whole moto which was fun, but tiring. Just had a great day.
He got you and truthfully I expected him to pull away a little bit but you got a second wind and you're like, "Oh no. factory Honda guy, you're not getting away from me!" And you latched back onto him.
He had a little bit of an advantage. I think he could work on some lines. And I was sticking to the same stuff trying to hear where he was going. And then when he got me I picked up on a couple better lines that helped my overall track speed then was able to hang there. Then at the end I pushed and pushed and started closing back up; the gap got tight. The last lap I was going to go for it. I wanted him back. And that would have been 5-5 on the day, nice, but didn't quite happen.
And first moto you said you had to back it down a little bit. You had a little issue with the bike so practice would have been done even better?
I do believe my first moto last ten minutes I was laboring. Just was a little deal. That for sure would have been better but nonetheless I'm happy with today. – Steve Matthes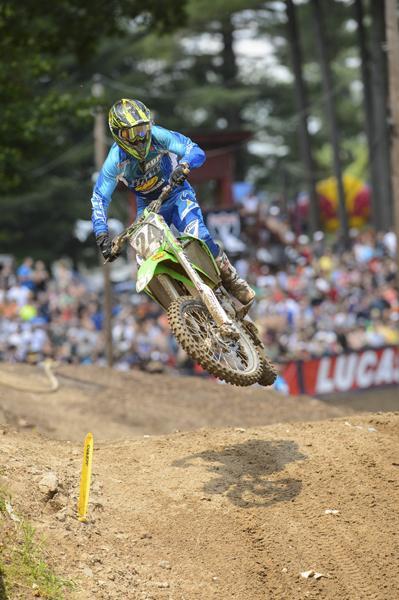 "The last lap I was going to go for it. I wanted him back. And that would have been 5-5 on the day, nice, but didn't quite happen." - Brett Metcalfe
Simon Cudby photo
Andrew Short, BTOSports.com KTM, 2-16 for 5th overall in 450 Class
Before we get to the good - and it was really good - what happened the second moto? Terrible start or something.
Had a little issue on the gate and crashed in the first turn.
So you did go down in the first turn. I wasn't sure.
Oh yeah, I was 39th. The only person behind me was Reed, and that's just because he didn't have electric start so I got going a little quicker with the KTM.
Then it was a long moto; I think 14th at the end…
No, 16th.
You were 14th. What happened?
Les Smith got me back. I was dying at the end.
First moto, great start, running in second for a long time. James Stewart goes down and now you're in the lead. And immediately looks like you tightened up a little bit.
Exactly. But I was pretty pumped because my season's been horrible. Last week at Budds Creek I was up there for a little bit and then went back really quick. So I tried to manage it the best it could. It was definitely a lot more fun than the previous weekends because I feel like my results have been really bad, my speed has been bad, so to make a little bit of gains with something positive…
Well, in the first two laps you had the lead. You were like 2:04, 2:05. Then you took a breath, regrouped. Dungey got you but you lowered your times back down a little bit. And even James was in the lead it wasn't like he was just gapping you too badly.
That's what helped me though because I was able to latch onto him and keep my momentum going. It's so much easier when you have a rabbit to chase and to kind of follow that guy's lines and whatnot. It was a big benefit for me to get a good start and a clean start and follow somebody like James. If somebody slower would have got a good start, it would have been really hard for me to pass them and set a pace like that. That's what kind of allowed me to break away early on. – Steve Matthes
Cole Seely, Lucas Oil Troy Lee Honda, 8-7 for 6th overall in 250 Class
The SoCal kid can ride the sand. Good job today.
Yeah. I don't know; I felt a little out of my element in practice today, being in the sand. But last week I think I showed a lot of speed. I felt good on the bike I just didn't have the last ten minutes in me.
How do you get that [extra endurance] in one week on a rougher track?
I've been working with Brian Lopes a lot lately. He's been helping with cycling stuff and kind of mentoring me and kind of keeping me positive and stuff. I had a really good week, all this coming week to this race. I just felt good and started flowing. I didn't get as tired as I usually do and was able to actually regroup in the last moto at the 25 minute line.
Seemed like all day long you had dudes in front of you and behind you every moto, every lap there was a battle going on and you were in it.
Yeah, that's how the 250 class is though. Last week I think Hahn was 3rd, I was 4th. And then between us it was like a half second and then between 12th it was like five or six seconds so it's basically just a freight train of guys. Everybody's trying to pass each other and trying to wear each other out. But I think I held my own pretty good today. Did have a lot of fast guys around me both motos. – Steve Matthes
Share this article:
Did you like this article?
Check out 10,000 MILES FROM HOME
in our Latest issue of Racer X available now.

Australian Dean Ferris hopes to follow in the footsteps of some of his legendary countrymen. Now contesting the FIM Grand Prix series, he made a huge impression at the Motocross of Nations. Page 138.
Look for the verified symbol
The Conversation