Moto-X 338
Southwick

,

MA
Southwick
Lucas Oil AMA Pro Motocross Championship
Red Bull KTM's Ryan Dungey now has three overall wins in the last four 450 Class rounds of the Lucas Oil Pro Motocross Championship, with (2-1) scores helping him deliver the last-ever ChaplinKawasaki.com Southwick National. Here are his post-race thoughts on the day, and then we'll follow that with the 250 winner, Eli Tomac.
Racer X: Take us through your motos.
Ryan Dungey: Today was good. First moto, we had a little first turn carnage there, but we were able to kind of escape. I kind of got held up. [Justin] Brayton went down in front of us and I had nowhere to go, so I tried to get inside but  Brayton was there, so I kind of had to wait a little bit and went back. But put a good, hard charge in and passed guys. I really didn't know what place I was in until… I thought I was leading the pack when I got around Metcalfe, and then I got a sign from Carlos saying "-4" so I was like, all right. Well then I saw Shorty and I thought he was, not to be rude, but I thought he was a lapper. But he was riding really good! He wasn't letting me by so I realized, 'Okay, I'm still in 2nd.' So I was a little confused, but it was good to get a win. Obviously second moto was good. Made some points up today but getting an overall is nice.
You talked about making up points, and it doesn't seem between you and Ryan that anybody, you or him, is going to hand over a 10, 12, 15 point weekend, unless it's a mechanical. This is where you have to be satisfied when you get a second in the moto?
I'm not satisfied but proud of the whole day. It could have been a lot worse. We could have been in Villopoto's situation, coming back from the pack. But we tried to salvage what we could. But like at High Point, we lost six points with two seconds, and then last weekend we tied in points, and this weekend we gained a little, so it's good to see some movement in the right direction. There's still a lot of racing left to go, so I'll focus on each race. But I'm not happy with second in the second moto, but overall the way things ended up on the day is progress and it's a step forward. Got to be happy about that.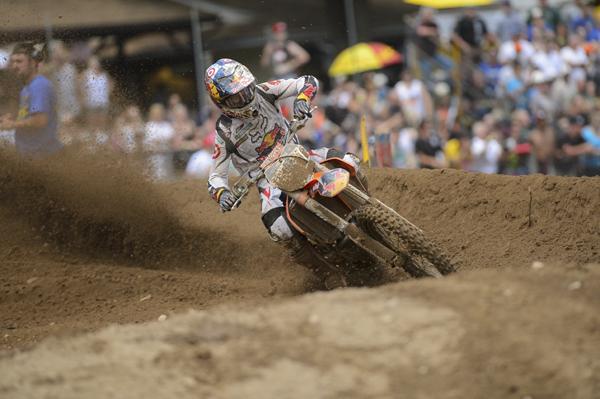 Following his win at Southwick, Dungey has now won three of four overalls.
Simon Cudby photo
How important are the lines on this track? It seemed like that's the difference between you and Ryan when it's so close. Just who finds the right lines first. How critical is that?
I'd say it's important. Beginning of the moto I was kind of closing a little bit on him, second moto. And then all of a sudden I started hitting some of my lines just wrong, I changed some, and you take one line and then he pulls away. He was riding really good for sure, but there were definitely things that I could have done better and not lost so much time. But the track was rough. It was really technical. Just physically tough today. It was fun. This is the best I've felt at Southwick I think out of every year I've been here. It's just nice to not have to deal with a mechanical or like last year with the gas cap coming off. So it worked out good and it was a hard-fought race.
You obviously have some sand experience. Grew up in Minnesota; we know you do well at Millville. But how different is this compared to most sand?
I grew up in a lot of sand as a kid. That's what we grew up riding, on a sand track. But it's really different [here]. Especially now that I've been over there to the des Nations last year. That was tough! We did need more work there. But the base is such a hard base under here. Not that it's a bad thing it's just when you feel like you're in a soft section all of a sudden the bumps start getting harder and they start getting a ledge out there. It kind of makes it a little tough. Your rear's sliding, it's already sliding out so that just kind of adds on top of it. The bumps are really sharp and edgy too. I think it bit a lot of people today, both classes. Trey [Canard] and [James] Stewart went down in front of me in that one section. It was nasty. So, it's good not to have a nasty crash like that. But the track, it's different just because the base is so hard. It was actually better as it got rougher.
You said that this is the best that you've felt at any of the Southwick races. Does that include the year that you had that mechanical before the second moto, and came all the way back through?
For sure. That was just a crazy deal, with the bike not even showing up, and having to come all the way from last place. That was just one of those things. I rode good and all, but I felt even better this year.
Beginning of the year Ryan was winning motos by a pretty big margin. You obviously closed it back in with two overalls in a row. How important is it at the beginning of the year to not panic, and be like, "Oh, man, how are we going to make up all this ground?" It seems like you do a good job of taking it race by race and not getting too high and too low.
I think just approaching each race one at a time from the event, the motos, to breaking it down, to the laps. I think 12 points it's not a lot but it is when we're trading points like we are. We're halfway. Obviously in the beginning Villopoto was riding really good. We were able to make progress with the bike and now we're right there, splitting wins. I feel like the speed's there, fitness, everything's there. The start is going to be key. You can see what's going on, Ryan's not liking what's going on, and he's going to get meaner, he's going to want to win more. That's going to make us to step up even more. I think just being rested and doing the work during the week but also being pretty well-rested on the weekends, ready to go, and not letting stuff like the first moto happen.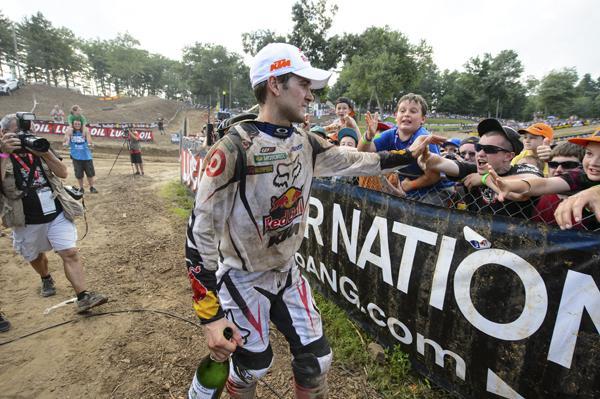 Dungey celebrates with the fans of Southwick one last time.
Simon Cudby photo
What's your thoughts on Southwick coming off the schedule next year?
I'm going to miss it. Coming here since '07. It's been a lot of fun. It's the one track that's sand on our circuit, so whatever track they add they're going to have to step up and run it like we do here. I think it was awesome. It was fun. It's sad to see it go but it's cool to share some history and win the last one here. It's pretty cool.
I understand you and your brothers, your family, grew up on your grandfather's farm, full of sand. Any chance he wants to hold a National?
[Laughs] There's probably going to be a noise complaint if we do that!
Eli Tomac crushed the first moto at Southwick on his GEICO Honda, but a bad start in moto two left him playing catch up to salvage the overall win. He managed to do it with a second place finish, as second-moto winner Ken Roczen had a fall in moto one and could only manage a third. Things are tight in the 250 class!
Racer X: Take us through your motos.
Eli Tomac: First moto, I got the flow going there. I was railing some berms. I actually made a mistake, too. Dumped it over in the corner in one of those right-handers; went in a little bit too hot and stuffed the front end. At that point I was like, "Man, am I really going to hold the lead like this?" My bike was running so that was good. Got back up and just finished strong, really. I was like, man, I finally got my starts figured out, got my first moto dialed in. And then moto two rolled around and I got buried on the start line. I'm not sure what happened that time. I was just kind of sleeping on the line, I think my reaction was kind of bad. At that point you kind of get buried on the inside. I did know that Ken finished third in the first one, so I was just like, all right, try to get to second and you can get the overall.

A moto 1 win helped Tomac capture the 250 Class overall.
Simon Cudby photo
Is it just fun when you're going like you were in that first moto especially? I know it's hard, it's physical, but is it kind of cool?
It is. Here you can really just lay it in the corners wide open and lean back and just kind of float on the bike. That's what actually kind of caused my crash; I was going faster, faster, faster. I was having a blast! It's fun to be able to lean like that and make those lines happen. It's fun.
Last week you talked about being sand-compatible because you ride it at home. So how similar is this to home and what do you think, do we need another sand track?
I definitely think we need another sand track. I think that should be a factor in choosing the next track next year. I know a lot of the GPs, they have a lot sand tracks, too. In our sport the tracks we have a hard clay or kind of loam. It's good to have sand in there. Going back to the track at home, it is mostly sand. There's some hard pack, but I can build up big berms like they are here with my dozer at home so that's why I do well at this track.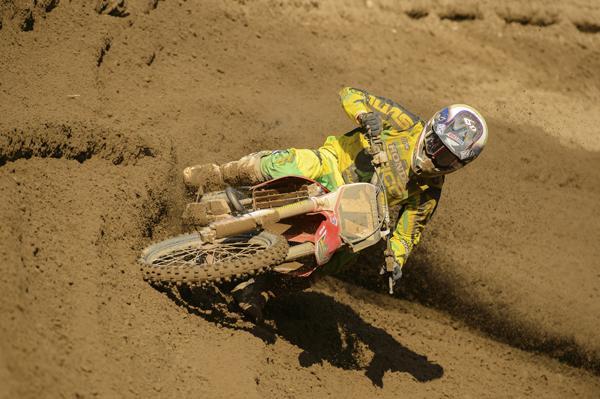 Tomac now trails points leader Ken Roczen by seven.
Simon Cudby photo
Talk about that second moto.
It was tough to pass. And actually the hardest thing for me was having clear vision. I had to manage the tear-offs. You couldn't freak out and pull a bunch of them in one lap. You had to be patient and make sure you could see all the way to the end, just trying to get to second so we could get the overall.
RedBud just a week away, and then we have a little break. What are you going to do to get prepared for a completely different environment next week?
RedBud is different. It has super good dirt, it's kind of loamy soil, big jumps, huge track. Probably the greatest fans ever. It's just a place where everyone seems to like it, so it's fun. It will be a good time.