Loretta Lynn Ranch
Hurricane Mills

,

TN
RedBull AMA Amateur National Motocross Championship (Loretta Lynn's)
Amateur National Motocross Championship
On Friday, in beautiful Mammoth Lakes, California, the big bikes let loose for the first time. Day one had a showing of 53 pros giving us two different pro final qualifiers! This just gives you an idea of how much of an attraction this race event is.

Starting out with the always popular Schoolboy 1 class, it would quickly develop into an all out battle between recently healed up Cole Barbieri and Luke Purther. It's also worth mentioning that this was Luke's first race on his 125, and it doesn't seem like he needs much adjusting here! The two would be inseparable the whole moto and the fans were cheering all the way down to the finish line where they both crossed side by side! Down at the podium it was decided Barbieri got the win, but after checking results by timing it was given to Luke Purther! The gap? 0.023 seconds…now that is close racing. In moto two, unfortunately, Barbieri would wash the front end out in a corner while battling with Ryan Surrat on the first lap giving the lead to Surrat. He would cruise to a moto two victory with Purther hot on his heels, giving the fans here great racing!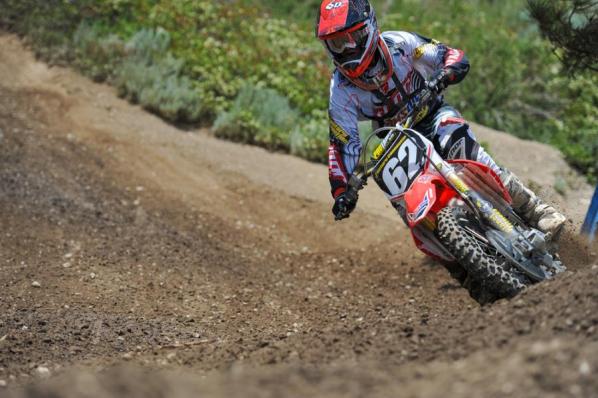 Jordan Smith had a big day on Friday.
Insidermx.com photo
Jordon Smith rolled into Mammoth with a mission, and he walked out today with that mission completed. He would be your winner of the Schoolboy 2 class and the Open B final today, both classes he raced. In the Open B final, he would quickly find himself behind Jayme Gardiner and worked every line possible to get by. Gardiner would go down leaving Smith with the lead as a result of this battle, and from there Smith would check out. The battle behind him would be Jesse Sanchez followed by Cody Barker and Ikua Hughes. Hughes would try everything to get around Barker and eventually got the pass to stick. At the checkers it would be Smith, Hughes, and Barker finishing top three.

In the pro class there were numerous big named riders laying down laps here in Mammoth, and when the dust settled at the end of the day Weston Peick would be your Friday Mammoth pro class winner. He would have to work for this one though, as a very fast Shane McElrath would get out to an early lead (after passing Timmy Weigand who nailed a perfect start!). Behind the leaders you had Colt Nichols, Scott Champion (who had a big get off after hitting a kicker), Robby Bell, among others. Peick would stalk McElrath and decided to strike on around lap 8 when McElrath succumbed to the pressure. From there it was the Weston Peick show, and he would walk away from Mammoth with a smile.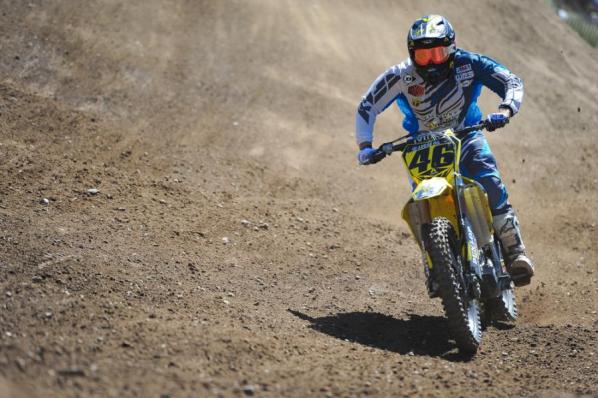 Weston Peick won the pro class on Friday.
Insidermx.com