Moto-X 338
Southwick

,

MA
Southwick
Lucas Oil AMA Pro Motocross Championship
If we're going to talk about Southwick, we should start with Paul Buckley, a veritable Moto-X 338 legend in his own right. He posted this on Facebook this morning:
Rules for this weekend, 1. You will go to Southwick. 2. You will not look at the weather. 3. You will have fun. 4. You will give Diane and Ralph a big thank you. 5. You will go to Southwick!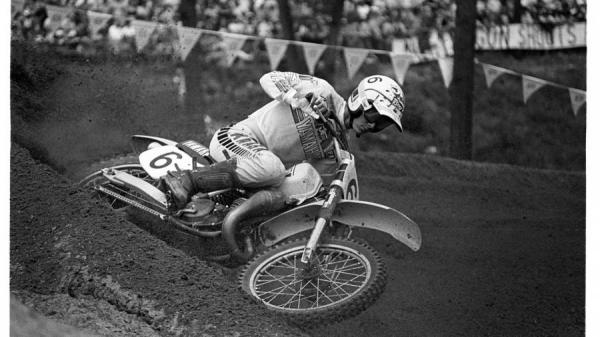 Southwick through the lens of Paul Buckley.
www.BuckleyPhotos.com
There is a bittersweet vibe here for everyone. This racetrack is an American motocross classic, as well as a staple for the New England MX scene, going all the way back to 1972 when the American Legion 338's Bernie Yellin decided to build a motocross track on the outskirts of town for his son Gary and his friends to race on. Up to that point they had held one race right in the middle of old Southwick, raising $3,000 for the Jimmy Fund, which raised funds to fight childhood cancer in the Boston area.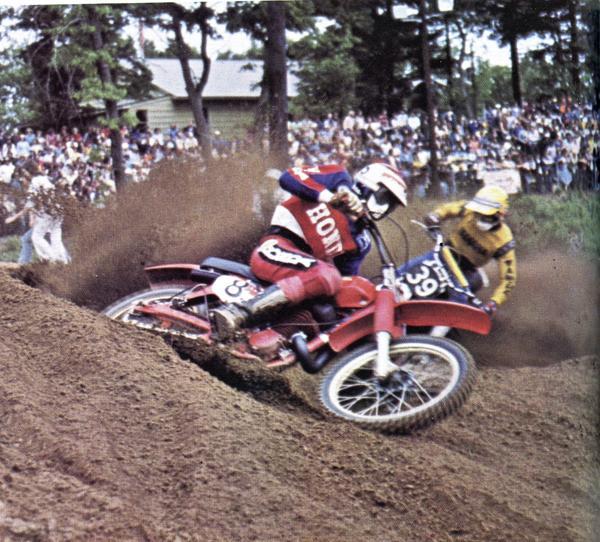 Pierre Karsmakers leads Bob Hannah at the 1976 Southwick National.
Photo courtesy of AMA
They held their first national here in 1976, and it was won by the Dutch sand master Pierre Karsmakers on a Honda after a battle with Bob "Hurricane" Hannah. Here's some old and rare video footage of that first national, featuring Karsmakers and Hannah, plus local hero Jimmy Ellis on a white Can-Am:
And now it's coming to an end. The people who founded this event have all passed on—at least all but two. One of the men, Clovis Goyette, was over at Legion hall last night. After we got done on the track, Nick McCabe and I went in to visit. Needless to say, he was bummed about the situation—the new Legion leaders and the Moto-X 338 promoters Ralph and Diane Pitello could not come to terms after a long negotiation, so they are retiring after this race—but like everyone else, Clovis is doing his best to make the last Southwick the best Southwick. And bench-racing with him was truly epic. Thanks for everything, Clovis!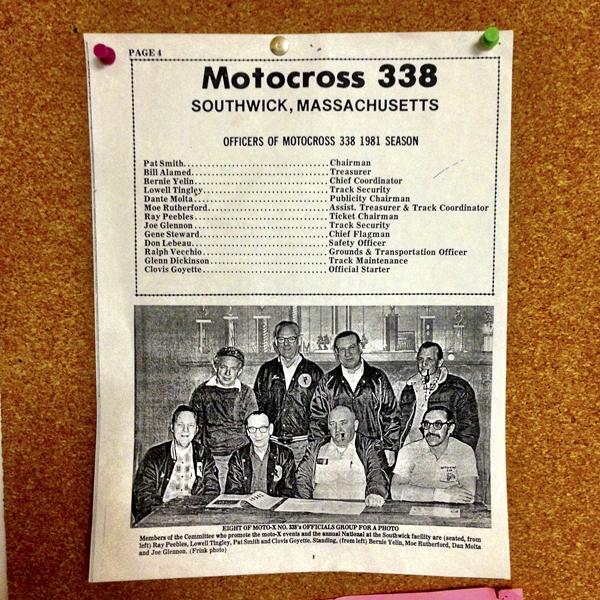 In today's local newspaper, The Republican, local pro Mike Sottile said that the loss of the race would have a big impact on the community. "I think this is going to be a huge blow to the industry, the community and the town," said Sottile, who famously qualified first in the 450 Class two years again as Tropical Storm Irene closed in that morning. "I know, just from the Southwick National, there's all kinds of schools and libraries throughout the town that probably wouldn't be there if it weren't for this track."
What's going to happen to this round of the Lucas Oil Pro Motocross Championship? I have no idea, but I will have a better idea by the end of the season. Everyone wants to see a race return to New England, but where?
The bright side is that John Dowd and Ryan Dowd will both try to qualify on Saturday. John, a bonafide American motocross legend and Southwick product, will be racing in his final national—he is retiring tomorrow. Ryan, 16, will be trying to qualify for his first national. It's a big local story here—they were on the front page of the local newspaper—and I am sure pretty much everyone in the motocross world would like to see them both make it. For John, he will extend his longevity records—for qualifying, for points, for anything—once again, as he is now 47 years old. And if they both qualify (John in 450, Ryan in 250), it will mark the first time in American motocross history that a father and son raced a national on the same day.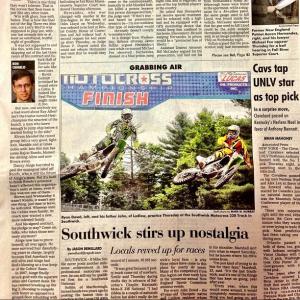 Making the day even busier for John is the fact that he will be honored during opening ceremonies, along with another Southwick local-turned-Hall of Fame racer, Doug Henry. I can't imagine the cheers they will get as they make a lap around the facility tomorrow before the drop of the starting gate.
Speaking of records, when was the last time a pair of brothers reached the podium in the same AMA Motocross season? Troy Lee Designs' Malcolm Stewart made the box at Budds Creek during the second moto, and his big brother James has of course already been there. I know that way, way back in the day, Gary and Dewayne Jones once went 1-2 at a national, the Grossi brothers each won a national in the early days, and the Vohland brothers (Tyson and Tallon) once shared a 125 supercross podium with Jeremy McGrath. But I don't recall it happening for the Hahns, the Alessis, or anyone else. Anyone out there have an answer? Letters@racerxonline.com
Okay, time for me to go pound some stakes and soak up the last weekend for the Southwick National. I will miss this place a great deal, and I think we all owe a big thanks to those original American Legion Post 338 members who got it started, as well as the ones who kept it going all these years.
HOW TO WATCH
Action from round six of the Lucas Oil Pro Motocross Championship from Moto-X 338 in Southwick, Massachusetts, can be seen live on FUEL TV with both 450 and 250 first motos beginning at 1:00 p.m. Eastern. Live action continues as NBC Sports at 3:30 p.m. Eastern with coverage of the 450 and 250 second motos. For complete TV and online scheduling details, check out our How to Watch feature.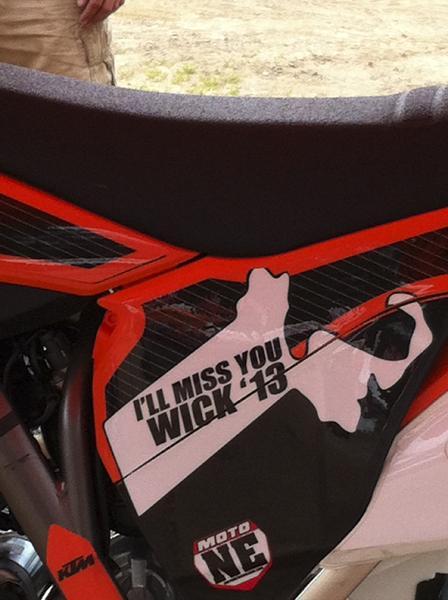 Robby Marshall showing his respect to Southwick this weekend.
THE NUMBER  - 2 (Aaron Hansel)
There are two motos in an outdoor national, and that's made a difference for both Eli Tomac and series points leader Ken Roczen, as each rider has had trouble wrapping up wins on both sides of intermission. Roczen went 1-1 at Hangtown, but since then he's been unable to win a second moto or an overall, despite winning first motos at Thunder Valley, Muddy Creek, and High Point. It's reminiscent of 2010, when Christophe Pourcel won six first motos over twelve rounds but only three second motos.
On the flip side, Eli Tomac is doing just the opposite. He's won three second motos so far, but in five rounds he has yet to score a win the first time time out. You'd think that would be a huge detriment in such a competitive field, but surprisingly, Tomac's still only nine points out of the lead. Even so, in order to keep his championship hopes healthy, he's got to start picking up first-moto wins, a fact that he recognized in the press conference following Budds Creek.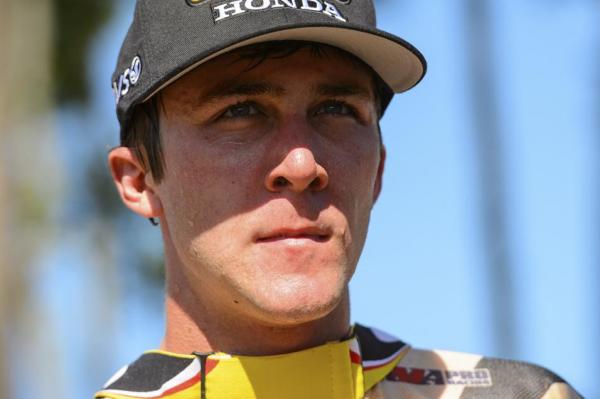 Tomac has won three second motos in 2013, but zero first.
Simon Cudby photo
"I think at this point right now I just need to fix my first motos if I want to win this championship," Tomac acknowledged. So what's going on with these two? Why are they stronger in opposite motos? For Tomac, a big part of it is starts. He's a big guy and weighs more than most of his competitors, and he's not getting off the line very well, which makes it harder to move forward—especially in the first moto. Says Tomac, "That's when the guys have more energy. Everyone's more fresh, everyone's going harder and harder and harder."
As for Roczen, he was obviously not feeling well last week in Maryland, but he gutted out results that kept him in the points lead as we approach this, the sixth round of the series. With him being hopefully healthy this weekend, this might be a good place to make a second-moto statement.
THE RETURN OF JIMMY D (Chase Stallo)
Rumors swirled around the paddock last weekend at the Red Bull Budds Creek National that Jimmy Decotis, after two tumultuous months with CLS Monster Energy Pro Circuit Kawasaki—he scored just 11 points in six MX2 rounds—would return for his 2013 Lucas Oil Pro Motocross debut at Southwick. The Massachusetts native was a surprise showing at press day on Thursday after he and the team parted ways following the Grand Prix of Italy. For Decotis, Southwick will provide the chance to erase the disappointment of his brief trip to Europe left on his season.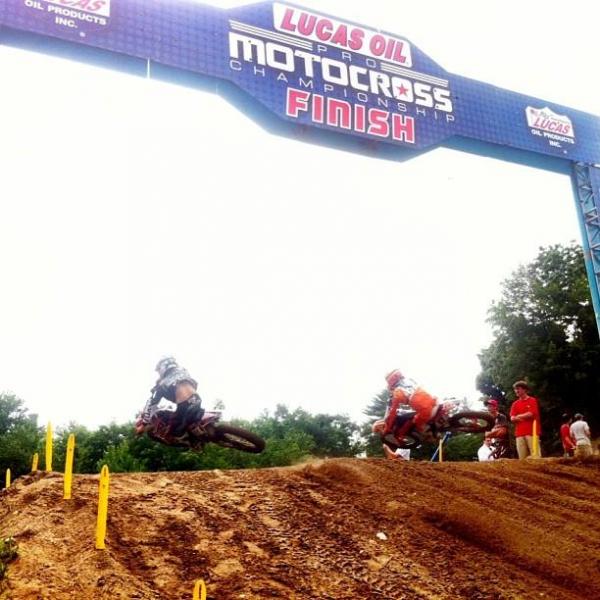 After a lousy tour of Europe, Jimmy Decotis is glad to be back in the states and racing his local national.
DC photo
The Grand Prix series is starting up again, with a race in Sweden, but it sounds like all three Americans who were at the last round—Decotis, Michael Leib, and Jeff Alessi—are probably all back home.
GuyB at VitalMX.com got with Jimmy yesterday to discuss the whole experience—check it out here.
THE RETURN OF METTY (DC)
Two years ago, Brett Metcalfe won the 450 National here at Southwick, the brightest day of his ten-year career journey in America. But after a terrible crash and injury knocked him out of racing in 2012, he ended up without work here in the States for this season. He ended up in Canada, and the Australian ended up with a great ride in Canada, where he's currently leading the championship standings there.
And now, with a weekend off, Metty has come back to Southwick to compete. I haven't seen him ride much in the last year and a half, so I don't know how his speed or fitness is, but I do know that it would be great to see him battle up front and maybe remind the U.S. teams that he still has game—he would make a great veteran leader for some team here in 2014.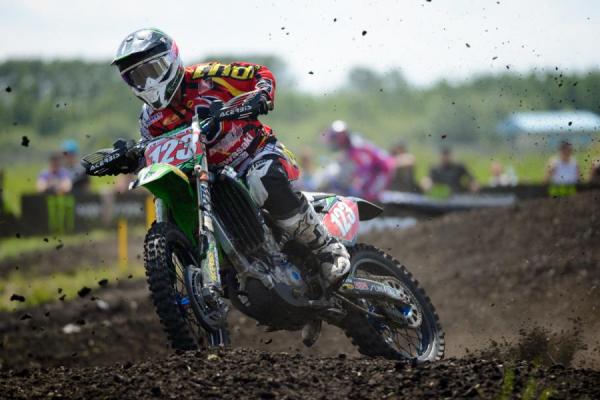 Metcalfe has returned from Canada to race Southwick.
James Lissimore photo
SOUTHWICK MUSINGS (Steve Matthes)
I can't believe this is it. The final farewell for Southwick, ye old sand lady. My memories of Southwick come as a mechanic. The first time I went there was 1996 and I was thrilled. It was everything that I thought of and rough as hell. The one thing that sticks out to me was the fence behind the old start gate that made it seem like the fans were right on top of you. Staging for a moto is usually pretty quiet—a lot of mumbling amongst riders and mechanics, but at the 'Wick, the fans would let you know who they liked and who they didn't. Thankfully, all my riders were spared the catcalls and boos, but Ricky Carmichael, Jeremy McGrath, James Stewart—really anyone that could give John Dowd or Doug Henry a run—knew they weren't welcome. It wasn't like anywhere else on the circuit. The Moto-X 338 faithful had the back of every single NESCer that ever lined up, and that was pretty cool.
I'm excited to see John Dowd race what is his final national. Dowdy's a class act guy and at almost 47 years old—he turns 48 on August 10—he's still a 10th-15th guy. Incredible! And having his son try to qualify as well is a pretty cool storyline. Good luck to both of them. It's been a real pleasure racing against and covering Dowd in the media over the years.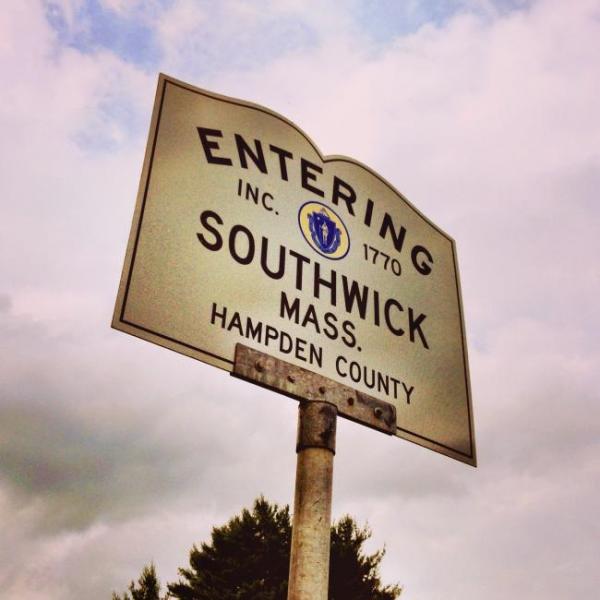 WHITHER WILSON? (Chase Stallo)
With the 2013 Motocross of Nations in Teutschenthal, Germany, just three months away, team rosters are beginning to form. And it appears that the Auto-Cycle Union (ACU) and Great Britain are not interested in bringing on Dean Wilson.
Said the ACU in statement earlier this week: "After a meeting with Neil Prince at Desertmartin on Saturday afternoon, the ACU has announced a short list of riders from which the 2013 MXoN team will be selected. The final three will be chosen from, Elliott Banks-Browne, Kristian Whatley, Tommy Searle, Jake Nicholls, Shaun Simpson, Max Anstie and Mel Pocock. Team Manager Prince will be making his final choice around the time of the British Motocross Grand Prix at the end of August."
Wilson replied via Twitter: "Cannot believe the ACU have under estimated me that much. If they actually paid attention to me coming back from a bad injury and getting a top-five qualifying and a top-ten in Colorado before injury."
Of course there's another country that might take Wilson: his old adopted country Canada, as Canada's de facto graduate assistant-recruiter Steve Matthes suggested in his own message to #15:
"Dear Dean Wilson, let's forget the past and be friends once again. You need a country, we need a rider. Let's try this again, Love Canada."
(What is it with Matthes and #15s, by the way?)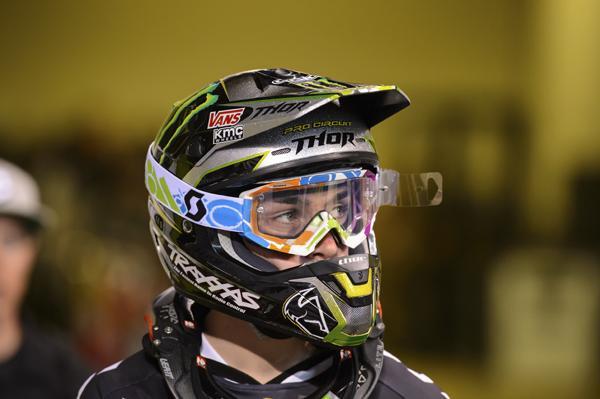 It appears Great Britain has no intreats in brining on Dean Wilson for the Motocross of Nations.
Simon Cudby photo
LONG SHOT (DC)
Okay, not really a long shot, but.... We've had four winners in five rounds of the 250 Class, beginning with Roczen, then Tomac, then Marvin Musquin (twice), and last weekend a revitalized Blake Baggett. Which one of those guys will win tomorrow? I think any of them can, but I am going to go out on a limb and pick someone else: Zach Osborne. I've seen Zach ride in the sand before—he was a big surprise here in 2008 when he was visiting from his job racing Yamahas in Europe with Steve Dixon, only to be DQ'd by the AMA because he was racing an illegal bike (a 2009 that had yet to be homologated). But while he was in Europe racing MX2 Grand Prix, Zach got lots of sand practice, and he was racing with masters like Jeffrey Herlings. He's been fast and close so far this season, and it just seems like it might finally be this guy's turn to win an outdoor national on his GEICO Honda.... But those other four guys who have already won will all be tough to beat!
Of course there are more guys out there, including kids like Cooper Webb, Joey Savatgy, and the most recent newcomer, Adam Cianciarulo. AC292 got off to a tough start—jumping into the deep end of pro motocross in the middle of a frantic championship chase is tough on even the most talented prodigy—but I do expect him to do much better this time around. Cianciarulo will feel more at home in the sand, and I really think he now has even more to prove.
As for the 450s, either Ryan could win, but don't count out #51.
Finally, the WMX. It's Jessica Patterson's last race, too, and I see her going out a winner here. But it's going to be tough to take back 14 points on Honda Muscle Milk's Sayaka Kaneshiro in the WMX Triple Crown standings.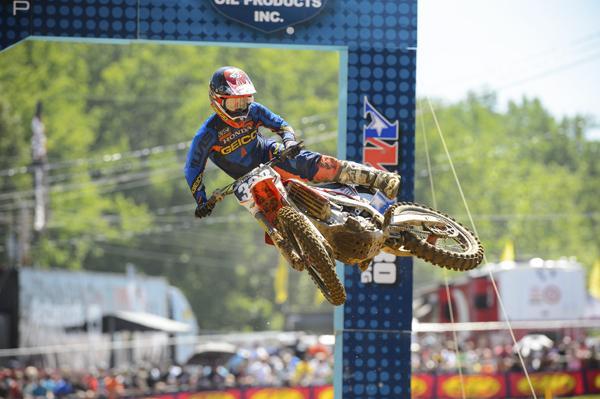 Can Osborne secure his first American win this weekend?
Simon Cudby photo
MATTHES ON MOTOCONCEPTS (Matthes)
Mike Genova, the owner of the MotoConcepts team, was forced to release Jake Canada this past weekend because, according to Genova, he got a tip that Canada was doing something he shouldn't have been and, as per the contract both parties signed, he asked Jake to take a drug test. When Jake refused, he was fired. I spoke to Jake over text about it and he says he quit the team first and he might hang it up. It's a sad situation on both sides—MCR loses a great rider and Canada loses a salary, a ride, and perhaps his motivation to race. I like Jake. He's a friendly dude, and I hope he figures out where his passion went and gets back to racing.
We had Mike Alessi on the PulpMX Show this past Monday and he confirmed that he's really close to re-signing with the MCR team for 2014. Mike's dad Tony told me that they want to hire another rider next year as well to replace Jake.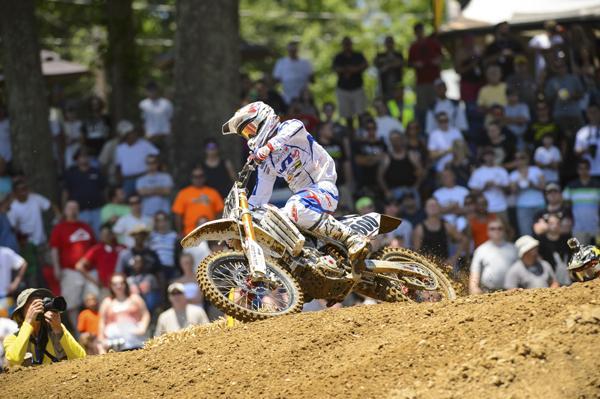 Mike Alessi is close to re-signing with MotoConcepts.
Simon Cudby photo
PRO PERSPECTIVE – JOHN DOWD (Jason Thomas)
JT: The last race of a career like John Dowd's is hard to do justice to in a paragraph or two. In a legendary span, he has won both supercross and motocross races and inspired thousands of New England faithful. I can definitely understand what he will be feeling, as I went through something similar last year at Lake Elsinore. Knowing it would be the last time I ever lined up against the world's best riders was a proud but definitely emotional moment for me. My whole life had been about how to be the best motocross rider I could be, but I knew that my best days were long behind me and it was time to start the next chapter of my life.
Still, the competitive side burns inside all of us, and a part of me wondered if I was ready to throw in the towel on the last seventeen years of my life. Two thousand twelve had been the worst year of my career, and the emphasis on results at all costs had been replaced by safety at all costs. At some point in every racer's psyche, their brain becomes too connected to their throttle hand, and that is a bad combo for for today's fast pace. All in all, I knew I was making the right decision—it was just my time to step away. During the moto, I was trying to let it all soak in. Every lap, I would try to keep in perspective that I would never be in this moment again. After a couple hundred nationals, it's easy to take these opportunities for granted. Racing becomes a grind after several years, and the genuine excitement we all felt as kids about simply being there gives way to the pressures and risks we're taking.
Sitting on the starting line for that last moto in Elsinore, I felt so blessed to have been a part of this sport for so long. I could have never dreamed of living out this life when I was a kid sitting in the stands. I know John Dowd will have all of these emotions and more on Saturday as every single fan at Southwick is screaming their lungs out for him. He is a true hero of the sport and I am sure tomorrow will be a day he never forgets.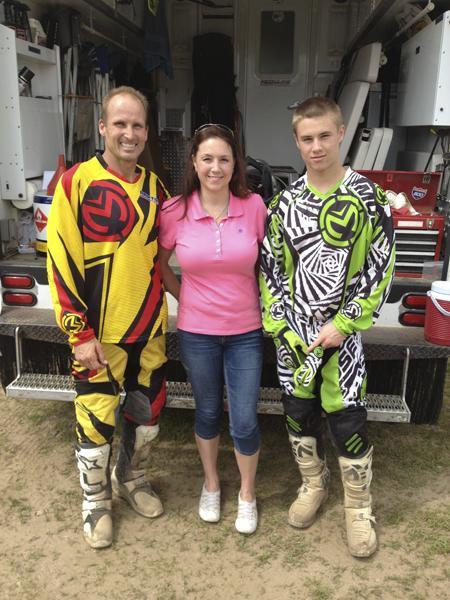 The Dowds: John, Trish, and Ryan.
Nick Koester photo
HIGHLIGHTS OF THE WEEK
Dowd's Best: Jason Weigandt serves up this trip down memory lane, following John Dowd's incredible, and improbable, career. Remember, the guy only started racing motocross at age 20, and he went on to win races and titles at the highest level. He even rode for Team USA once at the Motocross of Nations!
Tyla's Journey: We take for granted that riders from all over the world race and live here in the U.S., but seriously, how the heck does a kid from South Africa make it all the way over here? For that matter, how do they get a start in the GPs? Europe and South Africa are not exactly close! Racer X Films Spotlight: Tyla Rattray provides the untold story of how Styla went from South Africa to Word Champion.
The Notebook: Budds Creek: If you miss our weekly notebook feature, you're missing news and scoops on tons of riders at the nationals. We're talking about the riders outside of the podium positions. Check out last week's version here so you'll be armed with everything there is to know for this weekend's bench racing session.
HEAD SCRATCHING HEADLINE OF THE WEEK
"Huston to miss X Games Munich for ribs" —ESPN.com headline on skateboarder Nyjah Huston withdrawing from X Games Munich due to sore ribs.
HEY, WATCH IT!
Budds Creek Remastered


Southwick Press Day Highlights


Miller Motorsports Park Teaser Video


The Gate Drop with Tucker Saye


RANDOM NOTES
Ken Roczen landed in hot water with his KTM bosses during the off week. The tension arose after the 250 class points leader shared a picture of the new custom chopper (steet bike) he is building on Instagram. Trouble it, it's not a KTM! Brand warfare is very real and caused some unneeded problems in the midst of a championship chase.
There was a chance that 2000 Southwick winner Matt Goerke would be back in action this weekend, as when he tore his wrist up in supercross he was expected back for Budds Creek. Well he is now back on a bike and getting up to speed, but he's not race ready yet. Hopefully we see him soon.
That's it from Southwick on the last Friday. Thanks for reading Racerhead. See you at the races … and happy birthday, Mom.