Day two of the DC Shoes mini racing presented us with a perfectly groomed track and blue skies, giving the fans a perfect setting to watch some of the country's best mini riders do battle once again. There would be some familiar faces from yesterday up front today, and following the trend of the week, the racing has been top notch.
Lets talk about Ty Masterpool and Max Miller in the 65cc class again. These kids are so similar in speed it has been a chess match between the two, with a mix of smart passes and all out determination making the final difference. I spoke with Max after their first moto battle (qualifier for the final) and he said they just kept passing each other back and forth, and it took planning to make his passes. When the gate dropped for the final, it would be these two out front early again—only to both go down together in a big cloud of dust while doing battle! Miller would not remount and Masterpool would get back up to finish ninth. This would leave Aiden Tijero the lead and he cruised it in for the class win. Second and third would be Joshua Varize and Jeremy Ryan, respectively.
The Supermini class, like yesterday, provided some ridiculous racing action including the likes of Mitchell Falk, Sean Cantrell, Jon Ames and Tristan Miller (another contender, Michael Mosiman, sat it out due to a crash in an earlier moto). Cantrell was out to an early lead only to fall and remount with hopes of catching back up. This left Miller to capitalize and take the lead with Jon Ames right on his rear wheel. Robbie Wageman was holding third until a hard charging Cantrell would blast into and past him, leaving Wageman on the dirt with the short end of the stick. Miller would hold composure up front with heavy pressure from Ames to snag the race win leaving Ames and Cantrell second and third. That is two Supermini wins in a row for the number 351 of Tristan Miller!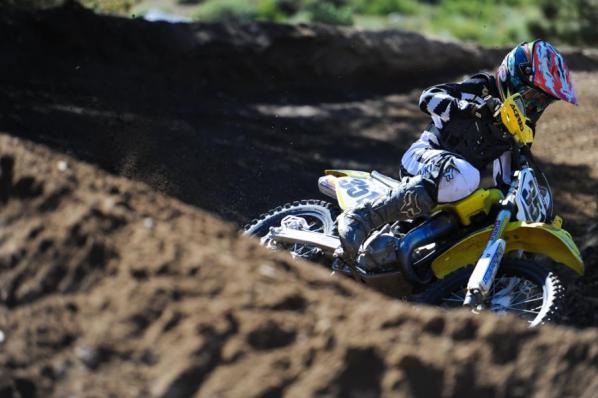 Tristan Miller had a big day on the mountain yesterday.
Mike Emery photo
The 85cc (open -16) class would set up a similar battle to yesterday's final when Joey Crown and Mitchell Falk both put their bikes into the top spot of their qualifiers. When the gate dropped for the final, Falk got buried back around 30th position while Crown nailed the start. From there Crown checked out and left the rest to do battle behind him. Remember, he finished a close second yesterday, so this is your redemption song for the day.
The 65cc (9-11) class would be an all out sprint between Ty Masterpool and Aiden Tijero who pulled a 36 second gap on third, and when the checkers fell it was Masterpool edging out Tijero by 0.292 seconds! Third place went to Brandon Ray, who rode a great race. Ray has been ripping all week!
Kawasaki kids put it down in their classes as well, with Stilez Robertson edging out Carson Mumford in the 85cc (7-11) final. These two were hanging it out and showing the fast lines around this amazing racetrack.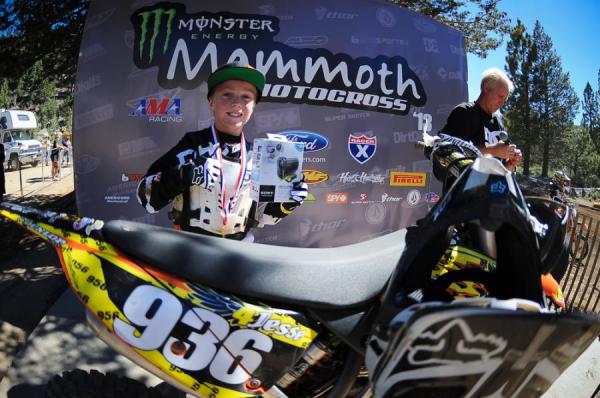 Ty Masterpool celebrates a win at Mammoth.
Mike Emery photo
Down in the 50cc classes, lets take a minute to mention that Jett Reynolds, like yesterday, walked away with numerous bears and number one plates. The kid won every moto entered and shows major potential in the coming years. Over the last two days, we learned that the kids are alright!
Big bikes get rolling with a practice day tomorrow, so look for race coverage from those classes coming up soon!