Budds Creek Motocross
Mechanicsville

,

MD
Budds Creek
Lucas Oil AMA Pro Motocross Championship
In my years of racing, I have seen some interesting things to say the least. I was lucky enough to practice and train with some of the best riders of the last two decades and while their efforts on race day are incredible enough, some of the cooler memories I have come from times when very few people were standing around watching. There are a lot of funny stories, seemingly unbelievable situations and sometimes sketchy circumstances involved with professional supercross and motocross. These are 10 that come to mind.
ZwarteCross: Last year I attended the ZwarteCross race and music festival in Holland. Not knowing too much about it before hand, I was just looking to check out a unique event and see the Dutch countryside. What I encountered was four days of mass partying, carnage, and rock and roll all centered around a motocross race. The fans are literally leaning on metal fences that border the track. More than once, these fences gave way and fans were scattered throughout the course, much like a scene from the Tour de France. On one of the opening laps, I saw drops of what I assumed to be rain hit my goggles. After a few more laps of this, I ascertained that fans were actually throwing cups of beer at us. By about halfway I had pulled my beer drenched goggles and was possibly developing a buzz through osmosis. There were more than 150,000 spectators for the race and I wore most of their beverages at some point over the weekend. I have never seen an event quite like that and while I can't say it was a ton of fun to have beer thrown in my eyes mid-moto, it definitely is a race I won't ever forget.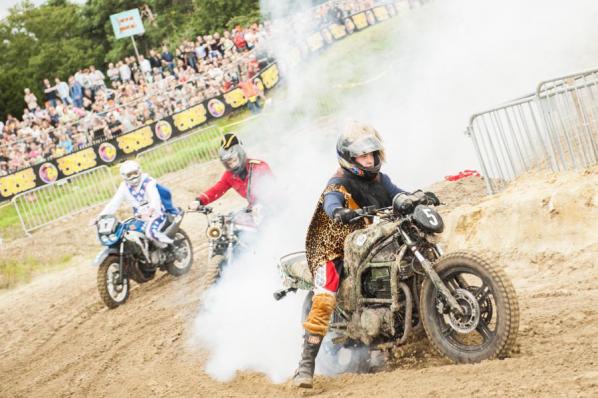 Just part of what ZwarteCross is all about.
Racer X Archives
The Tyler Evans Torpedo: Tyler Evans has long been considered "more aggressive" than most. Back in 1999, however, he was not widely known for stuff like this. The scene was Munich, Germany for the annual ADAC Supercross Championship. Tyler was doing well, scoring a podium at the opening round. Steve Ramon was an up-and-coming superstar from Belgium and had come over to chase the German SX title that winter. For some reason, Tyler decided he wanted to end that pursuit a bit early. Steve decided to go outside in one of the tight turns and Tyler sent his Suzuki barreling for the Belgian. The resulting contact left Ramon with a badly broken right leg and a furious team and promoter. It was one of the more vicious takeout maneuvers I have witnessed and bought Tyler a one-way ticket out of Deutschland. This wouldn't be the last move like this Tyler would pull but it was certainly the last one he performed on German soil.
Ricky Carmichael: Back in 1996-1997, I used to make the three-hour drive up to RC's house to practice with him. In those days, he was just a rookie looking to make his dent on the pro scene. Sure, he was one of the best amateurs ever and his debut was highly anticipated, but he still hadn't proven anything against the worlds best yet. The remarkable aspect of RC back then was his riding discipline. He just rode and rode and rode. Much of this was forced upon him by his mother, who was affectionately known as "Meanie Jeannie", but credit to RC, too, he still had to strap on the helmet and put the time in. In all of my years of motocross I have never, ever seen someone ride as much as that cocky, red headed kid from Tallahassee did. I wasn't the only one who joined the practice days, as Brock Sellards, Ernesto Fonseca, Matt Walker, and many more would often make the trek to torture town. The problem was that no one could sustain this level of effort day in and day out like Ricky could. For me, after three days it was time to head home and lay face down in a bed for an extended period. My hands, legs and hind quarters were all raw after hours and hours of sprints, 40 minute motos and enough corner practice to make a NASCAR driver dizzy. It was not abnormal to burn seven gallons of fuel daily. While this number may not shock you, go try to burn seven gallons of gas through your CR125 for three days straight and then get back to me. I heard in later years that RC backed off such an absurd amount of riding. Trust me when I tell you that I have never seen, heard or read about anything like that since.
Sevilla World Supercross: In 2002-2004, supercross went global. Two events would be held overseas during the winter. One of the events was held in the fall of 2003 in Sevilla, Spain. A beautiful city in southern Spain, Sevilla is supposed to have great weather that time of year, but unfortunately we didn't see it. We landed on a Wednesday and from the time we landed until the time we flew out the following Tuesday, it never stopped raining. There was so much mud and water on the track, I honestly did not think a race was possible. I won the LCQ that night (shocker) and literally ghost rode my 450 across one of the ponds in the track. I did it every lap! There were riders down in the section every time I came to it so instead of crashing into the water and being stuck, I decided that launching my bike across it and running to the other side, picking up my bike and continuing was my best bet. While it's not something I recommend, it worked out in that case and is something I will never forget.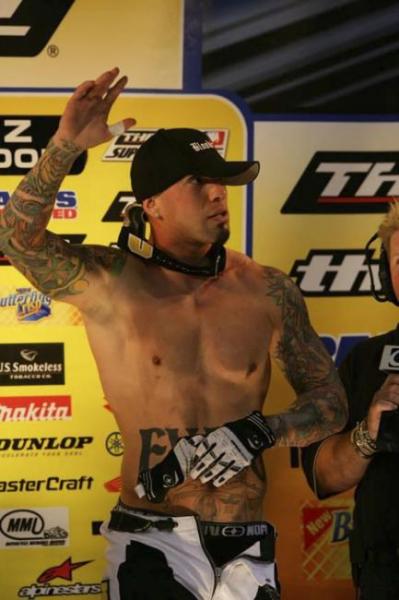 Ah, good old One Punch Tyler Evans. He broke one leg once, of Steve Ramon.
Simon Cudby photo
Red Dog: One off weekend in 1999, Tim Ferry, Steve Matthes and myself all headed up to Carmichael's house to get some riding in with Ricky and Ezra Lusk. Timmy was on Chaparral Yamaha at the time and while his bike was not bad, it certainly wasn't a factory bike. RC was racing the 125 Class that summer but having ridden the 250 supercross class that season, he also had a factory Kawasaki 250 or two laying around. When Timmy had a bike issue at some point, RC offered to let Timmy finish the day on his 250. What happened next is the stuff that keeps Matthes awake at night. Timmy hopped on that KX250 and absolutely smoked all of us. Ricky was leading the 125 points chase and Ezra was, as usual, one of the top dogs in the 250 Class. Personally, I was getting torched weekly in the 125 Class as one would expect, but I digress. To see Red Dog go out and not only pass those two guys on a different bike but completely pull away is still burned into my memory.

Sebastien Tortelli's Outdoor Talent: In 2002, Sebastien Tortelli had surgery on his torn rotator cuff. He sat out for five months, waiting for it to heal and then return to the circuit. While he was healing, I was riding a lot at his track in Florida. I felt like I had his track fairly dialed in and was anxiously awaiting his first day back on the bike to exact revenge for the years of beat downs he had given me. Bad move. His first day back on his CR250 was not what I expected. One of the most talented outdoor riders I have ever seen, Sebastien wasted little time getting back to speed. By about the fifth lap, he had beaten my best lap time and continued to improve. It was around this time I knew I wasn't made to beat guys this good. He was one of those guys who just knew how to go fast. It didn't take months of work to get up to pace, more like 20 minutes. One of the only riders to straight up beat Carmichael outdoors, watching this guy practice daily was something I feel extremely fortunate to witness.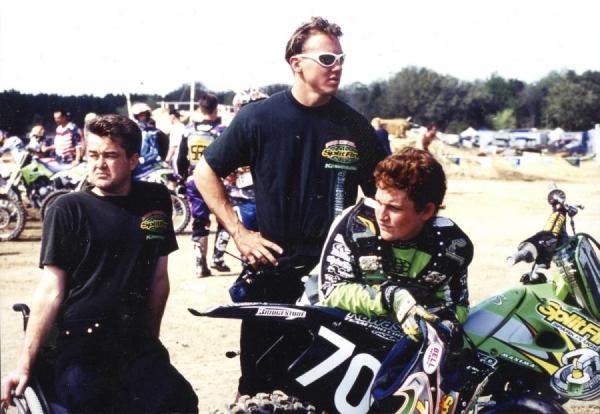 RC turned that #70 into a #1, and he did it by logging more motos than JT has ever seen anyone log, ever.
Thom Veety photo
Southwick Debacle: At Southwick in 2007, BBMX had all five riders qualify in the 450 Class. While we did this a few more times that season, it was a feat that we were all proud of. Going into the first moto, we all wanted to do well and have the results sheet full of our names and sponsors. Unfortunately, this would prove to be more difficult than expected. On the first lap, I was in about fifteenth when Josh Summey swapped in front of me and sent me tumbling. Little to my knowledge, my crash caused four more riders to crash. Can you figure out which four? Yes, it's true that on the first lap, all five BBMX teammates were involved in the same crash and laid out next to each other. It was an involuntary team meeting so to speak. Looking back on it, I can't help but laugh. But at the time it was pretty depressing. To go from the high of all five of us qualifying together to the low of seeing all five of our CRF450's laying on the track was not that fun. It's another one of those stories that I won't forget.
Some Sound, Sound Testing: In the mid 2000's, the AMA enacted new sound regulations. With exhaust companies and engine builders previously only concerned with creating horsepower, these new rules caused more than one headache in the paddock. Lowering sound also meant decreasing power and torque initially. Over time, new technology was developed that helped bring performance back, but at first, most everyone just cheated the system. The first testing methods were done only before the race. Therefore, logic said that we just needed a way to quiet the bikes for that test and then it was fair game. Cramming paper towels, loose wire, foam, etc. into the mid pipe and air box were all great ways to muffle the sound enough to pass the test. Many times we would have to keep adding stuff to these areas until they were practically full. Over time, the AMA grew wise to what everyone was doing and more complex methods of cheating were employed. Detuning the ignitions/EFI for the test was another of the methods created to skate around the system.

One of the more creative ideas I saw was to have a stock "sound bike" in the truck. This bike would be left stock and therefore much quieter than the race bikes. Basically, the mechanics would change number plates for each rider to this same sound bike inside the semi haulers and then that bike would be used repeatedly for the sound test. For the unsuspecting sound tech, it would just seem like a different bike coming through the line. Inside their semi, it would be a mess of race bikes missing their plastics but the job was getting accomplished week in and week out. Eventually, the AMA figured out all of these methods and now marks the individual exhausts, does random spot checks during practices and also after the main events, virtually eliminating ways to cheat. For a long time, though, it was almost comical to watch the teams mock the test. Blatant cheating goes on every weekend and this was just one that I happened to be a part of.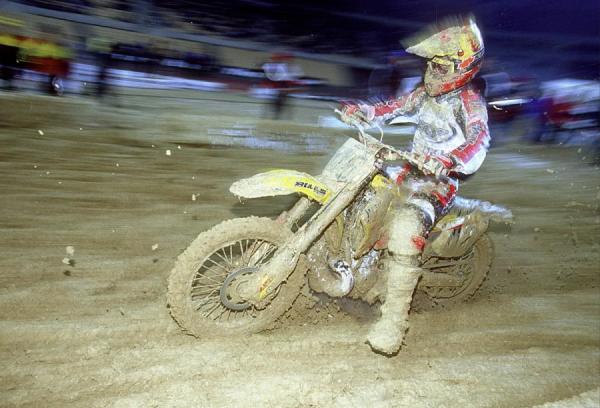 Daryl Hurley won the muddiest-of-the-mudders World SX GP in Seville, Spain.
Racer X Archives
Tubeless Wheels: In 2006, a company called Alpina, guided by World Champion Trampas Parker, was developing a tubeless motocross wheel. Michelin was also very involved in the project and as one of the few top level Michelin riders that season, I was chosen to test and use this new technology. The upsides were many. The wheels were incredibly light, over seven pounds lighter combined. This was very much noticeable on starts. The bike seemed to leap out of the gate, and as everyone knows, starts are a huge part of the equation. The other bonus was the handling of the bike. Suspension tuners are trying to decrease unsprung weight, because the lighter the wheels, theoretically the better and more responsive the bike would feel and therefore handle bumps. I noticed this quite a bit on rougher tracks, i.e. Nationals.
The first race I used these experimental wheels was coincidentally my best finish ever. I rode them to a fifth overall at Budds Creek and I was hooked. Kind of. During testing, we were having issues with flat tires. To keep the tire on the bead, we were running upwards of 17 pounds of air in the tire. The main drawback of that was decreased traction but outdoors, this wasn't as crucial, and the benefits outweighed the lack of traction anyway. The flat tires were more of a problem though. The next weekend at RedBud, I was around tenth place and looking good to continue the project's success. Unbeknownst to me, the front tire had slipped off the bead and gone flat. Now, a tubeless wheel doesn't have the same signature feel when it goes flat. With no tube, the wheel will simply roll over on the sidewall and spit you off like an irate bull. Coming up to one of the small tabletops on the track, I tried to scrub it and before I knew it, I was flying upside down without my bike. The front tire had rolled onto itself and given way as I left the face of the jump, sending me careening the opposite direction. I was not too pleased with the failure and we decided to pull the project until more testing could be done.
Flash forward to Anaheim 1, 2007 and all was supposed to be perfected. The lack of traction was definitely more of an issue in supercross but I felt that the great starts and handling in the whoops would be too good to pass up. The first lap of the main event came and once again, I got a flat tire. Luckily, I didn't crash this time but it was still the kiss of death for that program. I'm not sure how much longer Michelin stayed involved but I never tried that system again and I haven't seen much since. Looking back, I will mostly remember scoring my best finish on that setup but it was a shame that it never got perfected. Maybe one day it will come back and revolutionize the tire industry. Stranger things have happened.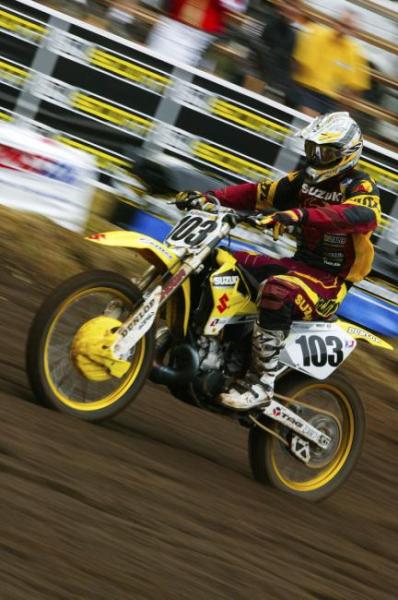 There's a certain level of speed you can't teach, and JT personally witnessed that with Sebastien Tortelli a decade ago.
Simon Cudby photo
Hangovers and Victories: Over the years I have seen riders win while injured or sick. I have also seen a lot of incredible performances from riders that were probably drunk a few hours before practice. I have been at breakfast and seen a rider stumble into the hotel from the night before, absolutely hammered. About 12 hours later, that rider would be on the podium spraying some more alcohol, albeit champagne. This always both frustrated and amazed me. The fact that someone can perform at such a high level while hungover and operating on no sleep is both awesome and infuriating for those who are seemingly doing all of the "right" things. I know of one supercross champion that won a title in a season where I would bet that 75 percent of his Friday nights involved a bar tab. I don't know that this is possible anymore, but it actually did happen once upon a time. There is no more demoralizing feeling than being lapped by someone and knowing if you get close enough, you could smell the alcohol sweating out of his pores.