Mid-East Regional at Baja Acres
Millington, MI – As championship-hopefuls from across the country gear up for what is likely the most pivotal race of their amateur motocross career, Baja Acres in Millington, Michigan prepares to welcome them on June 22nd and 23rd, 2013 as host of the Mid-East Regional Championship—a qualifier for the 32nd Annual Red Bull AMA Amateur National Motocross Championship presented by Amsoil.
Known for its bottomless sand and rolling hills, the 85 acre facility will open its gates to approximately 700 riders who have advanced from 1 of 8 different area qualifiers in the Mid-East Region.  Home to the "Michigan Mafia", the Baja Acres track will be a formidable challenge for racers hoping to advance to the National at Loretta Lynn's Ranch in Hurricane Mills, Tennessee.  For most riders, this will be the final stepping-stone in an attempt to join 1,445 of the nation's best racers, in what is considered the largest amateur motocross event in the world.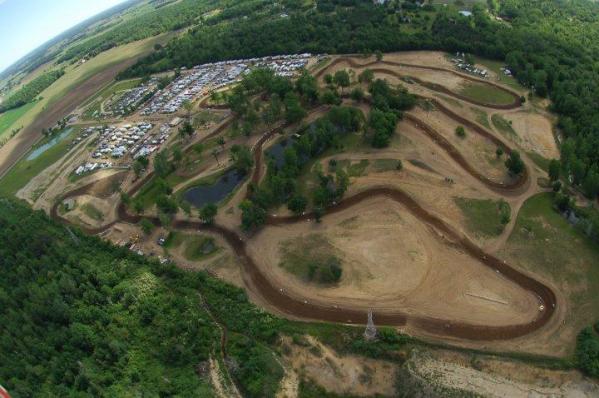 "We love hosting the regional, it's the proving grounds for sure", says Baja Acres owner Pat Grzebinski.  "The riders and their families have made great sacrifices getting to this point, and this is the final step in what will probably be one of their greatest achievements as a motocross racer—racing the nation's best at Loretta Lynn's Ranch."
Patrick went on to explain how the Loretta Lynn's legacy has fostered some of the best professional motocross and supercross racers in the world.  He said that household names like Ricky Carmichael, James Stewart, Ryan Villopoto, and Ryan Dungey are all graduates of the 32-year amateur motocross tradition.
"We're honored to be part of such a prestigious racing program, and are thankful for organizations like the AMA and MX Sports for keeping this dream alive for so many", said Grzebinski.
He added that supporting sponsors Red Bull and Amsoil are equally as important in making these events possible, as well as companies like Thor (who provided track markers used to communicate a clear perimeter around the meandering sand track) and MyLaps transponders (ensuring exact timing of each rider crossing the finish line).
Riders and families planning on attending the 2013 Mid-East Regional at Baja Acres are encouraged to visit the Baja Acres website or contact them directly with any questions.
To find out more, please visit the event web page at http://bajaacres.com/lorettalynn2013/
About Baja Acres
Baja Acres is a motocross track in Millington, Michigan focused on providing a safe, fun, and challenging environment for all motocross athletes. Moreover, with quality service and innovative ideas, Baja Acres hopes to increase recognition and growth for racers and the motocross industry. For more information on Baja Acres, please visit their website at www.bajaacres.com.