High Point Raceway
Mt. Morris

,

PA
High Point
Lucas Oil AMA Pro Motocross Championship
By Jason Weigandt and Steve Matthes
Monster Energy Kawasaki's Ryan Villopoto has won a ton in his career, so it's pretty darned impressive that his current rides may actually be his best ever. And he's heading to the track he's done the most damage on in his career—Budds Creek.
But first thing's first. After his win at the GEICO High Point National, RV2 spoke about it in the post-race press conference, then our Steve Matthes caught up to him over at the Kawasaki truck for more.
Racer X: I guess the first question is the pass: ballsy pass? [On Dungey]
I mean, yes and no. I was jumping into the inside and I was coming up the inside of that jump. Ryan went to the left; I went to the right. And he banked off the berm and I was coming across to the berm, so I guess it depends on what angle you want to look at it. But I know it was close, but I wasn't going necessarily straight after him. I was jumping that triple to the very inside and trying to hug it to the inside but it was still a little wet in the middle there and I was going to the end of the berm, and he went to the beginning of it and cut back. So it's one of those deals; it's one of those racing things. But yeah, I think it was close but clean.
What was the track like? It looked like, especially second moto, there weren't really good lines, there were just maybe ones that weren't so bad.
I thought it was good. It had a lot of line choices. With the rain that they had and how much it was they had to push kind of a lot of the good dirt off of it, so we had some pretty good lines and ruts and the base of the track was very hard, and that was like that hard clay. So it made it tough to try to get traction and it wasn't like you could just say okay, I'll just turn and pivot here. You had to definitely wait and kind of slide into your lines and try to set up early so then you may catch the end of the rut or something like that. So it was technical on the side of you just couldn't really go wherever you wanted to go.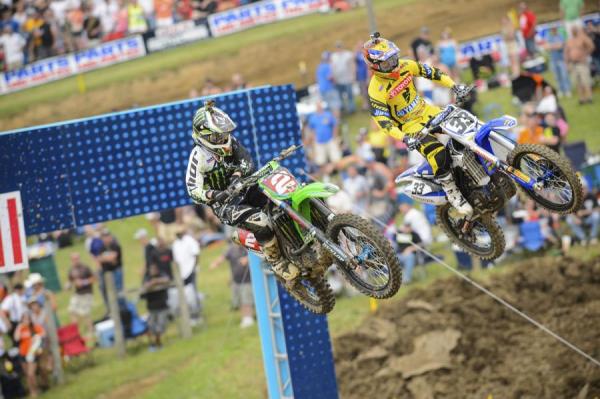 Just no stopping the RV train at the moment.
Cudby photo
That second moto was weird. You pulled up next to Stewart. He went from the lead to out of the race. Did you even know what was going on there?
No. I actually went to the left and was making a run down the left side of the straightaway. Kind of when I got next to him it seemed like then that's kind of when he let up. It seemed like when we landed he landed on the gas and then noticed something was wrong. I didn't really know anything had happened.
A week off and then we head down to Budds Creek. We know that Budds Creek's been very good to you in your professional career. You have to be excited about going there. What are you going to work on in this week off?
Yeah. I really enjoy Budds Creek. I like it a lot. We'll go back. We'll regroup. We have some little things that we'll fine-tune. There's not a whole lot to do, time to do a lot of testing, so we'll fine-tune some things. We'll try to make it better. We have some ideas and things that are already made up. I just need to go back and now try them. We'll just keep plugging away.
After the press conference, Matthes caught up to RV for more:
Great ride today. First moto caught Barcia and checked out. But the second moto—wow, what a ride.
Yeah it was good. Not the best of starts, me and Stew came together close to the first turn, he was trying to get back to the inside and he was leaning on me a little bit. We were able to get unhooked and he was able to get around me. The start was good enough, though, top five. I had to work on those boys, they were riding good.
Stewart looked like he was trying to get away. Let's talk about the pass on Dunge. That was gnarly.
Yeah, I didn't jump the triple step up in the first moto, and then we started doing it. I wasn't sticking the inside, but I was landing on the very inside and it was pushing me out and he was landing on the outside of the berm and coming back. So, I was able to get next to him and I was commmited and he had to check up, I just came across him, my line came across, there was nothing I could do about it.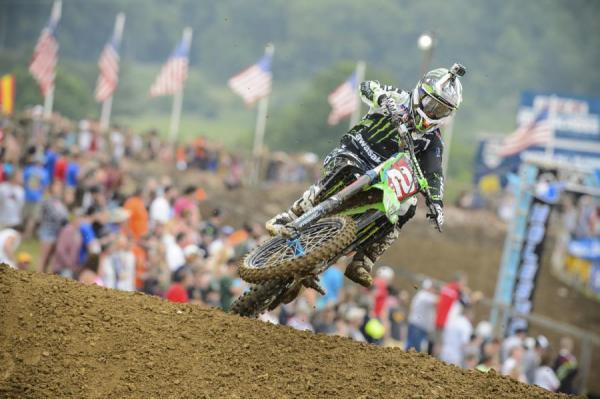 At least we get some GoPro views to see what it's like to go this fast.
Cudby photo
Where you worried a little bit? I mean, Stew, Dunge.
I mean, James rides good. But it's a long moto. He was right there, so, yeah, and Dungey was working on him, and I was working on Dunge, so yeah, it was close.
You've won every moto but one this year, and the one you didn't win, you feel twice. Do you feel as good this year, or better, than the last time you rode a 450 outdoors, and you won the title?
I feel like I'm riding better, my fitness is better, all of that, but the biggest thing is our bike is setup, definitely, better this year, for outdoors.
You had that new frame [the 2012 Kawasaki] at the end of 2011, you started going better and winning more races. I guess this is another evolution.
Yeah, everybody knows we're running the new triple air fork from Showa, and I think that was a great move for us and the team. We worked really hard to get it setup right, and it has put us in a great position. It's working well and I feel like we're improving it all the time.