High Point Raceway
Mt. Morris

,

PA
High Point
Lucas Oil AMA Pro Motocross Championship
The Lucas Oils Pro Motocross Championship schedule is grueling. After a 17 race supercross series, there is only one weekend off before kicking off the 12 round motocross circuit. Most of the riders by this point of the year are feeling some level of burnout or fatigue. With three weekends off in the series, it would be very easy to rest this week and recoup the body and mind. Unfortunately, most riders won't be following that model. With consecutive weeks of racing, it is a constant struggle to balance the work of progress and necessary rest. As much as I wanted to get out there and work dawn to dusk, I knew there would be a penalty to pay that following weekend from exerting so much energy mid-week. Trying to peak every Saturday is just as much about recovery as it is about hard work.
This isn't to say I wasn't putting in a lot of miles on my bicycle and long motos, but in the Florida heat I really had to monitor what my body was telling me as well. With an off weekend, however, I took that as my cue to turn up the intensity. Instead of rest days, I would ride everyday. Instead of sprints, I would do at least two 35 minute motos everyday. Road rides would go from an hour to 1:30-2 hours. Time spent resting before would be exchanged for time at the gym lifting weights. Basically, I would revert back to an off-season type program.
This off week was a perfect time to work crazy hard and make some progress without fear of being tired that weekend. None of this was fun by the way. Everyone is tired and desperate for time away from the track by June. This is where dedication and discipline really played a role. I always pretended all of my rivals were at the lake or sleeping in while I was out pedaling miles in the blazing sun. Whether they were or not is anyone's guess but when I came back to the next race, that image was in the back of my head and gave me a little boost of confidence. After a long week of work, the weekend was truly time off.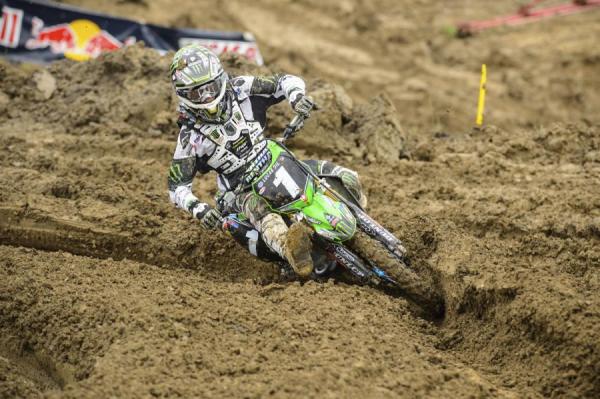 It's important to work during the off-week in the very deep 250 Class.
Simon Cudby photo
On Saturday and Sunday, I was up for anything besides riding my dirt bike. Sometimes I would go for a cycle early Saturday morning and then relax for the next 48 hours or so. I didn't want to talk about racing, think about racing, etc. I really tried to forget I raced motocross for a day or two. It was a nice break from a sport that consumes everyone's entire life. Professional motocross isn't really a sport or a job, it's a lifestyle. What we eat, when we sleep, what we talk about, what we watch, our weekdays, weekends and free time are all directed towards making a better motocross racer. Not that I am complaining, I wouldn't trade my years of racing for anything, but it can wear on everyone after a while. Taking a few days to forget about motocross can be refreshing and recharge the batteries for the next few months ahead.
Come Monday morning, though, it was back to the grind. The week before the race would be far different than the week prior though. A typical race week schedule would ensue. Sprints and speed work followed by a lot of technique practice, and of course the standard hour bike ride or 30 minute run. While it is no picnic, it is much easier than the offseason/off week regimen. The emphasis is on getting faster instead of pure fitness. Motocross nationals are so much about raw speed and intensity nowadays that most of the paddock spends incredible amounts of time working on ways to shave seconds off their lap times. Most of the hard work will be put in early in the week and taper towards Thursday and Friday, hopefully leading to a physical and mental peak come Saturday afternoon. I am sure there are many racers right now longing for Friday night to get here so they relax for a bit.
Last Saturday, as I heard a few guys relaying that they were so excited for a week off, I was snickering to myself because I knew how much hard work still lay ahead before they got to rest. While most of the traveling motocross circuit is spending much needed time at home this week, remember that many of the riders are putting in their hardest work of the year in hopes of it paying off at Budds Creek. While it may not be fun, there is no worse feeling than sitting on that starting line knowing that you aren't prepared.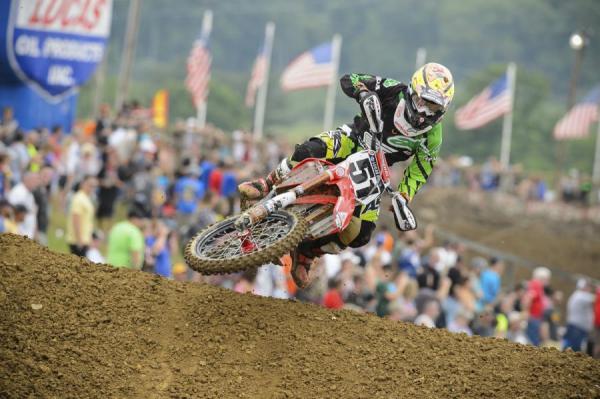 JB and the rest of the boys in the 450 Class are getting in valuable training time this week.
Simon Cudby photo
Any suffering I have endured on my bicycle or 30 minutes into a moto when its 99 degrees outside pales in comparison to the disappointment on the faces of team members, family and friends after a poor result. Pain and fatigue are relative. The question I always asked myself on weeks like this was: What hurts more? Seemingly endless days of riding and training or the sleepless regret of performing badly? Being retired, I don't feel the pain of those days in the heat and mud but I sure do feel the pain of races I know I wasn't ready for. Those days linger on in my memory. My advice to the guys that have time on their side is to do it the right way. Never go to bed wishing you had done more. One day you will be sitting on a couch looking back on your career and you don't want to be filled with regret. Whether I finished fifth or 25th, I know I worked hard to be as good as I could be that day. That's all I could really ask for.