High Point Raceway
Mt. Morris

,

PA
High Point
Lucas Oil AMA Pro Motocross Championship
Eli Tomac, GEICO Honda, 3-4 for third overall in 250 Class
Talk about the title chase in 2013 so far?
We're somewhat close right now. I'm not sure what it went to. I think I lost nine points. Not totally sure. We're a little bit down but nothing to worry or stress about yet. I think I have a lot of good tracks coming up for me, upcoming tracks like Budds [Creek] and Southwick and RedBud, those are all good places where you can make passes. Today I started a little bit behind on the starts, and this track just didn't seem like it was one that you could come up through the pack really fast. It's just like for me I had to wait an entire lap to make a pass. I know guys were complaining last week about making passes at Muddy Creek but I though this week was actually worse. So, everyone has their opinions, everyone rides different but for this week it was tough for me to really make a charge to the front.
When we often talk to professional riders if the word "a bad start" comes up or whatever, is it reaction time? Is it bike setup? What are some of the things that cause a bad start at this level in somebody's career?
It can be multiple things. For me today I actually had really good jumps so my reaction time's fine. It can be a wheelie on the hill, getting your gear right, second to third, or just overall traction on your pad. So it can be multiple things.
And today it was just you got a good start, you just couldn't get the drive up the hill?
I thought my jumps were really good I just didn't get the drive up the hill. This place hasn't been the most friendly for me for starts. So hopefully next year we'll make something happen.
That second moto you had a really bad start then you moved up a little bit, then you went back a little bit. Take us through the moto.
Started somewhere I'm not sure kind of behind a big train of guys. Seems like in the 250 Class this year if you get stuck behind two or three guys it could take you two laps to get one guy. It just depends. Everyone's just fast enough to where you have to earn it to make the pass. So at that point I was a little bit behind, made a couple passes, and then going down one of the bottom of the hills, little off-camber turn, I just kind of made a goofy little front end tuck and had a little slide out. Went back and then kind of had to claw my way back to fourth.
How late did you make those? Because I think I saw you, like, 7th or 8th and then 4th. So the last couple laps were you feeling it or were those guys tired? What do you think happened there?
I was basically thinking trying to minimize the damage at that point points wise. I was feeling it okay. I wouldn't say everything was perfect today; thought I could maybe have a little bit better cornering bike setup-wise, but it was a tough track. It was okay.
You mentioned you lost a couple points today. When do you feel that it has to be crunch time for the championship?
Really just you don't want to get behind more than I would say maybe a moto by the time you're halfway. You want to stay as close as you can. Seems like it's easy to lose the points lead at the beginning of the series, at least in my past seasons I've raced. We're not in a too bad spot yet. I like all the tracks coming up. So I'll be ready.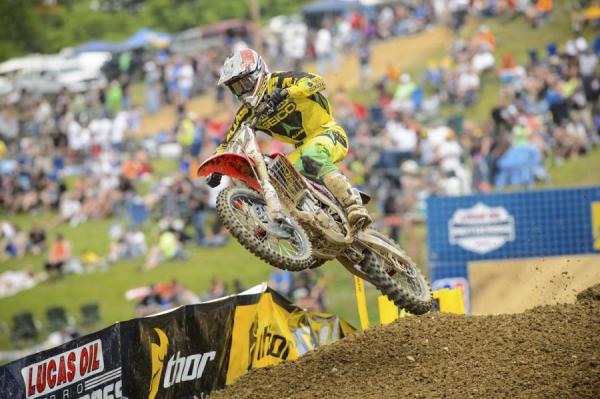 "I thought my jumps [off the start] were really good I just didn't get the drive up the hill. This place hasn't been the most friendly for me for starts. So hopefully next year we'll make something happen." - Eli Tomac
Simon Cudby photo
Ken Roczen, Red Bull KTM, 1-2 for second overall in 250 Class
Moto number 1 it seems very unlikely that anyone's going to beat you.
Yeah. This week I just had a decent start. I was around, I would say fifth, but I got up to the front pretty quick and just laid it down basically. The first motos have been going pretty good this year. Second moto, I struggle with the starts right now, too. I haven't really been practicing them at home. Like Eli said, it could be everything. I don't know what was wrong. I was really far back, especially in that second one. I hammered down the hill and made a move. I don't even know how the heck I got sixth around that corner down there, or something like that. But like Eli said, everybody's going fast enough to where they can hold you off. It's never easy to make passes and get up front quickly. But I felt good. After the first moto I didn't have to push too much or anything. I was trying to make it happen but Marvin just rode a really solid race. Other than that, though, I think I can't complain about this weekend because we made a few points.
Tell us about the second moto. They have been a little bit tougher for you.
Yeah. I'm trying to get better with them and I think after the break it's going to be even better. But I mean all the motos are tough. Nothing is easy. So, actually I thought that this weekend was maybe one of the best motos I've ridden this year, in the second one. So can't complain. I totally agree with Eli; a lot of people complained about the track last weekend but this weekend was way worse to pass, way worse.
In the second moto you were closing in on Marvin at the end and it looked like you might get him him. What prevented you from continuing that drive?
I got close a couple of times but I was never really in that spot where I really could even try to make a pass. I was close but never really on his tail. And then sometimes there would be lappers or something that hurt me quite a bit too. And then we'd space out a little more. I think riders really have to get their stuff together because I think the lappers have been pretty bad this year. So I had a couple of incidents today where I even almost hit their back and almost crashed with them because they just stay in the main line. I'm pretty sure some were bad for him too, but it always… plus and minus. Sometimes you can gain a little, sometimes you lose a lot. It was just the way it was.
Can you take us through the first lap of the first moto where I think you went from ninth to first in four turns? Do you even remember the passes you made?
No, I don't. Even my team manager always comes up and says, "Man, how did you do that?" I'm like, 'Dude, I'm just riding. I don't know.' I think it's important to make it happen early. You can make some passes. As soon as the field is stretched out a little more it's harder to make up ground. So I don't know; it's maybe just something I can do or something? So I'm happy though that it works for me that way.
You and Marvin used to be on different teams in GPs and now you're teammates and you're both over here. Seems like you guys get along pretty well though even though you've raced against each other a lot.
We do. We respect each other a lot. We've been racing each other for quite a few years. There has never ever been anything bad on the track or off the track. So I can't complain having him as a teammate.
Tyla Rattray, Monster Energy/Pro Circuit Kawasaki, 4-4 for third overall in 450 Class
Obviously it's still new for me racing the 450. I did a couple races last year, but setting up on the 450 with the new triple air fork [is different] and I think our engine was too strong. We did make some big changes this week with the suspension and also with the engine. So really happy with how everything went this weekend. I think we made a big step in the right direction.
How much of a change was it going up to the 450s?
It's definitely not just getting off a 250 and just jumping on a 450 and expect to be up front winning. It's a different animal out there, especially with physical fitness, and you've got way more power underneath you, you've got a heavier motorcycle. It's definitely a lot harder than what people think. Obviously to get a good setup is also very important. So it's definitely been a bumpy road up until now but I feel like I'm definitely making an improvement.
Speaking of making improvements, you're the lone man over at the tent right now. I know that having that much pressure on a young team, does it help you kind of get motivated or is it a bit of a hindrance?
Well I know with Mitch and everyone at Pro Circuit, they work really hard. Obviously put a lot of work into their bikes. It's been obviously with Dean [Wilson] getting hurt we've lost a lot of testing with him and me. It's definitely been tough to get a good setup with the bike but I think we finally found it.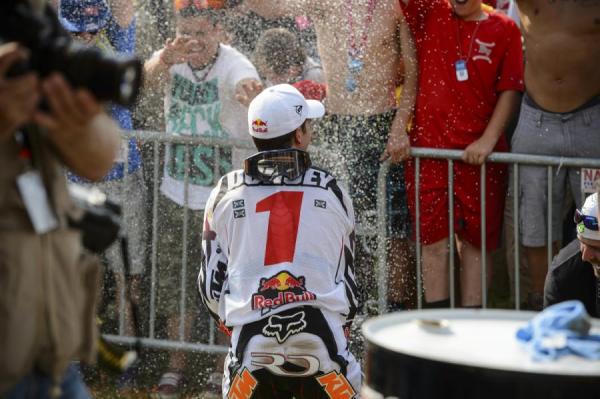 "Definitely things are moving in the right direction for sure. These four races have been good." - Ryan Dungey
Simon Cudby photo
Ryan Dungey, Red Bull KTM, 2-2 for second overall in 450 Class
Definitely things are moving in the right direction, for sure. These four races have been good. I think we've made progress since the start of the outdoor season but it will be good to have a weekend off, give us a chance to work on a few things and fine tune a little bit. But also have a little bit of downtime so take advantage of that. But I'm excited; everything's been going good, moving forward, and I'll be excited when we get back.
When you have a chance to get out there and a couple weeks ago there was very little rest in-between the first moto and your second moto. Today, kind of back to the normal with the intermission and the WMX. Was that a benefit or did you feel that the quicker back on the line thing actually helps somebody that's in the shape that you're in?
Yeah, definitely when there's less recovery it benefits us guys who can recover faster, but it's funny because the last two races I felt like that break would have been nice, but today it kind of felt like it was forever in-between motos. It's good. It definitely wasn't the hottest day. Physically it wasn't so bad but it would have been nice today to just go right back into it. But the women are racing [today], and there'll be plenty of them with only an hour in-between coming up.
How did you feel after that first moto - disappointed at all? And did you change anything going into the second moto?
The first moto I got bumped around the start. We'd come in there in second and then I stood it up. I thought I was going to get taken out like four times so it just was one of those things, kind of shuffled back and right below the top ten. But with that, all the passing I've had to do, and by the time we got into second there was a little bit of a gap. But we did make a few changes for the second moto that were better. I think we made things just a little more comfortable, but first moto, just starts. It's huge.
In the second moto you had a much better chance to follow Villopoto and I'm wondering if you had a good idea of where he was sort of stronger at getting away from you?
Yeah. There was a little, right there in the middle of the track… For the longest time we were doubling it and then hitting the table, but the guys were going outside and tripling it, right before you go down the hill into the turning double. So I was losing time there and there were a couple times I didn't get through clean and stood it up. So a little messy there for me. So I lost some time. But it was good. I feel like we got a few things that we can work on and get better at for sure. Like I said, Budds Creek will be a good place to get back to after a couple weeks off of working on things.
Second moto you're running second, you're going pretty strong. All of a sudden you had to see this green fender [Villopoto's Kawasaki] come shooting in front of you at the top of the triple there. Were you expecting the pass there?
No. I seen it, but it was a little ballsy. I'll remember that, for sure.