"I think you can call it a resurrection. He was gone. Everyone had given up on him." - Rockstar Energy Drink global motocross manager James Hanson.
Jason Anderson was the can't miss kid. The New Mexico native, owner of five AMA National Amateur Championships at Loretta Lynn's, and the coveted 2010 Horizon Award, was the hottest prospect to hit the pro ranks in 2011. He came in with the hype of predecessors Barcia and Tomac. He was expected to win, and win right away. But that didn't happen.
"A lot was expected out of him that first year, but was just so young," Hanson explained. "His ability was there, but mentally he was so young. There is a lot more you have to do in the professional ranks and I'm not sure Jason was informed of that or didn't have someone in his corner to help him with the transition."
In the amateur ranks, Anderson had rides with Suzuki, KTM and Kawasaki, but Rockstar Energy Racing, then a Suzuki factory team, signed the coveted prospect for his rookie pro season in 2011. They hoped the former Team Green rider would put the Rockstar logo alongside juggernauts like Monster Energy/Pro Circuit Kawasaki and GEICO Honda. But the pressure of the big stage was something Anderson wasn't necessarily prepared for.
"When you win the Horizon Award you're expected to come out and start showing it [right away]," Anderson says of his rookie season. "There is also the unknown of being a professional and being at this level of the sport and I didn't really know what it took. I definitely got a wake up call my first year."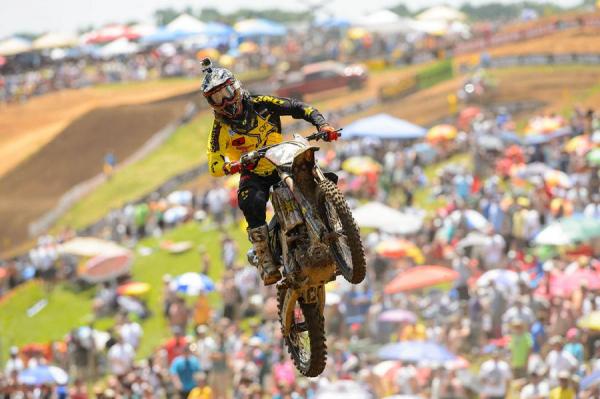 Currently sixth in 250 Class points, with a season-best of fourth in a moto, Anderson is right on the verge of a breakthrough.
Cudby photo
In only his second professional race, Anderson watched as teammate and friend Ian Trettel suffered severe brain trauma after crashing in practice at Daytona. Trettel would eventually make a full recovery, but his career is over. At the time, it weighed on Anderson.
"The Trettel thing affected him bad," Hanson says. "They grew up together, they raced together, they were friends… and Ian was in bad shape at the time. I think that was the main problem his first year, but also the hype."
"It was a bummer deal when that happened," Anderson says. "I'm sure it affected me a little bit, but it wasn't anything that I couldn't overcome. It definitely took its toll on me, but it wasn't the reason I was riding bad, it wasn't the reason I wasn't doing good."
Anderson's struggles in supercross would carry over into motocross, leading the Rockstar team to make the decision to send Anderson home early in the motocross season to regroup. Anderson returned two rounds later, but the results were still inconsistent, putting his 2012 season, and his career, in jeopardy.
"With the rookie year I had, I wasn't sure if I'd be racing dirt bikes in 2012," Anderson admits.
The team would stick behind the young prospect, bringing him back the next year. Anderson rededicated himself with the help of trainer Randy Lawrence. He was in better shape. He was more focused. And, most importantly, he was more mature.
"I guess I just had to start putting in the work," Anderson said. "I got Randy Lawrence helping me out and Coach Seiji helping me out. I shouldn't say I wouldn't be here without them [the team], because it took a lot of hard work on my part too, but them giving me a bike to ride the year after [the rookie season] was huge. I'm pumped that Bobby [Hewitt, team owner] and Dave [Gowland, team manager] and everyone stuck behind me after the first year I had."
For a rider that relied on his natural talent throughout his amateur career, training was almost an afterthought. "I wouldn't say I had to get used to it [training], because it wasn't a trouble for me putting in the work, I just never did and I would always do good," Anderson said, "so I didn't see the point in doing it if I didn't have to. That's what I did as an amateur and I thought I could pull it off as a pro, but that definitely wasn't the case."
"It's not that the team didn't teach him once he came over, I just think that there wasn't a connection," Hanson said. "Obviously the team knows what you're supposed to do, but I think there was something that just didn't transition smoothly. I don't think Jason is scared to train. He is with Randy Lawrence, and he is 100 percent committed. He will do anything he needs to do to win."
The hard work Anderson was putting in finally paid off late in the 2012 Monster Energy Supercross season. Anderson pulled the holeshot in Salt Lake City and opened a five second lead on eventual 250SX West Region Champion Eli Tomac. Although Anderson would falter late, it would later prove to be a valuable learning experience.
"My first time leading in Salt Lake City I just got nervous," Anderson admitted. "I feel like I should have won that night, but I go so nervous that I blew it."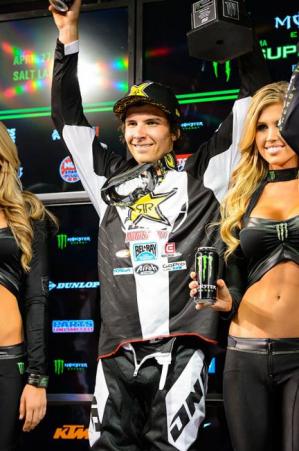 Anderson scored his first professional win at this year's Salt Lake City SX.
Cudby photo
While 2012 wasn't exactly a breakout year, it was a massive improvement from 2011, and Anderson was finally showing the talent that made him a top recruit. As Hanson explains, "I really consider his first year [2011] to be a wash and last year [2012] to be his rookie season."
Pre-season pundits considered Anderson a verified title contender in 2013. The growing pains were in the rear-view. Anderson was ready to blossom, and blossom he did. The third year pro garnered three podiums in Monster Energy Supercross—including a redemption win in Salt Lake City, the first of his pro career. Now he's in the mix with the fastest riders in the 250 Class of the Lucas Oil Pro Motocross Championship. Each weekend, he seems to have a moto where he battles near the top three, with certain podium potential. The new Jason Anderson has arrived.
"He's a different person," Hanson says. "He's grown and matured so much. I think his progression is maybe slower than some, but his drive and maturity is so much different than it was before. A year ago he was leading Salt Lake City and he got a little scared and Eli passed him, but this year he rode that race like a veteran."
His win in Salt Lake City may have quieted the critics, but it hasn't lessened expectations. "I don't think he is content at all this year," Hanson says of Anderson's National Motocross campaign. "I think he needs to get on the podium right now. Those guys are gnarly, but I don't think we have seen the full Jason Anderson yet. I don't think he can win every race right now, but I think he needs to be on the podium."
"I definitely think I have something to prove outdoors," says Anderson. "I've never been a top three guy. I've never gotten on the podium outdoors and that's something I feel like I need to accomplish this year. I feel like I can step on the box with the right race, the right start… I just need to get up there and start riding like myself again."
While Jason Anderson is looking more and more like the rider many expected, 2014 seems even more promising.
"He could be the best rider in the world in a couple of years," Hanson says. "I don't think he's even tapped his full talent yet. I definitely see 2014 as his year. I think he is a title threat."
And while the pressure of carrying those expectations forward might have hurt Anderson in the past, according to Hanson, that's behind him.
"I don't think that pressure is the same as it used to be," Hanson explains. "Pressure was a big part of the problem his first year, but pressure doesn't bother him now. I think he knows he's one of the top guys. Even with disappointment it just pisses him off and makes him want to go faster. He went from pressure crushing him to crushing pressure, if you will."
"Where I'm at right now, I think I'm a completely different person than I was my first year," Anderson said. "I think everything has bumped up a level. I think a championship within the next year or two is the goal and that's something I really want to do for myself and the team and everyone who helped me get here.
"I feel like I'll be a better Jason Anderson in 2014 and I think I'll be an even better Jason Anderson in 2015. I'm just trying to progress, so hopefully the results keep coming."