Thunder Valley Motocross
Lakewood

,

CO
Thunder Valley
Lucas Oil AMA Pro Motocross Championship
By Jason Weigandt and Steve Matthes
Ken Roczen, Red Bull KTM, 1-3 for 2nd overall in 250 Class
In the second moto, Osborne was coming up on you, breathing down your throat. What happened?
Well, my first moto was really good. During the second moto I just didn't feel good. Couldn't make it happen again. Grabbed a decent start and actually went off the track and had to go around the jump and stuff. It threw me off a little. I just didn't really have the flow. So maybe some little things might be changed about the bike, but other than that the guys were just going really fast. Every time I change my diet and I try to eat good, it's not working. Last Thursday I had that In N Out burger on Thursday before the race and I won, so I might have to go back to that!
You may be in trouble because there are very few In N Outs on the East Coast.
I know. I may have to take something from home! But seriously I'm not going to take this race in a bad way, because there's no need to dig a hole in it. I just got to keep doing what I'm doing and come back swinging next weekend. It's fine and I'm happy.
Everybody talked about Hangtown being very rough. Compare Hangtown to here.
It was definitely rough. Going down the hills there were huge bumps and stuff. Actually we got some good ruts, too. But that's good ruts; it separates the field and I think we need that.
Is altitude an issue? Second moto, late in the day you were battling… Did that affect anything?
I don't know. It's not that I was out of breath or something. Probably I was a little bit. It's a big difference you can feel on the bike. I'm pretty sure you can tell in the body too.
One thing that we did have is a lot faster turnaround between motos than last week, too.
Yeah, exactly. We got in from the podium and literally had the 450s going out and it was 30 minutes and then it was our turn. So it was kind of close again, but turnaround was the same for everyone.
Just take me through that battle you had with Zachh.
Yeah. Well, the battle was pretty good. I had a little bit of a gap and then I ran off the track once. I feel like he just stayed on me all the time. There was nothing I could do about it. I'd just be going a little backwards. Last lap I knew he was close but actually got a lapper in-between us. Made the pass and I went off the track. He was just better. I actually tried to come back but almost went down, so luckily I stayed on the bike and finished in third. – Jason Weigandt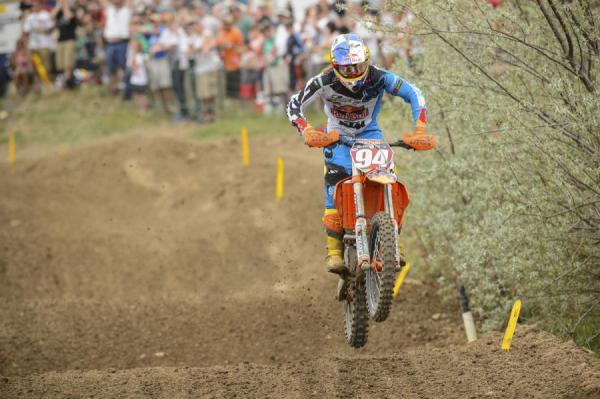 "But seriously I'm not going to take this race in a bad way, because there's no need to dig a hole in it." - Ken Roczen
Simon Cudby photo
Justin Barcia, Honda Muscle Milk, 3-4 for 3rd overall in 450 Class
You scored a podium, is that good?
Podium's good. Learned a lot of stuff today; experience. Just riding with both Ryans and Stewart and just learning. It's good. Those guys rip. So, learning lines, learning speed. It's a new animal.
When those guys are pushing you and you're watching them and seeing what they're doing, does that almost help you test—because you're pushing to new levels?
Yeah. I test myself a little. I test my bike a little going faster. You have your comfort zone and I was kind of riding in my comfort zone today, and then you got to try to keep breaking out of that. Riding with those guys helps a lot to get out of that comfort zone and push it harder.
But you've done well this year. You haven't had major yard sale, "Oh, Barcia's out of control…" You've been pretty consistent.
Supercross I had a few little crashes, but not too bad. Broke my nose; that sucked. It's been pretty good so far. Fairly lucky I guess you could say. I feel comfortable on the bike though and just try to go fast.
The first moto you were in the battle the whole time. Are you tired wrestling a 450, racing that pace? Is that something to adjust to?
It's something to adjust to for sure but it's not much different than a 250. It works you a little harder for sure. But my body feels good. I work hard, so when I come to the races it should be easy, but it's never easy.
How different is it from two years ago when you were riding a 450?
The bike's totally different, for sure. When I came in and did that, I was so careless and didn't care what happened so I just went wide open and didn't care if I yard-saled. I'm a little smarter now and trying to learn stuff. – Jason Weigandt
Blake Baggett, Monster Energy Kawasaki, 9-5 for 5th overall in 250 Class
Awesome day?
Worst day in the office.
There's been worse, though.
I don't know; this is pretty bad, dude. Did you watch?
Actually in the first moto I can honestly say I have no clue what happened. So tell me what happened.
Crashed, went off the track, went off the track again, went off the track for a third time… Two on the same jump! It wasn't the day I needed or the day I wanted. But it's motocross racing and I've got to just go back and do our homework and maybe change a few things up, come out swinging.
It's just one of those days? Or was there a specific problem, like, "Oh, man, I was so sore from last week" or something?
It just was an off-day. Everything wasn't clicking today. The wrist wasn't any worse than last weekend.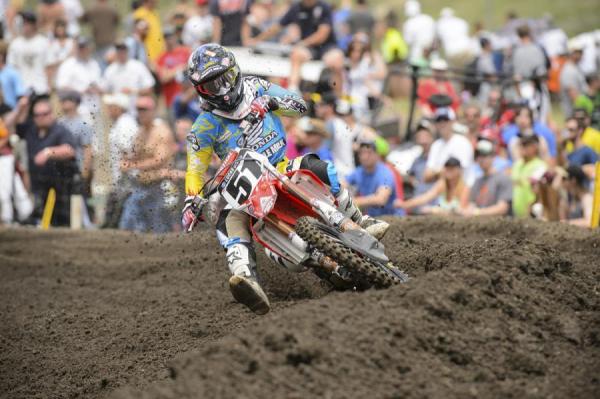 "When I came in and did that, I was so careless and didn't care what happened so I just went wide open and didn't care if I yard-saled. I'm a little smarter now and trying to learn stuff." - Justin Barcia
Simon Cudby photo
Zach Osborne, GEICO Honda, 6-2 for 3rd overall in 250 Class
How's it feel being up here?
It feels great. I had a strong day today. I was actually in second in the first moto, kind of threw it away. I made it a little bit of a challenge. But my second moto was really good and Ken and Eli were really good today. I'm just happy to be up here.
You came through that Lucas Oil arch and that big jump, and you just kind of went of the side a little bit. Tomac was on the outside of you, which became the inside, and you slid off the track.
Yeah, it could have been a huge crash. Probably shouldn't have been. But I managed to save it and not get too far behind and come back to sixth. So it was a good day.
Good season. You've made some steps forward here. What's different now?
Experience. Five years in Europe will change you, for sure. I've been to the bottom and now I'm clawing my way back to the top slowly but surely. I know that I can do it. Today just proves that I have what it takes.
How much experience do you have on these tracks? Have you ever even raced here before?
I raced at Des Nations here in 2010 but other than that, that's all.
For the whole season and the whole series, you spent so much time in Europe have you raced the circuit that much?
I've never done a full season. I've never raced at Washougal. I've never raced Elsinore, obviously, and a few other tracks that I haven't raced at but I've been to. So, I'm kind of a rookie! I loved this track. I liked it from the start. When we came here I had a good feeling for the weekend. I was a little concerned about the altitude but we came a few days early and we were able to get it figured out pretty quickly.
Just take us through that second moto. It was a good battle with you and Kenny. And Marvin was actually close at the end.
Yeah, Marvin was coming and I was getting a little nervous there at one point because we had a pretty good gap, and then in two laps we saw him and he was getting close. But it was close to Kenny so I knew that if I was going to make a pass I needed to do it soon. I knew that I had to get second to be on the overall podium. I had seen that line when I passed him a few times before, but I could never get close enough. Then we came to some lappers and I was just going to make it happen.
So it's a little different.
And then the first lap of the first moto I crashed off. I jumped off the side of the track like Cooper Webb just did, and like Zach did in the first moto. That jump just set you up to go over there. I don't know why. So I got up, I don't know where, way back. I didn't ride very good. But I did pass, like, four people on the last lap. I don't know what happened on the last lap. Second moto was better. I started better and the first turn, I lost a few spots. But my first lap I lost probably three spots. I thought I had some really good lines picked out and they turned out to be not so good. But once I found the good lines I passed a couple more people back up and was, like, 14th. But when you start there it's like… Our class, you're not going to pass too many people, especially at this track. It's tough. Steve Matthes
Mike Alessi, MotoConcepts SmarTop Racing, 6-6 for 5th overall in 450 Class
It was a good rebound for me, went 6-6 for fifth overall. We charged hard. Didn't get the greatest of starts today.
What's up with the starts, bro? What is going on?
Honestly, I'm trying to figure it out myself. I'm just not on par I guess on my starts, but we'll get it figured out here real soon. Fifth in the first moto on the start and ended up sixth. And second moto I started second and I just wasn't feeling it those first couple laps. The pace was a little too over…it was a little fast for me and I couldn't really stick with those guys. But I was riding good. Late in the moto I was catching up to Desalle, and ended up getting by him and that got me fifth overall for the day. So, felt good. My bike was working exceptionally well, much better than last weekend. Last weekend it was a little bouncy. We got some things to figure out this week, little bit of testing. Just keep improving. I'm looking forward to next week at Muddy Creek. Just try to get another top 5, maybe a podium here soon.
Kevin Strijbos, Rockstar Suzuki, 10-8 for 9th overall in 450 Class
Welcome to America. Let's look the first moto first. Really bad that you fell because you had a great ride to come back to tenth.
Yeah, it was too bad that I crashed. It surprised me a little bit with the soil on top there because it was kind of loose. I think I got a good start but I just tucked the front end in and lost it. After that I got a good drive. I pushed really hard to get to 10th. In the end I was really tired, because also with the altitude.
I saw your tweet. You said, "I'm really tired" after the first moto.
Yeah. And on the second race I couldn't push that hard in the beginning because I felt I was tired and I was thinking, it's going to be a long race. So I slowed down a little bit just to stretch the whole race so I could keep my pace. Eighth was the best. But I think the first time here, I'm just really happy with how things went. -- Steve Matthes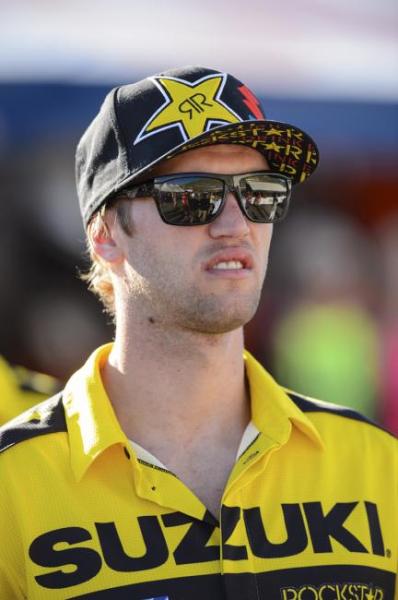 "I pushed really hard to get to 10th. In the end I was really tired, because also with the altitude." - Kevin Strijbos
Simon Cudby photo
Cole Seely, Lucas Oil Troy Lee Honda, 10-14 for 14th overall in 250 Class
I screwed up last week. I want to offer my apologies. I thought you just went 14-14 by just normally sucking but apparently you did so well coming from behind that you got the RC charger award. My apologies.
It's all good. I kind of lived up to your word and sucked the second moto this week. So I guess that kind of worked out.
Let's talk about the first moto. I thought it was very good for you.
Yeah. I felt like I rode really good in the first moto. Had a little mishap on the first lap; I went off the track, but recovered pretty quickly. And then just kind of put my head down and charged. I was very happy with the first moto. Not really too used to these back-to-back races with the hour in-between.
It wasn't much time.
No, it wasn't any time at all. I was going to the line, I was like, 'damn, I'm still tired!' I hadn't recovered yet. I didn't do it last year. Last year I didn't race. I did my best to recover, did my best to relax, and then got out there for the second moto and just struggled. Then I tried to recover, tried to recover, and I made a big mistake, almost went down. That was pretty much it for me. I kind of just held on for dear life after that. – Steve Matthes
Ryan Sipes, Rockstar Energy Racing, 19-13 for 16th overall in 450 Class
Last week you were great; had a good ride. This week looked like you never really got off the gate too well and buried for the most part.
You can be honest with me, Steve. You can just say, "This weekend you weren't good."
Well, I don't know if you weren't good because you were just so buried. I never even saw you until you were in the 20s or something. I don't know what happened.
The first moto I had a really bad start, which those are totally on me. Last weekend my reaction was late. This weekend I was really psyched up, "I got to be quick," and then I just wheelied. Double-edged sword.
Well, you're starting in first, right?
Yeah, [we are] here. – Steve Matthes