Sam Boyd Stadium
Las Vegas

,

NV
Race Center: Las Vegas
Monster Energy AMA Supercross Championship
Pressure affects everyone differently. Some, like Grant Langston, claim it helps them focus and lock in on the job at hand. Others seem to be unable to block it out of their psyche and it adversely influences their performance. Most of the elite riders in this sport have been in high-pressure situations at some point in their career and this Saturday night was another showcase of that. Ken Roczen and Wil Hahn both had the weight of the world on their shoulders entering the finale this weekend. Both held a five-point advantage and neither had won a Regional Supercross title before, so it was anyone's guess how they would respond to the situation. Neither rider needed to win the race but if they did allow their competitors (Eli Tomac and Marvin Musquin) to beat them, it opened the door to a mathematical nightmare depending on their result. The easiest way to lose the title was to simply come in third place if Eli or Marvin won. It wasn't a stretch to see that happening, and it almost came to fruition.
Both of the points leaders rode very well. I do, however, feel that they didn't ride 100 percent to their capability. The constant fear of crashing or making a big mistake can have a subconscious effect on riders. While they feel they are riding to the maximum intensity, they tend to just be missing that little extra bit of flare. To truly ride to the best of one's ability, all "what if's" must be put aside and the riding has to be done with reckless abandon. With the points lead and immeasurable pressure applied, it is pretty hard to ride that way. You usually see rides like that when the pressure is lifted, much like what we witnessed from Ryan Villopoto on Saturday. It is just a different mindset. The willingness to push the envelope is higher and the worry is reduced. Going fast is the only concern.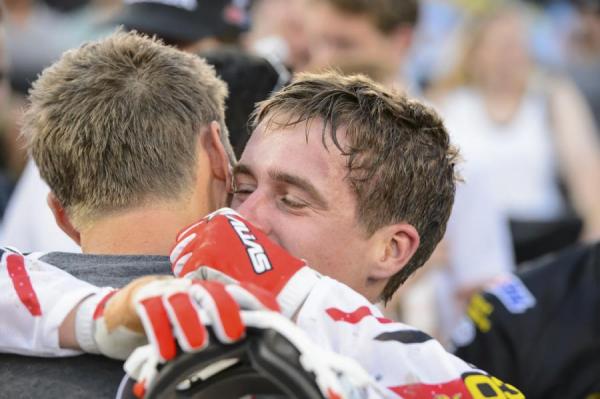 Hahn was able to withstand the pressure and secure his first title in Vegas.
Simon Cudby photo
But riders aren't doing math equations in their head while also trying to blitz supercross whoops. While the two points leaders rode more conservatively than normal, the two trailing riders rode like men possessed. Both Tomac and Musquin put in two of their best rides of the season, albeit in a losing effort. They both were turning incredible lap times all the way to the checkered flag and left every single ounce of themselves on the race track. I don't think it was a knock on the new champions, rather just the nature of the game.
In the end, the two with the advantage going in wound up with championships. While Hahn opted out of the Dave Coombs East/West Shootout with a hand injury, Roczen showed what he is capable of sans pressure. He rode loose, relaxed and on point. There was none of the early hesitation we saw in the West Coast main event an hour prior. He rode decisively and went for the lead without worry of mistake. To me, it was easy to see the difference in his intensity and style. While I don't think this is an avoidable scenario, it was just interesting to see how much it affected Kenny and his riding.
Pressure is an invisible yet very tangible aspect of championship battles. I have had small tastes of it through my career, nothing like the stage of Saturday night, but enough to know the tax it puts on the body and mind. In the 2009-10 German SX series, I had a three-point lead going into the final weekend. The main problem was that there was a three-week break in between rounds. Those three weeks were the longest of my life. Every negative thought, every possible scenario, and the years I had spent chasing that championship all weighed heavily on my mind. I can remember Chad Reed laughing at me as I stressed daily at his practice compound. Stress is a nasty bit of business and literally made me sick to my stomach on more than one occasion. While I understand my situation was nothing compared to what those guys must have been feeling last weekend, I can certainly empathize with them. Keeping all of that in mind, I was really intrigued to watch those races play out. The stress pre-race and then the overwhelming joy after winning the title had to be a roller coaster of emotion that most people won't ever get to experience. I feel lucky to have simply been a witness.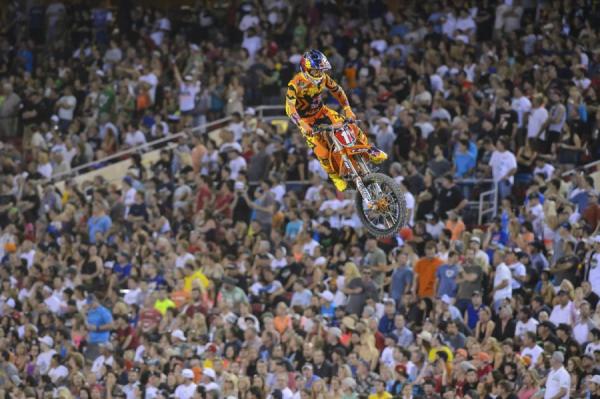 According to Jason Thomas, Ken Roczen rode much more relaxed during the East/West Shootout after having already secured the title.
Simon Cudby photo
It should be noted that last weekend offered one of the more unique aspects of the year. With the track actually leaving the stadium and heading into the parking lot, speeds are much higher than any other time all season. It adds an outdoor motocross aspect to the race and can actually make riders consider changing their setup just for that section. I enjoyed being able to open the big 450 up out there, although it was easily the most painful section of the season. Coming back into the stadium, riders got absolutely blasted by the desert rocks. It is the only race all season that many riders will have to wear any sort of chest protection. If you were unfortunate enough to get a poor start, there was immediate punishment for it in the form of hardened earth. It is very easy to pick out racers at the pool on Sunday, just look for the guys that seem to have the Measles. I often joked that I was going to fill a leaf blower full of rocks and chase down a few track builders for payback. Overall, it is a cool section but could I recommend sand or maybe a foam section? In all seriousness, going outside the stadium and adding variety is a great thing but most people don't realize the beat down the riders take because of it.