Agueda was the site of more numbers. A sixth win for Mr. 100% Jeffrey Herlings on the factory Red Bull KTM, achieved with two holeshots and lapping up to tenth and eighth positions, no less, in both MX2 motos, and a second MX1 GP win for Kawasaki Racing's Gautier Paulin. You could also give marks to World Champion Tony Cairoli and Rockstar Suzuki's Clement Desalle for their aerial prowess, as huge crashes for each in either moto were shockingly dramatic.
The track had a lot to play in the incidents. The orangey-crimson dirt of Agueda is traditionally rough thanks to a bout of rain—either in the lead-up to the Grand Prix (a staple part of the calendar for over thirteen years) or during the weekend itself. No such moisture this time but the bumps were no less relentless and, as usual, forced punishment for mistakes or dealt a heavy hand of ill fortune. Cairoli, Paulin and Desalle were the breakaway trio in MX1 and this was evident even from the practice sessions. Decent getaways for all three set-up two motos of tension and strategy for some of the cagiest – and you might say best – action this season.
There were line choices around Agueda but the lumps guided most towards one fast path; getting close to somebody was a lot easier than dragging alongside and making a pass without risk. Desalle and Cairoli had already clashed on Saturday when the Belgian and Sicilian collided in the heat race and the world champion was the one who tumbled. Cairoli was spotted giving Desalle something of a dressing-down in the period of gate prep before the first moto; they were mainly out of ear-shot but that revealing language of hand gestures indicated that '222' was telling the Suzuki man that he wouldn't tolerate any more mishaps. When asked later on what he had said to his rival Cairoli dryly commented that he had invited Desalle to his post-season party in September.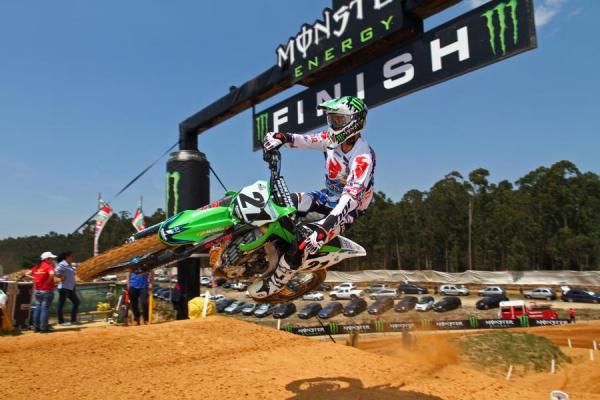 Paulin has won back-to-back GPs.
Courtesy Monster Energy
Maybe the little chat had an affect as Desalle was a frustrated observer in that first sprint and confessed afterwards that he was unable to get comfortable or find a flow, running only two-three seconds behind Paulin and Cairoli but also with little chance of interrupting the engaging duel. Where Cairoli would snipe at the Kawasaki rear wheel Paulin would squirt the power of the factory 450 and just keep ahead; one little fault from the Bulgarian GP winner would have given the KTM "freedom of the circuit" and this was where Paulin was brilliant and unwavering. His weakest moment was on the last lap when Cairoli was building up momentum for a powerful attack but it was then that the champion took a different line and hit a rock, flipping into the air and rolling down a hill. Desalle moved through and Cairoli had over twenty seconds from Max Nagl to pick up the dislodged front brake in his left hand and make the finish line in third.
Cairoli was bemused more than anything by the development and his body language indicated he was relieved to escape and walk back to the paddock. The crash would ultimately rob him of the overall as the 350SX-F rider followed Paulin's example in the second moto. He was just that little bit classier to stay catchable but adrift of the battle for second with Desalle again verging on the desperate to get anywhere near a fourth consecutive win at Agueda. "I was stuck behind Paulin and found it really difficult to pass," he explained on entering the penultimate lap. "I couldn't find a way, and Cairoli was just ahead. In the last two laps I said to myself 'it is now or never'. I did a good lap-time and got really close to Paulin. I just went into that tabletop jump a bit faster than previous laps and the bumps kicked me over the top. I can't remember if the bike hit me or not but now I have pain everywhere." The fall was one of those moments that will gain good traction on YouTube this week. Indeed watch it here as words won't be able to do justice the vicious impact Desalle found with the ground. And then the rear wheel found with his neck. Amazingly he picked up the bike and still crossed the line in fifth for a fourth podium in 2013.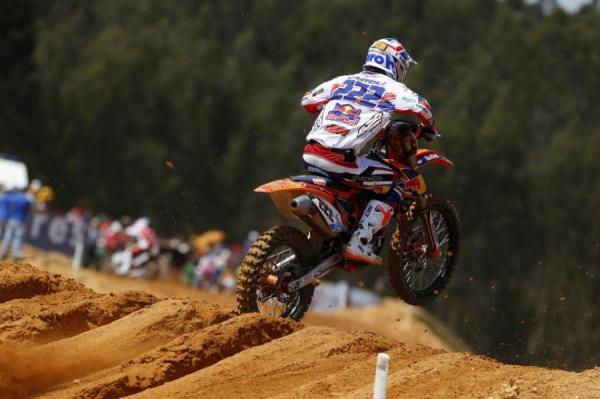 A big crash in the first moto derailed Cairoli's chances at the overall.
Ray Archer photo
Outside of the rostrum dispute Ken de Dycker was a force of nature by recovering from a first moto second corner crash and last position to seventh, and then taking third in the second race by just half a second from an impressive Tommy Searle. The Brit riding with a broken middle finger after an errant rock caused the fracture in the first outing. Jeremy van Horebeek looked set for another top five result after good starts and promising early speed on the same motorcycle as Paulin but the Belgian MX1 rookie's lack of full race fitness was evident as he dropped back later on. Nagl was more aggressive on the factory Honda while Kevin Strijbos had a miserable time on the other works Suzuki and was mired in arm-pump hell.
In MX2 Jeffrey Herlings' understated dream of making a perfect season is getting ever so closer to the realms of reality. The Dutchman is too good, even for possibly MX1, as his best lap-time on Saturday was two seconds quicker than anyone else at Agueda (and, contrasting to Bulgaria two weeks beforehand, the place was bulging with some 130 riders in the two European 125 and 250 categories). He ended both races before the end of the first laps and if this type of dominance continues then he will start to be a ghost of MX2… something seen in the gate and then again at the podium ceremony. At least until he ties up his championship defence and can then start to consider other options; MX1, two-strokes etc, a National?
Behind '84' a gaggle of riders showed how competitive the category could be. At one stage there were eight riders in with a chance of second place in the first moto. Only after Dean Ferris slipped off the Monster Energy Yamaha and Jake Nicholls blasted his Nestaan JM KTM into the side of Jordi Tixier's factory KTM, causing the latter to crash, was the runner-up spot vaguely confirmed in Nicholls' favour. The Brit would vent his anger in the second moto when a technical problem on his bike would see him drop back to 18th and out of podium contention. Spaniard Jose Butron—on another KTM—hovered around the top five and cheered on by copious amounts of countrymen who had crossed the border to witness his third trophy of 2013 would be forthcoming with Ferris in a deserved third place after holding off Tixier for second in Moto2.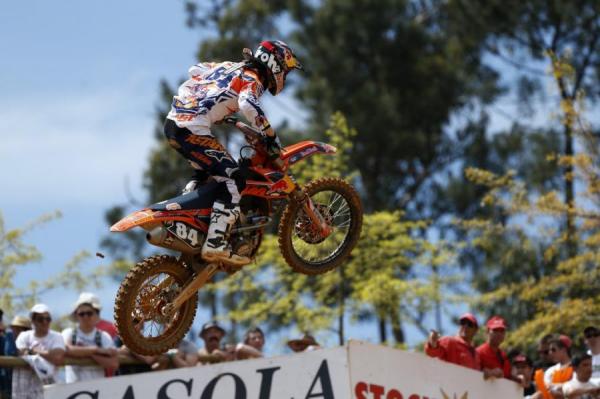 Herlings continued his march toward perfection.
Ray Archer photo
Jimmy Decotis was annoyed again in his search for Grand Prix points and to gain something of a foothold in the series to show some potential. An early first moto crash saw his bike wedged under a banner and he pulled out, far adrift of the rest of the pack. The second race saw him grow in stature a little but 21st place still brought a grimace to his face in the paddock afterwards: "Today was a tough one again. Overall I am not where I need to be. I'm just struggling with the way the tracks are and getting used to everything is hard for me. I need to adapt a bit more to the way they water these places and keep learning, that's all I can do."
Decotis will get another chance in the sole remaining flyaway of the season in two weeks with the popular trip to Brazil (Beto Carrero) representing round seven and the only other Grand Prix this month after the late cancellation of the trip to Mexico.
MX1 Moto1
1. Gautier Paulin (FRA, Kawasaki), 39:41.179;
2. Clement Desalle (BEL, Suzuki), +0:20.053;
3. Antonio Cairoli (ITA, KTM), +0:36.700;
4. Maximilian Nagl (GER, Honda), +0:41.427;
5. Jeremy van Horebeek (BEL, Kawasaki), +0:44.140;
6. Tommy Searle (GBR, Kawasaki), +0:46.236;
7. Ken de Dycker (BEL, KTM), +1:19.715;
8. David Philippaerts (ITA, Honda), +1:23.112;
9. Rui Goncalves (POR, KTM), +1:28.350;
10. Kevin Strijbos (BEL, Suzuki), +1:30.680;
MX1 Moto2
1. Antonio Cairoli (ITA, KTM), 39:56.650;
2. Gautier Paulin (FRA, Kawasaki), +0:03.804;
3. Ken de Dycker (BEL, KTM), +0:08.306;
4. Tommy Searle (GBR, Kawasaki), +0:08.912;
5. Clement Desalle (BEL, Suzuki), +0:21.757;
6. Jeremy van Horebeek (BEL, Kawasaki), +0:23.805;
7. Maximilian Nagl (GER, Honda), +0:28.000;
8. David Philippaerts (ITA, Honda), +0:33.464;
9. Kevin Strijbos (BEL, Suzuki), +0:39.969;
10. Shaun Simpson (GBR, TM), +0:51.773;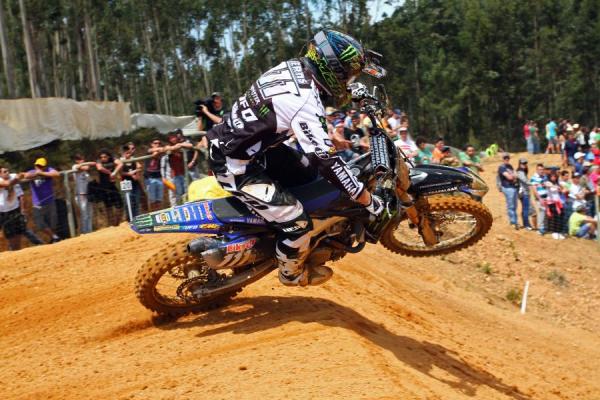 Dean Ferris would finish runner-up to Herlings.
Courtesy Monster Energy
MX1 Overall
1. Gautier Paulin (FRA, Kawasaki), 47 points;
2. Antonio Cairoli (ITA, KTM), 45 p.;
3. Clement Desalle (BEL, Suzuki), 38 p.;
4. Ken de Dycker (BEL, KTM), 34 p.;
5. Tommy Searle (GBR, Kawasaki), 33 p.;
6. Maximilian Nagl (GER, Honda), 32 p.;
7. Jeremy van Horebeek (BEL, Kawasaki), 31 p.;
8. David Philippaerts (ITA, Honda), 26 p.;
9. Kevin Strijbos (BEL, Suzuki), 23 p.;
10. Rui Goncalves (POR, KTM), 22 p.;
MX1 World Championship standings after 6 of 17 rounds
1. Antonio Cairoli (ITA, KTM), 280 points;
2. Gautier Paulin (FRA, Kawasaki), 242 p.;
3. Clement Desalle (BEL, Suzuki), 227 p.;
4. Ken de Dycker (BEL, KTM), 217 p.;
5. Kevin Strijbos (BEL, Suzuki), 183 p.;
6. Tommy Searle (GBR, Kawasaki), 180 p.;
7. Maximilian Nagl (GER, Honda), 132 p.;
8. Rui Goncalves (POR, KTM), 131 p.;
9. David Philippaerts (ITA, Honda), 112 p.;
10. Jeremy van Horebeek (BEL, Kawasaki), 109 p.;
MX2 Moto1
1. Jeffrey Herlings (NED, KTM), 39:53.240;
2. Jake Nicholls (GBR, KTM), +1:18.848;
3. Jose Butron (ESP, KTM), +1:21.605;
4. Christophe Charlier (FRA, Yamaha), +1:27.979;
5. Dylan Ferrandis (FRA, Kawasaki), +1:30.999;
6. Dean Ferris (AUS, Yamaha), +1:35.904;
7. Jordi Tixier (FRA, KTM), +1:37.301;
8. Mel Pocock (GBR, Yamaha), +1:40.715;
9. Max Anstie (GBR, Suzuki), +1:50.274;
10. Petar Petrov (BUL, Yamaha), -1 lap(s);
MX2 Moto2
1. Jeffrey Herlings (NED, KTM), 40:30.592;
2. Dean Ferris (AUS, Yamaha), +1:08.304;
3. Jordi Tixier (FRA, KTM), +1:10.100;
4. Glenn Coldenhoff (NED, KTM), +1:13.897;
5. Christophe Charlier (FRA, Yamaha), +1:20.092;
6. Jose Butron (ESP, KTM), +1:27.409;
7. Alessandro Lupino (ITA, Kawasaki), +1:32.973;
8. Alexander Tonkov (RUS, Honda), -1 lap(s);
9. Mel Pocock (GBR, Yamaha), -1 lap(s);
10. Elliott Banks-Browne (GBR, KTM), -1 lap(s);
11. Max Anstie (GBR, Suzuki), -1 lap(s);
MX2 Overall
1. Jeffrey Herlings (NED, KTM), 50 points;
2. Dean Ferris (AUS, Yamaha), 37 p.;
3. Jose Butron (ESP, KTM), 35 p.;
4. Jordi Tixier (FRA, KTM), 34 p.;
5. Christophe Charlier (FRA, Yamaha), 34 p.;
6. Glenn Coldenhoff (NED, KTM), 26 p.;
7. Mel Pocock (GBR, Yamaha), 25 p.;
8. Jake Nicholls (GBR, KTM), 25 p.;
9. Alexander Tonkov (RUS, Honda), 22 p.;
10. Max Anstie (GBR, Suzuki), 22 p.;
MX2 World Championship standings after 6 of 17 rounds
1. Jeffrey Herlings (NED, KTM), 300 points;
2. Jordi Tixier (FRA, KTM), 219 p.;
3. Glenn Coldenhoff (NED, KTM), 183 p.;
4. Jose Butron (ESP, KTM), 178 p.;
5. Christophe Charlier (FRA, Yamaha), 171 p.;
6. Dean Ferris (AUS, Yamaha), 152 p.;
7. Max Anstie (GBR, Suzuki), 150 p.;
8. Jake Nicholls (GBR, KTM), 129 p.;
9. Alessandro Lupino (ITA, Kawasaki), 123 p.;
10. Mel Pocock (GBR, Yamaha), 112 p.;