Rice-eccles Stadium
Salt Lake City

,

UT
Race Center: Salt Lake City
Monster Energy AMA Supercross Championship
Welcome to Racerhead, coming to you from a very busy week in American motocross. Not only is the Monster Energy Supercross Championship in its final fortnight of 2013—we could possibly see two champions crowned tomorrow night in Salt Lake—but the Lucas Oil Pro Motocross Championship, sanctioned by AMA Pro Racing, is sneaking up fast.
Down in Tennessee this week, Mark Barnett and his crew have been humming along with a battery of dump trucks and bulldozers and other heavy equipment as they make over Sam Gammon's Muddy Creek Raceway before its first outdoor national, come June 1. The Muddy Creek track already has a fantastic layout, but it was a little shorter and a little narrow in spots for what the pros need, so Barnett is on the case. And from the photos below, you'll see that they mean business!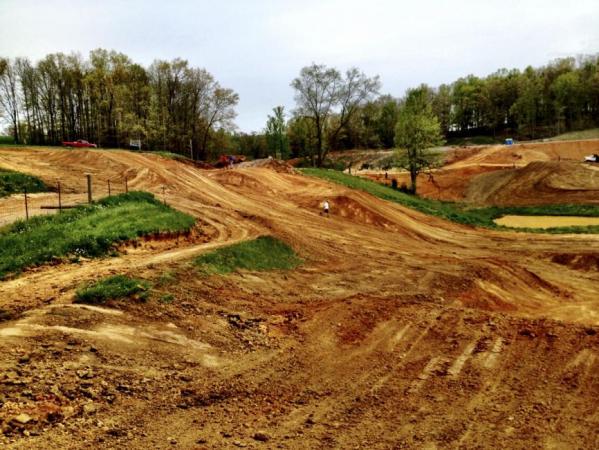 Muddy Creek is getting the full makeover by Mark Barnett.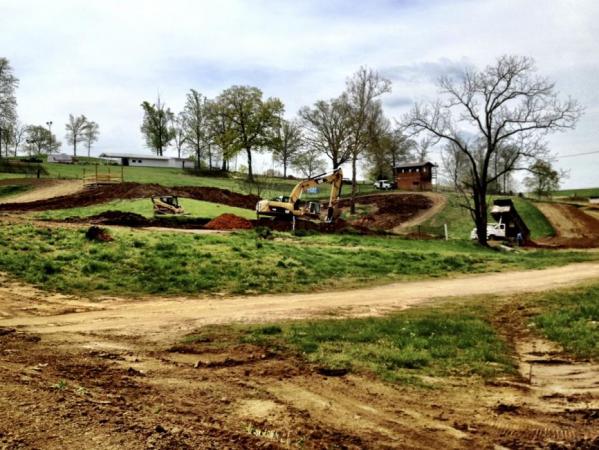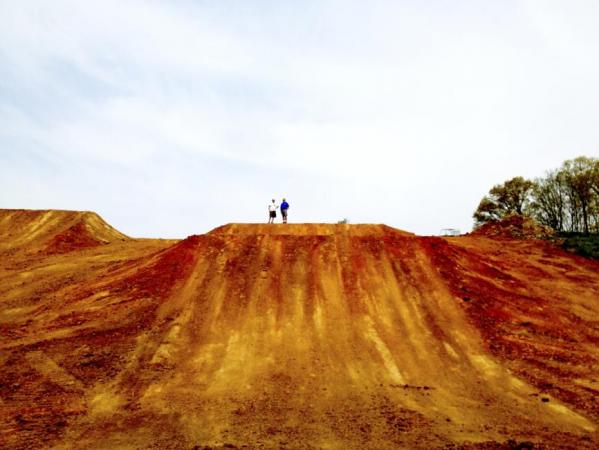 The Bomber built this launching pad at Muddy Creek!
The Salt Lake SX is like the Washougal National of supercross—it has the absolute best scenery of any track on the schedule. The mountains here in Utah are absolutely shining with sun and snow, and hopefully it will be a great night tomorrow as Ryan Villopoto tries to secure that rare threepeat and Ken Roczen tries to become the first German since Adolf Weil to win a title in America. (Coincidentally, Weil won his Trans-AMA title in 1973, forty years ago!)
Also, Salt Lake City is the home to that other new outdoor national track, Miller Motorsports Park. Last night we drove out to see what Marc Peters had done with what was a very flat and dry piece on infield land, surrounded by state-of-the-art auto racing facilities. Well, I am very happy (but not surprised) to report that Peters once again did an epic job of building up a spectacular motocross track. Chad Reed and local prospect Landen Powell rolled out on their bikes last night at the invite of the Miller folks to be the first man on the track, and he told me, "This is my kind of racetrack!" Of course he was probably discussing all the amenities out there, like the numerous car tracks he will no doubt be racing on one day, as well as the paved pits, playgrounds, zip-lining, and all the other stuff he can do with his wife and little boy Tate when they come back for the national in August.
They are also having an open house out there today for any pro riders who want to stop by and check out the layout, which is almost complete, sans the actual topsoil that will be trucked in this summer to turn the track from dry lake bed soil to something rough and loamy.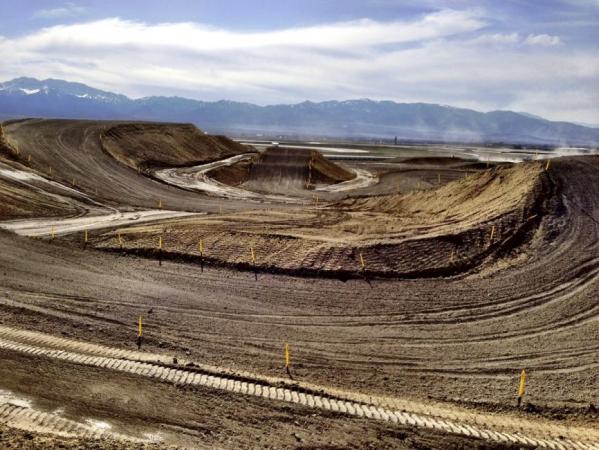 An early look at Miller Motorsport Park.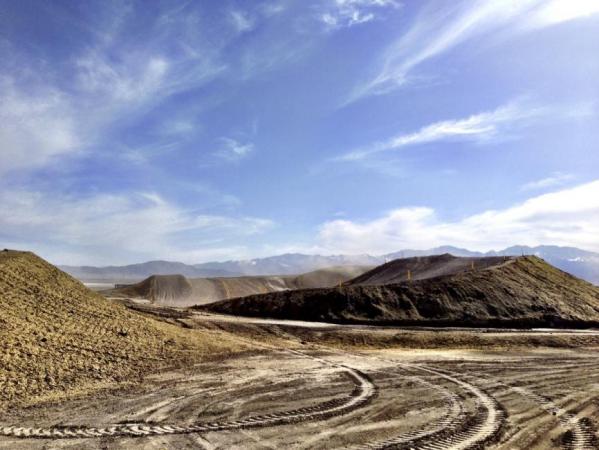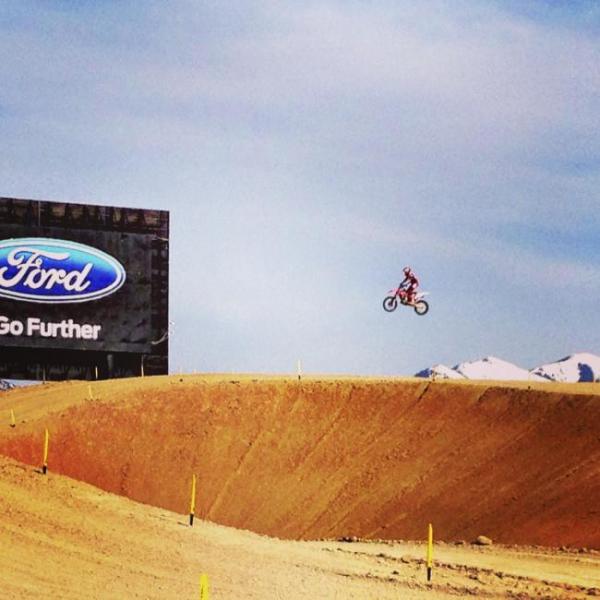 That's Chad Reed getting some time in on the new track.
DC photos
Our countdown of the 30 Greatest AMA Motocrossers of all time, presented by Monster Energy, is really starting to heat up. We've reached #23 on the countdown, which you can read here, and with each passing day the debates and difference of opinion only grows stronger. These have been fun to put together, and it's nice to be able to recount some of the greatest riders in our sport as we near the 2013 Lucas Oil Pro Motocross opener at Hangtown May 18. Hopefully you have enjoyed it so far, we certainly have.
Finally, my longtime friend Ken Block has opened the doors on his new Monster World Rally Team HQ, which is right below his home in Park City, just above SLC, and I have to say it's the absolute coolest racing garage I have ever been inside. We will lay some pictures in here as we go.
Okay, let's get into the week's stuff....
HOW TO WATCH (Chase Stallo)
Monster Energy Supercross embarks to Salt Lake City, Utah, for round 16 of 17. Live coverage of both 450SX and 250SX returns this week on Speed beginning at 9:30 p.m. Eastern. Streaming coverage of qualifying can be seen on Supercrossonline.com starting at 4:00 p.m. Eastern. Be sure to follow Racer X on Twitter and Instagram (@racerxonline) for coverage from the pits, as well as play-by-play of the nights action. Also, be sure to check out RacerXonline.com for breaking news, practice and race reports, as well as a practice gallery.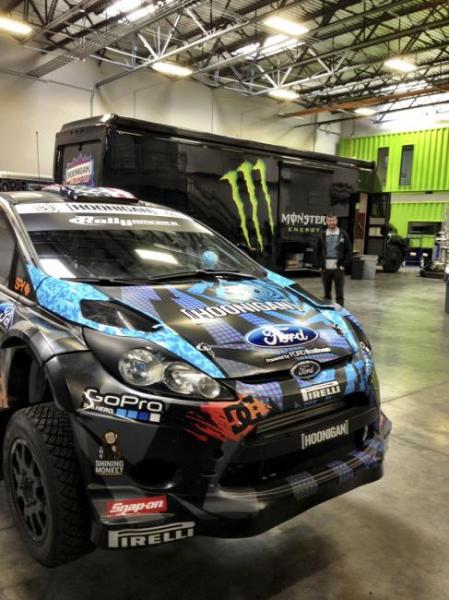 A sneak peak at Ken Block's new garage.
DC photo
THE NUMBER – 25 (Aaron Hansel)
With just two races left in Monster Energy Supercross, only three riders remain in the title hunt, although with a 25-point lead over Davi Millsaps (and 26 over Ryan Dungey), another 450SX title is looking pretty good for Ryan Villopoto. In fact, no matter where he finishes, he'll clinch the title a round early this weekend in Salt Lake City as long as he finishes ahead of Millsaps and Dungey, handing him his third consecutive premier class championship.
That's pretty amazing, especially when you consider the fact that only three other riders in history have been able to do it before him. The last time it happened was Ricky Carmichael in '01-'03. Jeremy McGrath did it just before that in '98-'00, as well as '93-'96, making him the only man to ever repeat the elusive threepeat. Bob Hannah is the other rider, winning in '77-'79. That's a pretty exclusive club that RV will be joining if he clinches it tomorrow night!
Speaking of clinching early, Ken Roczen also has an outside chance of securing a supercross championship this weekend. With a 20-point lead, he'd need to win and have Tomac finish in fourth or worse. Interestingly enough, Tomac was on the opposite side of this very situation last year in SLC. Dean Wilson, who was dealing with a hurt shoulder from slamming into the dirt after getting together with Tomac the week before, had a bad race in SLC, handing Tomac the title a week early. Now, if Tomac has a bad race in SLC, he'll be giving up the title. What a difference a year makes!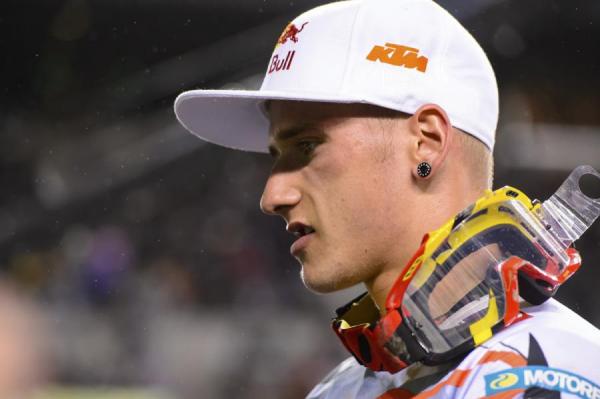 Can Roczen lock up his first title in America this weekend?
Simon Cudby photo
250 NEWS AND NOTES (Steve Matthes)
In past years, this 250SX West Series would pretty much be wrapped up by now. Red Bull KTM's Roczen's got that 20-point lead on GEICO Honda's Eli Tomac with just this one race left, as Las Vegas was for years an East-West shootout. But starting last year the last race in Vegas has the shootout and the finales for both the East and the West, which definitely adds a wild card factor to the series.
There's not much to separate the two riders, really. Tomac's won four races to Roczen's three, and Roczen's made the podium every race. It's that one really, really bad race in Oakland where Tomac cartwheeled in the whoops and DNF'd that is making the difference in this series. So it does look good for Roczen but Vegas has the main events where the heats usually go and with a slick track and a lot of time to think about the race, anything can happen there. But Tomac's got to get a win this weekend in Salt Lake City to make up some sort of points on Kenny.
As far as the other guys, we've definitely expected more from TLD Honda's Cole Seely, who was the breakout guy last year and currently sits third in the points but hasn't had much for the top two guys. We had Cole on the PulpMX Show this past Monday and he explained that he, too, thought the series would go better for him, but his injury suffered last year (at Salt Lake City SX) knocked him for so long that it took a little time to get going this season. Seely also announced this week that he'd re-signed for 2014 with the TLD guys for 250SX and 450MX. Rockstar Racing's Jason Anderson is just coming on this season, and expect him to be a more consistent podium guy in 2014. And everyone else on the west? Thanks for coming out, see ya next year.
In some more motocross news, it looks like Tomac's going to be on the 250 this summer. There had been plenty of speculation that Eli was going to ride 450s in the Lucas Oil Motocross Championship, but looks like (and rightly so in my opinion) Tomac will spend one more year in the 250MX class, where he, along with Roczen, defending champion Blake Baggett, and Marvin Musquin, will be the favorites.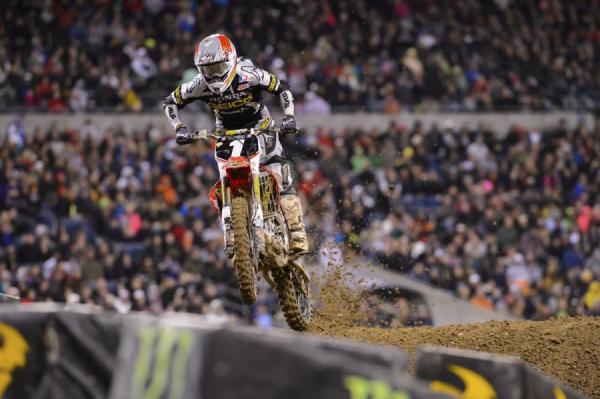 It looks like Tomac will stay on the 250 for the summer.
Simon Cudby photo
Amateur superstar Adam Cianciarulo has been out in California all week testing and riding with the Pro Circuit crew. This is a big week for AC292 in regards to whether he lines up for the Nationals. As Mitch Payton told me in Seattle, they'll work with the kid all week, take every single lap time they can, and he, Kawasaki, and Alan Cianciarulo will come to a decision on whether Adam goes to Hangtown or goes to the ranch this summer.
I know the Cianciarulos and trainer Aldon Baker feel like he's ready for the pro ranks, while Payton and Kawasaki would probably like to see him ride amateurs this summer and then turn pro. Pro Circuit's got a six-man 250 and 450 team going on right now, and everyone wants to do the right thing with Adam. But if his lap times are good, I think he'll line up in three weeks. Stay tuned, and when we know, you'll know.
PRO PERSPECTIVE – LATE SEASON STRATEGY (Ping and Jason Thomas)
PING: We are down to the last two SX rounds of the year, and for some guys that means it's time to strategize. Lay it all on the line for a good finish at these last two rounds or lay up a bit and start focusing on Hangtown? For Wil Hahn, Marvin Musquin, Ken Roczen, and to some extent Eli Tomac, there is no holding back right now. Championships are on the line and these guys are focused on sealing the deal and leaving Vegas with a #1 plate. There are some others who also fit in this category: Tyler Bowers, Austin Politelli, and Vince Friese come to mind. These guys are trying their best to impress before supercross comes to a close. All of them are questionable for summer jobs, and a good finish at the final rounds will keep them at the forefront of managers' minds when it comes time to sign riders.
For those who excel outdoors or just haven't had a good run in the stadiums this year, Hangtown provides a fresh start and a chance to turn things around in 2013. Those guys are probably spending more time grinding long motos outdoors than doing sprint laps at the supercross track. For some, like Mike Alessi, you just call it a year and park your race bike until the motocross opener. He has very little to gain by racing the last couple, and he limits his chances of getting hurt prior to Sacramento, where he is expected to shine. Don't ever say the Alessis don't have a plan.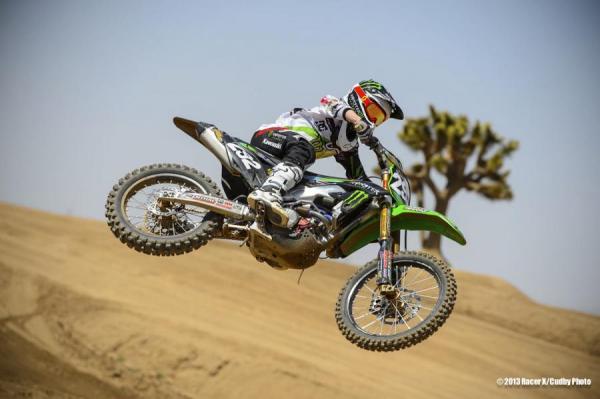 Cianciarulo has been testing all week in California.
Simon Cudby photo
THOMAS: The last two SX rounds of the series present huge opportunity for some riders while for other they are seemingly a nuisance. For those who need a good result or have been coming on as of late, it is a chance to really knock one out of the park late in the year when the door might be open for it. Most riders have stopped practicing supercross for the most part in preparation for the daunting summer ahead. Not that SX skills will wane for these guys, but they certainly aren't as focused as they were in, say, January. The willingness to take huge chances for most riders at this point of the series is typically lower, as they all want to enter the Lucas Oil Pro Motocross Championship at 100 percent. Guys like Josh Hill, Weston Peick, and even Justin Brayton, however, can capitalize on a strong finish in the next two weeks and dramatically raise the perception of their seasons.
A perfect example of this was Chris Blose in 2011. He wasn't preparing for outdoors at all at this point in the season. He was full-bore in supercross mode and took advantage of a good situation and walked away with a shocking fourth-place finish at Las Vegas. While this may not have gotten him a factory ride, it is most likely going to be a career-high result and a night he will never forget. Sure, there are many riders who are looking to have a great summer, and it is tough to ignore the draw of a new series.
For these riders, they're looking to hit the reset button at Hangtown with a clean slate and being tied for the points lead starting May 18. For everyone else, my advice is this: If a bunch of riders want to take their eye off of the supercross ball, why not hunker down and try to hit a late-season home run?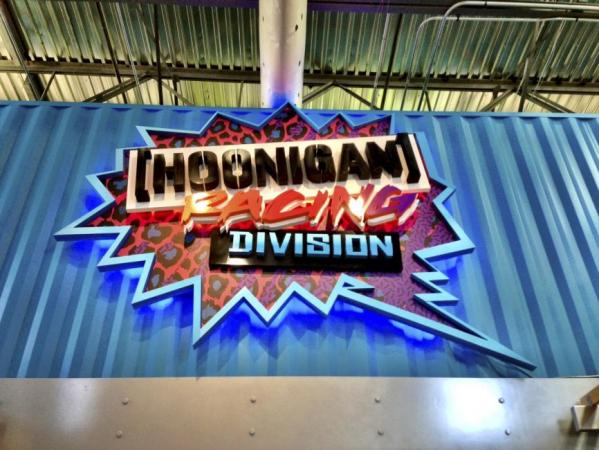 Coolest race shop ever!
DC photo
HIGHLIGHTS OF THE WEEK (Chase Stallo)
GREATEST SX SEASONS: With the 2013 Monster Energy Supercross season nearing its conclusion, the Racer X staff decided to look back at some of the greatest seasons in supercross history for this week's The List.
STRUGGLES ABROAD: Jimmy Decotis has struggled in his two races in the Grand Prix, having yet to score a championship point. Racer X Contributor Adam Wheeler talked with Decotis following the Grand Prix of Bulgaria last weekend to get his thoughts on Europe, the season, and more.
ALESSI TO SKIP SX: MotoConcepts' Mike Alessi made the announcement earlier this week that we would be forgoing the final two rounds of Monster Energy Supercross to concentrate on the 2013 Lucas Oil Pro Motocross season opener at Hangtown May 18. Jason Weigandt, Steve Matthes, and Jason Thomas offered their opinion on the decision in Racer X Rapid ReaXtion.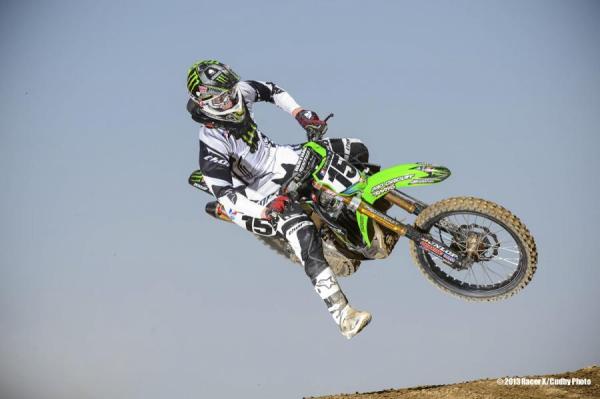 Dean Wilson is back on the bike getting ready for Hangtown.
Simon Cudby photo
IN THE MAG: NATIONAL CLEARANCE
On June 1, Muddy Creek Raceway will host its first Lucas Oil Pro Motocross race. The Southeast region of the United States has long needed a national, and for the first time in over a decade, it's back. Muddy Creek Raceway is being revamped and expanded from the ground up with track-building superstar Mark Barnett at the controls. With the help of Sam Gammon and the Victory Sports staff, Muddy Creek Raceway is being transformed for the Built Ford Tough Tennessee National into something it's never been before. Read more about the changes being made, the historic site, and the people behind this effort in Chase Stallo's "National Clearance" feature starting on page 190 of the June 2013 issue of Racer X Illustrated.
HEY, WATCH IT!
Salt Lake City Animated Track Map
Kailub Russell Big Buck GoPro
Out of Nothing: Official Trailer
Red Bull X-Fighters Returns to Glen Helen
RACERTV.com's Ricky Carmichael Daytona Amateur Supercross
RANDOM NOTES (Staff)
We're sending out our best wishes to John Odom and the entire Odom family of Southern California. Odom was a victim of the Boston Marathon bombing and was severely injured. He was attending the marathon along with his wife, Karen, in support their daughter, who was running the race.
Odom's connection to motorcycling is deep. He is the patriarch of a racing family—both he and Karen raced SoCal flat track in the early 1970s. His son Donny was a successful Speedway racer in the 1980s and 1990s, and his grandson Tyler, who was a road racer, won the AMA Pro season-opening Supersport race at Daytona in 2009 at age 16.
Odom was CEO and chairman of the Murray Company, a large plumbing and mechanical services company based in Los Angeles. The Murray Company has strong ties to the motorcycle world—the corporate HQ is basically next door to FMF, and many current and former racers have worked for the group, including Rex Staten and Scotty Bell.
John was only a few feet away from one of the bomb blasts, and his injuries and blood loss were severe. On the day of the bombing, he had to be resuscitated twice, and he's been fighting for his life ever since. Although things are looking up, he is still facing a lengthy and uncertain recovery and has many more months in the hospital and a grueling recovery process ahead.
For more on the story, check out this link to the Washington Post. A Facebook page has also been set up.
Our thoughts and best wishes go out to John and his entire family.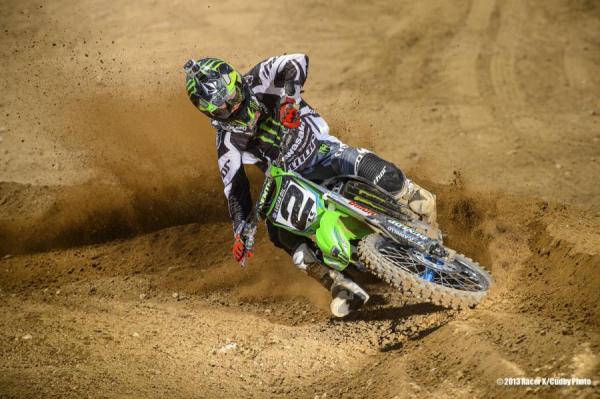 RV was out doing some outdoor testing earlier this week.
Simon Cudby photo
Motojournalist Tom Mueller, who has worked for Cycle News East, has just released his wide collection of images of American Motocross in his new book "American Motocross in Photos: 1979-1982." It would make a great gift for an moto enthusiast. You can purchase the book at Amazon.com for $3.99. Click here to buy your copy today.
Thanks for reading Racerhead. See you at the races.