Rice-eccles Stadium
Salt Lake City

,

UT
Race Center: Salt Lake City
Monster Energy AMA Supercross Championship
Rock River Racing's Ben LaMay is having a career season in Monster Energy Supercross. With two rounds yet to go, the Alaskan has already qualified for six main events, which is three times more than he qualified for in the previous two seasons put together! Now, with the Lucas Oil Pro Motocross Championship approaching, LaMay has even more to look forward to: factory equipment from Yamaha. We gave LaMay a call for this week's Privateer Profile to talk about his current season and what lies ahead this summer.
Racer X: You finished thirteenth, a career-best for you, in Seattle. Talk about it.
Ben LaMay: It was a good day. My mom and dad came down for the race, and I haven't seen them in about two years so it was pretty cool for them to be there. Qualifying went good, I was eleventh fastest, which was the top Yamaha. In the heat race, I knew it was going to be really tricky with the rain, ruts and general track conditions. It wasn't really about going fast to make it into the top nine, it was about being consistent, smart and not crashing. I did that and I got a seventh in the heat race. Then I just wanted to focus on getting a strong finish in the main and not make any dumb mistakes in the ruts and mud. I did that and ended up with a thirteenth. I'm pretty happy with the progress that I'm making this season and I'm excited for the outdoors coming up.
You definitely are having a great season. What's been the difference this year?
I'm mentally stronger. I've been in Texas doing my own thing and pretty much just riding by myself all day. I've been working on my weaknesses and trying to prepare myself for race days. I can always lay down the laps on practice days, but it's on race day that I've been struggling. That's what I've been working on, and it's starting to come around.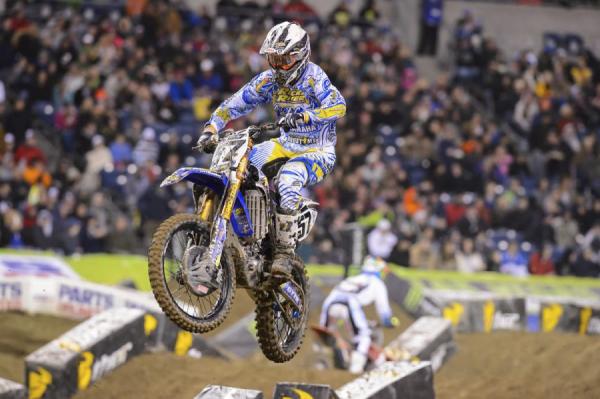 LaMay finished a career-best 13th in Seattle.
Simon Cudby photo
Yamaha is supplying you with a factory bike to ride this summer in Lucas Oil Motocross. Tell us how all that came about.
Well, I don't even know how much I'm supposed to say, to be honest. Yamaha is giving me the opportunity to have a good bike. All it is, really, is a Valli Motorsports bike from last year that those guys ran. Yamaha is supplying everything and is giving me an opportunity to shine. I had a couple top-ten finishes [at the Nationals] last year near the end of the season and I think they saw some hope in me and they want to give me a good bike to see what I can do.
So is it a leftover 2012 or is it a 2013 bike?
It's a 2013. It's a really good bike. I've only ridden it once, but I'm testing a few days this week and it's a really good bike, that's about all I'm going to say. We have a few more things to test on it for the Nationals—we need to get the suspension dialed in—and I think it's going to be pretty sweet come Hangtown.
How much of a difference is there between that bike and the one you're riding in supercross?
It's hands down better. It's hard to put it on a scale, but it's night and day better.
Rock River riders don't draw a salary from the team, yet you're going to be on factory equipment this summer. That doesn't happen very often!
Yeah, it's pretty cool for Yamaha to be helping me out like this. Being with Rock River, it's a great team and Christina [Denney, team manager] does an awesome job, and so does Mike DuClos, who is the guy behind Rock River. I'm trying to do my job and give them the good finishes and support them as best as I can and represent Rock River. I don't get paid a salary, I don't get bonuses and I don't get anything paid for. I pay my own entry fees, flights, hotels and everything. Going to the races is a privateer deal for me, so Yamaha giving me this bike is a big opportunity.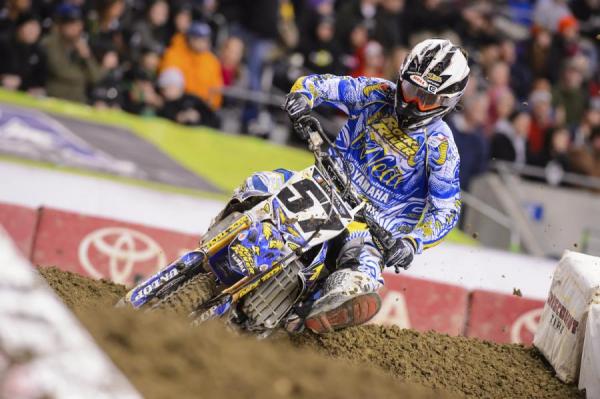 LaMay will be getting some help from Yamaha this summer.
Cudby photo
You're having a career year in supercross, but your stronger skillset lies in motocross. Where have you set your goals for the 2013 season of Lucas Oil Motocross?
I want to be a consistent top-ten guy. Last year I had one or two breakout rides that were in the top ten, but this year I want to start there and be a consistent top-ten guy all year.
Who's helping you get there?
Yamaha Racing, GYTR, Yamalube, Roost MX, O'Neal, EKS Brand, L. Beardsley CPA, Rockwell, Freegun, FMF, K&N, XTRIG, Moto Star, Matrix, Dunlop, Race Tech, Renegade, Frith CO., Vertex, Bell, Lift Master, Moto Tassinari, Millenium Concepts, Cycra, Vortex, Guts, EVS, Boyesen, Jett Boots, PR2 Billet Components and Peg Armor.