Metrodome
Minneapolis

,

MN
Minneapolis
Monster Energy AMA Supercross Championship
We heard last week that AG Motorsports Honda's Kyle Peters, who was on the 250 East podium as recently as Indy, was out for the rest of supercross with an injury, but were unable to get all the details. Kyle rang us back this week so we could file this update.
Racer X: Last week there was a lot of speculation as to what happened after a press release came out that you would miss the remainder of supercross. Can you fill us in on what took place?
Kyle Peters: Over Easter I had a pretty good crash on my 450. I didn't end up breaking anything, which was good. It definitely beat me up pretty good though.
Have you received a diagnosis from the doctors?
Yeah, they told me I strained my shoulder pretty bad and pulled some muscles. I ended up pulling some stuff in my hip as well. Right now, just trying to recover the best I can. But it takes some time.
Is there a prognosis on when you will be back?
They said I should be good to ride in three to four weeks. It's been about a week and two days so far, and it's getting better everyday. I'm going to try and start doing some cardio pretty soon.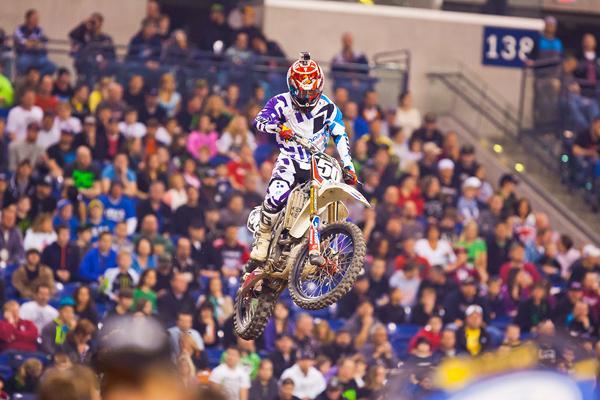 Kyle Peters has rebounded in his second year after an injury filled rookie season.
Andrew Fredrickson photo
I know you rode through a lot of injuries last year. Does that play a part in not rushing back this year, and letting yourself heal completely?
For sure. Last year was really rough with injuries. Most motocrossers don't usually listen to the doctors and just get back on the bike. But I'm going to try and have a little self-discipline and wait to get back on the bike until I can't hurt myself more or cause stress to the injury. So hopefully in about two weeks I'll be back on the bike getting ready for Hangtown.
You dealt with some shoulder issues last year as well, is the injury related at all?
Yeah, it's a little bit related. I just pulled some stuff and strained it really bad. They said it wasn't an AC separation or anything like that, so I'm not really sure.
How much will this affect your preparations for outdoors?
Not much. Usually during supercross I only have one day of riding outdoors, just to get used to it and get my cardio up. I was going to go out to California after Minneapolis and get some suspension dialed in and everything done, but the injury put some hold on some things. I'm going back to MTF here soon, and will start cardio training and hopefully be ready for Hangtown.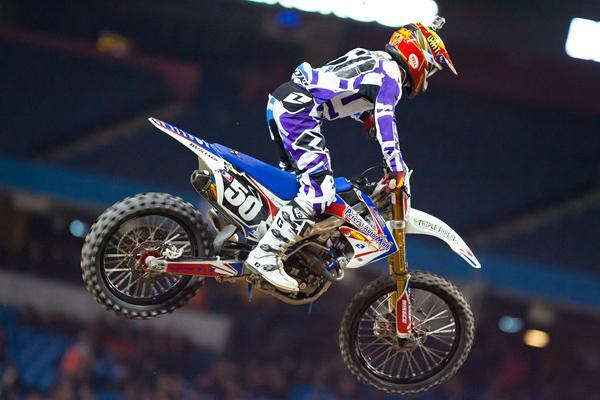 Peters will miss the rest of Monster Energy Supercross, but expects to be ready for the Lucas Oli Pro Motocross season opener at Hangtown.
Andrew Fredrickson photo
How much tougher is this injury, knowing that you were in the midst of a breakout year?
It sucks. Just knowing that I can be a top five, top three guy, it sucks pretty bad. But everyone gets injured and you have to deal with it and come out swinging for outdoors.
The positive is, you were having a great year before the injury. I would say you have to be pretty happy with the way you have bounced back this year.
Yeah, for sure. My goals were to get inside the top five and on the podium and show my speed. I think I accomplished that this year and you can't beat that. Hopefully I can go into outdoors and do the same thing.
With everyone combined for the outdoors, do your expectations change at all, or are you still shooting to be inside the top five, top ten?
I'm not really trying to put results in my head or anything, I just want to go out there and ride hard and do my best. There are a lot of fast guys this year, so it's going to be tough for sure