Rogers Centre
Toronto

,

Canada
Race Center: Toronto
Monster Energy AMA Supercross Championship
BTO Sports is your number one source for all of your motocross parts, gear, accessories and apparel. BTOSports.com is a motocross company who is truly dedicated to the sport and to the customer. Proud sponsor of your Racer X Podcasts and the BTO Sports race team.
Round eleven of Monster Energy Supercross was in Toronto, Ontario, Canada, and let me be the first to say that I thought it was awesome. There's also a very good chance that I'm biased because of two reasons:
1: I'm Canadian.
2: I love Toronto as a city (home of the Maple Leafs, who have the second most Stanley Cups in NHL history).
Bias aside, it really is a cool round to go to (although I'm not one of the guys on the teams filling out a bunch of paperwork declaring everything inside the semi-trucks or fretting about getting across the border). The race is right down town and has a ton of stuff to do while you're there. The pits aren't the best for the fans but there is a Friday night signing, and the fans even get to walk the track. Many teams I spoke to wished this Friday night thing would happen more often, but that would require Feld Motor Sports to get the OEM's on board to cancel Friday dealership signings. The chance to walk the track and get all the riders together in one place (instead of having to choose which team you want to see) is a huge bonus for the fans. I say, let's make this happen people! Sadly though, we can't get the teams/Feld/AMA/FIM to agree on much these days so don't look for much to change.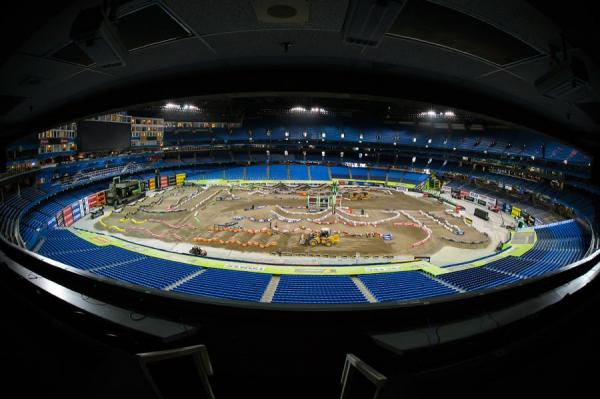 Toronto provided one of the best tracks of the season.
Simon Cudby photo
Some controversy in the track design produced some strange results. During that Friday fan experience, Chad Reed wasn't happy with the whoops that were made. To prove his point he had his buddy Jason Thomas stand in the middle of them so he could take a picture and put it out in the social media world that these were too big and dangerous. So after the resulting shit storm on social media with most of the fans agreeing with Chad (Let's face it, any of these top riders can say anything and most of their fans will agree with them. That's why they're fans.), Feld, feeling pressure from Chad's missive, mowed the whoops down in the beginning to help the guys get a run at them. On Saturday morning I was speaking to an official and he told me that guys like me have been railing on them for the easy tracks all year and when the guys decide to do something to help separate the riders, a top rider (without having ridden the track) decides to skewer the track in front of his hundreds of thousands of fans.
Reed's a friend of mine but I agree with this official. Chad himself has criticized the tracks his fair share this year, and maybe the huge monster whoops were too much, but without having ridden on them, maybe he shouldn't have done that. As it was, the "easier" whoops were still big, still caused the riders (especially the unseeded guys) to have some issues but all in all, and were (in my opinion) great to have on the track. What's funny about all this is that I think Reed is better in the whoops than a lot of the guys, and he probably could've benefitted from them being massive. The riders do need a bigger voice with Feld and Dirt Wurx when it comes to the tracks, but blasting it out on social media probably doesn't help things out. Also, getting Thomas, perhaps one of the shortest riders to ever race supercross, to stand in the middle of the whoops is like getting me to sit on a Honda Z-50. The perspective is just a bit off you know?
So after all that brouhaha, how was the track? Well other than being down to the pavement in spots (not enough dirt), it was one of the best ones of the year, in my opinion. Maybe even the best. I guess whoops just don't have the necessary paperwork to clear customs and that's why it took until the Canadian race to make it happen. The only bummer deal was, yup, they were rolled for the night show and weren't nearly the challenge that they were in practice. As Mick Jagger once said, "You can't always get what you want…" But the rest of the track was pretty good, thanks to only one triple (which is great), loose dirt that opened up some different lines and allowed the berms to be attacked aggressively and sand that actually got rough. Credit to our own Thomas on that last one, who asked Feld to leave the sand alone. The outside held the better line, but if you left it rough, it actually opened up the inside later on. Great call by JT on this one, and good on Feld for listening to him.
It ended up being a track that separated the good riders from the great riders, which is what most of us have been asking for all year. Injuries are going to happen one way or another, regardless of track design and we need to see the world's best riders be the world's best riders. Sure, injuries wiped out the field last year, but not in 2011. It's just happenstance, nothing we need to alter the series' competitive nature over. When you have a triple-triple after the whoops that only the top few 250s are able to do, that's a good thing.
One other thing I think that Feld should look into is putting some poles down in the corners of the stadium with netting between them which would allow the track crew to build some big berms without the fear of an errant bike launching into stands. The netting would be like the ones they use in the NHL, which don't affect vision one bit for the fans.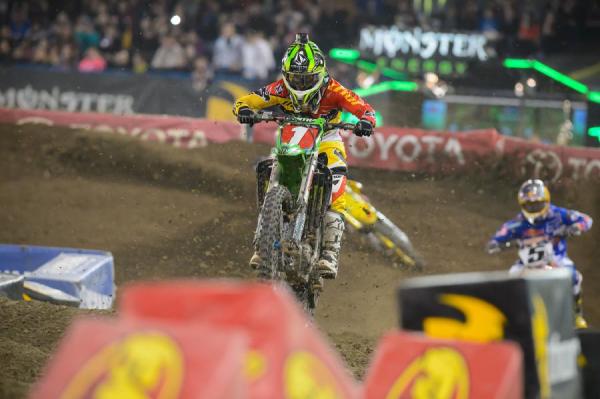 RV won his fourth straight race in Toronto, bringing his count to seven this season.
Simon Cudby photo
Here's the count after Toronto:
Ryan Villopoto- seven wins
EVERYONE ELSE IN THE CLASS- five wins
Yup, anything can (and sometimes does) happen in supercross but there's no doubt that Villopoto's 12-point lead in the series should probably be bigger. Some bad races hurt him in the points, but he's been dominant (I guess that angry, expletive-filled text from RV when I replied to him that I thought he'd only win only four races this year was deserved), and the numbers back that up. In Toronto I thought he rode a great race as he passed Chad Reed and then Davi Millsaps for the lead. He took a passive aggressive approach to get the lead. On a track that was breaking down and getting tough, he was bumping in on Millsaps just enough to let him know that he was there, but not enough to cause himself or Davi to go down. If you're Millsaps and you've got this machine just ramming into your swing arm lap after lap, it's got to weigh on your mind. This was another track well-suited to Villopoto's style, with the loose dirt that allowed him to throttle up and explode the berms. It's interesting to note that Villopoto's gone away from his usual front tire pattern in the last few races to something that is more aggressive and for softer soil. It's the same tire that James Stewart went to at Daytona but didn't like, saying that it hurt him there. Clearly, the tire works for Villopoto but then again, you can see that Stewart and Villopoto do not have the same riding style.
Villopoto really shined in the corner by the mechanic's area, into the next double and set of whoops. They didn't have segment times up in Toronto (the Canadian version of the AMA, which is the CMA, debated on whether to have segment timers set up or pay for dry cleaning for their white uniforms. Let's just say that the suits were looking great on Saturday) but I would bet that RV was the fastest guy through that section. And surprisingly, Villopoto only had the third-best lap time in the main event behind Ryan Dungey and Millsaps. Still, there was little doubt that he was going to win the race.
After hurting his knee in a practice incident roughly three weeks ago, Millsaps has lost a bit of the speed he had earlier in the season. He couldn't practice during the week (he didn't get it checked, explaining, "I'm going to ride through it anyways so why bother?") and it showed in his results. A sixth and a tenth at St. Louis and Daytona weren't anywhere near what we had been seeing from him but this weekend in Toronto, Millsaps was very good (perhaps rejuvenated from being in Canada? It works for me). He ended up second, but still led eleven laps and kept Villopoto honest after being passed. Compared to the last few weeks, it was a whole new Millsaps out there this weekend and afterward, he admitted that he's now able to ride during the week and that with the way the competition is these days, you can't miss a beat or the dudes will eat you up. The upcoming week off from the series will just help him out even more. He's twelve down and probably needs some help to win this thing, but he's still in a better position than anyone not named Ryan Villopoto.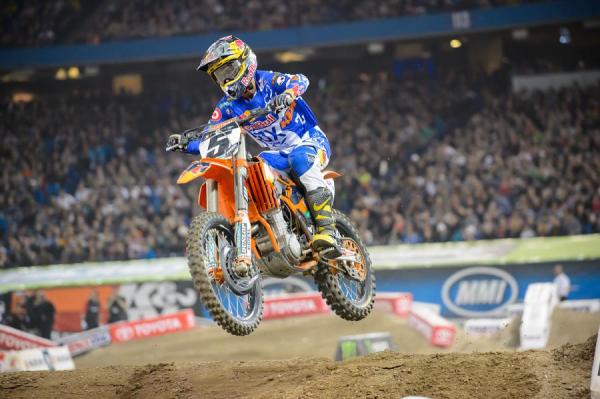 Dungey was strong in Toronto, but a mistake cost him a chance at the win.
Simon Cudby photo
Oh what could have been for Ryan Dungey. The KTM man was closing in on the Millsaps/Villopoto battle when he stalled his bike after the sand. Luckily for him (and every single KTM owner in the world), the bike has electric start and he was able to quickly fire it back up and only lose one spot. He got that spot back, and the podium was well earned for Dungey, as any time you can pass Chad Reed twice, you should get some sort of award. The Dungey/Millsaps battle that was coming up for second was poised to be pretty awesome until the mistake by Dungey, but he still rode well.
Chad Reed's Toronto was eventful, first with his criticism of the whoops and then the news that he's getting some surgery on his knee and will miss a round, possibly more. I spoke with Chad about this on Friday, and he asked me to wait until the press release came after the race. But then the SPEED TV crew got the news and put it out so it was all good I suppose. Anyway, Reed told me that at one of the Anaheim races he put his knee down and tagged it pretty good, which irritated the knee (the same one he had reconstructed last year). Compensating from it has made his back sore. So he's going to go in and get the meniscus repaired and be back soon. In Toronto he rode well but wasn't on the level of the top three guys, as they all got by him (Dungey twice) but still, a fourth is nothing to sneeze at for Reedy. Let's see how long it'll take him to come back from this. I predict he'll miss Houston in two weeks and maybe more. We'll see.
This Eastern Regional 250SX series is starting to really heat up, eh? "Moving" Marvin "The Martian with a Marv Attack" Musquin grabbed his third straight win and moved closer to Wil Hahn for the points lead. Marvin deserves a lot of credit because I've spoken to a ton of riders over the years who had suffered a bad practice crash and said it affected them all day. Well, Marvin had about fifty-two practice crashes in Toronto, including one really bad one. It didn't matter. He grabbed the holeshot and took off for the win in a great ride. Musquin's nickname should be butter because he's on a roll right now, big time.
If you're Wil Hahn and you haven't won in three weeks, I suppose you're not too happy, but then again, riders use any means necessary to justify losses. And for Hahn, he's probably sitting there thinking that in the last three weeks, he hasn't had the best of starts. Besides the very opening moments in Indy, when they were both recovering from a tuff block wrestling match, Marvin has not passed him at all. Hahn just hasn't been able to start in front of the Frenchman, meaning that the devastating catch-and-pass-and-leave-behind hasn't happened to Hahn. Last week in Indianapolis he was right there in the first turn with Musquin and trailed him the whole way through the pack.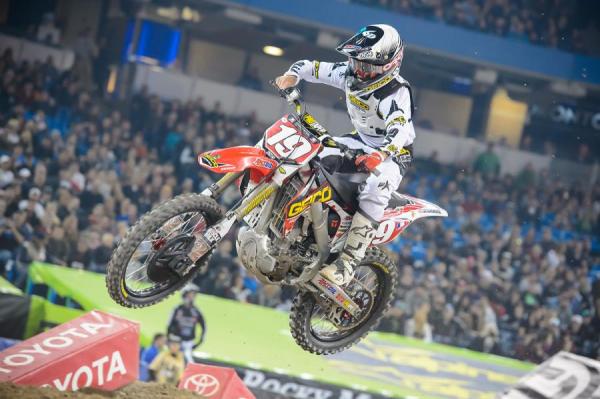 Wil Hahn still has a grip on the red plate, but Marvin Musquin is pulling at it.
Simon Cudby photo
Jason Thomas and myself were watching practice and right from the very start Wilbur was on it. He was jumping the triple-triple section, then tripling onto the tabletop after that and was handling the whoops with ease. Hahn was very fast in practice and looked like he was on a mission. In the main he was catching Musquin a bit before a lapper hurt him. Would he have caught Marvin? I don't think so, but you never know. Anyway, Hahn/Musquin is the new Reed/Stewart but without the neck grabbing.
Let's take a look at the results shall we?
250SX Results
1. Marvin Musquin Corona, CA KTM 250 SX-F- Musquin's mechanic, Frank Latham, is a good dude.
2. William Hahn Decatur, TX Honda CRF 250- So is Hahn's mechanic, Sean Irwin.
3. Blake Wharton Pilot Point, TX Suzuki RM-Z250- After throwing a win away last week, Wharton rode well, but he's got to be bummed to get passed by Hahn and then get gapped by the top two guys. I'm sure he thinks that he's on their level and can challenge them, but it didn't happen in Toronto.
4. Jeremy Martin Millville, MN Yamaha YZ250F- Great ride for Martin in Toronto. Jeremy's sort of been up and down this year, but you can see he's got a good upside. This finish is better, due to his so-so gate pick from a heat race that saw him crash and start way back. He was ALL over Wharton at the end.
5. Vince Friese Cape Girardeau, MO Honda CRF 250- Friese qualified well, had a great heat race and as expected, a nice main event finish. If you want to know one of the reasons why some riders don't like racing with Vince, check out the opening laps of his battle with Wharton in the heat. He knew Blake was on him so he just sort of drifts to the side of the track where the other rider is instead of holding his line. This is the cause of 80 percent of the anger other riders feel toward him, I assure you.
6. Cole Thompson Brigden, Canada Honda CRF 250- Great ride for the Canadian Thompson as he charged hard from the back and used his fitness to eat dudes up. I still think his suspension looks way too soft but what do I know? He went inside on the last lap to get Friese. I thought he got him as they both toppled over the finish line but in shades of Peick/Kiniry, Thompson's fifth was overruled by the flagger at the finish. Still, a nice ride.
7. Jimmy Decotis Peabody, MA Honda CRF 250- Decotis was right there early on, fell and then looked to me to be tired. Either that or his fall caught up to him, and he lost the Friese/Thompson battle pretty good by the end of the race. This was a great chance for him to show what he had.
8. Gavin Faith Fort Dodge, IA Honda CRF 250- Faith came out with a bang by winning the first heat race of the year but hasn't done much since then. A banged up shoulder, among other things, has contributed to his ninth in points. In Canada he was very good in the whoops during practice but once they were rolled, his advantage went away.
9. Jackson Richardson Cairns, Australia Honda CRF 250- Career best for the Aussie in Toronto. Ladies and gentlemen, welcome to the Eastern Regional 250SX series!
10. Kyle Peters Greensboro, NC Honda CRF 250- It was an off-night for the podium guy from last weekend. He crashed in the whoops in practice pretty good, which may have affected him. Still, a top ten on a "bad" night is pretty sweet for the AG Motorsports rider.
11. Peter Larsen Menifee, CA Yamaha YZ250- "Peter" Larsen told me that he hasn't been able to ride during the week since getting on the Eleven10 Mods team because he hasn't had a practice bike. Really? Isn't this team Yamaha supported? Anyway, this makes his previous pair of top tens even more impressive.
12. A J Catanzaro Portland, CT Kawasaki KX 250F- Fourth last week and forced to the LCQ this week to get into the main. Welcome to life in the 250SX class!
13. Lance Vincent Youngsville, LA KTM 250 SX-F- What happened to Vincent's starts?
14. Levi Kilbarger Logan, OH Honda CRF 250
15. Zackery Freeberg Riverview, FL Honda CRF 250
16. Kyle Hussey Foristell, MO Kawasaki KX 250F
17. David Buller Acworth, GA Honda CRF 250- Lost in the Thompson hype was Buller's first-ever main event. I'd say he's half-Canadian (like Dean Wilson), as he and his parents (who I'm friends with) are from Canada, but when David was pretty young, the dad's business sent them south to Georgia. So, he's sort of Canadian, which is pretty cool for Canadian fans, and making his first main event is awesome, no matter what country he's from. I just don't think any Canadians know that he's got that Canadian in him, otherwise they'd be on his jock. Perhaps that's because he's from Manitoba, which is the furthest possible point away from the center of the Canadian motocross universe.
18. Austin Coon Spencer, WV Honda CRF 250- Going off my buddy JT's suggestion on Saturday night, if Austin doesn't put "Rack" on the back of his pants, then there's nothing right in this world.
19. Brady Kiesel Fort Worth, TX Yamaha YZ250F
20. Justin Hill Yoncalla, OR Kawasaki KX 250F- And the hits keep on coming for Mitch Payton's crew as Hill, after a great heat race, got landed on by Faith and DNF'd the main. He might be out for a while at that, joining teammate Dean Wilson on the sidelines. Word is, the already injured Darryn Durham won't be ready to start the Nationals either. Tough year for Pro Circuit.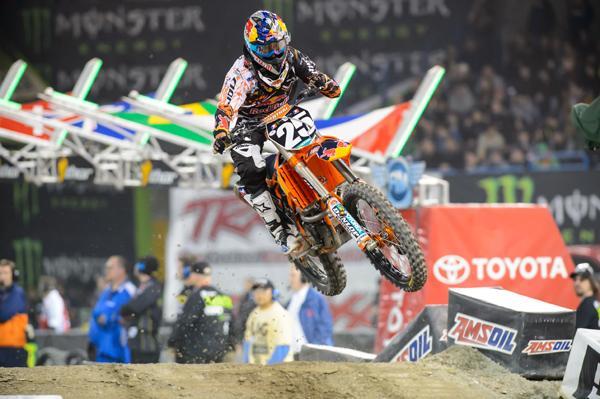 Musquin won his third straight in Toronto, and now trails Hahn by six.
Simon Cudby photo
450SX Main Results
1. Ryan Villopoto Seattle, WA Kawasaki KX 450F
2. David Millsaps Murrieta, CA Suzuki RM-Z450- After the race I was interviewing Millsaps when he alerted me that a tractor was coming and was going to run us over. Then he lamented that he should have let it run me over. Nice to see he's let all that "not trying" stuff go.
3. Ryan Dungey Belle Plaine, MN KTM 450 SX-F
4. Chad Reed Dade City, FL Honda CRF 450- Some news in the Team TwoTwo camp in that suspension engineer Sergio Avante has left to pursue other interests.
5. Justin Barcia Pinetta, FL Honda CRF 450- I let loose on Bam before the rider's meeting about not returning texts for interviews from me. I asked his old sponsor, GEICO, and his mechanic and they all say he's notoriously tough to get a hold of. To his credit, Justin didn't make any excuses to me. He just said that yeah, he got the texts but nope, he didn't return them. That's honorable in these times of excuse making, right? Then he said he would do better, so just to test him, I texted him from four feet away and he did return it! Progress, people!
6. Jake Weimer Rupert, ID Kawasaki KX 450F- Good ride for Weimer after a few poo-poo rides in his return from injury. A sixth is where his bad races should be in my opinion, and in his good races he should be fighting for podiums. It's tough to get that "magic" back when you get injured, though. Also, since we were racing in Canada, I should add that's nice to see that Jake can work through the mental aspect of getting beat by Dusty Klatt in Canada all those years ago and still excel up North. It says something for his mental fortitude.
7. James Stewart Haines City, FL Suzuki RM-Z450- Stewie said his goal was to keep his clutch pulled in during the main event, but mission failed, as for the second week in a row, he stalled it in the main event. He was in fifth at the time but not really moving forward much after he looked great winning his heat race Not sure what the deal was really. Maybe some bad poutine caught up to him? Oh and hey, guess who was looking great when the whoops were massive? Stewart, that's who.
8. Broc Tickle Holly, MI Suzuki RM-Z450- Great battle with Short and Goerke in the beginning, then he pulled away at the end. Tickle tied his season best with this result.
9. Andrew Short Smithville, TX KTM 450 SX-F- Short tested with Pirelli at his house all week and seems to be happier with the tires, which are new for him. He also donned a chest protector due to some sore ribs. I'm not sure about the chest pro "look" for him, but hey, whatever a guy's got to do to help himself out. I remember  a few years back, Hill was riding with sore ribs from a crash and refused to put on a chest protector, but would then complain about getting hit in the ribs. So, kudos to Short for taking care of an injury.
10. Matthew Goerke Lake Helen, FL KTM 450 SX-F- The reigning Canadian MX1 champion was back in his house and continued to put in good results. After the race I asked him if he was going to stick around on Sunday to ride Gopher Dunes for old times' sake and he looked at me with a straight face and said, "No."
11. Justin Brayton Cornelius, NC Yamaha YZ450F- This just in, Brayton's in a slump. There's no two ways about it. The good news for him is that he was one of the faster guys in the whoops when they were ginormous (that and $4.25 will get you a latte at Starbucks), and he's got a week off where he can perhaps get away from it all. It wasn't too long ago that goofballs like me were writing that he was getting close to that lead group.
12. Phillip Nicoletti Bethel, NY Yamaha YZ450F- Great job for the N-Fab TiLUBE Yamaha team in getting all three guys into the main event from the same heat race. Nicoletti is starting to figure the 450SX class out a bit. He's still got the speed that we've seen over the years and lately, the crashes haven't been there.
13. Joshua Hill Yoncalla, OR Suzuki RM-Z450- Hill's fitness seems to be getting better in the main events, which is to be expected. Is he going to get back to where he was before injury? Probably not, but getting into the main event every week and even a top ten sometimes isn't a bad thing.
14. Ben LaMay Wasilla, AK Yamaha YZ450F- This was LaMay's best ever main event finish, coming from twentieth! I didn't notice him in the main all that much, but I did in the heat and in there, he looked great.
15. Robert Kiniry Holland Patent, NY Yamaha YZ450F- Hey, at least he didn't have to go to the LCQ this week.
16. Chris Blose Phoenix, AZ Yamaha YZ450F- Blose's best race in a while. I thought he'd be better, to be honest.
17. Justin Sipes Flaherty, KY Kawasaki KX 450F- Looking at the twenty guys in the 450SX main event, I can confidently say that Sipes has the least support out of anyone.
18. Weston Peick Wildomar, CA Suzuki RM-Z450- Highlight of the night was Peick just tossing Les Smith's bike aside as it laid on top of his. It was like he didn't even care.
19. Les Smith York, SC KTM 450 SX-F- Smith rode well in his heat to get into the main, maybe the best we've seen this year, but he got into a collision with Peick and Sipes that looked like a bomb went off underneath them.
20. Mike Alessi Hilliard, FL- Tough Toronto for Mikey as the whoops caused  some issues in practice, and in the race, he crashed and hit his head. That was it and he called it a night from there. The good news is that he did give me his Canadian-themed JT gear for my man cave.
Some other rumors and news from Toronto:
- GEICO Honda's Zach Bell didn't make the night show as he crashed in the whoops pretty good. The word was that he separated his shoulder in the fall. A rough series for the highly touted rookie just got worse.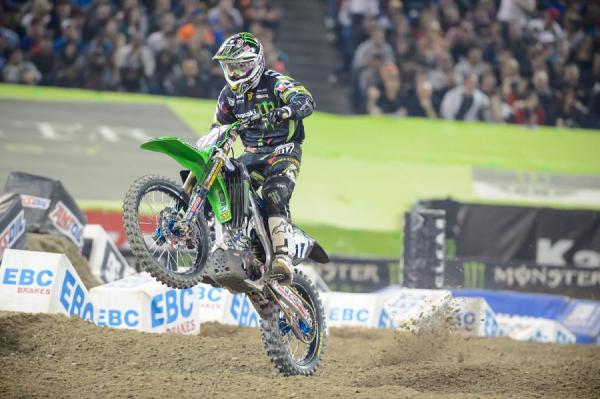 The hits continued for PC in Toronto as Justin Hill got landed on in the main and did not finish the race.
Simon Cudby photo
- Speaking of rookies, Mitchell Oldenberg (who should think about changing his name to "Mitch Who-denberg" because few people have any idea who this fast kid is) broke his collarbone in his heat race and that's too bad. He was really showing something.
- Speaking of injuries, "Top" Jimmy Albertson crashed hard off the start in the LCQ and broke his wrist. He said he was lifting his toolbox and stuff and didn't think it was broken but yup, X-Rays confirmed it. Then he said that he was just too tough for his own good. I'm not making this up.
- So if Hill is hurt, what is Pro Circuit going to do? Well at least they have a week off to assess the damage and figure out what they want to do in terms of replacement riders. Jimmy Decotis is one name that was tossed around if Hill is out. Maybe Cole Thompson would make sense since he's a Thor rider already? Both guys can leave their privateer programs to fill in on the green team if need be. I also hear that Darryn Durham's shoulder still isn't good and he's not going to make the start of the Nationals.
Thanks for reading, email me at matthes@racerxonline.com if you want to chat about this column or really about anything.