New Spring 2013 Line From 100%
100% PR
Adding to our already impressive line of goggles, sunglasses, sportswear and accessories is a fresh new line of products for Spring 2013. An expanded collection of new colorways in the premier Racecraft goggle, as well as the Accuri goggle, is now available.
The Racecraft collection adds the Purple Main, Metal Black Lime, and the Terminator designs for spring, while the Accuri goggle collection gets a surge of new colors too. The Limited Edition Accuri Rollerball features metal spike details on the strap and the new Caltrans orange goggle recently worn by Red Bull KTM's Marvin Musquin in back-to-back Supercross wins is also now available.
Looking good off the track is just as important. Check out the complete collection of sunglasses, collectibles and new t-shirts for spring today at www.ride100percent.com.
Download the new Spring 2013 catalog now.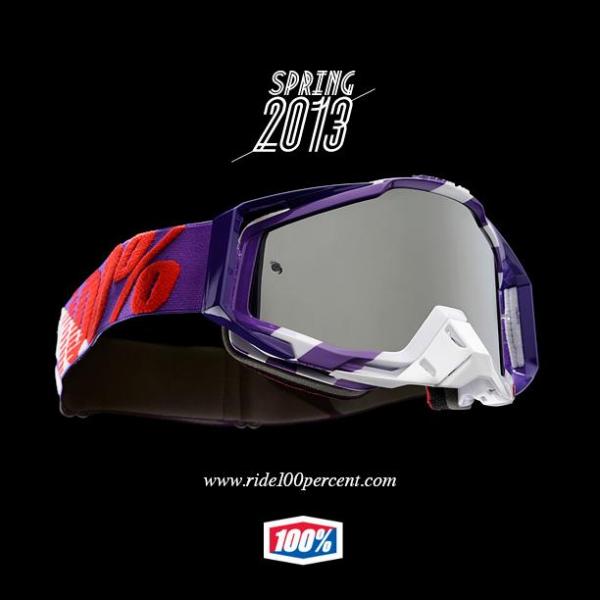 Follow us: @ride100percent
Shop Spring 2013: www.ride100percent.com
About 100%:
The 100% brand has always been synonymous with motocross Americana and has been linked to many iconic moments that have built the roots and history of what is modern motocross.
The roots of the 100% brand date back to the early 1980's when the popular logo graced the factory racing equipment of the biggest names in motocross.
Thirty years later the passion for the spirit of racing remains.  Today, 100% is about to inspire a whole new generation of racers and ask them the original tag line, "How much effort do you give"?
100%.  The Spirit Of Racing.
For more info, contact info@ride100percent.com