After suffering through an injury-plagued season in 2012, which saw him finish a disappointing 11th overall in the final standings, Mullins was anxious to get back to winning races and hopefully championships. The FMF/KTM rider got off to a good start in Georgia, winning tests one and two of the six test, 85-mile race, and from that point on Mullins never trailed despite breaking off his rear brake pedal in the fifth test.

"It was good to get the first win of the year," said Mullins. "I've been looking forward to this race all winter and I'm pleased with how everything went."

Mullins decided to change things up a bit for 2013 and will be riding a 350 XC-F in enduro competition instead of the 450 SX-F he rode last year.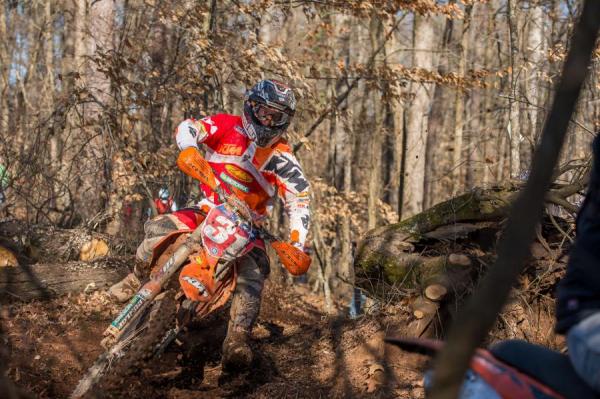 Mullins en route to the opening round win.
Shan Moore photo

"The 350 is a lot easier to ride in the tight woods and I really feel comfortable on it," added Mullins.

Fahringer was all smiles after securing the runner-up spot for his new sponsor AirGroup Racing. Like Mullins, Fahringer won two tests, topping tests four and six on his Husaberg, and he was never further down than third in any of the tests.

"I think the key was getting off to a good start in the first test," said Fahringer, who is known as a slow starter. "When I finished test one and saw that I was second-fastest behind Mullins, I knew I had a chance at having a good day."

Russell Bobbitt rounded out the podium in third, just 31 seconds behind Fahringer. The Factory Husaberg rider won the fifth test and was in the hunt all day but could never quite catch Fahringer.

"I felt like I rode well, but we're still not where I want to be with a set-up on the bike," said Bobbitt, who signed with Husaberg during the off-season after spending most of his life riding a KTM.

Fourth went to Brad Bakken, who was riding a YZ250F for Obermeyer Yamaha/Raines Riding University/OffroadViking. Bakken topped the third test of after suffering clutch problems at the start of the day.

Fifth was factory Husaberg rider Michael Lafferty, who is going for an unprecedented ninth national enduro title in 2013. Meanwhile, sixth went to AmPro-Yamaha's Jesse Groemm from New Jersey.

Andrew DeLong was seventh on a FAR Husqvarna TE310, with South Carolina's Grant Baylor finishing eighth on a KTM.

Shane Hufford Jr. (KTM) and Shenandoah Honda/USWE's Thad DuVall rounded out the top 10.

Defending series champ Stu Baylor attempted to ride on an stubborn wrist that refuses to heal from an injury last season. The newly-signed FMF/KTM rider started the event in hopes of scoring a few points before going in for surgery next week for another shot at repairing the damage, however, the South Carolina rider was too far off the pace and decided to call it a day.

After starting the race on row 31, Mullins will now start the next round on March 3, in Salley, South Carolina on row 21 since he won today's race. With the new rules that were installed for this year, the Pro class will now be seeded into rows 21 up according to how they finished at the previous round. Since Mullins won, he will be the first Pro to leave the start at round two, followed by Fahringer on row 22, and Bobbitt on row 23.

For more info on the Rekluse AMA National Enduro series go to www.nationalenduro.com.

Results
1. Charlie Mullins (KTM)
2. Nick Fahringer (Hsb)
3. Russell Bobbitt (Hsb)
4. Brad Bakken (Yam)
5. Mike Lafferty (Hsb)
6. Jesse Groemm (Yam)
7. Andrew DeLong (Hsq)
8. Grant Baylor (KTM)
9. Shane Hufford Jr. (KTM)
10. Thad DuVall (Hon)