Thor "Off My Back" Contest
Thor MX to Give Away Jerseys at Hometown Race
with "Off My Back" Contest
EL CAJON, Calif
. – Fans attending the "Party in the Pits" at the San Diego Supercross this Saturday have a rare opportunity to win an authentic race Thor MX jerseys with the "Off My Back" contest.
At designated times throughout the day, trivia questions will be asked on the Thor MX twitter (@thormxofficial) that correspond to a certain jersey that a Thor MX staff member will be wearing somewhere in the Thor MX Pit Experience. If the fan goes up to the staff member with the corresponding jersey with the correct answer, the fan will receive the jersey off their back.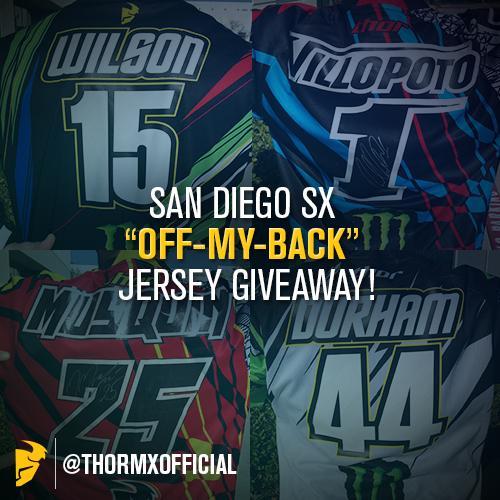 Make sure to be also follow our Instagram (@thormxofficial) for clues as to when the questions will be asked on Twitter.
**Only one winner per jersey (no repeat winners)