Angel Stadium
Anaheim

,

CA
Anaheim II (A2)
Monster Energy AMA Supercross Championship
Of Eli Tomac's three wins to start the season in 250SX West, the battle at Anaheim 2 was definitely the best. Ultimately, he overcame Cole Seely and Ken Roczen to get the win.
Racer X: You looked fast and you were jumping some cool stuff in practice but I think you ended up fourth?
Eli Tomac
: Yeah, in the second one. And that practice was actually, I think, quite a bit faster. I ended up fourth in the second round but my first one was faster, so I was third overall.
Was that concerning at all? That's good for most dudes but this year you've been so fast.
It was and it wasn't because I was trying a couple of different lines here and there. And then I just knew I never put in one of those really good laps so I wasn't shaking in my bones or anything.
The heat race, you didn't have a good start. I guess it wasn't that bad, either, because you got up front early.
No, my starts were actually pretty good. Like, top three for me. I was like, heck yeah! I'm stoked. If I can see the leader right there!
You inched up on Roczen.
I barely inched up on him, like maybe a half second or a second. He finished like a second and a half in front of me. And then the main event came around…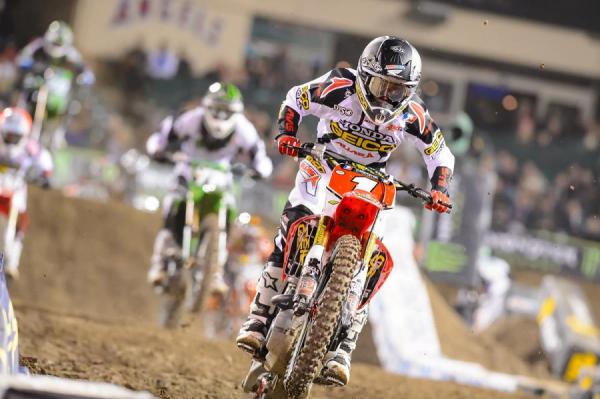 Tomac has won three straight races to begin the season.
Simon Cudby photo
It was a battle.
It was a good one. Had to have been good for the fans. It was fun for me. It wasn't easy. It's obviously fun when you get the W, too.
But a little nerve-racking at times?
We were scrapping and I was like, man, are these guys going to fade at all? I was kind of waiting on maybe a mistake here or there and then kind of figure out where I was faster. I was actually losing a little bit of time in the whoops and then I would get it back in the sweeper, is where I was getting those guys. The flat sweeper after the finish there. That was kind of my spot.
Is that normally your thing, the sweepers?
I guess, maybe if you want to call me a good throttle controller guy but normally I'm just twisting it. So maybe it was just my spot tonight, I guess.
So you were all staying about the same distance from each other, were you like, "Okay, I'm managing this, or were you like, man, I don't know if I'm going to get them?"
I wasn't really managing, I was just kind of waiting more than anything. And then I just really started to go and just found a couple of those good lines and a couple of outsides and just got in the groove.
Did Roczen make a mistake? I think you passed him past the mechanics' area?
Yeah, because he went inside over that little double right by the start and then I think he kind of lost a lot of momentum. And then I was on the outside and just sling-shotted. That's how I got him there.
And then Seely…
Seely, I almost got him after the finish line, but didn't fully shut the door. I could have just probably ruined his day but I was a little bit of a nice guy. I went outside and actually I can't even remember where I ... was it right after that? It's ridiculous I can't even remember where I passed for the lead, but that's what happens when all the action goes down in the race. It just goes by like a flash.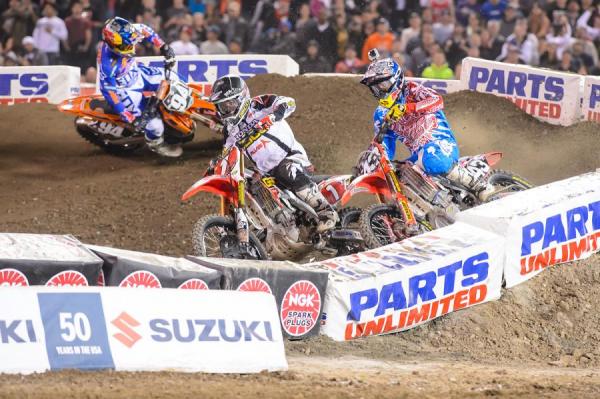 Tomac was too much for Seely and Roczen to handle at A2.
Simon Cudby photo
Yeah, the first ten laps were crazy. So that was one of the more satisfying ones just because it was a battle.
For sure. Those are the guys I'm going to have to be dealing with, those two are going to be the stiffest ones all year. You can't count anyone else out, but those are the guys that I think are going to be there week in and week out.
Do you get a little more worked in an intense battle like that? Did you get into the red zone?
I was almost a little red zone when I tried to pass Roczen. I tried to get underneath him in that berm. I guess it was second corner, if you came from the start. It was the right-hander before the on-on-off. I could have been a little bit more aggressive there, too. But E.T. nice guy came out again. Some people probably won't call me "nice guy" from last year in Seattle but normally I am the nice guy. That was when I was a little bit red line and then I kind of did settle in for another lap or whatever it was.
But at the end of the fifteen you were totally good.
Yup, I felt good at the end.